Hello, I'm Lewis, a quick introduction for if you haven't read my previous blog post or vlog available on the student enterprise YouTube, I'm a Business Management student on the PTY Enterprise Pathway from student enterprise. This funded placement allows me to work exclusively on my catering firm Pastry Puffs for a year in turn giving myself and the company the best opportunity possible.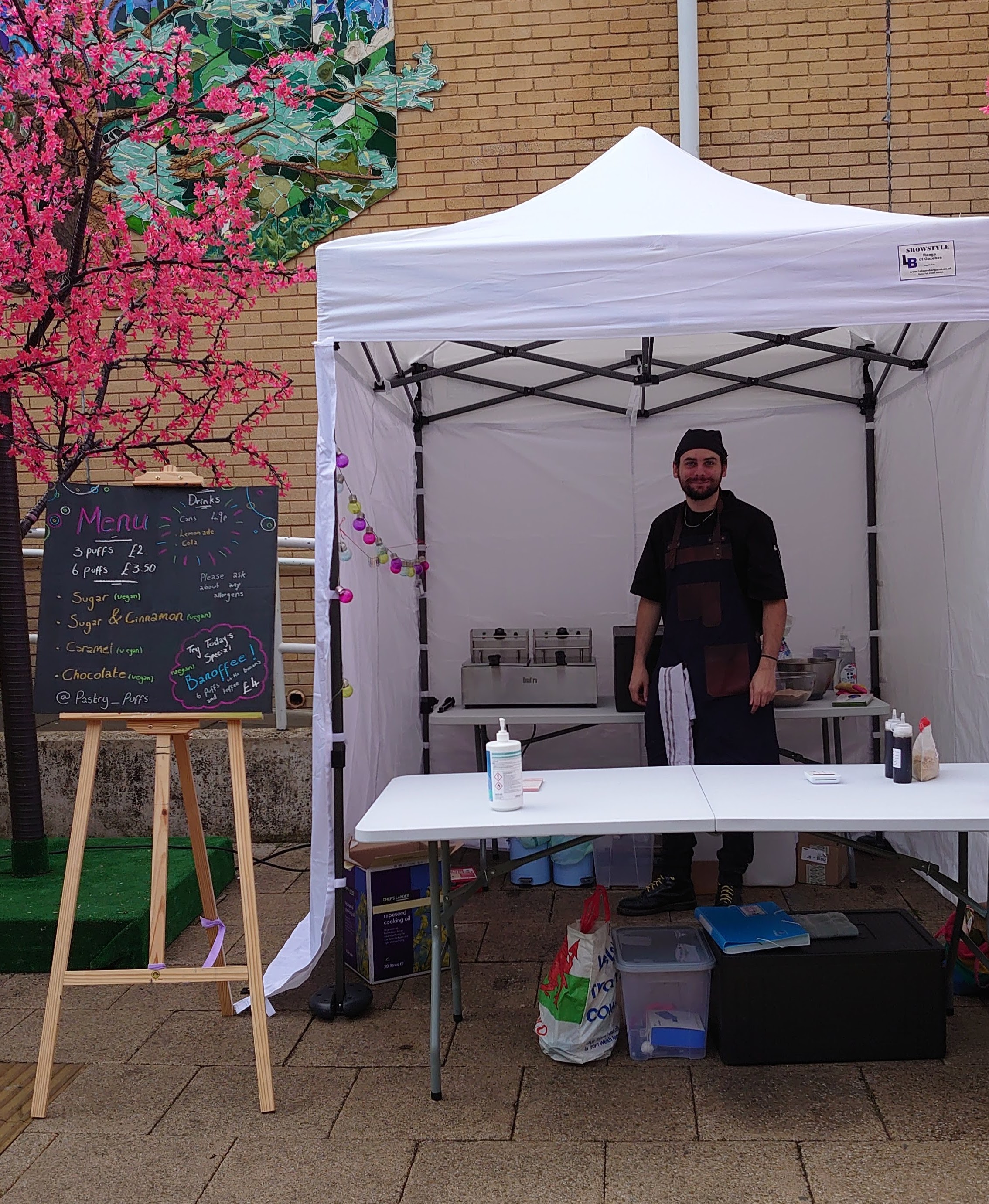 What is Pastry Puffs?
Pastry Puffs is a dessert company that looks to cater events and festivals such as food markets, the company has a focus on having the smallest environmental impact possible while also offering an exciting vegetarian/vegan option at a reasonable price.
What have I been up to in September?
September began like a rollercoaster with me making our biggest investment yet! A large car (Vauxhall Meriva) ready for us to haul all our equipment to and from events. Then it all came crashing back to earth. The car broke down the day before I was supposed to drive it back to Guildford. This delayed us by a week meaning we had to cram even more into the time once I got back.
What caused this sudden crunch on time? We had just had the okay to cater our first event, the Thursday market in Rubix starting on the 30th (the morning after I write this!). With this new date in the diary, it gave us a new urgency as we rushed to carry out some of the tasks we had been putting off.
The first of these tasks was to get ready for the student enterprise launch party, this involved designing and printing vouchers to give out as well as figuring out a final draft of our menu. The event was a resounding success, allowing us to give out 50 vouchers for the market on the 30th as well as generally allowing us to get our name out about the company as well as the good work that student enterprise do.
In the week following the launch event it has been a rush to ensure we have all the procedures in place to ensure we operate safe and legally. This involved doing a dry run in the garden to take photos for the food standards agency as well as having a PAT test carried out on our equipment. This turned out to be an expensive and exhausting week but will ultimately be rewarding once we cater our first event.
What have we got Planned for Future?
In the immediate future we have our first event tomorrow (as of writing this) which we hope will be a success and I hope to have seen many of you there. After this event we will look to make improvements to the operation by learning from any mistakes we make and will allow us to begin serving at new external events.
Thanks for reading, check us out on Instagram @pastry_puffs.