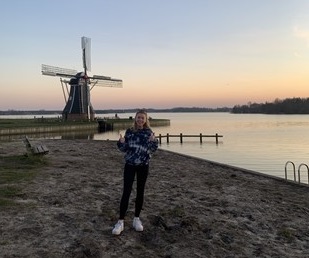 Why did you choose to do a Professional Training Year?
I intended to do a full year in industry to gain some real-world experience that would help me when trying to pursue a career as a solicitor. The COVID-19 pandemic made me realise that I was also craving adventure, so I decided to do 6 months abroad, to meet new people, study and have new cultural experiences.
How did you find the application process?
It was quite challenging at first, I was originally applying for a full year in industry and found that I had to be very resilient due to the competitive nature of legal placements.
Luckily, with the support of the University, I found a 6-month placement at Ashford Borough Citizens Advice, which worked perfectly with my plans.
In terms of applying for study abroad, the University's International Engagement Office explained things to me very clearly, which enabled me to apply for study abroad without any stress.
What type of work did you get to do on your placement?
During my placement, as a generalist advisor, I dealt with a whole range of tasks. Most commonly, I researched and gave advice via telephone to clients. Enquiries could be about nearly anything but many centred on issues to do with the family (divorce, social services, child maintenance), housing and benefits.
I also took in-person appointments and prepared documents for the in-house housing solicitor. With my study abroad placement, I am taking 2 terms of modules, which involve both coursework and examinations.
What do you think you gained from the experience?
The main thing I gained from the experience at Citizens Advice was confidence, not only with people, but confidence in my ability to execute important tasks and pick up and apply information. I could not even begin to list what I have gained from my study abroad in the Netherlands, so far it has been the best time.
What advice do you have for future placement students?
I would encourage future placement students to try and really enjoy what they choose to do, make an effort with colleagues and enjoy the experience as it flies by so quickly!