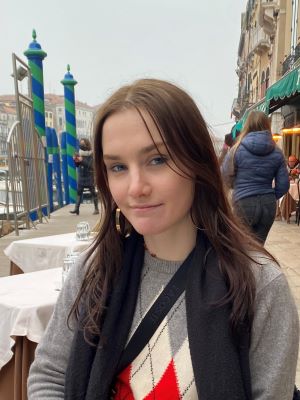 My name is Drew, I study law with International Relations, and I am three months into my placement year with the careers team at the University.
This was the first placement I applied to; I made sure my CV and application answered the questions in the application brief allowing my application to stand out. This showed I had the skills required to succeed in this placement. When I received my offer in May, a few days after my interview, I felt so relieved and excited.
My first day on placement
I went into the office, did the induction courses online, and was introduced to different members of the employability and careers team.
What I have learnt so far on placement
My role involves promoting employer events and careers services through social media and pop up stands I also do a variety of different tasks each week.
The highlight of my first few months have been taking over the University of Surrey's Instagram account to promote the fairs run by the careers and employability department. I felt proud to be involved in something that was so successful and important for students on campus.
I sometimes experience moments of doubt however it doesn't last long as my team are always there to support and encourage me. I have become confident enough to ask for help and support when I need it whilst also understanding that it is okay to make mistakes.
I have already learnt so much about myself. Prior to my placement year I felt anxious and unsure about my future, however, after experiencing day to day work life and meeting everyone I feel excited for the future and motivated to achieve as much as possible.
How my placement is helping me decide on what I would like to do for my career
Before my placement year I was interested in doing a master's in marketing. My placement involves a bit of marketing such as promoting events on social media. Already three months in, I am enjoying it so much I am desperate to do something social media and marketing related after my degree.
I was not feeling prepared for final year which is one of the reasons I applied to a placement year. I already feel more motivated to complete my final year because I have had an insight into what work life after Uni can be like if I want it to.
The time out from going to lectures has allowed me to reflect on the last two years and mentally prepare myself for final year. Despite feeling more prepared, I love my placement leaving me with mixed feelings about returning to academic study.
My top tips for placement year
Be open to anything. You will learn more than you can imagine! You must allow yourself to get comfortable in the workplace and there will always be people there to support you. Make sure to have fun and take in as much in as you can because the year will go by so quickly.
If you are looking for a placement do not stress and do not have a fixed idea of precisely what you want to do for you placement. Don't restrict yourself, apply for anything that seems interesting as you may end up loving what you do, or it could help you decide what it is you do not want to do.
There are no downsides to a placement year only benefits and learning opportunities.