Hello Readers!
I'm back (and tanned!) well if you could actually see me in person! haha – I'm back from my lovely one-week holiday with my family! We had the best time travelling to Bangkok in Thailand as well as to Hanoi in Vietnam which you can read about it my next blog post soon! 😉 so stay tuned!
I was so excited to be heading for Bangkok because the last time I had been there was when I was about 6 years old and the only thing that helps jog my memory about that trip comes from reminiscing as I look back through my age-stained photo albums in my dusty cupboard!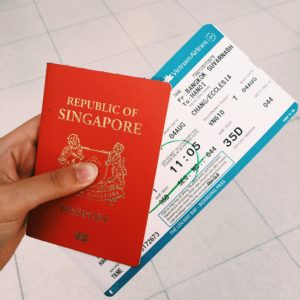 So we left Singapore at about 8am and jet-starred our way to BKK Airport!
The minute we landed and left the airport on our Uber cab, my dad, mom, sister and I looked at each other and knew we all wanted one thing – Pad Thai! We needed to get Thai food asap! and Now that we were in the land that mad Thai cuisine what it is, we were on a hunt for the best one!!
We went on a food- marathon, you could call it cause overtime we finished our meal, we needed to complete it with some mango served alongside coconut sticky rice and drizzled with coconut milk! It was the place to eat it and plus, the prices were so satisfying for your pocket so, Feast away!
We went to so many places in Bangkok, places included a Hello Kitty Cafe! and if you know me, Hello Kitty is so my thing so I was undeniably crazy-excited!
Kawaii? … yes !
Pink?… yes!
Hello kitty?… Hell-o yes!
They had the cutest furniture I had ever seen! It was pink, so princess-y like and I had no words! it was literally me, if I was a cafe… okay that was weird. but you get what I mean! hahaha
Of course I had to get the Hello-Kitty Cappuccino that they offered! It was more like a kitty-ccino cause there was such a cute hello kitty that was stencilled with cocoa powder on the froth of my kitty-ccino!  it was too cute to drink! I also had to get this Pink Thai tea that they had… I mean, I love Thai-tea already but make it pink and I'll love it even more!… and they even served it up in a cute Hello-Kitty takeaway cup!
The following day, we also got to visit the Safari Zoo that was really more of a place to watch animal shows because that was all we did! It was show-after- show- after- show But i'm not complaining because the shows showcased the most talented animals from Orang Utans in a Thai Boxing Ring to Synchronised dolphins jumping as high as almost 5 meters above the water! It was such a memorable experience that I will never forget! Alongside the giraffe feeding platform that literally allowed you to get to the height, tall enough that you are face to face with the face of the giraffe!
Here are some pictures so you can see how close I was to the giraffes! They also sold buckets of root-starchy vegetables that you could buy to feed the giraffes with for about £2 ! We definitely had a memorable time here!
Next, we even got to hold a tiger cub! I actually did this when I was younger, when I came to Thailand at DreamWorld – another theme park in Thailand! But this time, I was actually kinda scared! So what happens is, the tiger trainer will be by the side and the minute you get in the position for the photographer, he'll open the cage and take the tiger out and place it on your lap, following that, he'll give you kinda like a baby's bottle filled with milk! and you'll have to deal with a fidgety tiger cub on your lap while trying to smile for the picture…. which kind of turned out like this. hahaha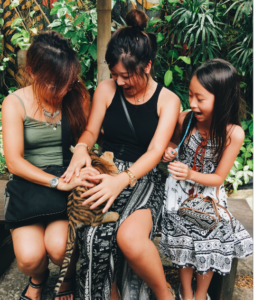 And Of course, we can't forget about visiting a floating market when you're in Thailand! We went to this market called Damnoen Saduak Floating Market which was about 1 hour away from central Bangkok but it was definitely worth the 1 hour drive away!
We took a tour bus from our hotel in central BKK that brought us to a harbour where we switched and got onto a long, skinny-tailed boat that would sail us to where the floating market was!
If you're new to the term, It's called a floating market because shop and market vendors are actually on skinny-tailed boats which explains the floating bit! But it's not just clothes and souvenirs they are selling, but it includes food as well!
I remember what built up my anticipation for Bangkok was remembering myself looking at my friend's instagram posts about these coconut ice-cream desserts served in coconut husks and topped with sticky rice! mmmm…. just writing about it makes me want to go back to Bangkok just for this! You can tell from the image above! and what was even cooler was how the sticky rice was coloured as well! Apparently, it's coloured by these flowers that the rice are boiled/steamed in that gives it the colour! The rice perfectly complemented the ice-cream to such a perfection that made you crave for it more…..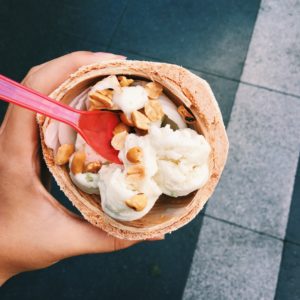 Many vendors do it too, but not all of them serve it up the same way! We had another one from central Bangkok when we got back and look, no sticky rice this time- instead, we got peanuts! which still complemented the coconut ice-cream but not as complementing as the sticky rice was, in my opinion! 😉
So I also learnt on this trip that apparently, Chang (my last name) in Thai, means Elephant! alright, no jokes. cause…. Elephants are actually really special animals to Thai people because they see elephants as really strong and conquering animals known not only for their strength, but also for their size! We got to this elephant camp called Pang Chang Puak Elephant Camp where we got to ride the elephants in the scorching heat! There would be an elephant trainer that set on the elephant's neck while the elephant riders would be sitting on an elevated "carriage" on the elephant's back! It was such an unforgettable experience cause I'll never forget how terrified I was with how bumpy the ride was! The whole carriage would be moving as the elephant inched forward, one huge stubby foot at time! But I must say, it was a whole lot of fun!
And of course, I had to get TomYum Soup everywhere I went! cause if you know me, I have a love-hate relationship with spicy food! I love it but it hurts… but hey, love hurts and no pain, no gain! So I went for it, naturally and I have no regrets cause it was probably the best Tom Yum I ever had in my Tum or should I say… Tom! hahaha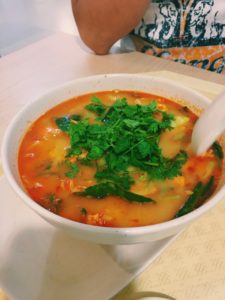 Look at the red, orangey fiery colour that perfectly reflected the burn I felt on my tastebuds!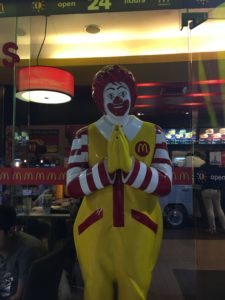 Anyways, that's all I have for Bangkok right now, from the Thai version of Ronald McDonalds, Khop Khun Kha aka… Thanks for reading guys !
If you made it up to here, you're awesome for putting up with me being such a tourist and squealing at everything with excitement!
See you next, in Vietnam !
Ecclesia  x