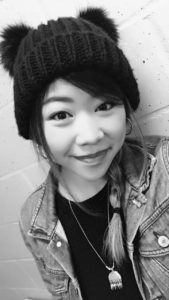 Hey Guys! Eggy here 🙂 & Here's a pic of me blogging right now while wearing my winter beanie,  because we are officially in WINTER. and Guildford's temperature has nose-dived and it is getting real chilly here! Definitely love that the cold has become a justifiable excuse for the consumption of more hot chocolate and gingerbread lattes! (I'm not complaining!)
Today's post is going to be about how London has been getting ready for Christmas, ever since Halloween was over. It was like after October 31st, all the stores just brought out the red tinsel, christmas trees and fairy lights have been lining stores and streets. Also, Michael Buble's Christmas album comes on alot more on the radio… because Christmas is less that two weeks away!
One of London's most famous events around Winter time is the WINTER WONDERLAND.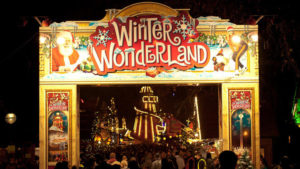 Winter Wonderland is a huge Christmas market, held annually in Hyde Park, that features a range of shops selling an array of goodies, from handmade Christmas lights to furry winter wear imported all the way from Germany and of course, a beautiful ice skating rink, and even festive fairground rides. All the activities that will definitely spread so much Christmas Cheer that even the Grinch could not resist.
Some Tips For Winter Wonderland
Withdraw enough Cash before heading over to WW because Cash Machines there charge a £3 fee for every withdrawal. (I know, so insane.)
Get off at Marble Arch Station and Walk there instead of getting off at Hyde Park Station which will be crazy packed and just No.
Wear Comfortable and Waterproof shoes! Though the park is covered with some type of flooring so our shoes don't get really muddy, there are bits of open spaces where you do not wanna risk those Adidas NMD's getting rekt. ammiright?
Dress Warm!! It is outdoors so definitely dress for the weather !
Go when it gets dark, Don't worry, It gets dark at about 5pm here in London! Cause when the sky gets darker, the lights shine brighter if you know what I mean 😉
My friends and I headed to Winter Wonderland after Dinner and we knew we were gonna finish off by getting our desserts there. Of course we had to walk a little before heading on the rides and getting sick and there was so much to see that we definitely did not have a problem there!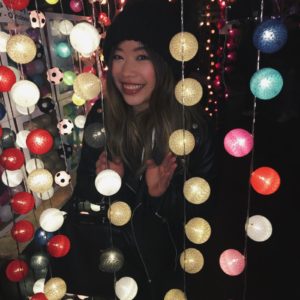 There were so many stores selling Christmas baubles, and tree decor but sadly, this year I'm not going home for Christmas cause my family is coming so I'm not gonna have a tree 🙁 But these lights though.. I was so tempted to get them for my dorm!
*Note, Some Sellers actually are willing to haggle with you! Ask for Student Prices 😉 Cause that worked for us !
Some of our friends had a go at these funfair games after seeing so many people carrying huge carebears almost as big as them. They were in it to win it… for themselves hahah. However, it's never as easy as it seems is it ? Each Game costed about £5 or more, if that helps you to estimate how much cash to bring! 🙂 The view was so nice, frome every angel that I had to keep snapping pictures ! Or you can follow me on Snapchat to see more of my Uni life at @eclipsia!
After all the walking, it was time for the rides. THIS RIDE was amazing. I had no words. If you're into thrill rides and all the adrenaline stuff, this ride is all up your alley. It was £9 but it was definitely worth it! It lasted longer than 30 seconds as well, unlike other thrill rides! There were 5 loops which was so thrilling cause just when you thought it was over, BAM you were upside down before you could even let out a scream !! I managed to sneak a picture right after the ride ended and you can tell from my friend's (Hasan) face that he just in shock from the ride hahahahah! We screamed so much it was hilarious hahahahaha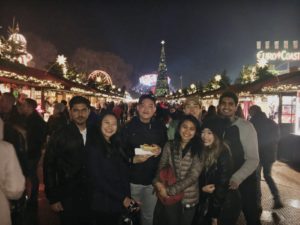 I'm so glad I got to go to Winter Wonderland this year with these guys! #WinterWonderFam We definitely made some unforgettable memories!
Earlier that day, I also met up with Malaysian Student Ambassador, Adeline in London! We were walking around London and just enjoying the sight of all the Christmas lights strung up on buildings and over streets and alleys! We also saw a mini Christmas Market setup at Leicester Square aka. Chinatown London that had more food stalls than anything. I noticed a store selling Fondue and Raclette and reminded me of Geneva (home.) Missing that Swiss Life.
I hope everyone's getting into the holiday spirit and I can't wait for Christmas! My family is coming in a few days and I'm beyond excited ! I am getting so homesick and it's just hit me especially during this festive season where you just wanna be with family.
Christmas Countdown : 12 days away.
Thanks for reading x
Love, Eggy 🙂