So What is London's Chinatown Really like… What Should I expect? Is it just like the one in Singapore ?
To answer your questions, it's a mix of a Yes and No.
Chinatown in London, unline Singapore's does not have those stores selling souvenirs for you to buy home for loved ones! Instead, it's located in the SOHO area, where you can find Asian Supermarkets and Asian Restaurants (Mostly Chinese) Ask everyone who lives around the London area and they'll all have their personal favourite restaurant that just hits the spot for them…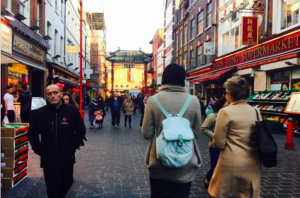 Right on that street, you'll find the most "popular" and 'yummiest' food from Chinatown… so they say. just cause it's on the maim street! However, after eating from around the SOHO area, you'll know where to go for what you want. This main street has the bubble tea store from Taiwan "Cha Time" – and personally I miss KOI (another bubble tea chain store) in Singapore! that hazelnut milk too though….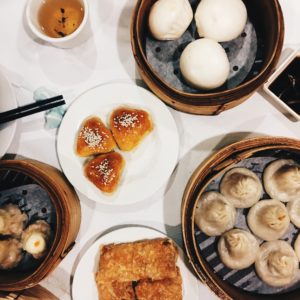 So last Sunday I met up with my friend and we decided to get some dim sum caide #cravings. We went to my personal favourite restaurant, Dumpling's Legend that's located on the "main street" and I've tried their main meals before so i was positice that their Dim Sum would not fail me.
On the table, we ordered siew mai (pork and shrimp dumplings), xiao long bao (soup dumplings), char siew so (bbq pork pastry puff), Har Gao (Prawn Dumplings) and the best for last …. these hot "volcano" custard filled buns.
O M G. These were the best buns I had ever had… it did not taste like it came from the frozen aisle, but there was just the perfect amount of custard to bun ratio. (if you get what I mean) It was just perfect, I definitely reccommend everyone who goes there to order this as well as the Har Gao !! Those two were definitely tied for first place 🙂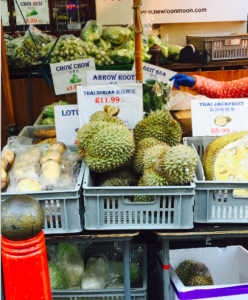 So What else does London Chinatown offer… DURIAN. Singaporeans out there, Those of you who are huge durian lovers, will not need to worry about leaving your cravings behind because they do sell it here for a hefty price but…  Im personally not a huge fan so 😂 haha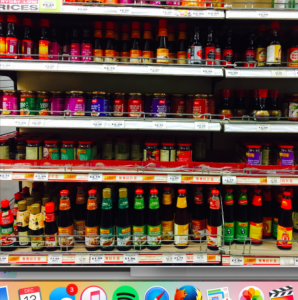 So many supermarkets dotted around the SOHO area, which to choose ? Most stores have around the same prices but their shelves are always stocked up with all our favourite maggi sauces, soup sticks and marinades! So Don't bring any over here! You'll risk it breaking in your luggage and realize it's not worth the hassle cause it's not crazily priced.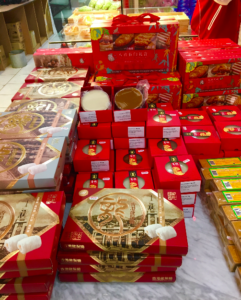 As for Chinese New Year goodies, these… you might want to reconsider bringing a personal stash because these ones are definitiely overpriced. See that box up there of dragon beard candy ? it's priced at £15.90 for a box which is almost more than triple the price it is in Singapore!
You can see so many different kinds of mochi they offer here in the Supermarkets and I personally haven't tried any but my friend is a huge fan of the Belgian chocolate ones – They're definitely a Western meets Asian fusion!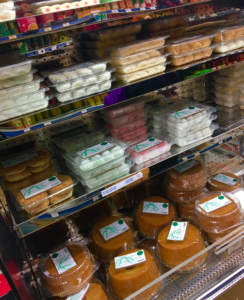 Thankfully, We have Pandan Chiffon Cake as well… for when we are missing Bengawan Solo delights !! These are yummy, definitely almost as good as the ones back home.
So I thought this post would be helpful for anyone who was always wondering what to expect and how it's really like! If you guys have anywhere else you'd like me to give a "review" on, Leave some comments below 🙂
Thank you for reading !
Love,
Eggy