Hi everyone,
The May Bank Holiday (Labour Day) extended the Easter Break by just one more day so there's still time for me to write!
Moving on from my 2 days in Haarlem, I headed to Rotterdam on Good Friday with my Dutch brother, Chris, who you'll meet later on. This city in South Holland gets its name from the dam that was built in the late 13th century in the Rotte river, much like how Amsterdam got its name from the dam built in the Amstel river. It's "Gateway to Europe/World" nickname comes from its extensive network and connections via rail, road and sea, hence the use of the 3 emojis in the title. It's easy to see why once you've stepped out of the railway station because it is incredibly busy! There are train connections from France, Belgium and even to Scandinavia so it's definitely well-connected.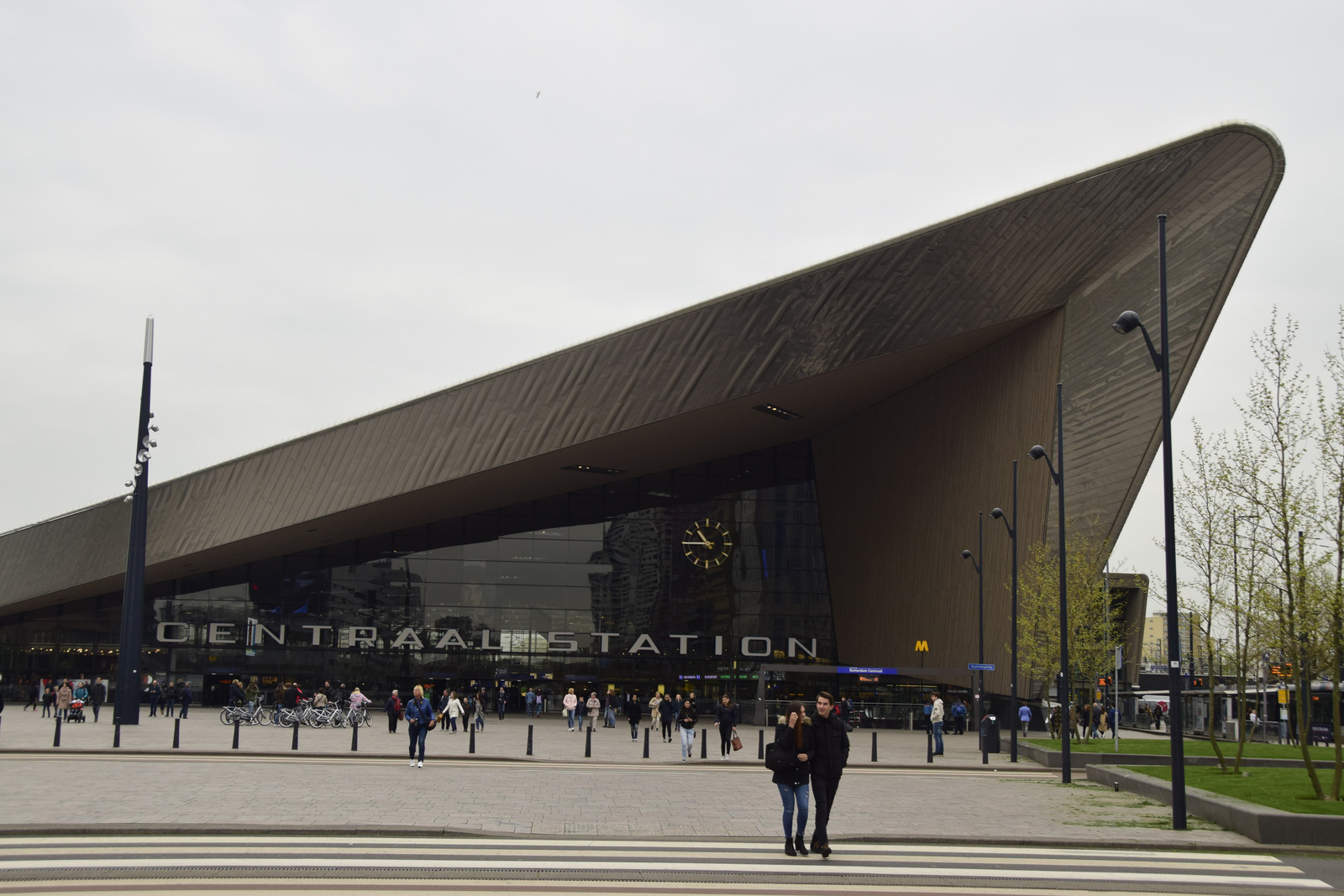 The Centraal Station itself is an impressive bit of architecture and you'll soon realise that Rotterdam isn't your typical Dutch city. There's just something different about it: the skyscrapers. Unfortunately, Rotterdam's brilliant connections made it a target for the Luftwaffe (Nazi Air Force) during WWII and was almost completely destroyed in the Rotterdam Blitz. As such, the city was built up again and now boasts skyscrapers that were designed by many world-famous architects. Lonely Planet recommended it as one of the Top 10 Best to Travel to cities in 2016. So let's see what it has in store!
Skyscrapers of all sorts are all around the city: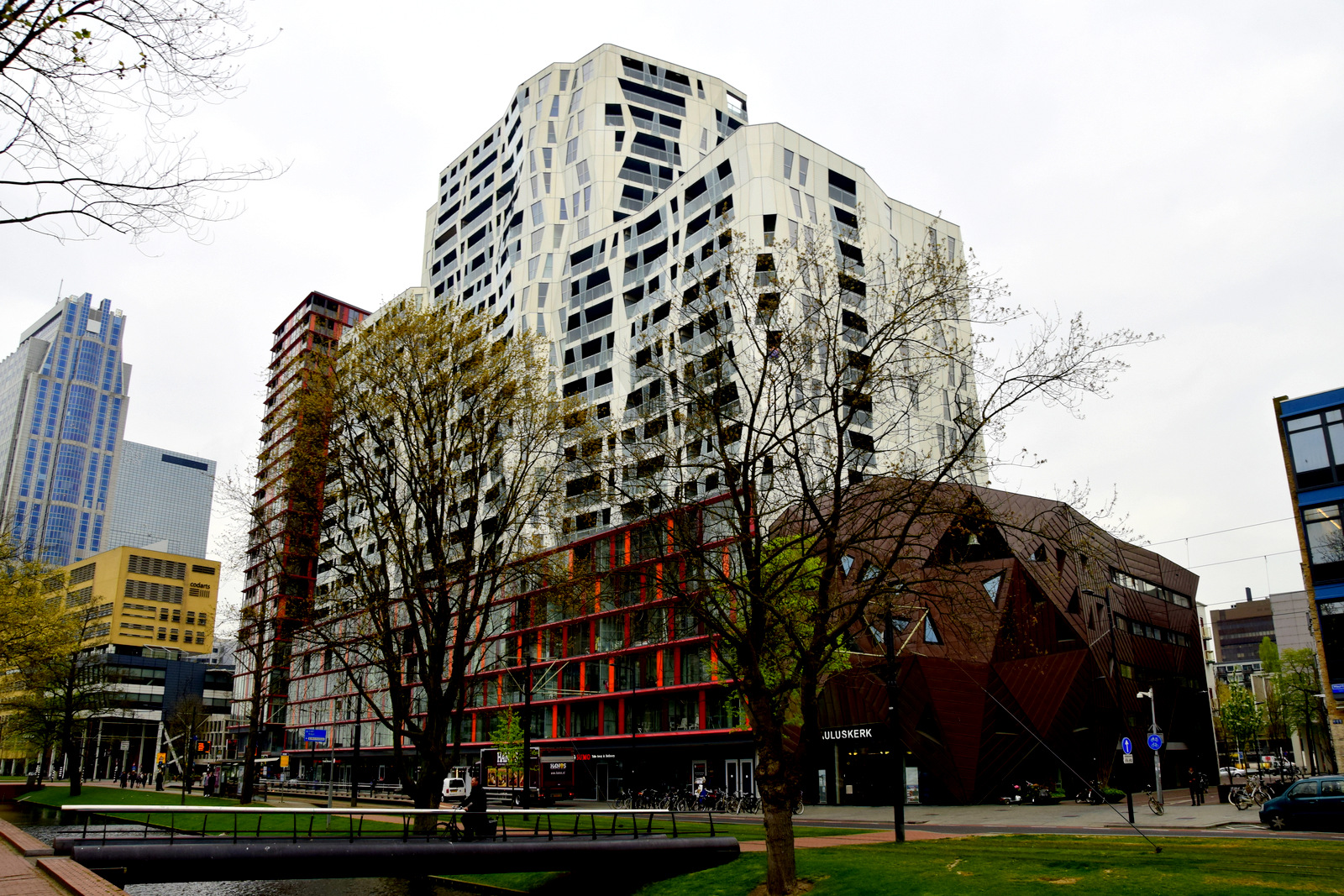 Including the Erasmus Medical Center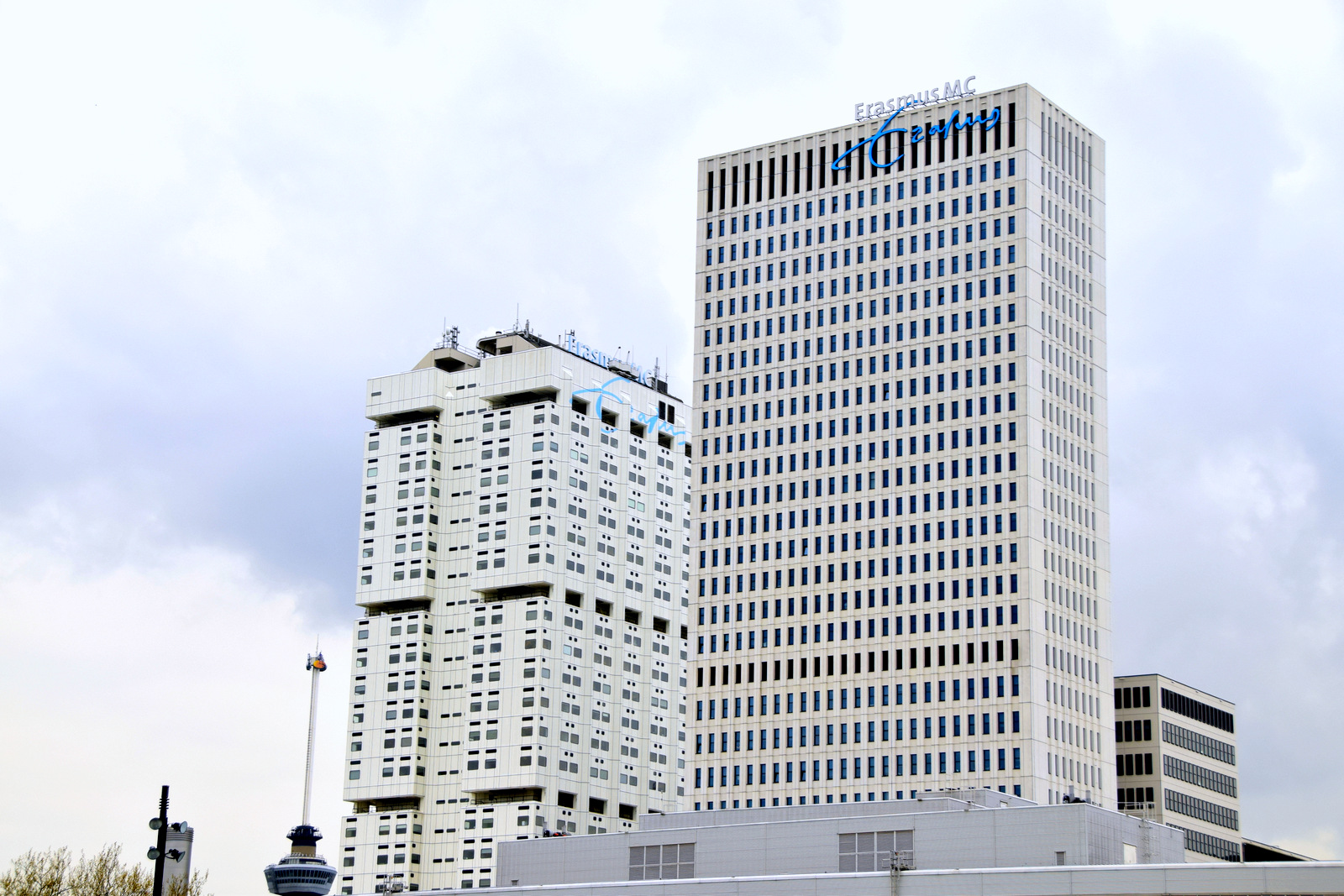 But… there are still very typical Dutch buildings around too: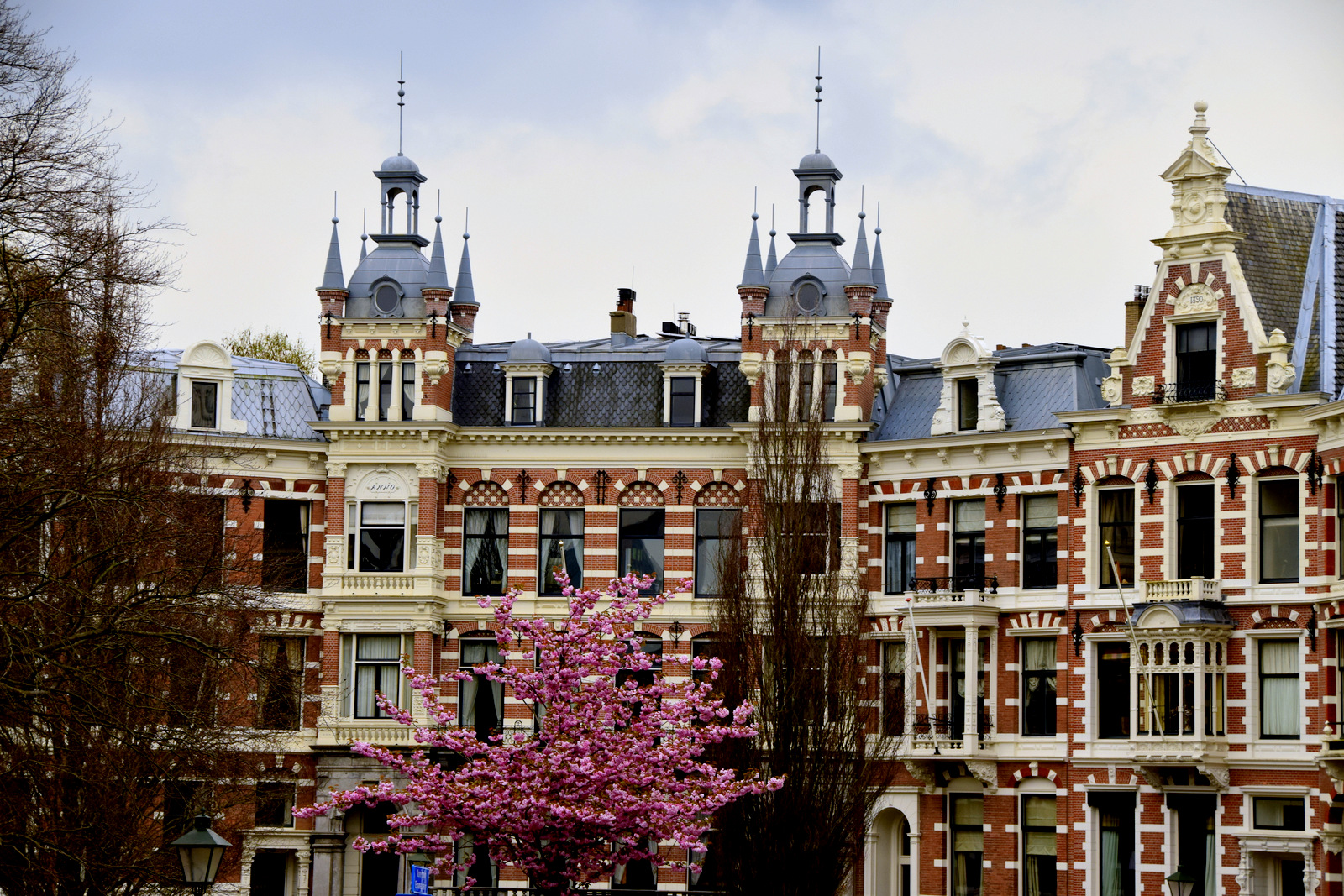 Here's Veerhaven, close to Delfshaven which is the historic borough in Rotterdam where you can see the Erasmus Bridge and the (Nieuwe Maas) New Meuse River which is at the heart of Rotterdam. It's a small little harbour with mostly old boats that remain well-polished.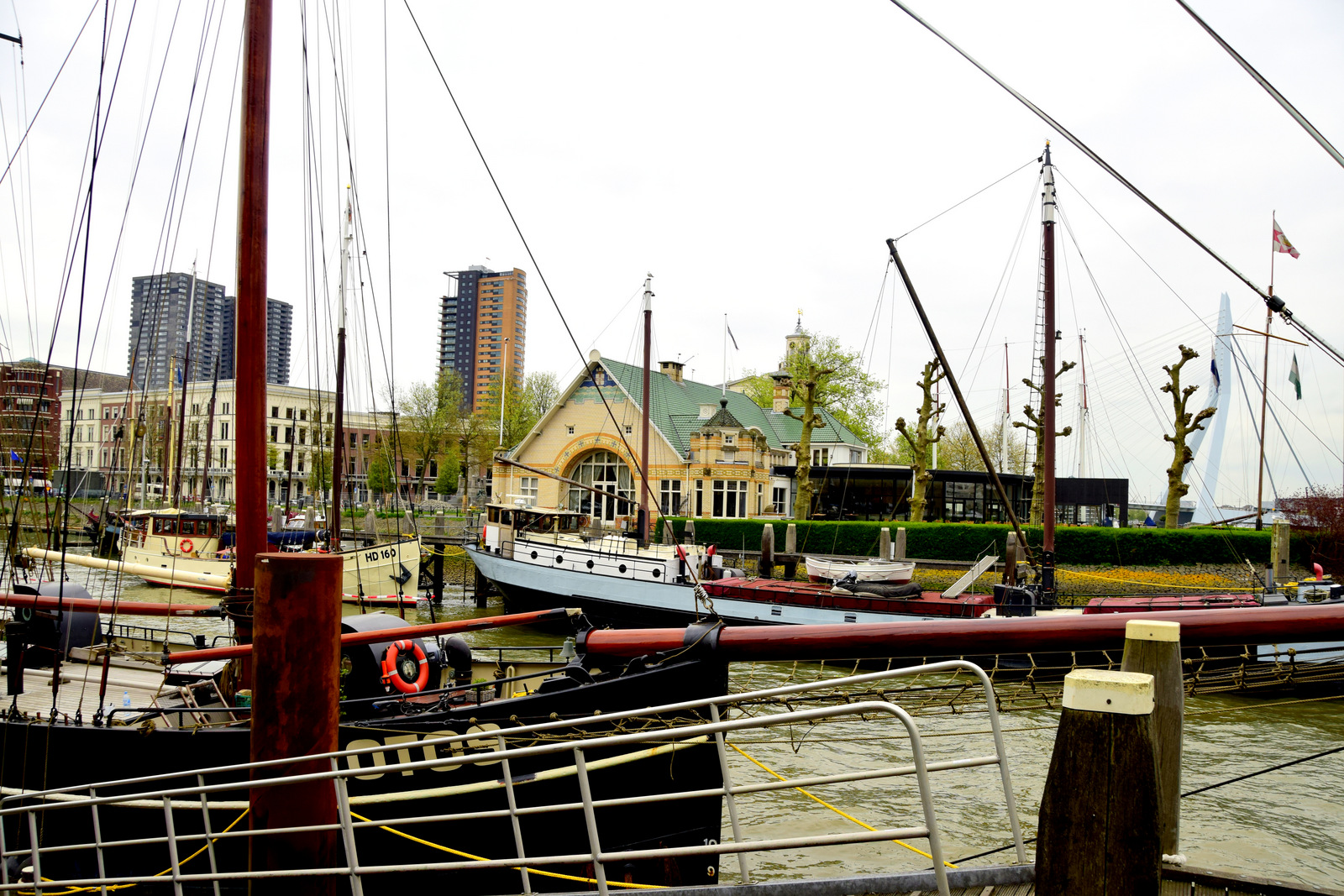 Here's me and Chris with the Erasmasbrug over Nieuwe Mass and the Kop van Zuid "neighbourhood" in the background. Once again, I'm hit by "gloomy sky day"! 🙈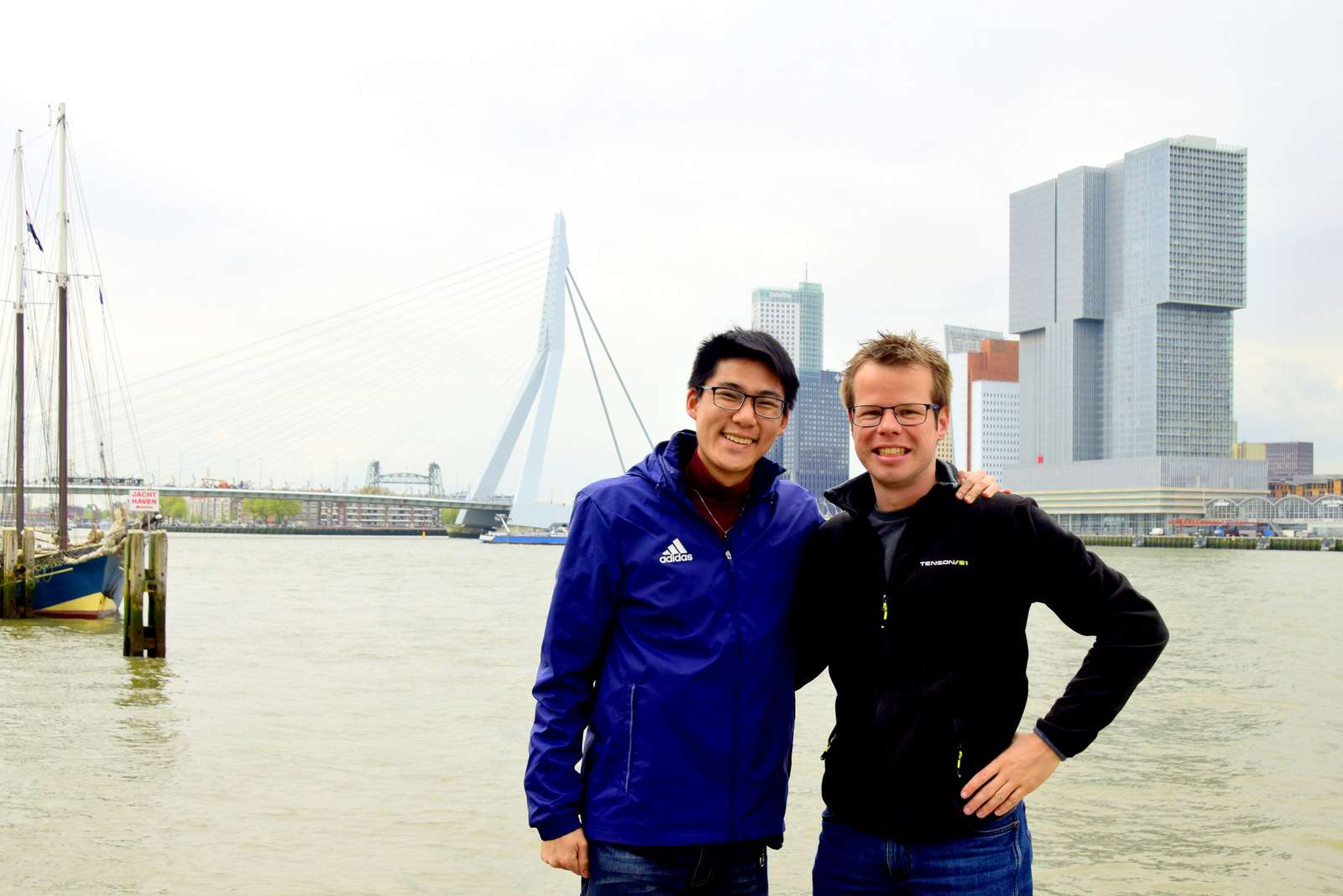 The Old(er) Tram and the New Tram at work: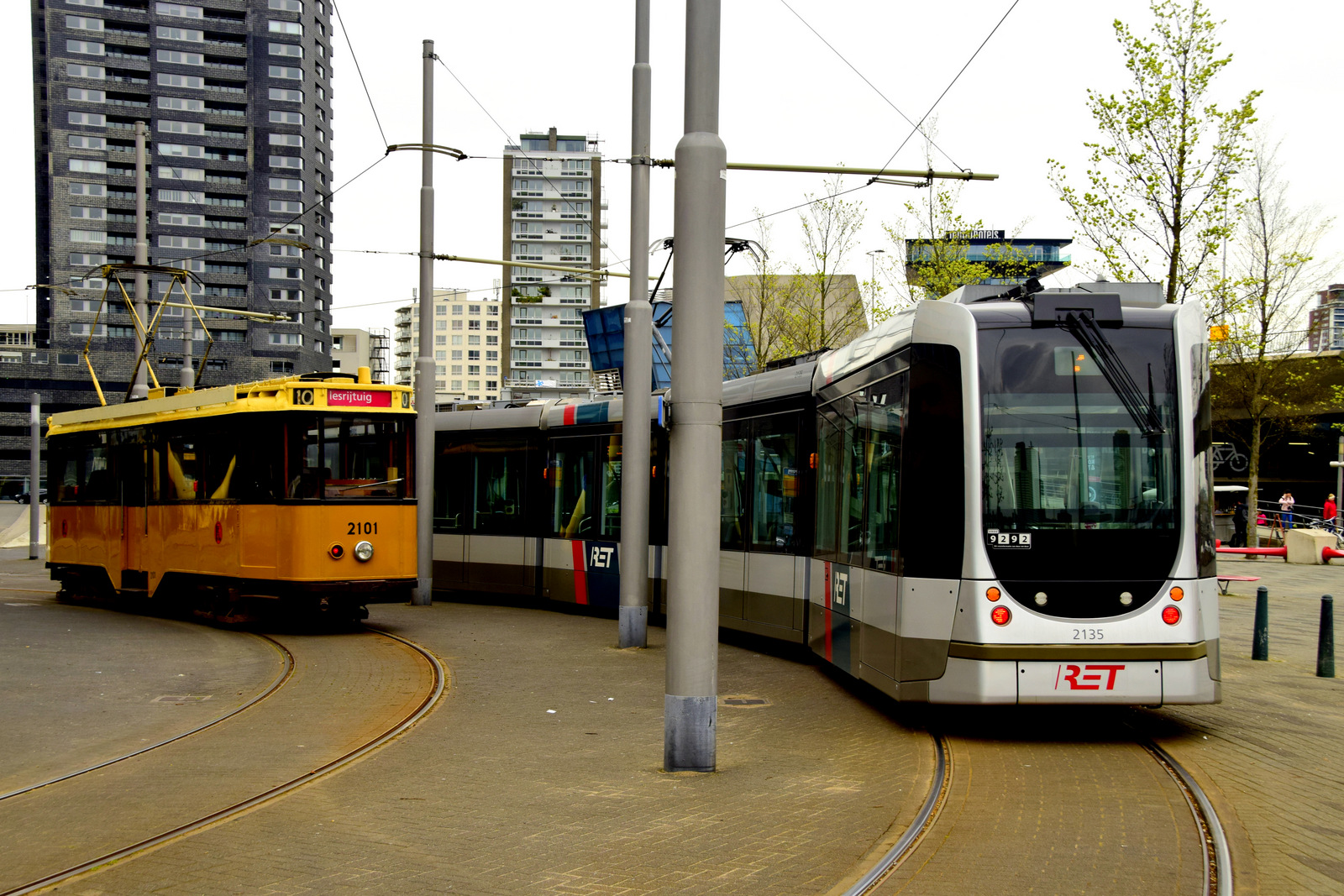 The view from on the Erasmus Bridge itself to where we came from and you'll now see the towering Euromast in the background too:
This is in the Kop van Zuid neighbourhood where Hotel New York is found. If you're looking for the word "Hotel New York" in the photo, you're not going to find it because it's actually built into that building that has "Holland Amerika Lijn" written across it. It used to be the HQ for Holland America Line, which provided a ship service from Rotterdam all the way to America. After almost a 100 years in operation (since 1893), it was sold to Carnival (a British-American cruise company) in 1989 but continues to run as a cruise line up till today. Today, the old HQ is Hotel New York, which serves really good food! (Or maybe we were just really hungry from walking so far in the cold)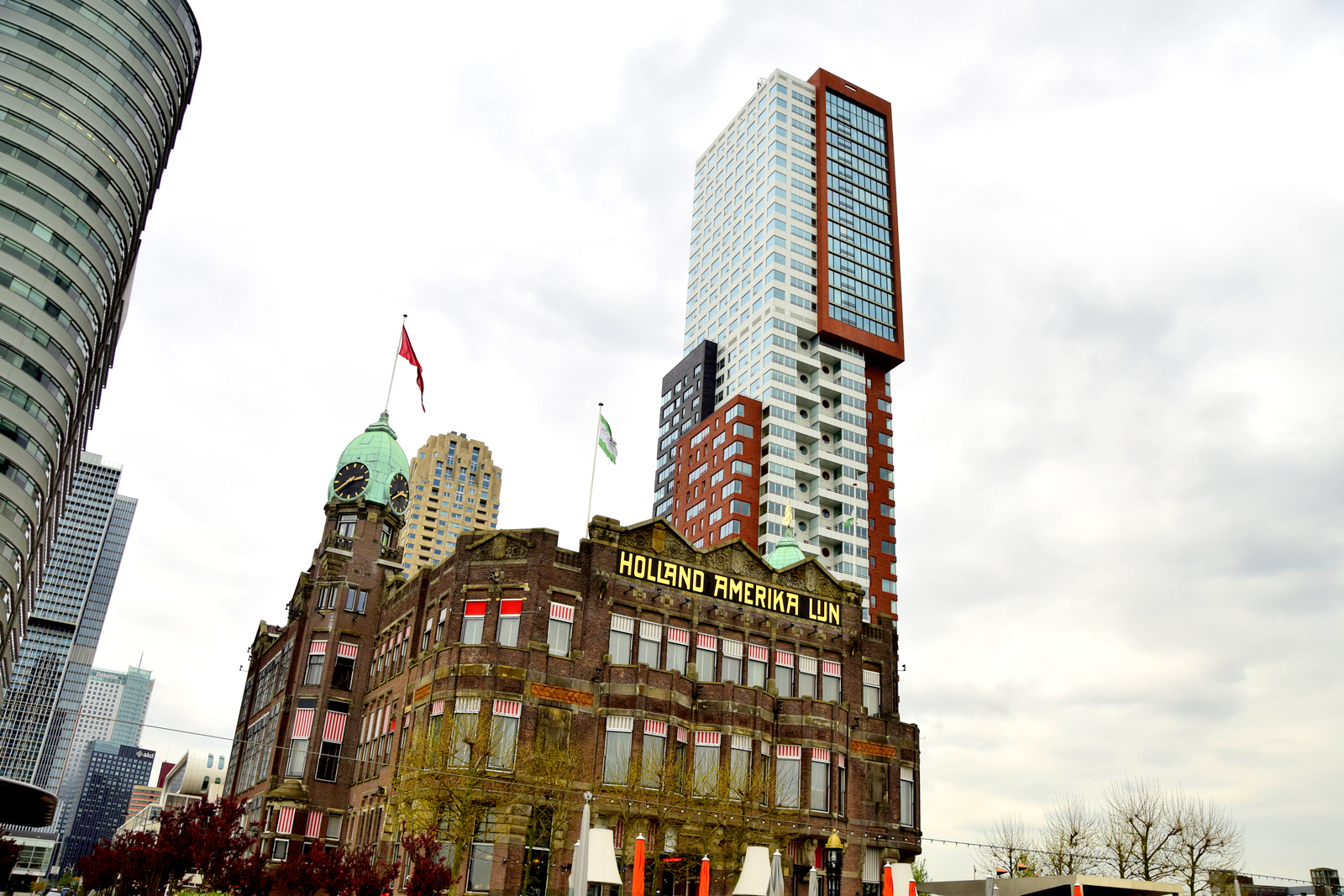 After lunch, it was time for a nice little cup of Macchiato, so we found our way to a nice little coffee house (coffee shops in the Netherlands sell something else).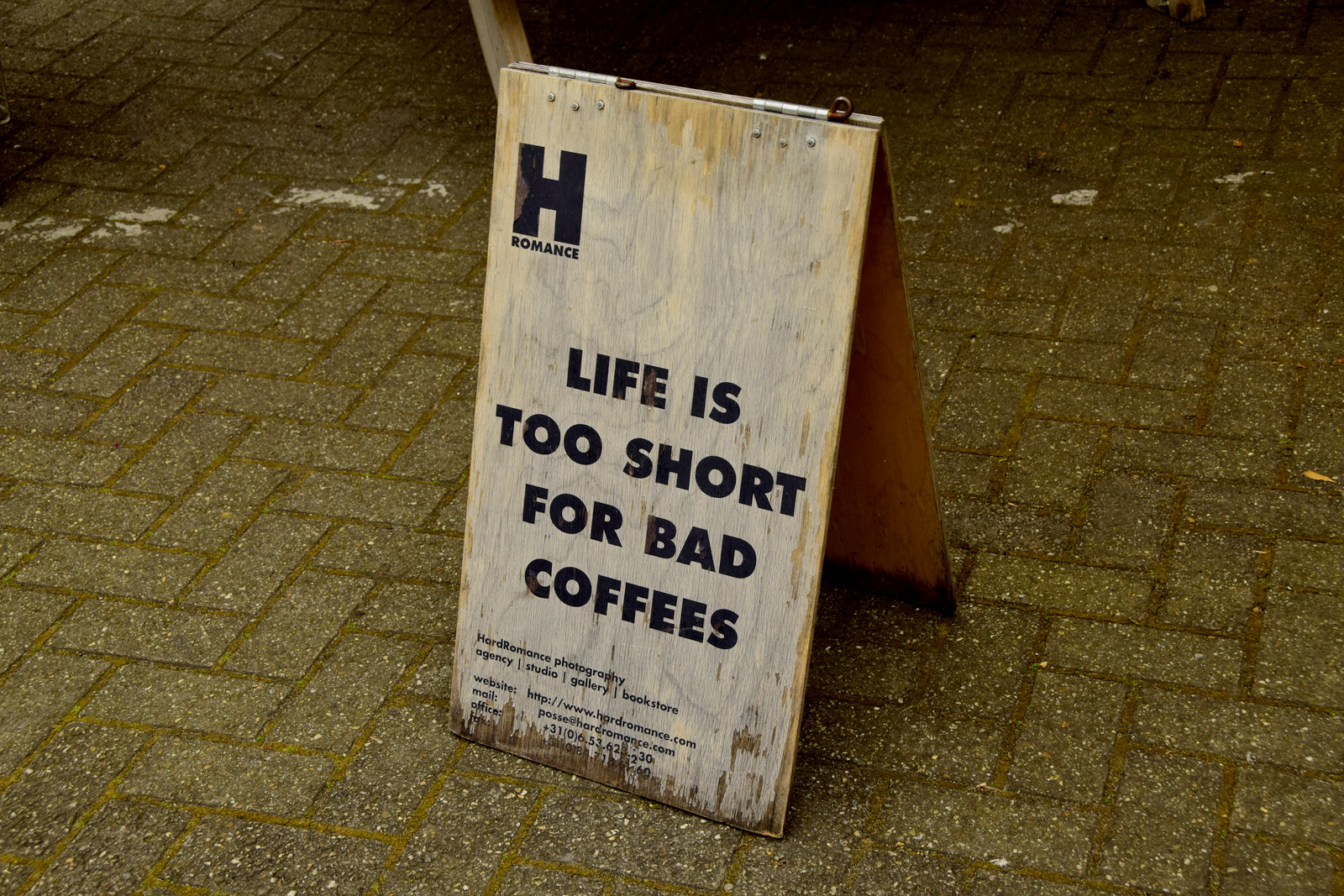 There was a very rustic feel about the place. In amongst all the mess of photos and random furniture, there was this odd sense of tranquility and cosiness about the place which gave us more reason to hang around and relaxing on the old sofas a little while longer.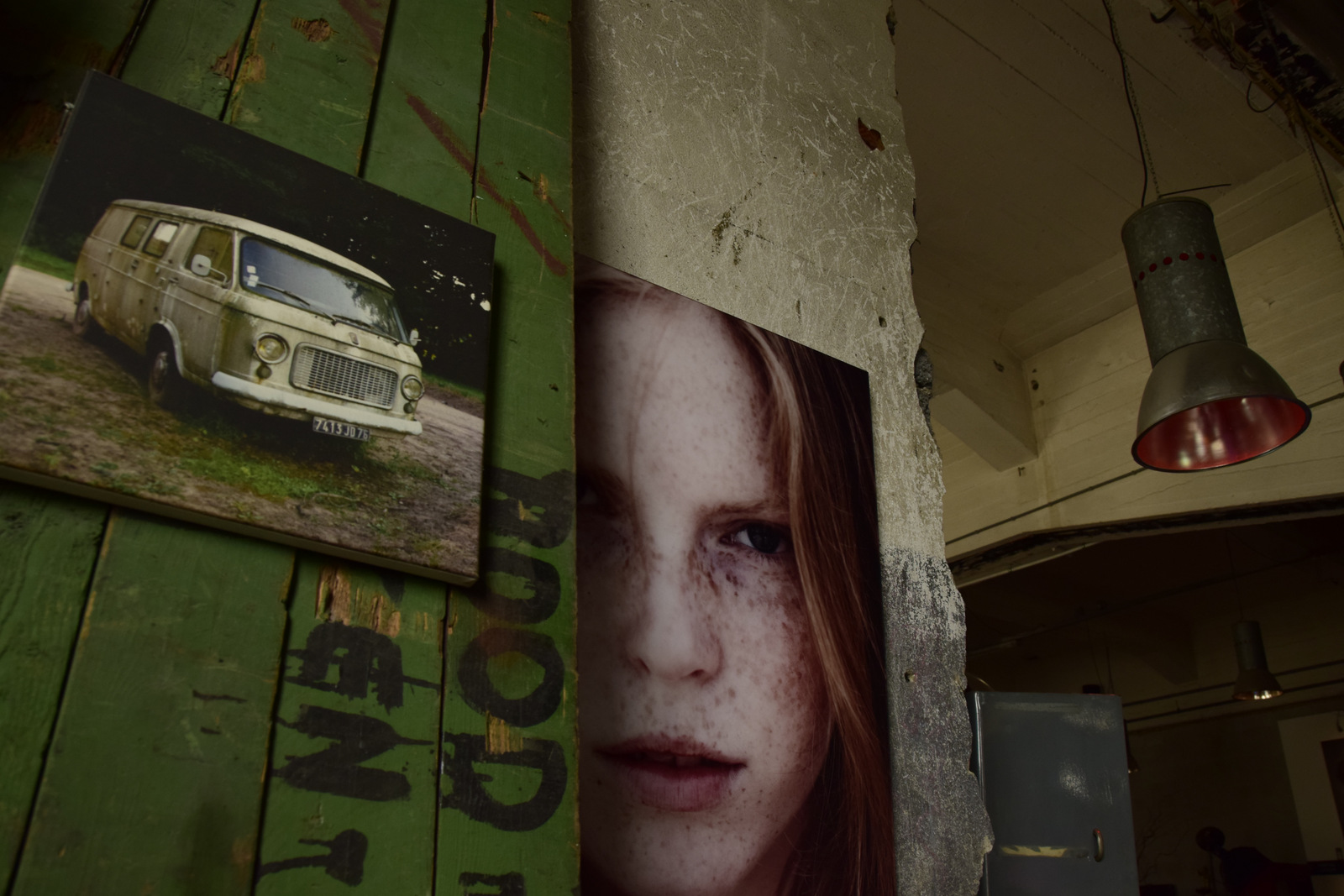 Time to get moving again and we crossing the Erasmus Bridge again but this time heading towards the more skyscraper filled part of the city. So here's another look of the Erasmusbrug and Kop van Zuid from the other side.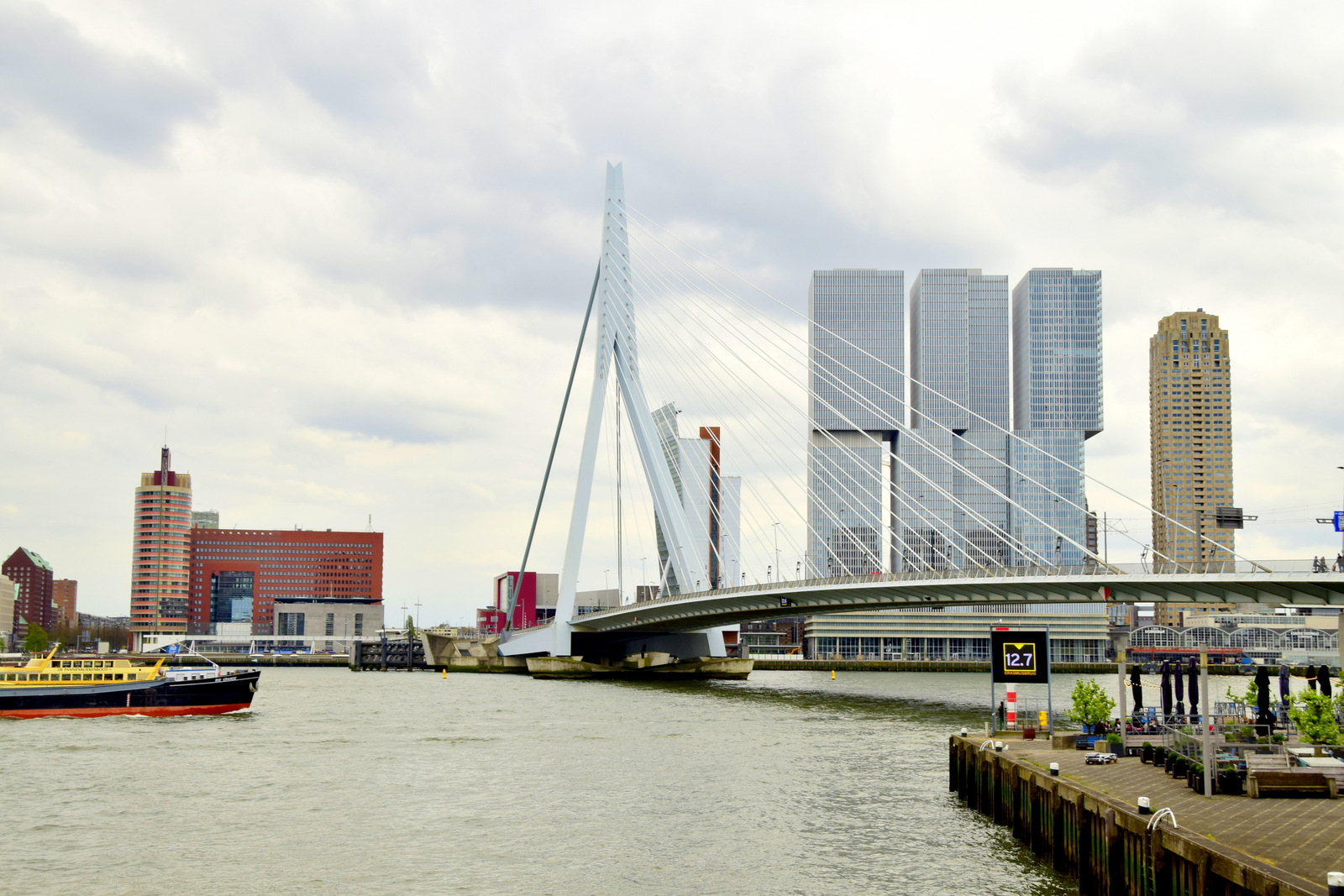 This is Zadkine's "The Destroyed City", depicting a man without a heart, a memorial to the Rotterdam Blitz: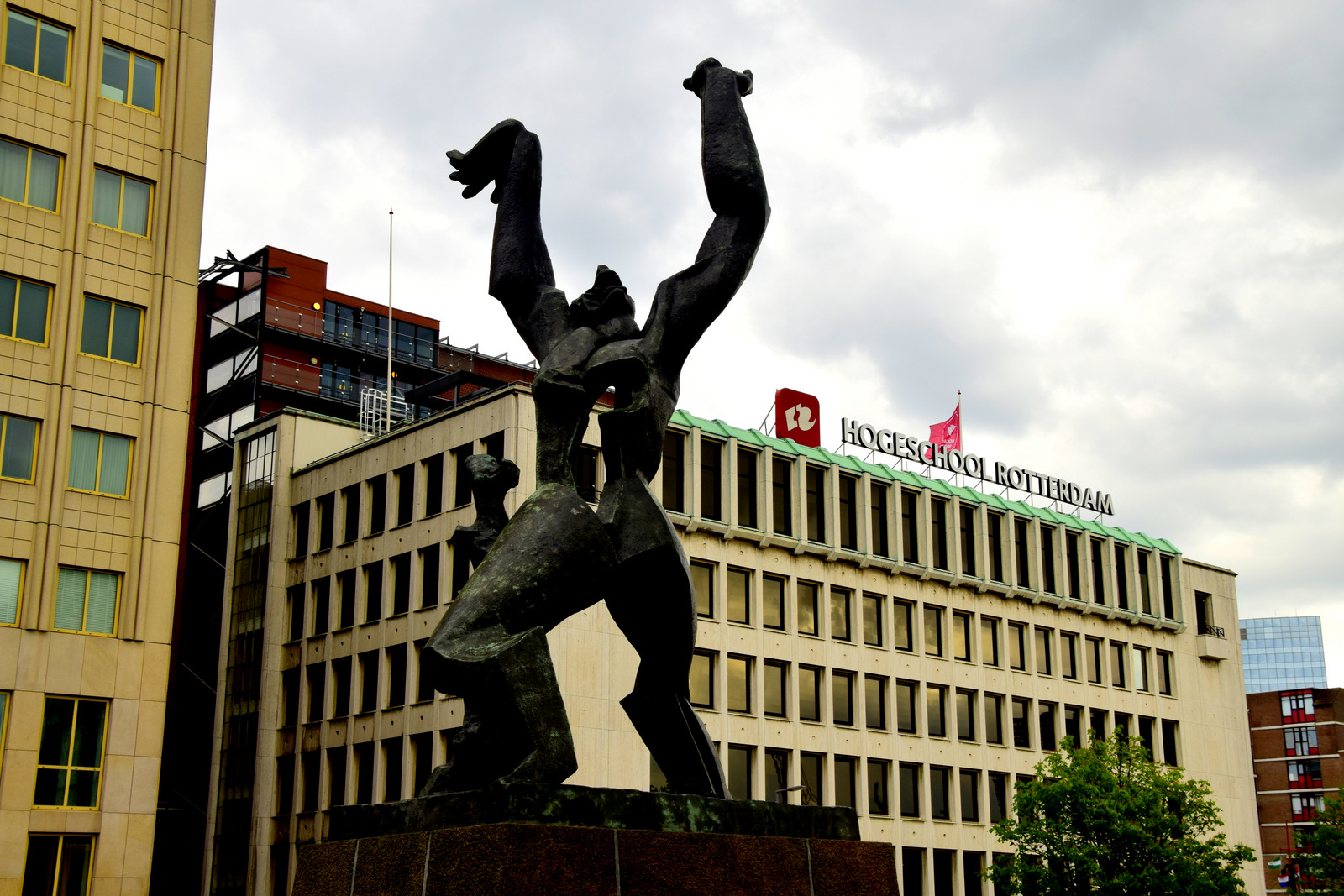 The walking tour map we followed took us on a detour to Oude Haven, which is another little harbour where the interesting cube houses are close to.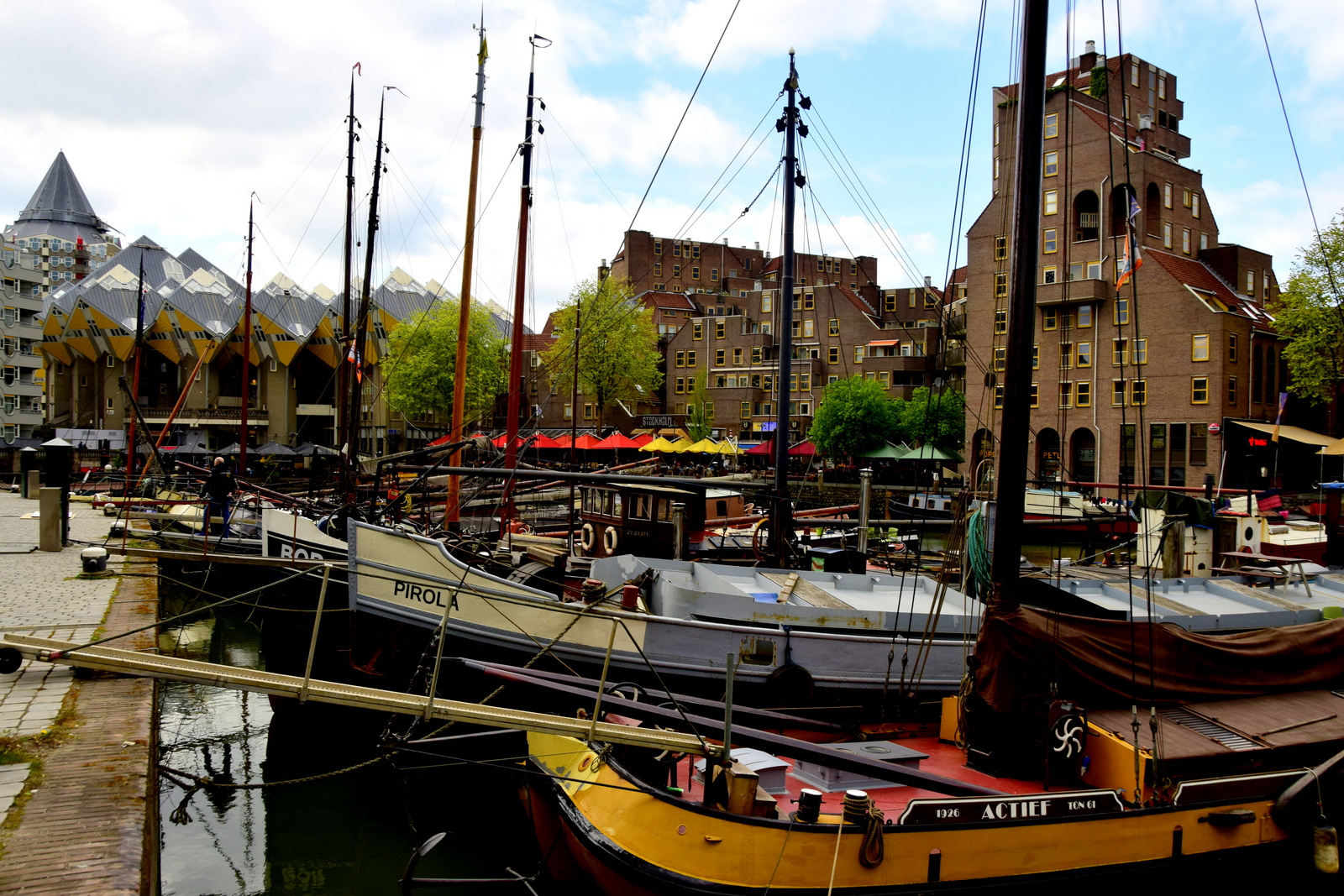 This is the view from the other side of Oude Haven, looking out towards the Willemsbrug with its red pylons contrasting the colour of the skies, regardless if they were blue or grey.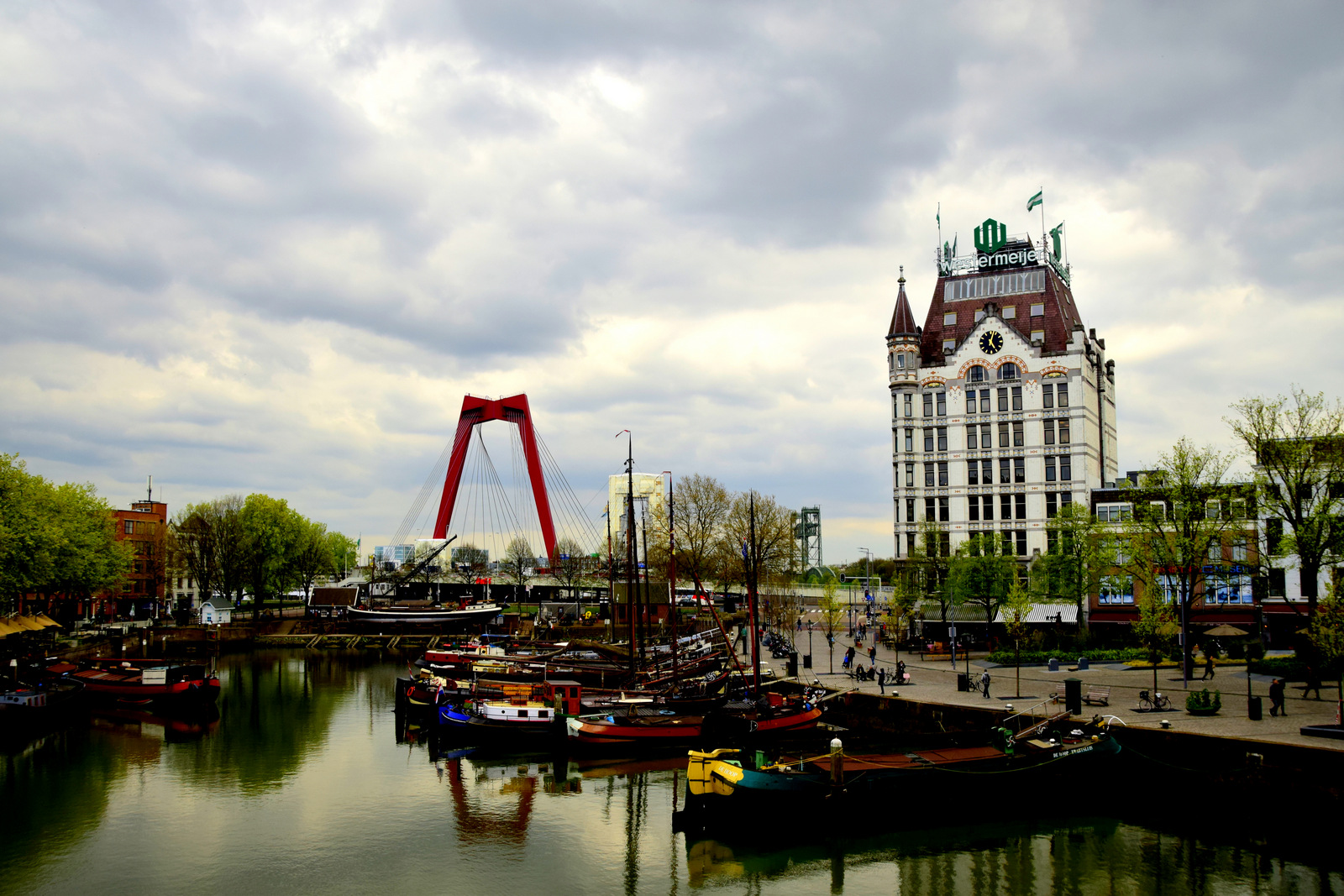 Here are the Cube Houses close-up. Designed by Piet Blom, he intended for them to maximise all the space within to have a better distribution of rooms.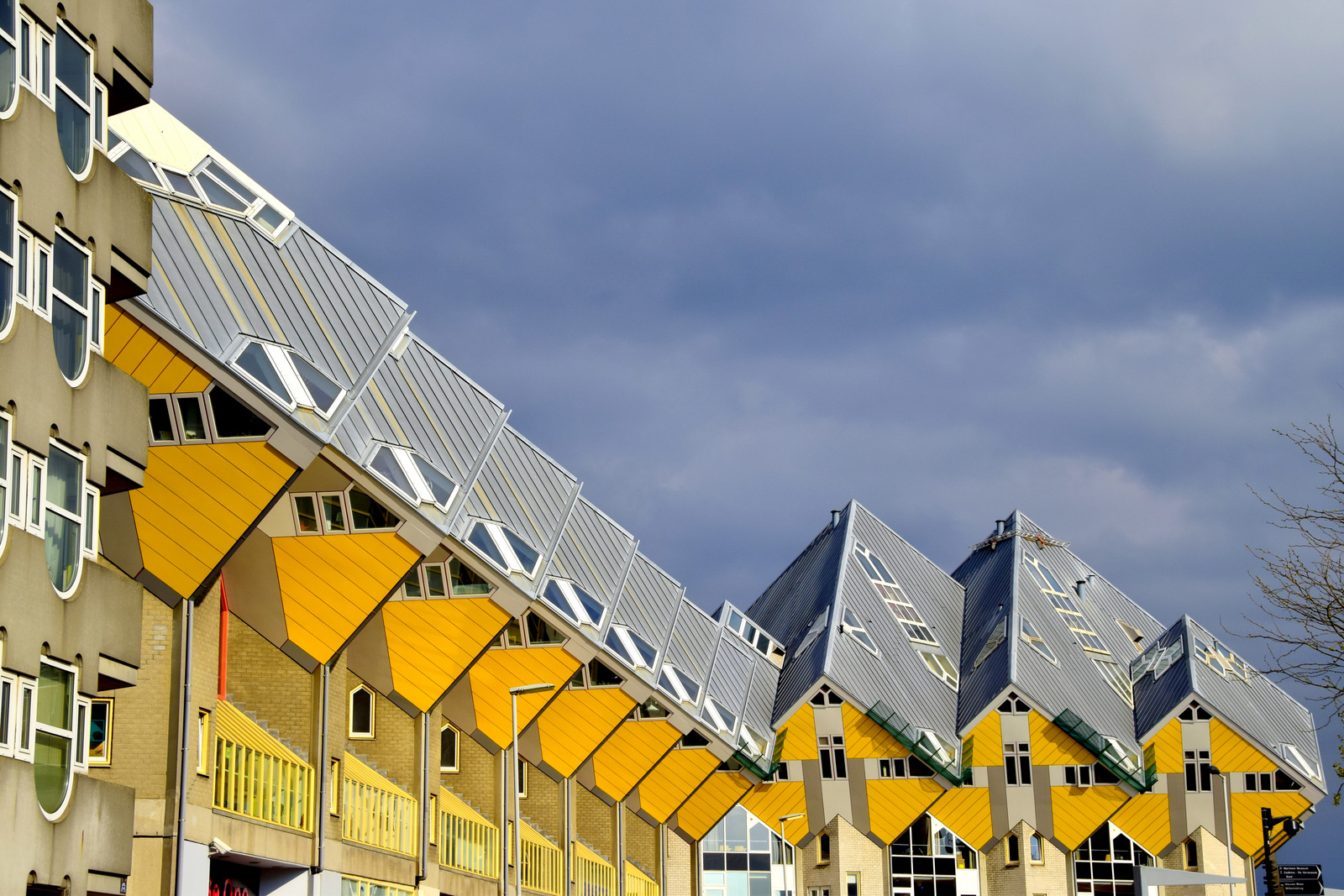 This is the Markthal (Market Hall), that is one of Rotterdam's famous landmarks despite only being opened since 2014. It's got a huge retail space within and still manages to house over 200 apartments around the arch.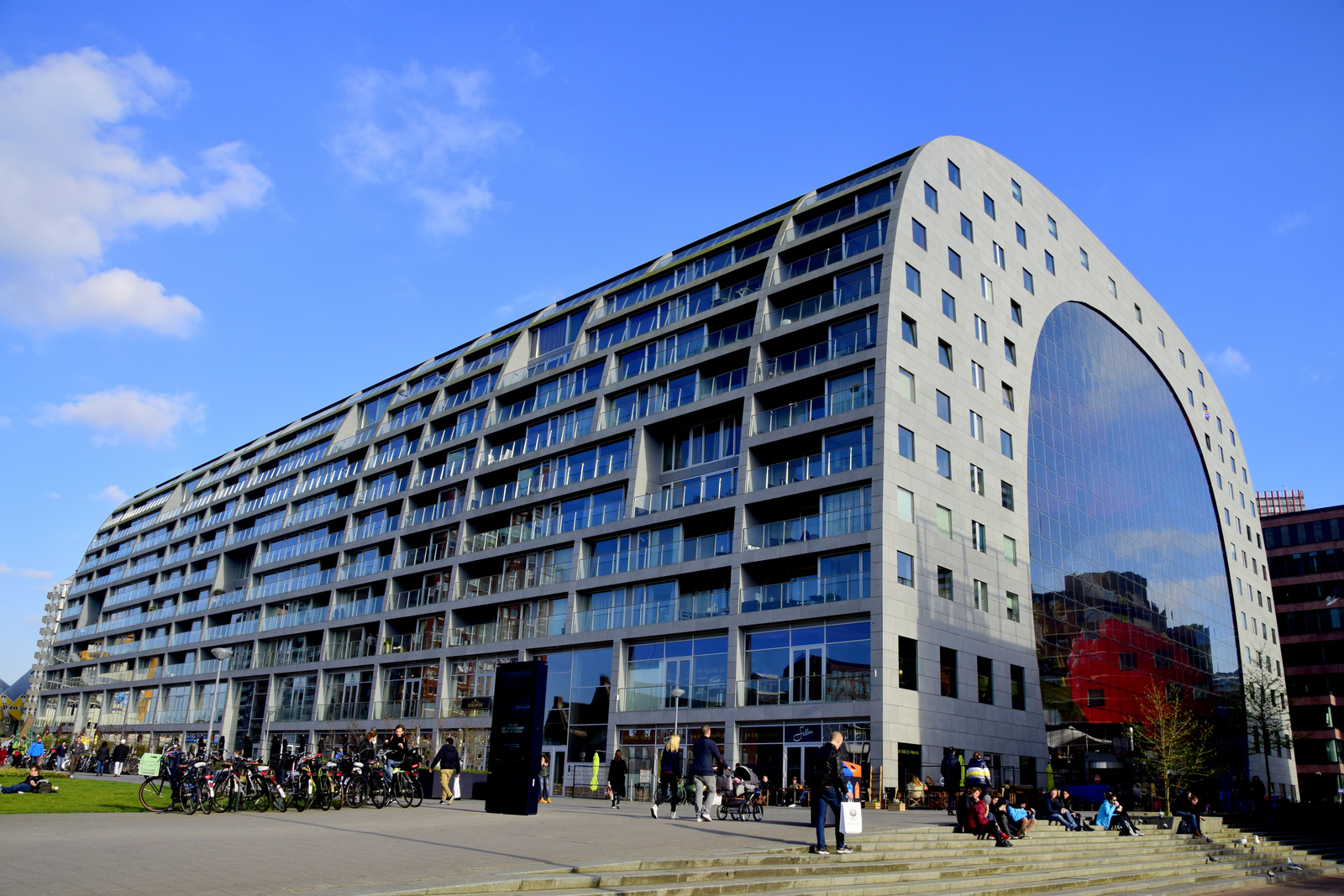 Here's a look at the interior of the Markthal, which is "coloured" with art featuring fruits, vegetables, seeds and even insects if you look closely enough. There's plenty of food inside that's a little bit like the Old Spitalfields Market, except many many times bigger!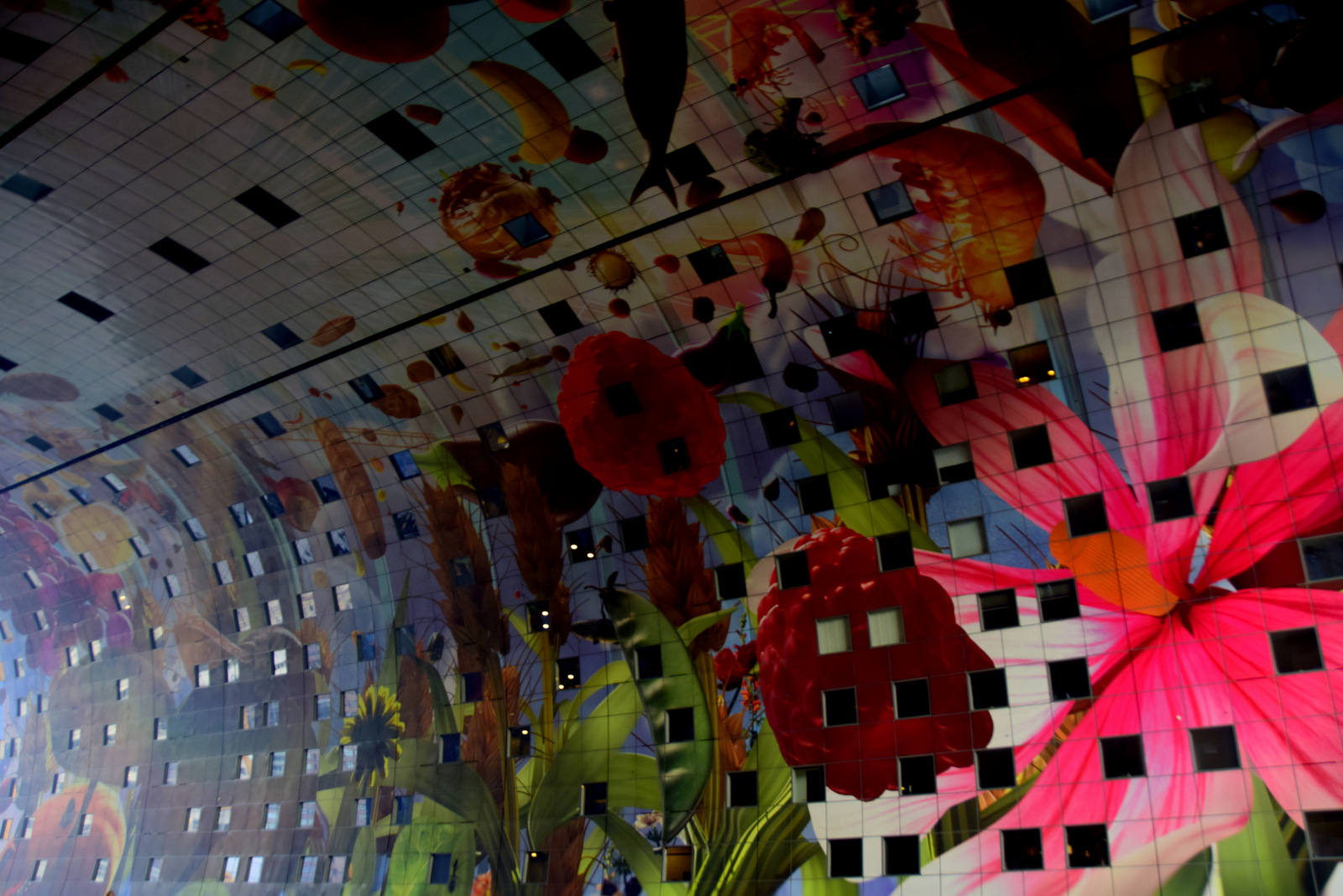 Here's St Lawrence Church, which was just about to have its Good Friday evening service when we went by: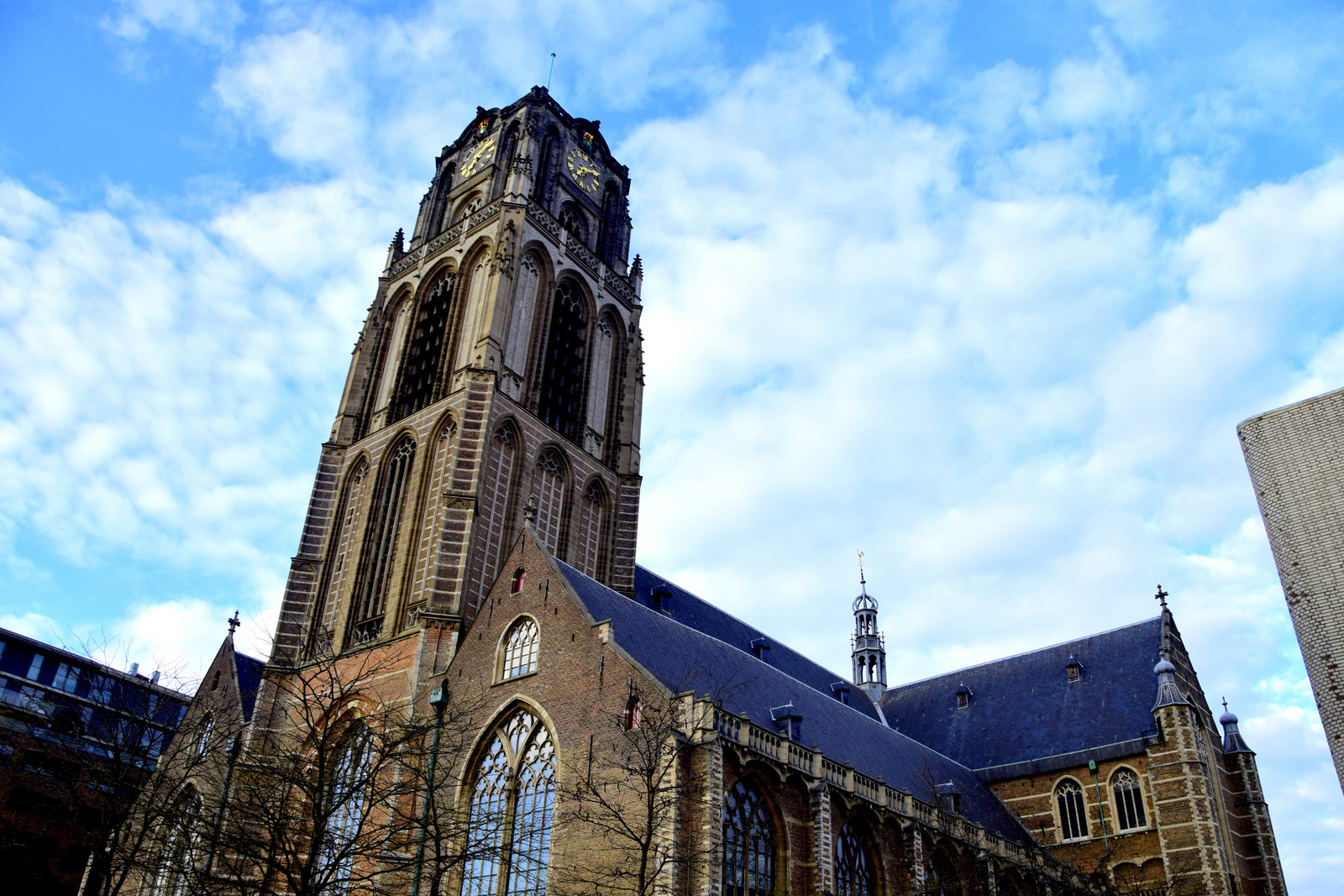 Right in front of the church in the gardens is the statue of Erasmus, the famous theologian, Renaissance humanist and social critic. He's left a huge legacy all across Europe, one of which is the "Erasmus Programme" that allows EU students to spend (up to) a year at another European university. (An exchange programme is always a life-changing experience!)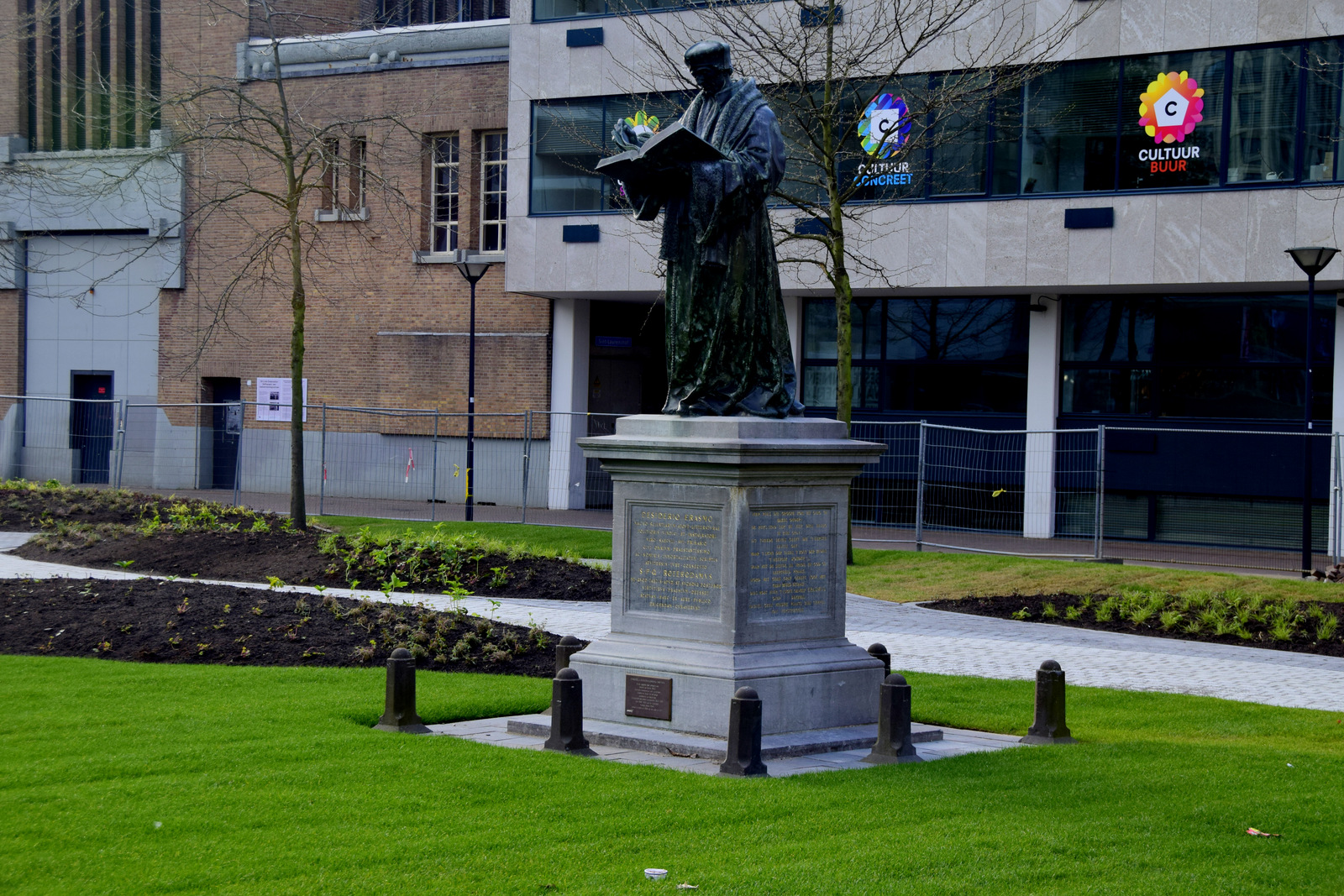 It was close to the end of the walking tour because we were almost back at the main shopping street and back amongst the skyscrapers.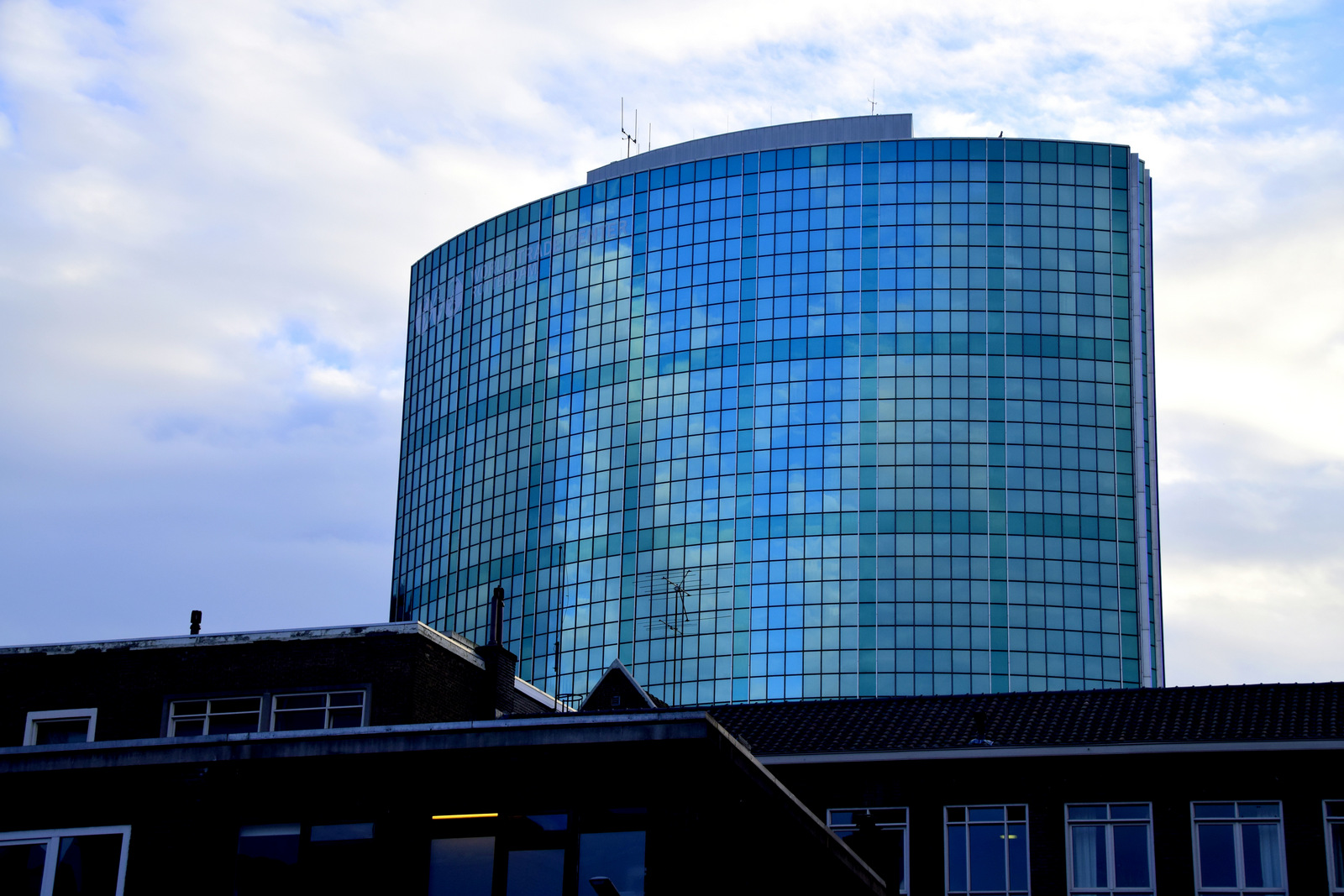 As always, I'm always looking out for City Hall and Rotterdam was no different: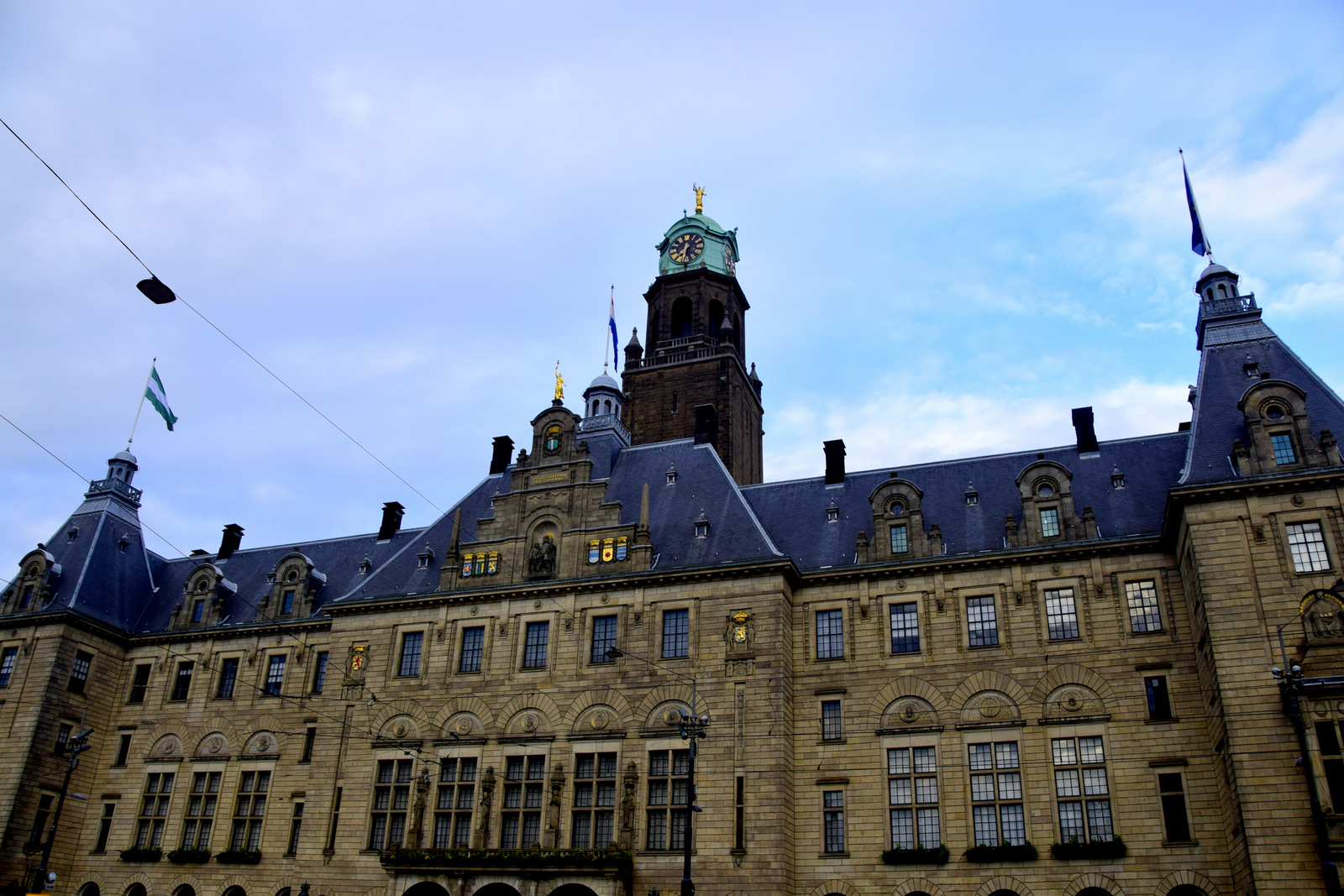 After completing the huge walking tour which had to be more than 10km of walking, there was just about enough time for one last thing: go up the Euromast to see the whole city. It was very peculiar seeing a pagoda near the Euromast though: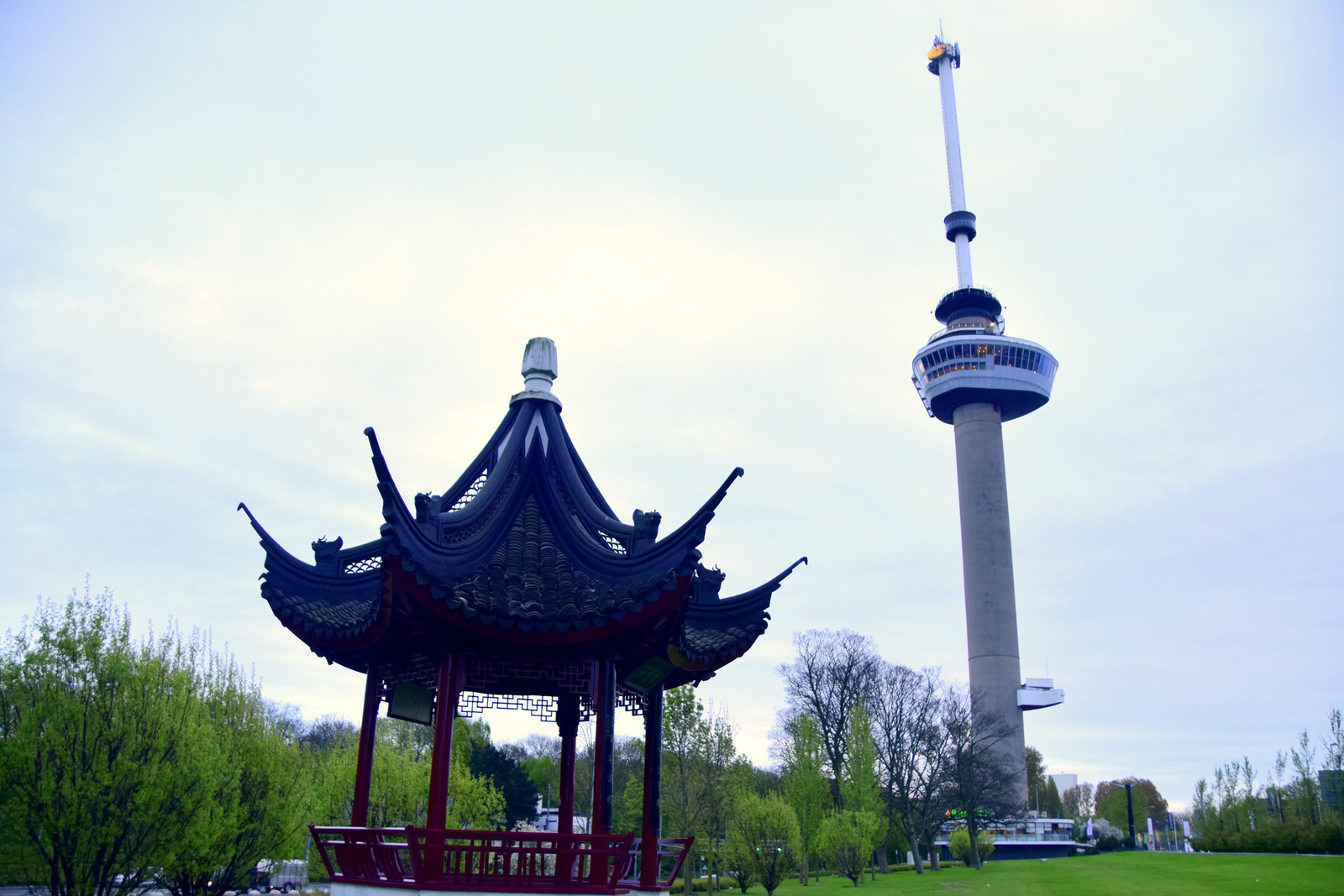 I'm always a big fan of the panoramic view of the city so going up a tower like that is usually worth it because you'll get a wonderful view from above: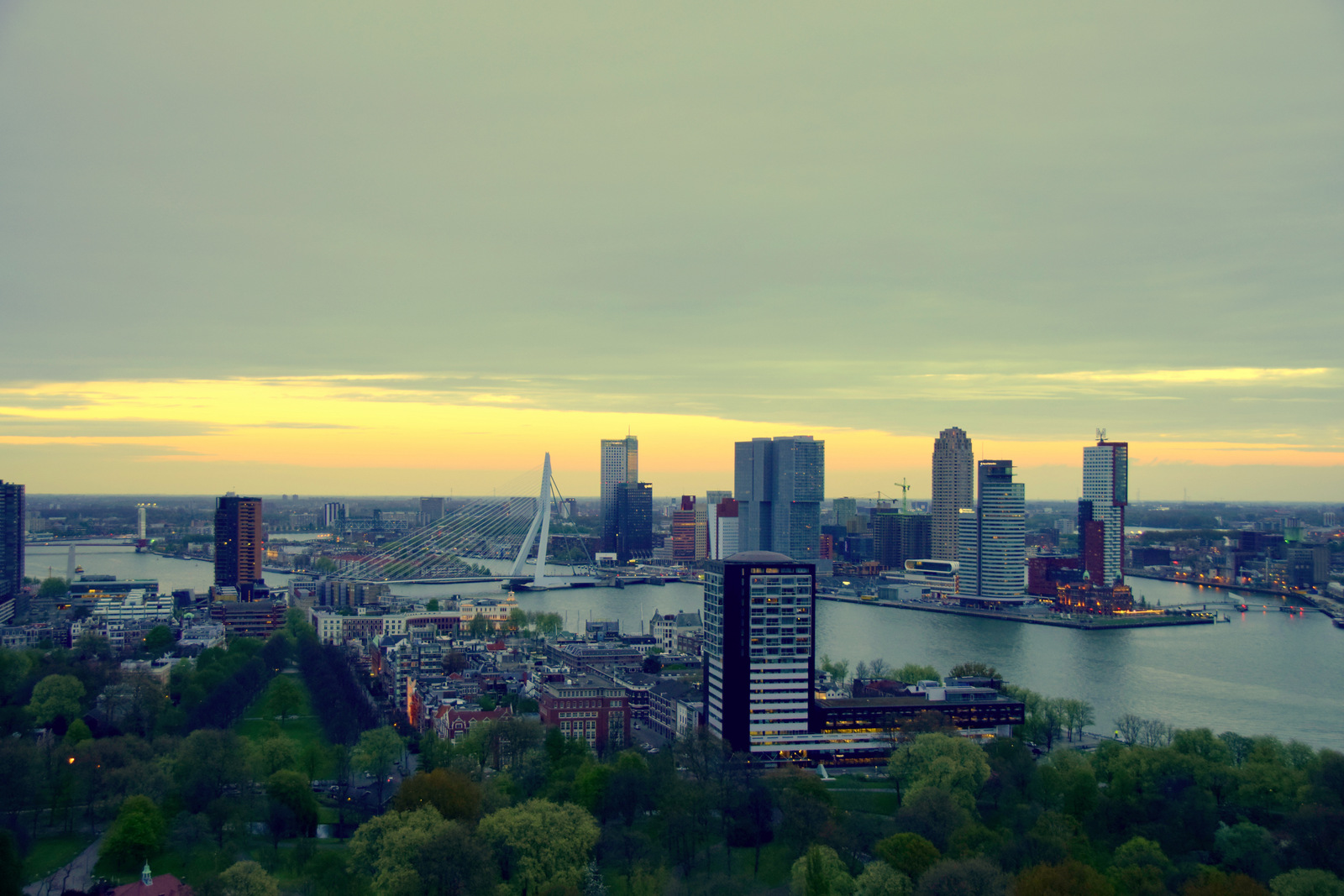 Since coming here, much of my travels haven't involved me being in photos because I'm usually travelling alone. But when you're travelling with a good buddy and there's a view like this, it's worth all the hassle setting up the tripod: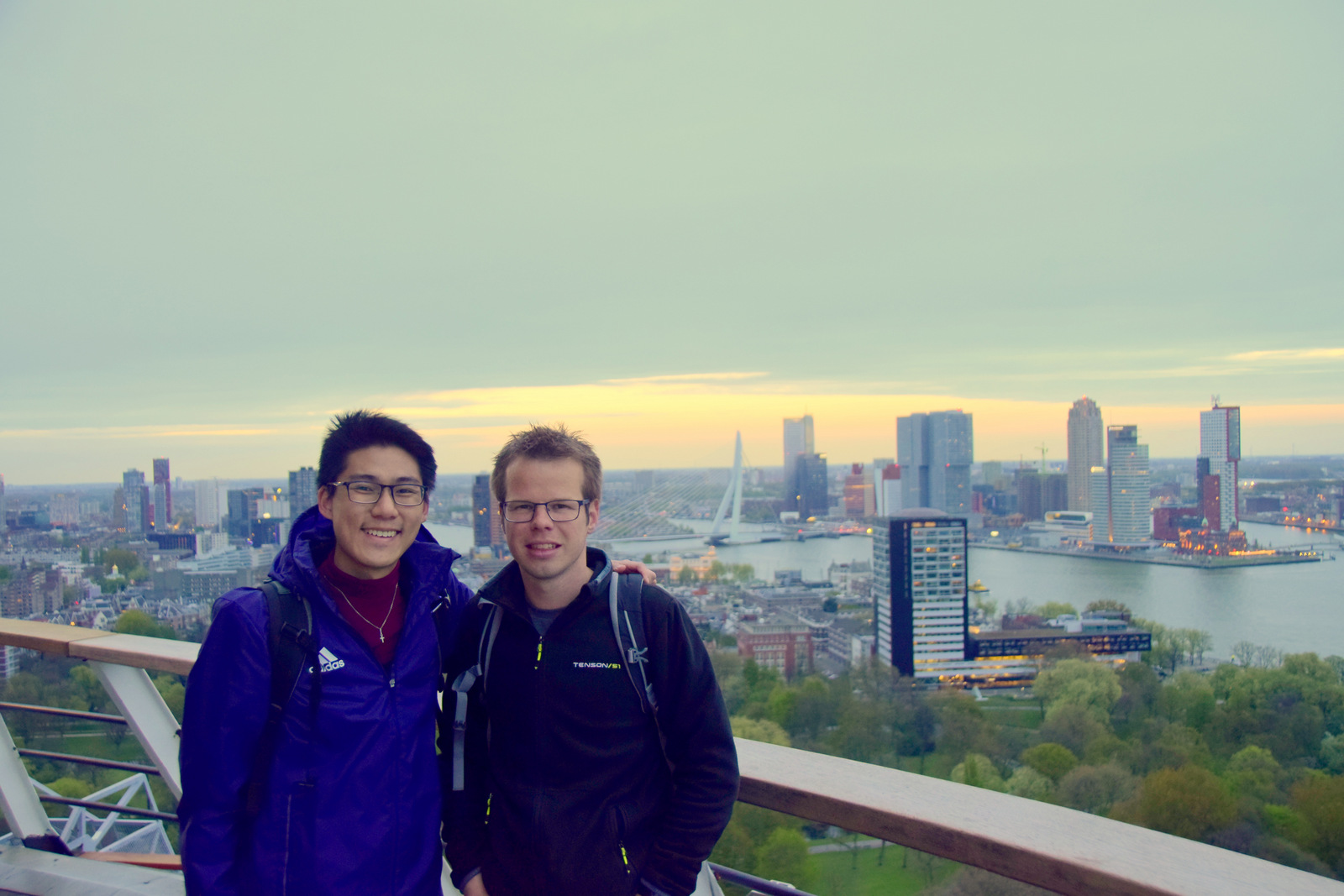 Rotterdam is also home of Europe's largest port so I had to at least get one photo of the port from up the Euromast. It's kind of in the far out distance in this photo but you get the idea. To give a Singapore context, in terms of transshipment ports, where Singapore 🇸🇬 is Number 1 as of 2016 (as we are in most things), Rotterdam ranks 7th. (A bit of Supply Chain terminology here: Transshipment ports are intermediate ports that receives goods and then ships it on from there).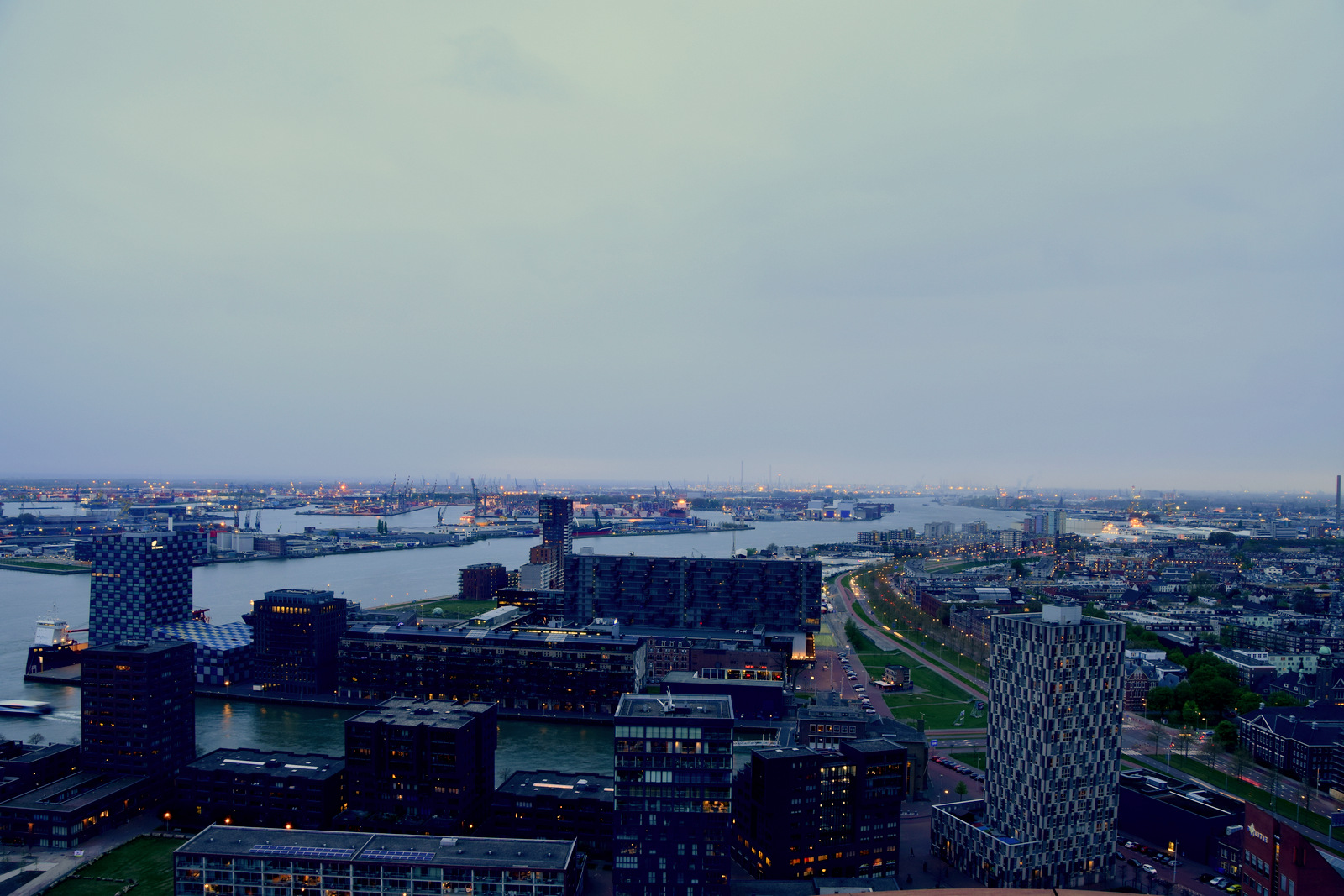 With the sun setting so late now, it's tough to get a nightfall view unless you're willing to wait for a long time, which we did. So obviously, I couldn't take just one shot:
That was pretty much it for Rotterdam. It was a satisfying end to a day of a lot of walking to see the whole city from the observation tower. Wasn't staying in Rotterdam though because we had to go back to Amsterdam-South where Chris' place was so we returned to where we started in the day, Rotterdam Central Station: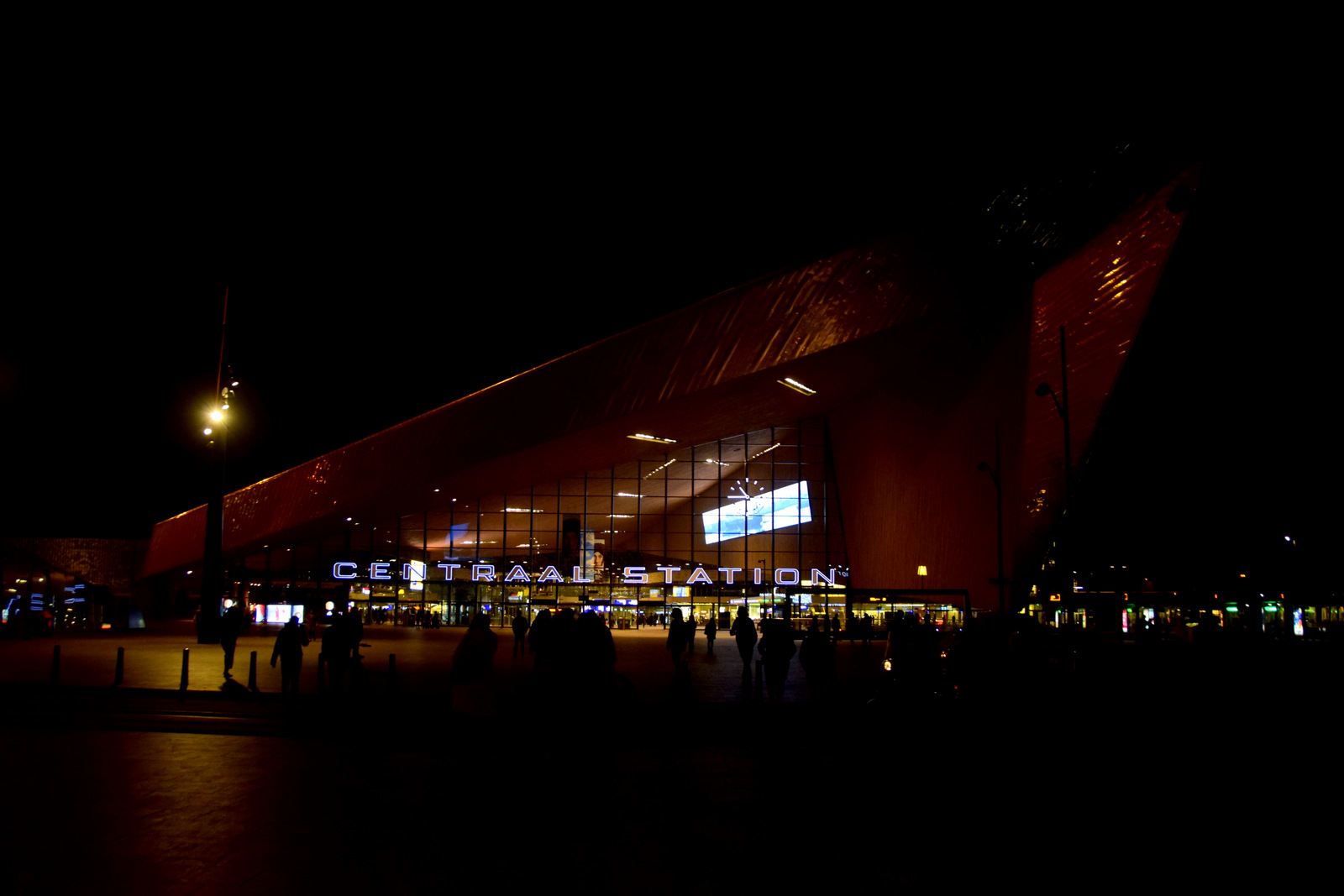 My little trip in Netherlands was not yet done because I still had a good few hours before an evening flight back to the UK so we managed to squeeze in time for a brief trip to Utrecht. More on that later this week because it's now time to go to bed since there's a morning class tomorrow.
It's back to school again and I don't know why I'm excited while so many other people are dreading it. Maybe it's the age thing. But hey, staying in school keeps you young. That's why I decided to come back to school for Masters! 😂
Until Utrecht then! Have a blessed week ahead! 🌈
Ben