Hi everyone,
There's some progress with my Machine Learning R coding work and it's Friday evening so it's a good idea to take a little break once again. So… Winchester…
Headed to Winchester on the Wednesday of Week 3 of Spring Break for my routine midweek day trip. Winchester get its "City of Kings and Priests" nickname from its history as the capital established by King Alfred the Great and it being an important religious foundation in the past (according to the Winchester guide I picked up at City Hall). It's also the Western-most extremity of South Downs National Park. It's found in the county of Hampshire which includes cities like Portsmouth and Southampton. A train ride there requires a transfer at Woking and it takes about 90 minutes, which makes it a little more troublesome as compared to Portsmouth.
Once you get out of the train station and start walking towards the City Centre, you'll realise that Hampshire County Council is actually in Winchester itself: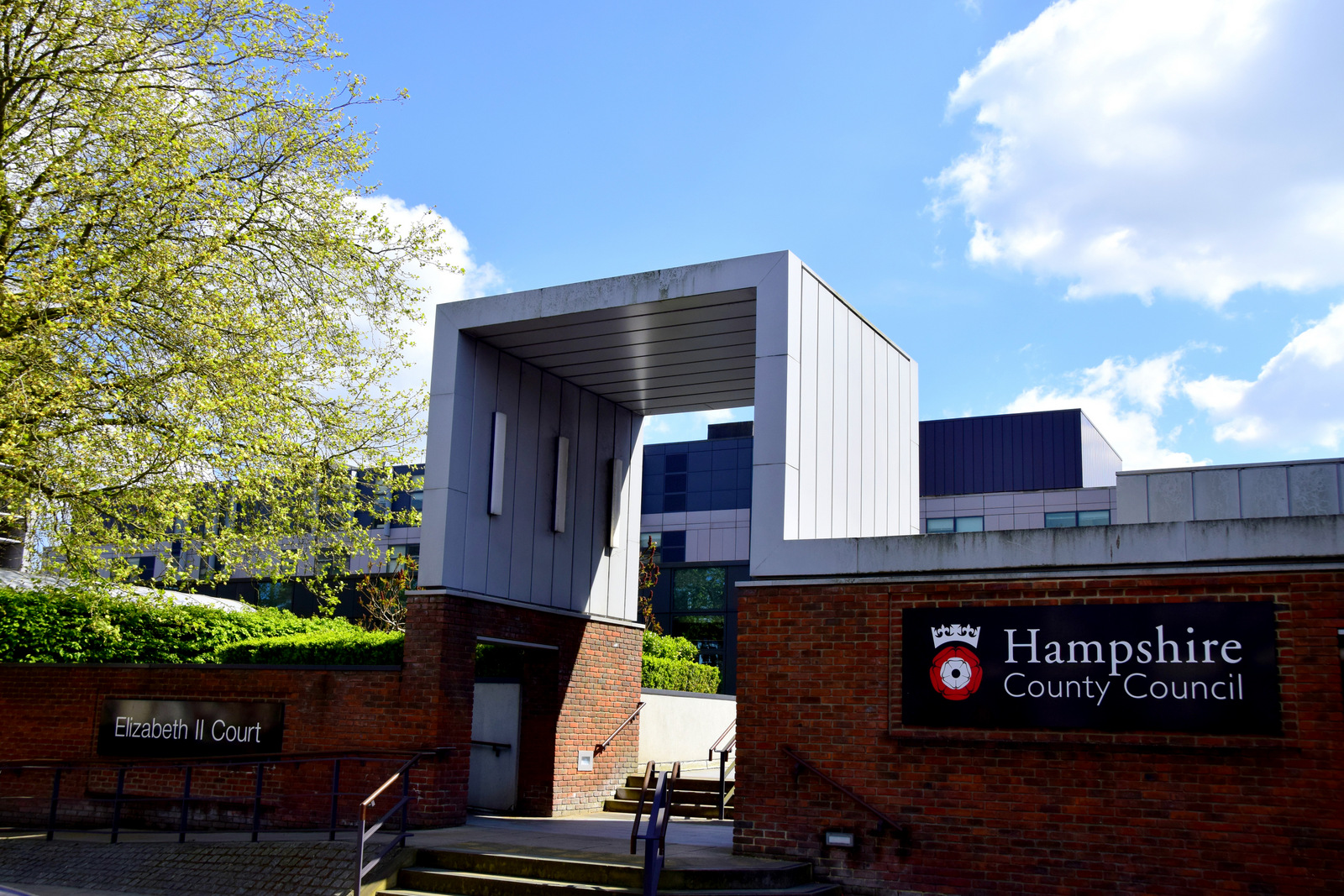 Walk a little further and you'll find Winchester Castle and the Great Hall: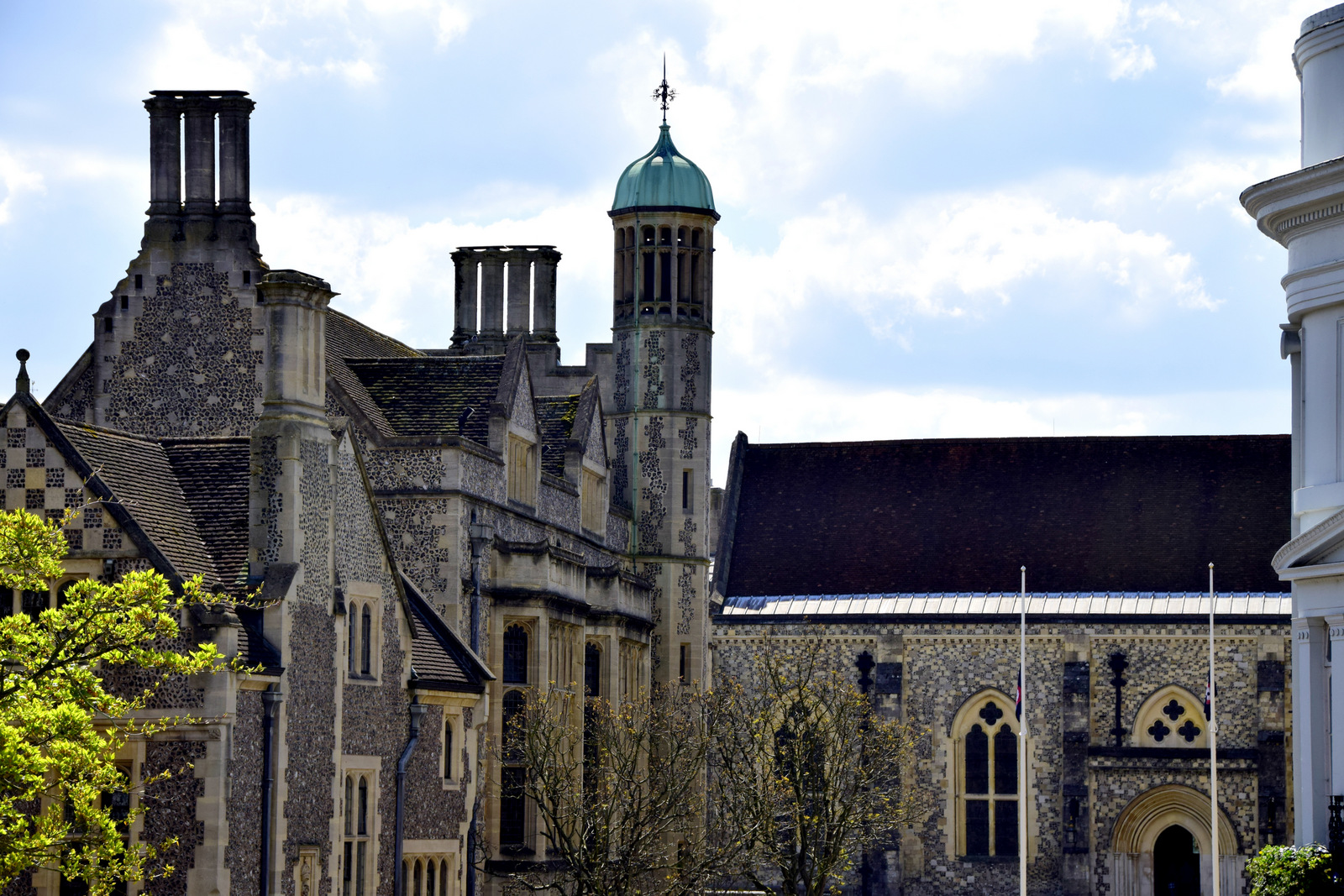 In the Great Hall, you'll find the Winchester Round Table. It's probably difficult to read the words on it but you'll find that painted on it are the names of King Arthur and his Knights: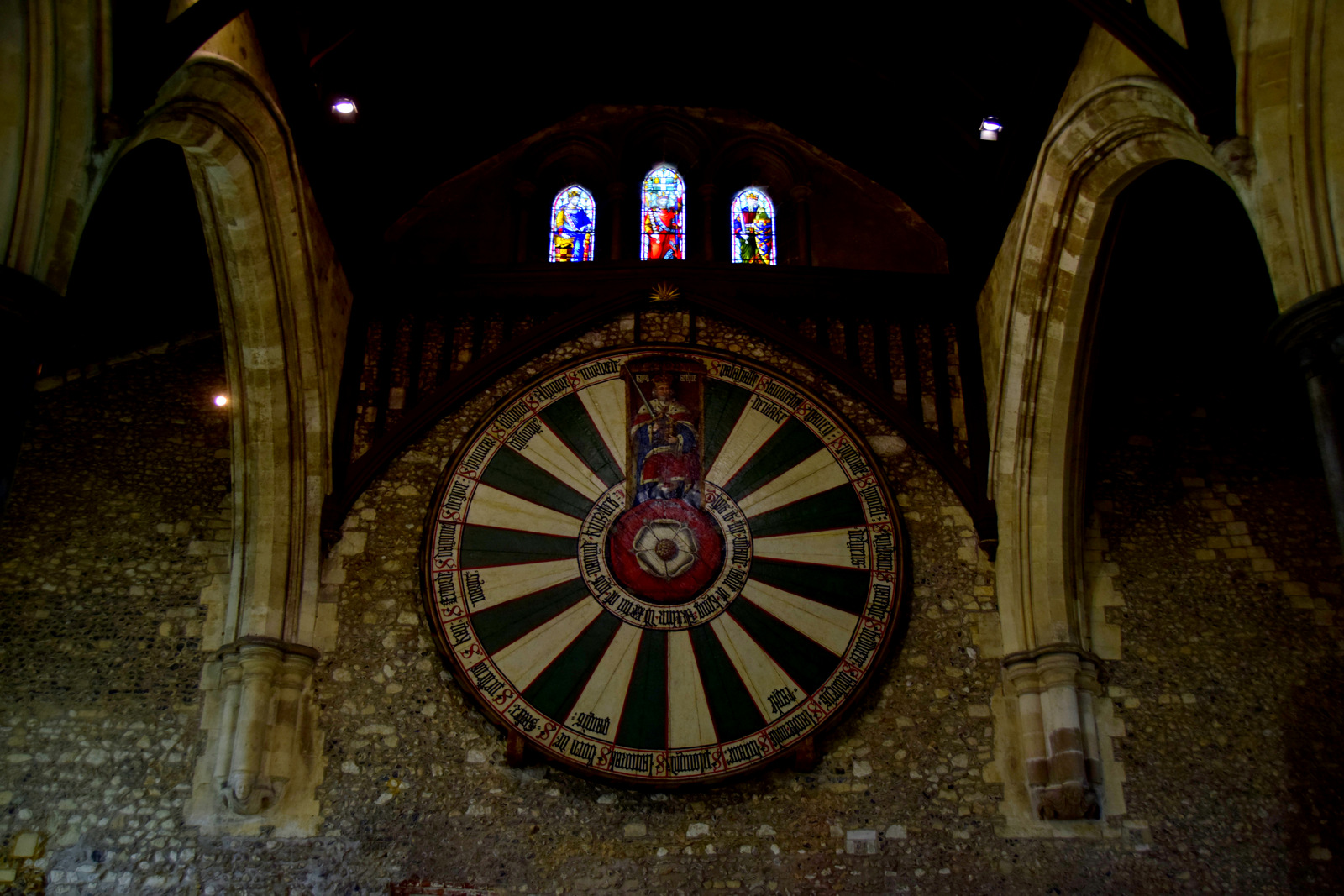 This is Queen Eleanor's Garden (with the backdoor of the Great Hall) that's rebuilt to have a medieval outlook: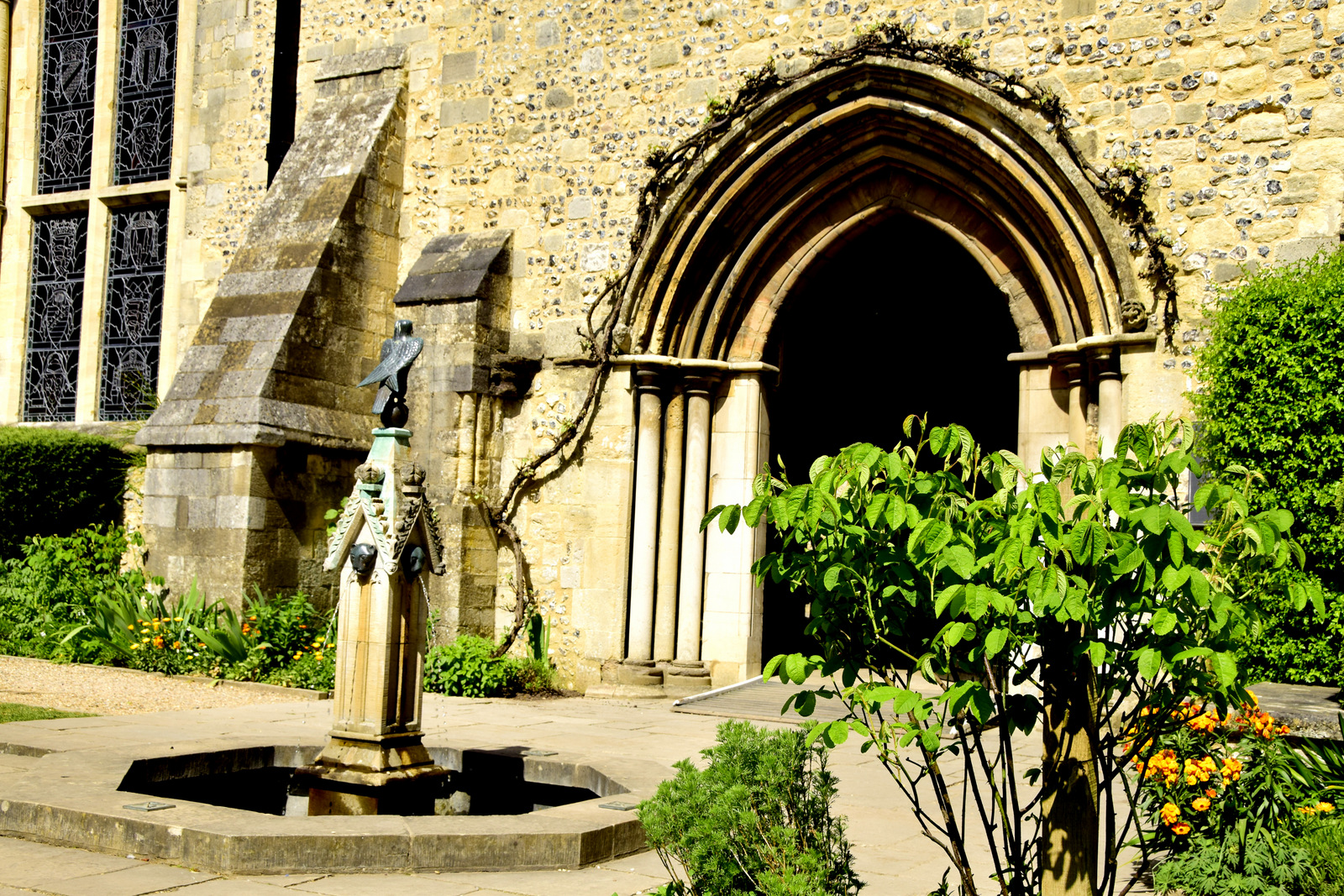 Exiting the medieval gardens, you'll be able to find Peninsula Square, that's now surrounded mainly by Private Residences: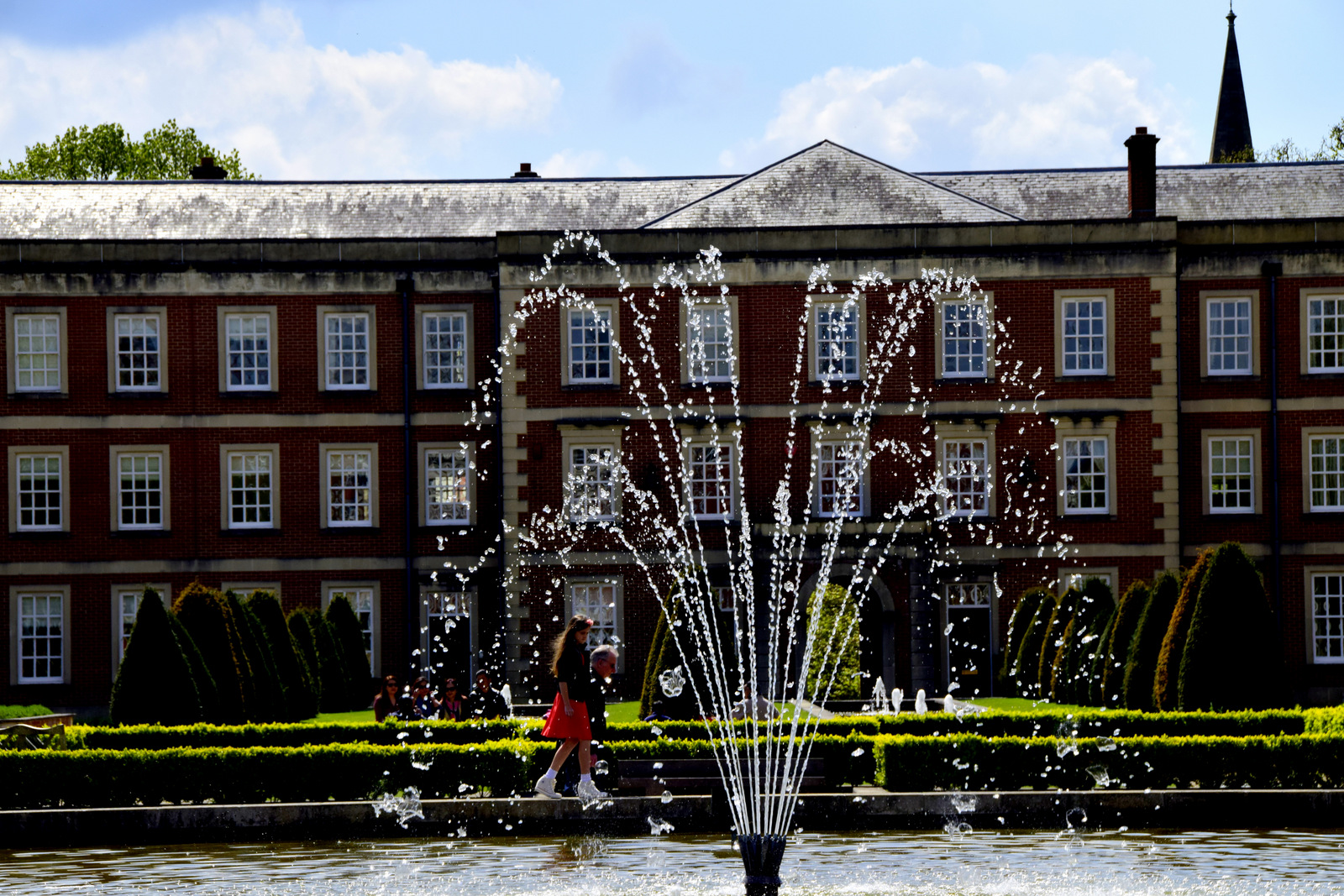 From there, it was actually easier to head over to the famous Winchester Cathedral than Guildhall so I figured that made more sense anyway. Here's proof that you get beautiful pictures when the skies aren't gloomy:
More on the Winchester Castle later, because I would eventually come back in the evening. But I did have lunch beside the Cathedral at the cafe called The Refectory. For about £5, you'll get a huge Jacket Potato that was filling enough for the afternoon.
I was just trying to be quick to check "points of interest" of my list and the next was Winchester College, which is the oldest public school in England. Instead of that, I was more interested in this little garden area that's dedicated to Jane Austen, who's known for her Pride and Prejudice novel. Her resting place is within the Winchester Castle.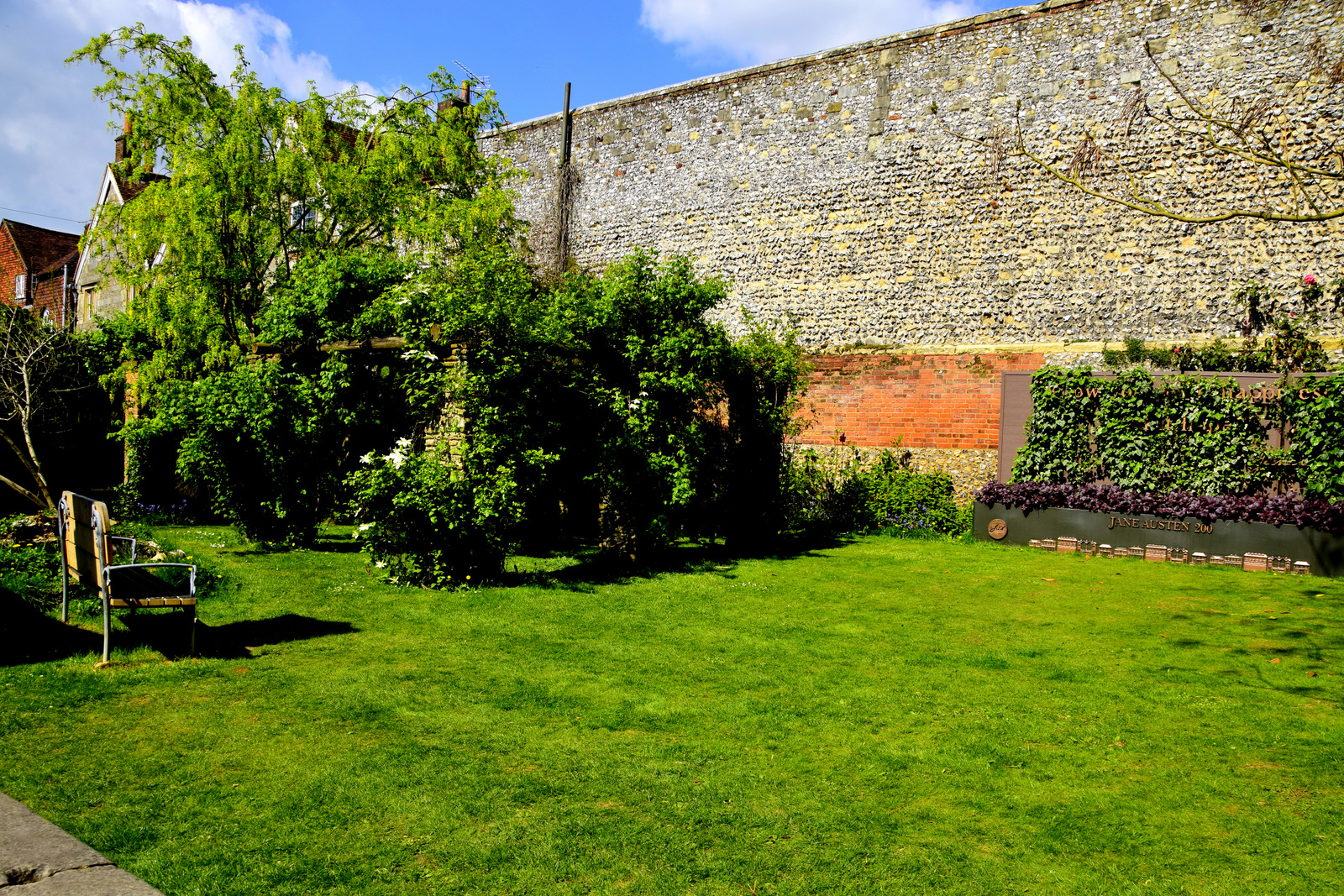 Next up, was the Wolvesey Castle or the Old Bishop's Place. It's beside Winchester Cathedral and is in ruins so what you'll see are the remains of the castle built by Bishop Henry. His brother, Stephen, would eventually rise to the throne with Bishop Henry's assistance. The castle actually destroyed during the English Civil War by "Roundheads" sometime in 1646.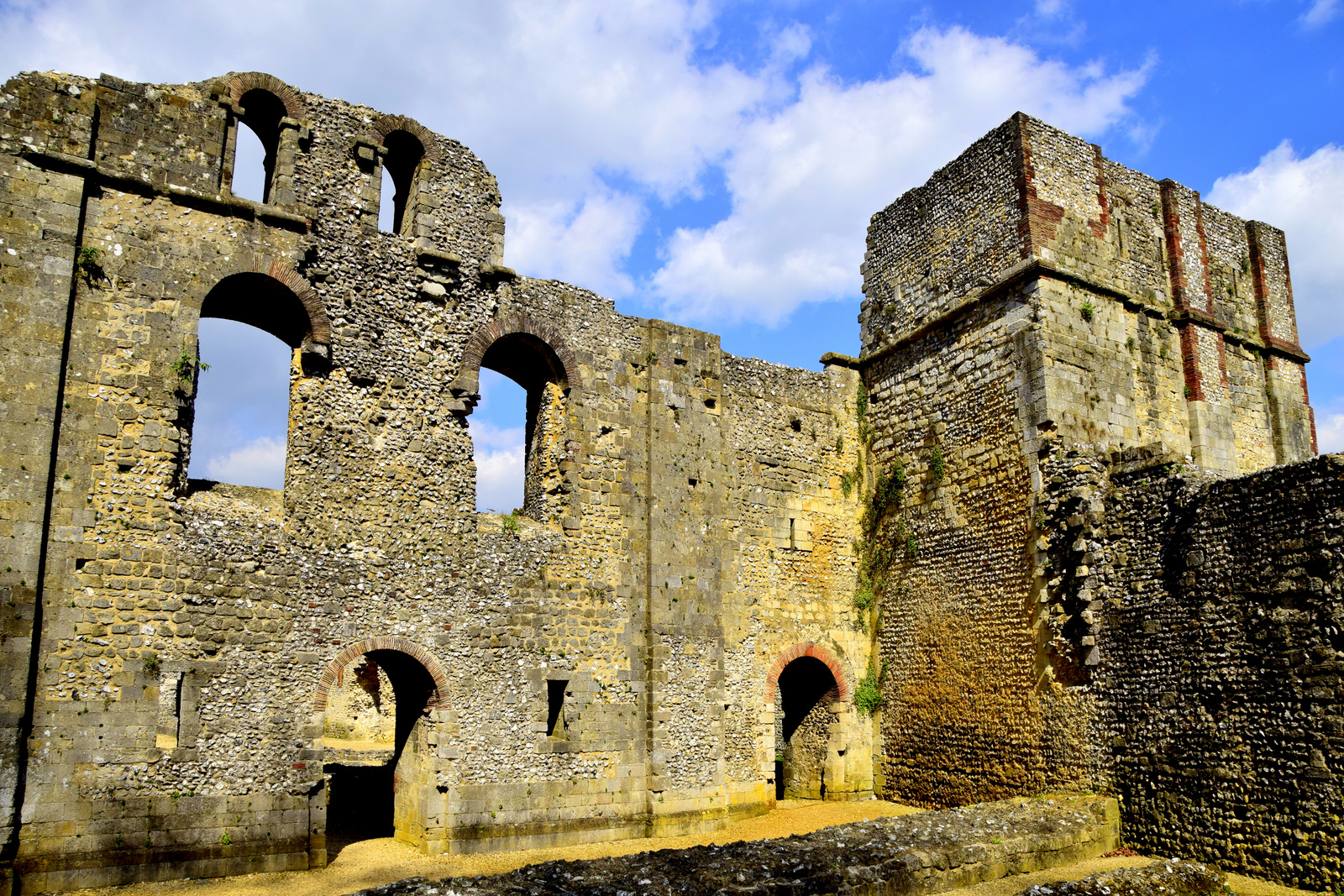 Following the route towards City Hall from Wolvesey Castle would take you along River Itchen, which is surrounded by blooming flowers and backyards of the Winchester residents:
Keep following the river until you get to the City Bridge (Bridge Street) and that's where you'll see the Winchester City Mill which is hidden in that building you see: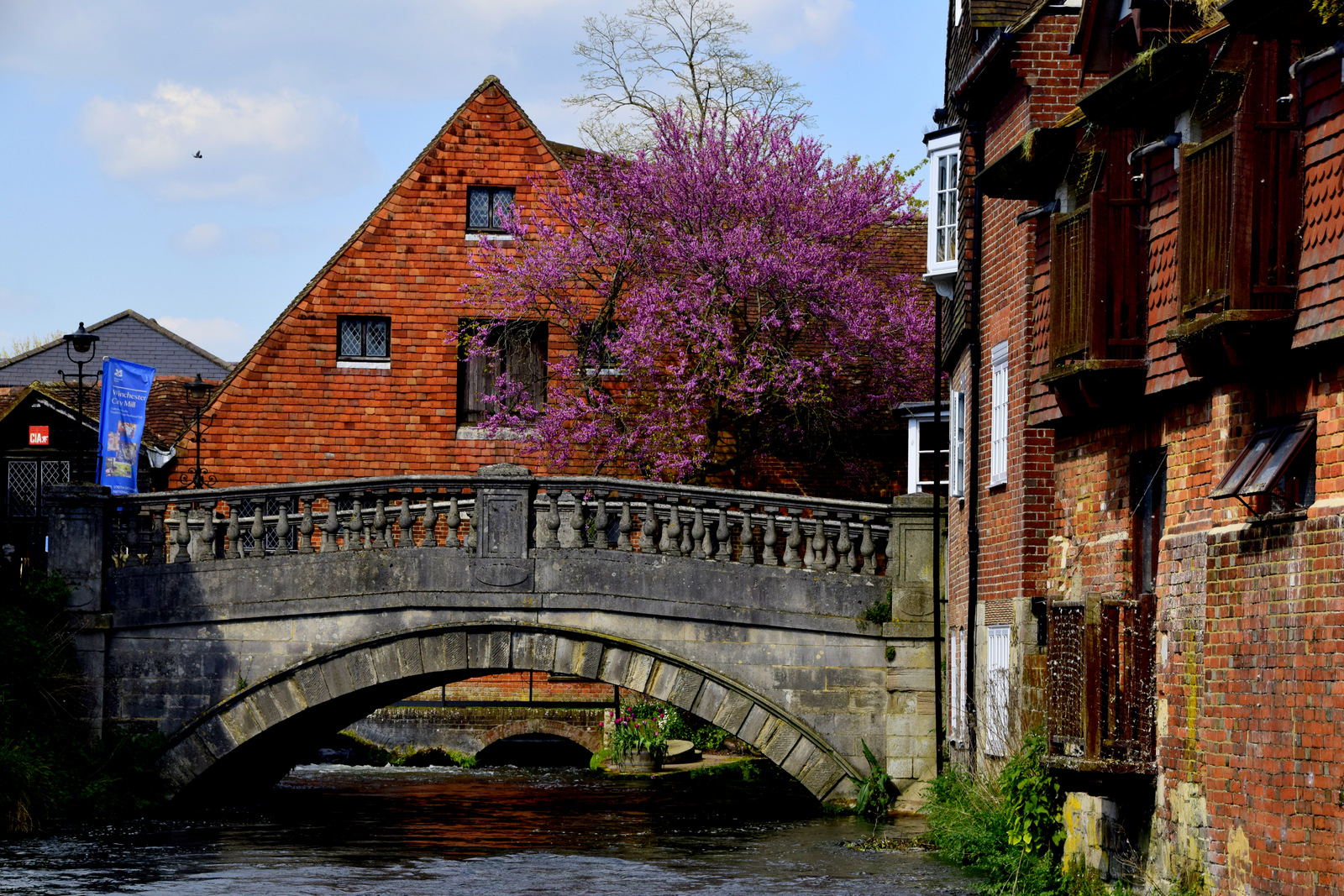 Turn left and you'll be able to see the Winchester Guildhall. But before you head there, you'll see King Albert's statue close to a roundabout, which is a walking tour start point that I would eventually start from later. Since it's Spring, you'll get distracted by the beautiful colours of Abbey Gardens or at least I did. For a Wednesday, it was actually quite a busy place with parents playing with their kids and people just enjoying the sunshine. It's probably because of the sunshine I guess. If you're wondering about what the Guildhall is, it's that Gothic revival looking clock tower on the left, a little like the Guildhall in Guildford Town Centre along High Street. This is much bigger of course and is where you'll find the Tourist Information Centre that has all the walking tour maps:
Equipped with the maps, it was time to officially start my walking tour. The first being the Sunset walk. It was obviously not sunset yet but this trail takes you on "a romantic walk through picturesque Winchester" and claims to be a photographer's joy. So off to the starting point, the bronze statue of King Alfred the Great. The use of "English" in England is all down to him when he made Winchester his seat of power, along with introducing laws and stimulating scholarship.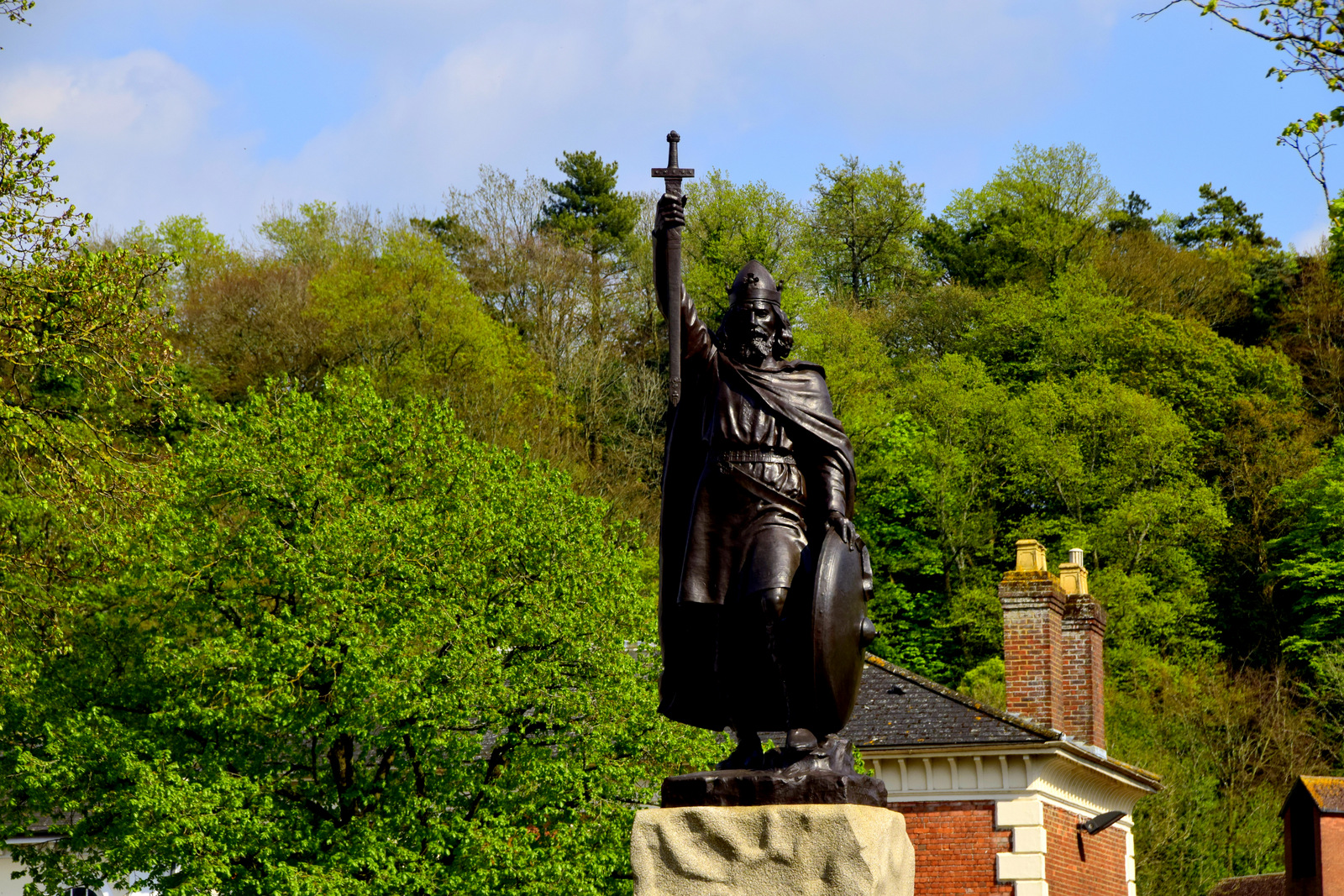 According to the route, checkpoints 2, 3 and 4 are Abbey House, the City Bridge and the City Mill, which I'd gone past earlier. So off to #5 then: The Chesil Rectory which is an incredibly old timber framed house that's now an award-winning restaurant that I considered having dinner at but it was still too early for that.
To head to #6, I had to go behind the City Mill and follow a path between houses 40 and 41 along Water Lane up to the churchyard of St John the Baptist:
#7 was The Old Blue Boar which is supposedly Winchester's oldest house but the lighting was so poor due to the overcast sky, I didn't manage to get a good photo of it. #8 was the highlight anyway because it was the St Giles viewpoint up on St Giles Hill that offers you a nice panoramic view of Winchester: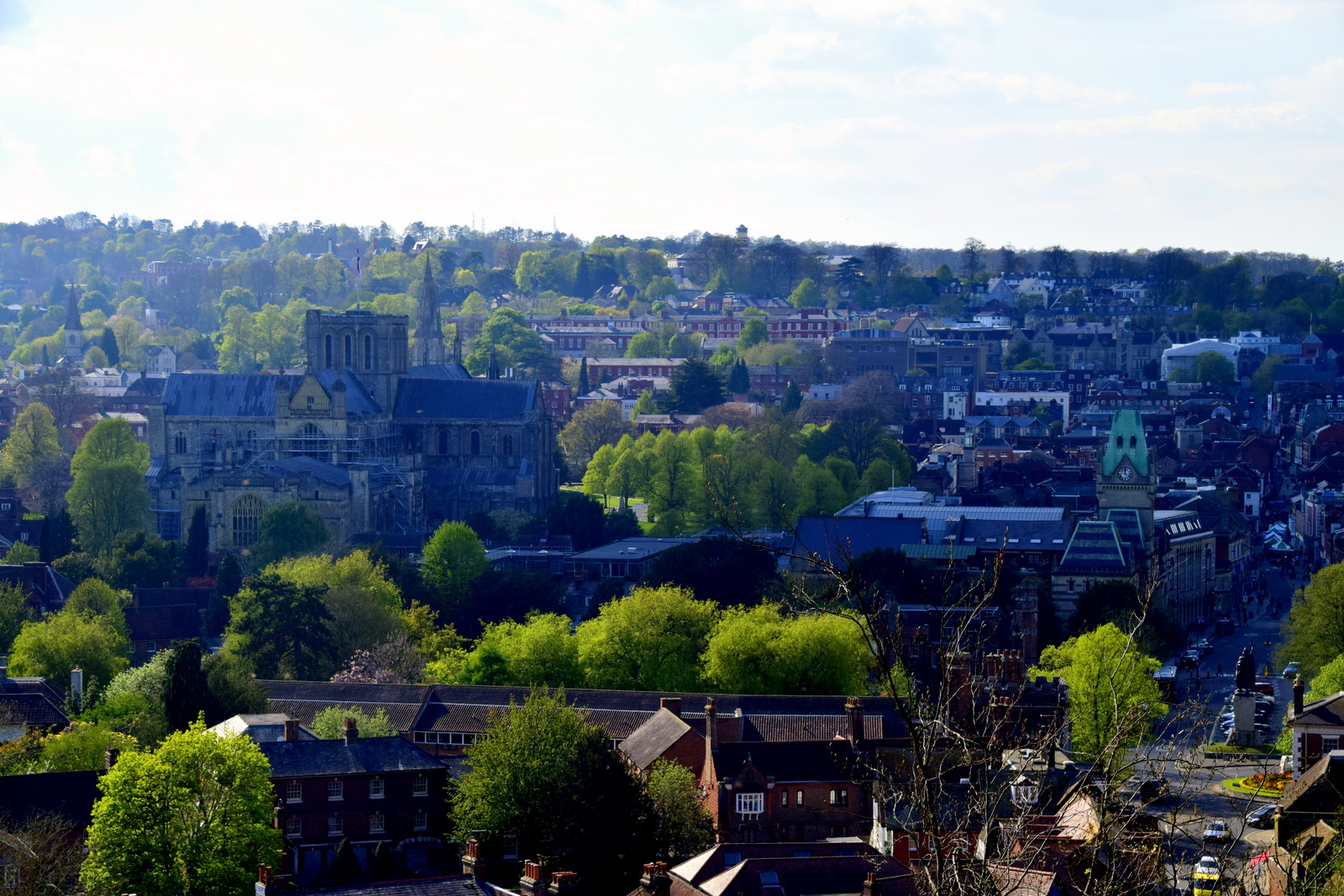 From up here, you're looking down towards Guildhall, King Alfred and High Street (or rather, the right side of this photo). I'd eventually take a "reverse" of this photo later on which I'll talk about later.
You can also see St Catherine's Hill (not seen here), which was quite a distance away and it was in that direction I decided to take a detour towards. So this was where I switched from the Sunset Walk to the Keats Walk, which involved walking along the water meadows: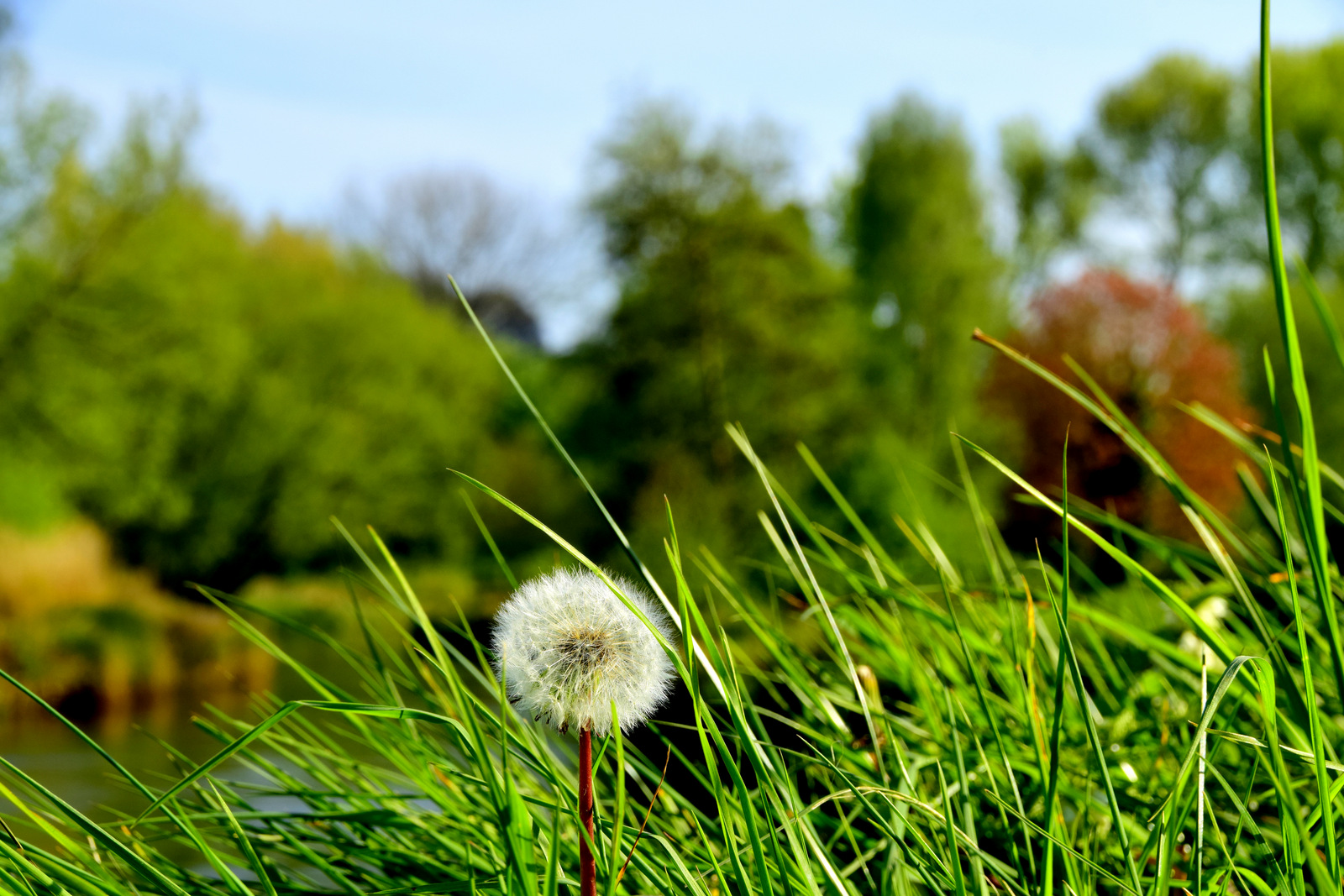 Here's Winchester College (and College Meads), which was briefly mentioned earlier, being the oldest continuously running public school in England.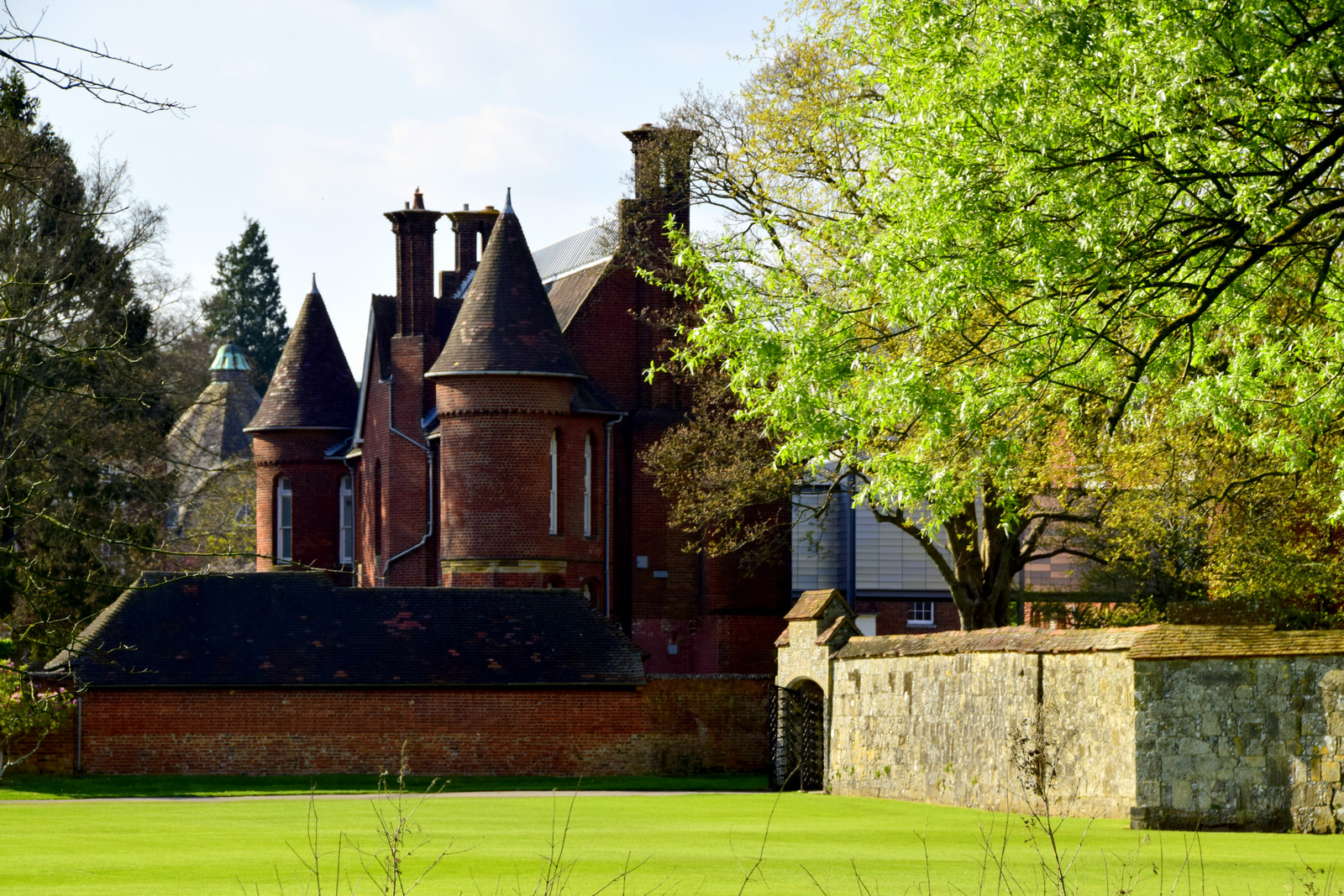 The walk along the water meadows is like the usual walk in nature, nice and quiet. When accompanied by the breeze, it can be a really relaxing walk. Eventually, you'll be able to see St Catherine's Hill to your left: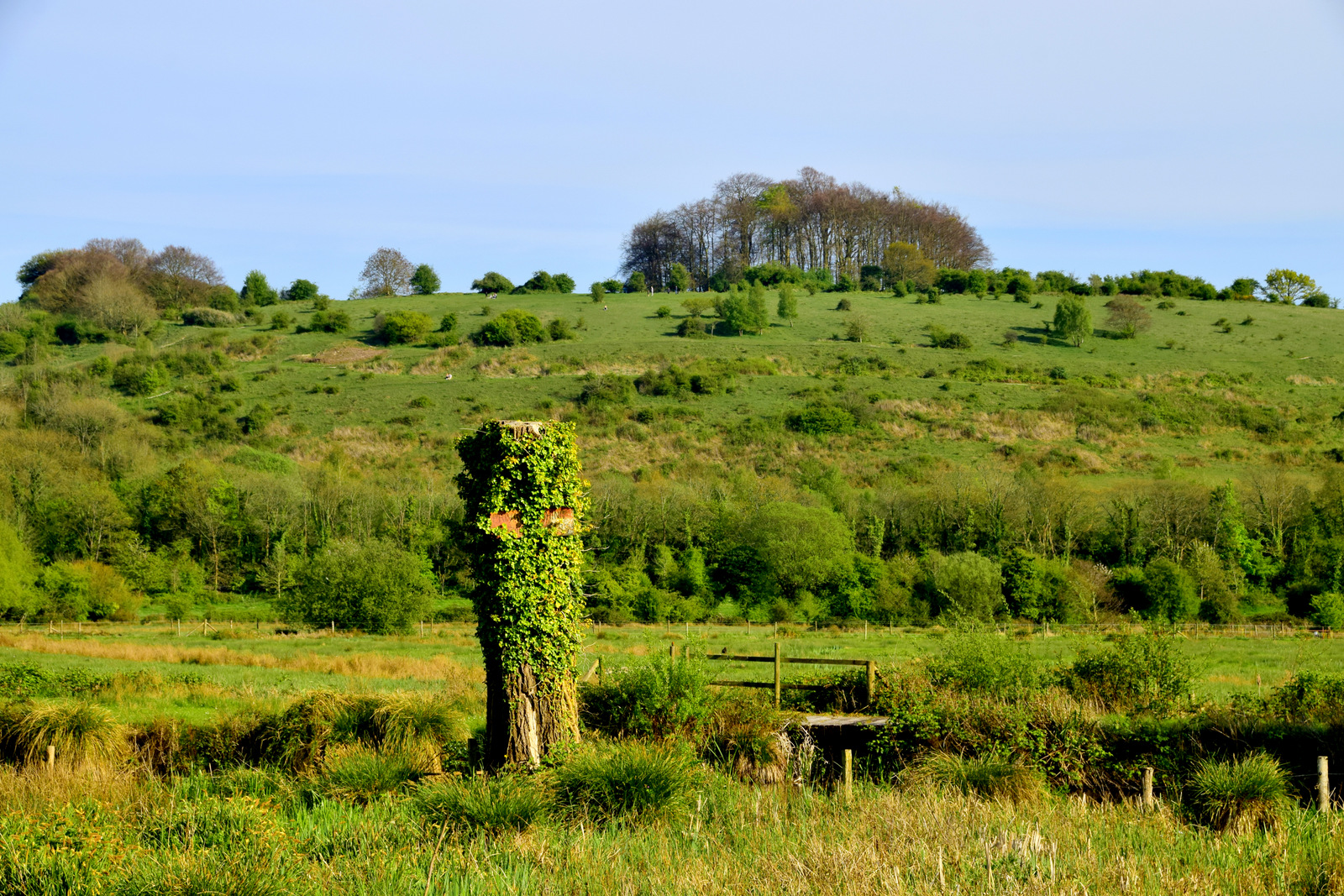 Continue walking further and you'll see Hospital of St Cross. If you enter through the front, you'll be able to see the meadow on the interior. The clouds were beginning to clear so the evening sun was able to put a glow to the Medieval buildings here:
This is the exterior of Hospital of St Cross from the South Eastern corner: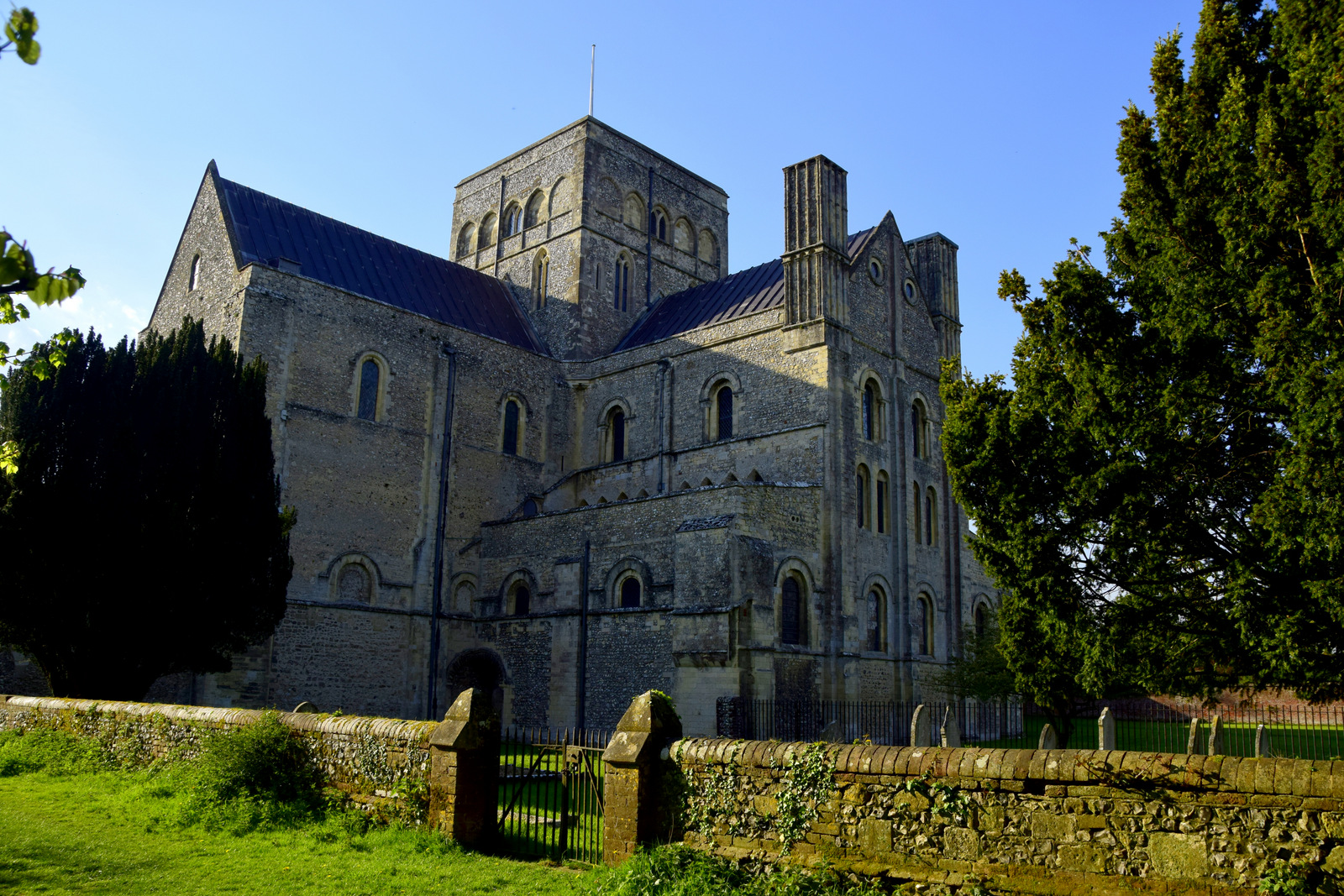 My intended hike up St Catherine's Hill was abandoned because I kinda felt I had to eat within the next 90 minutes and the hike would take about 60 minutes just to get up. Instead, I walked across Garnier Road on to the other water meadows that would eventually lead me back to Bridge Street. It was still going to take around 45 minutes at least. It ended up taking more time because this other water meadow stream had more greenery and more intriguing shots of nature:
I love it when the evening sun gets to shine its light because it truly is a photographer's dream. That additional glow it adds makes everything look better!
After about an hour of snapping at all the beauty around me, I made it back to where I began: King Alfred's statue: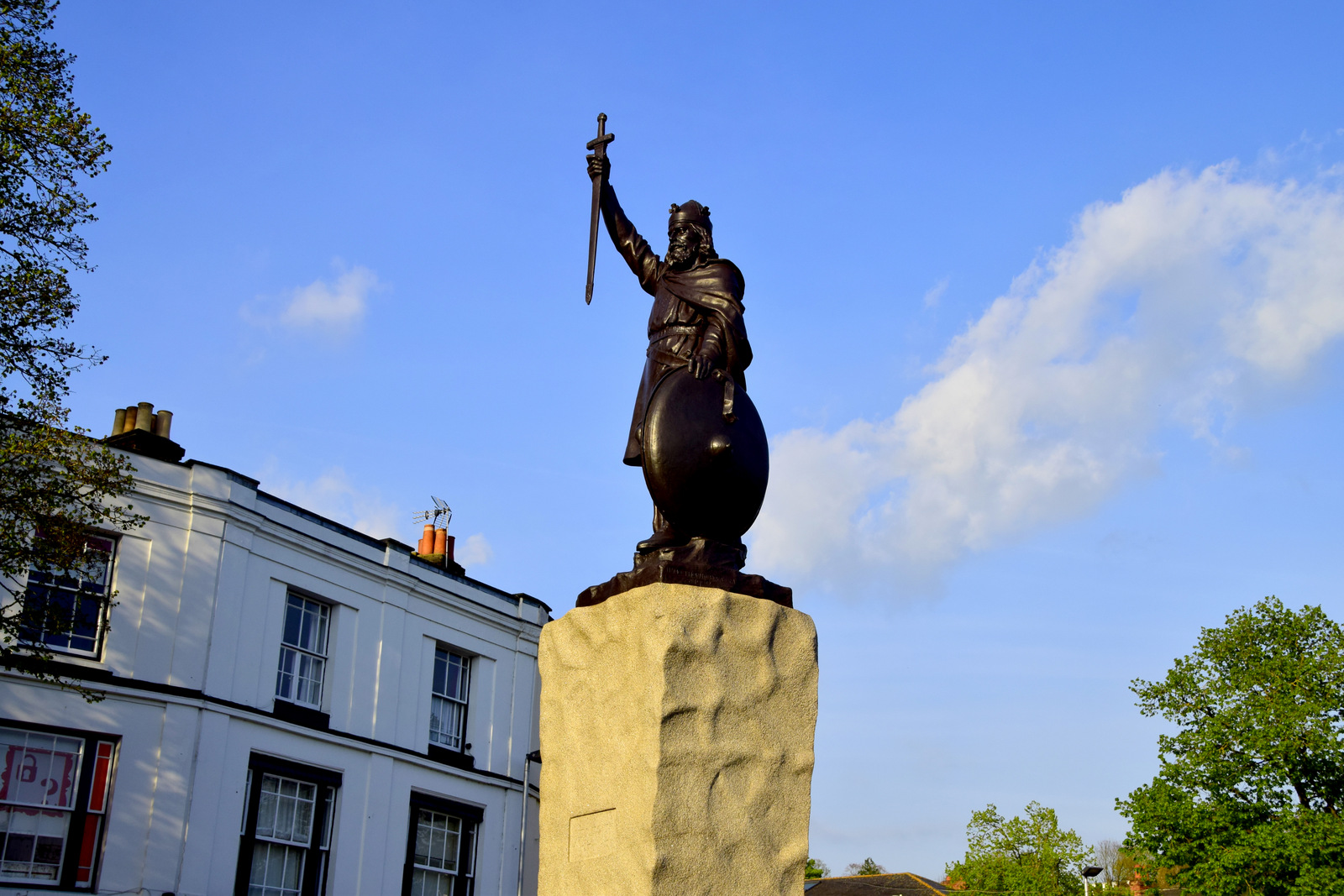 I wasn't about done with the walk though because I decided to switch to the more extensive City Walk to cover the upper city. But before that, I couldn't miss going back to the Winchester Cathedral to get the photo of it glowing from the evening sunshine. The evening sun makes a whole lot of difference, doesn't it?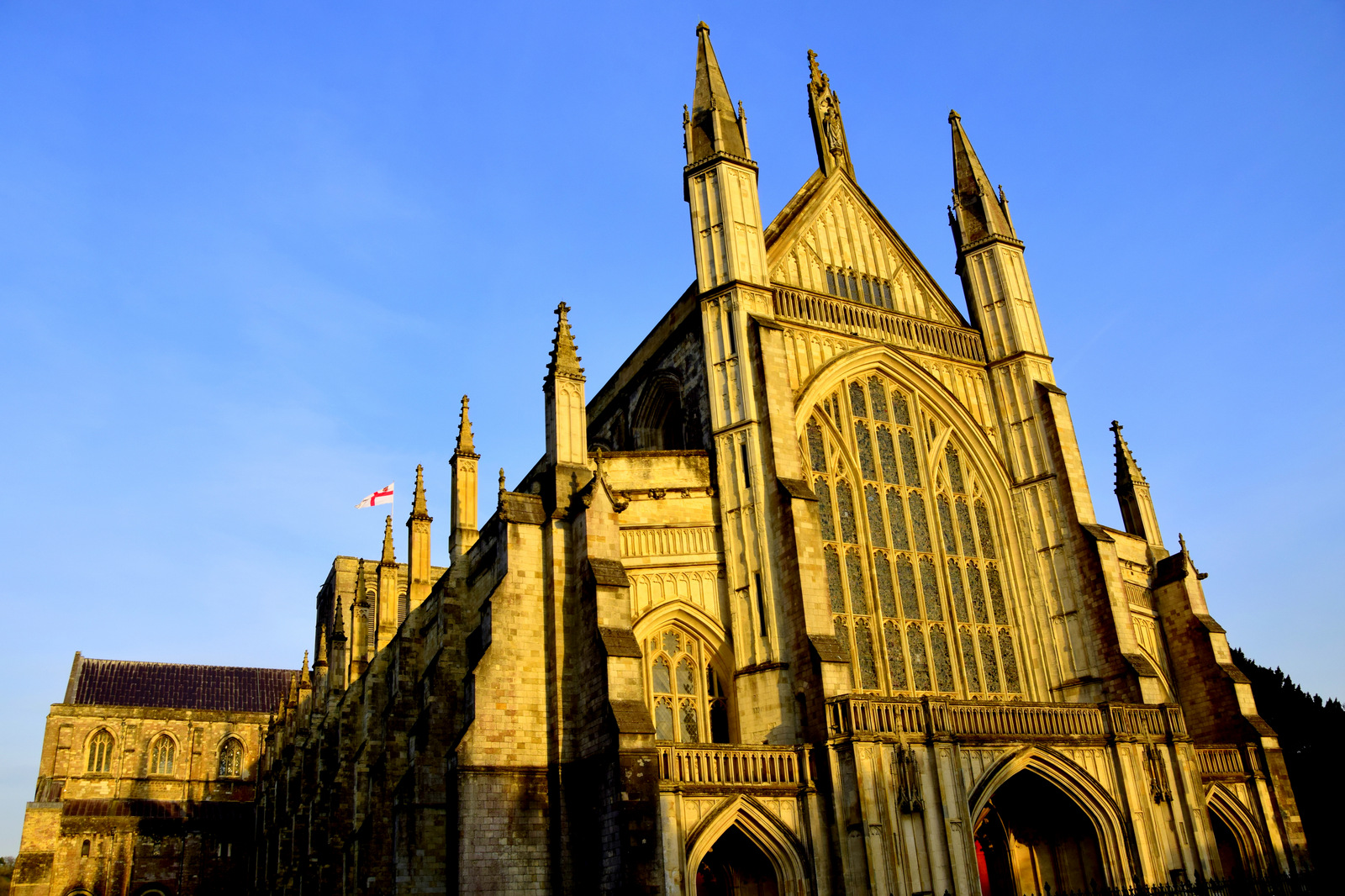 The Upper City is actually the route back towards Winchester Castle from earlier in the day. But there was just 2 shots I wanted. The first being that of the Town Clock (where the old Guildhall is) and the Buttercross. The Buttercross is that monument you see with the top portion in the sun. Like Guildford, the Town Clock is along High Street.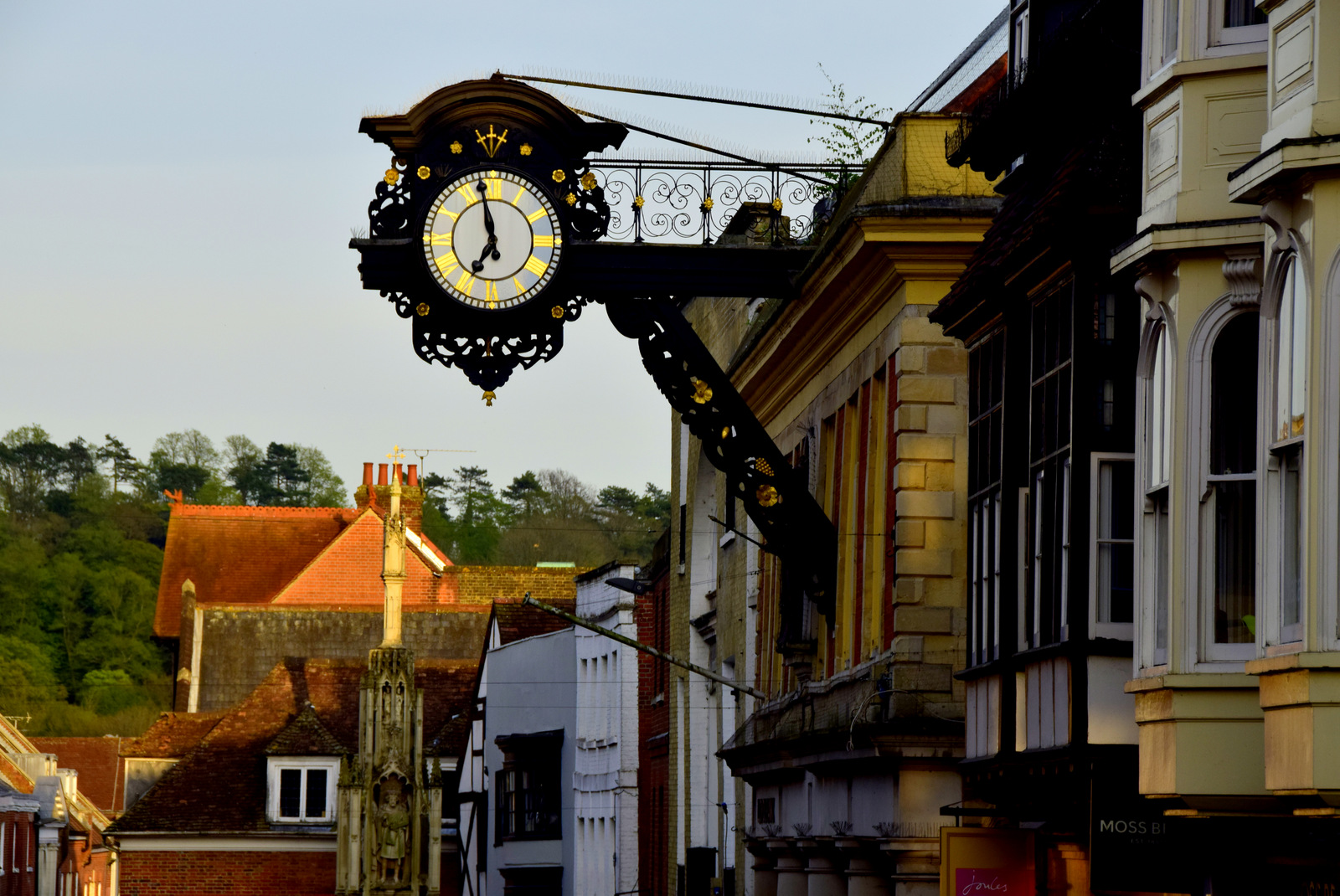 The last one was the reverse of the St Giles Viewpoint photo I took of the town earlier. Now I'm taking the photo of the Guildhall, King Alfred and St Giles Hill from along High Street.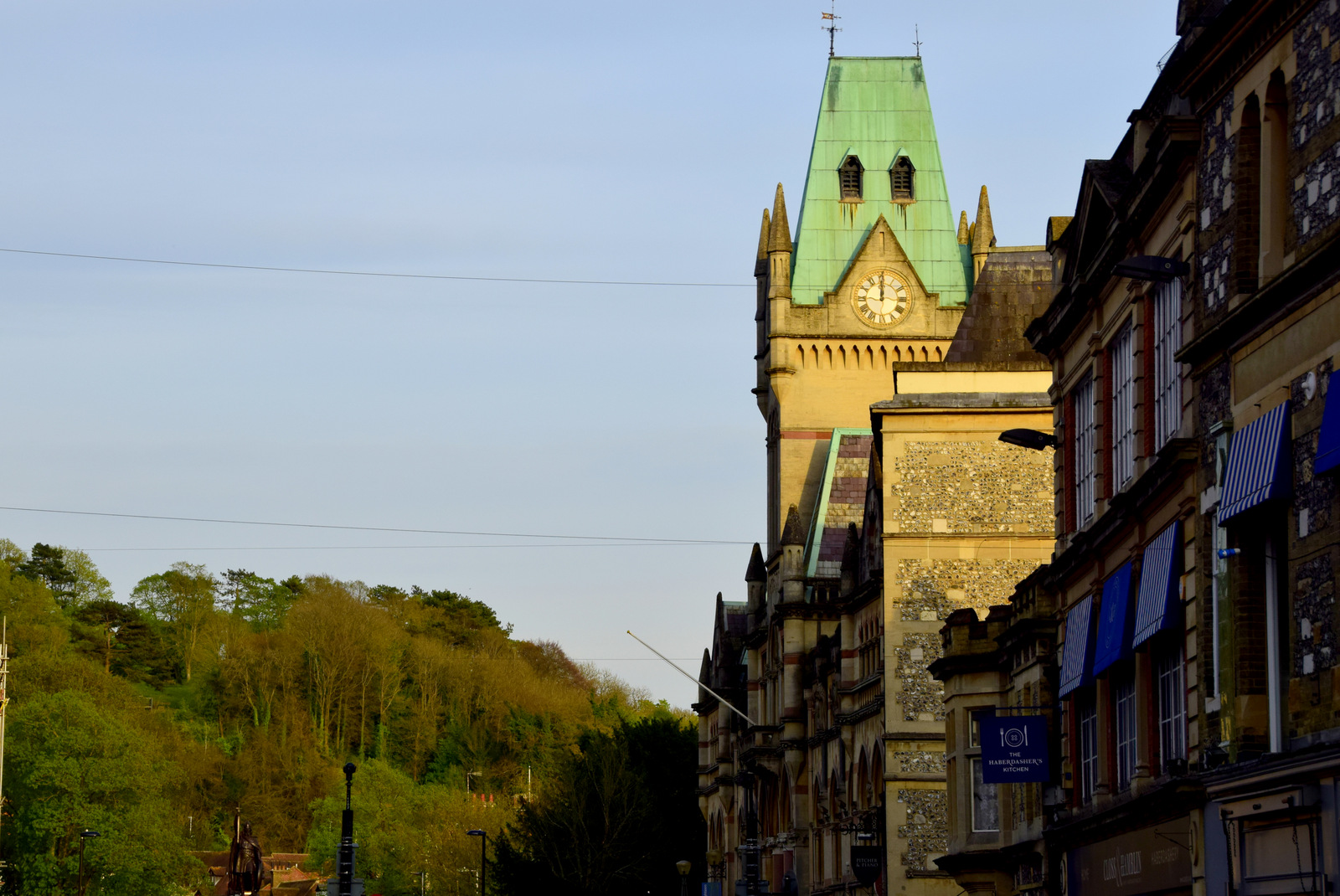 Was too hungry to walk over to The Chesil Rectory for dinner so I just decided to pop into the Winchester branch of Pitcher and Piano and have some really good Grilled Cod Loin: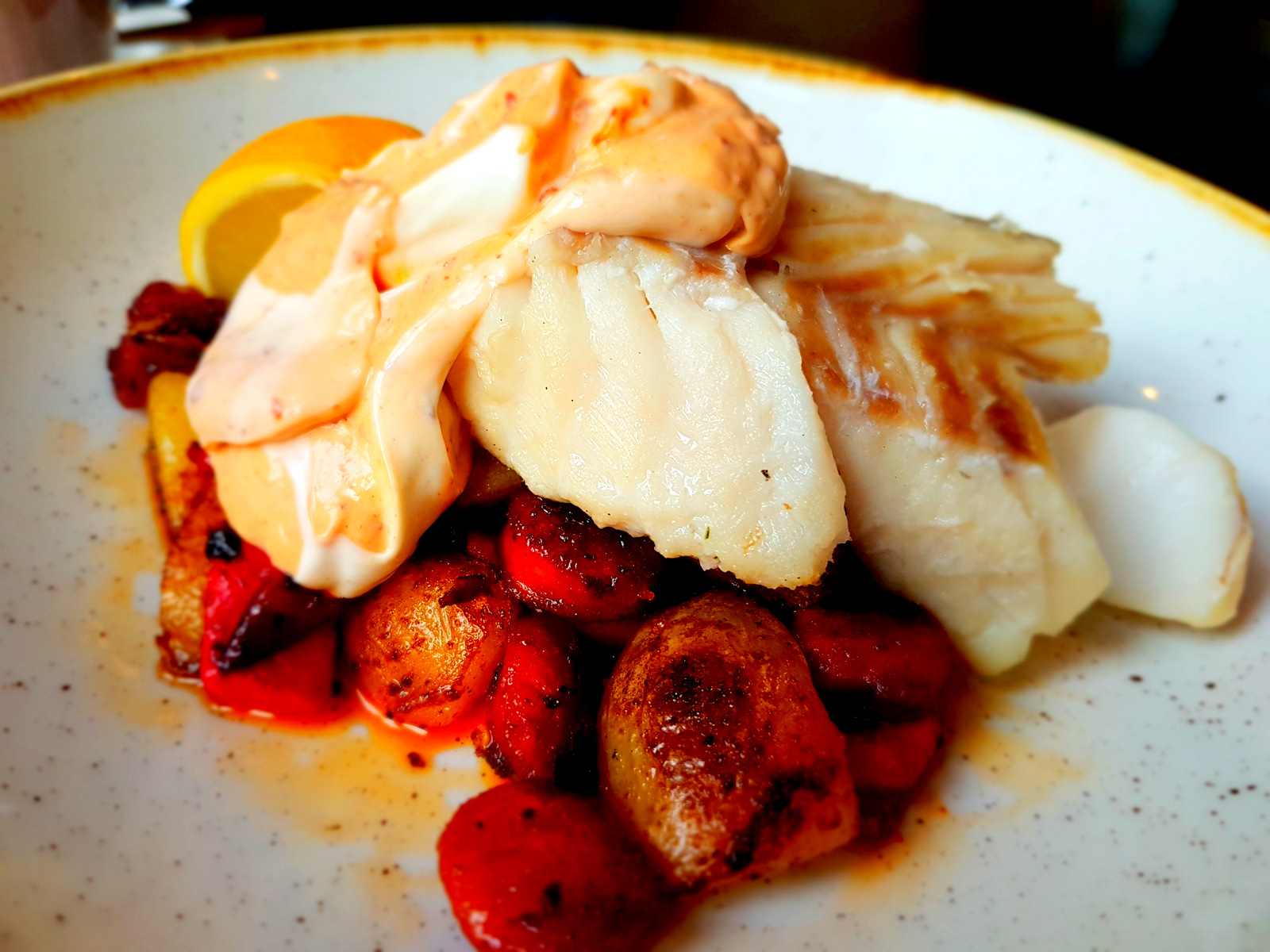 My train leaving from Winchester station wasn't due to arrive any time soon after I'd finished that huge plate of cod loin so I decided to stick around for dessert, an Eton Mess, which was an absolute delight as well. It's a traditional English dessert that has crushed up meringue mixed in whipped cream and strawberries. This one had mixed berries instead plus vanilla ice cream. By the end of it, I was just too full and really appreciated the fact that I needed to take a 15 minute walk to the train station.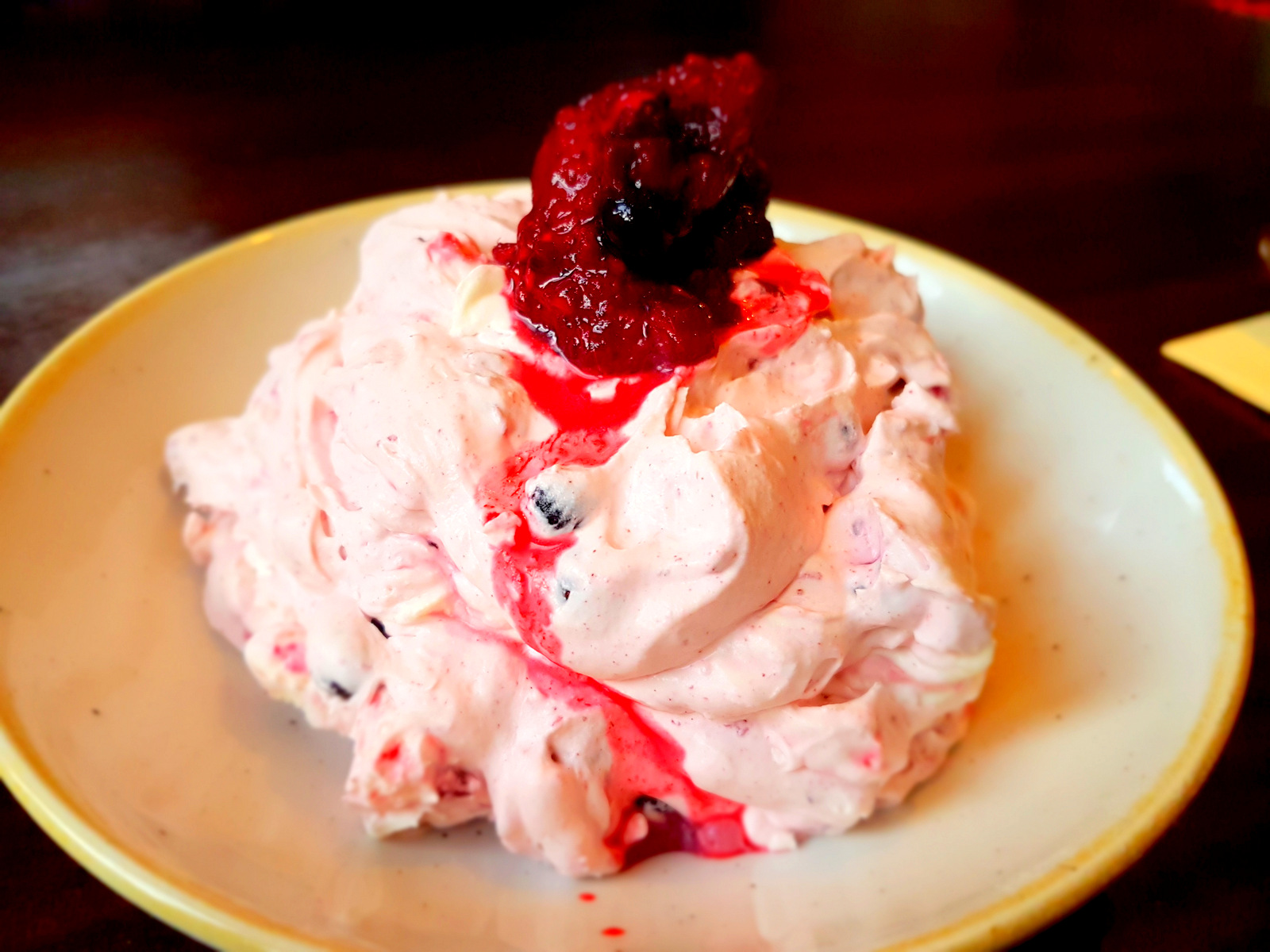 That's it for Winchester then. If you do intend to pay Winchester a visit, you should pop by the Tourism office first and pick up the 3 walking maps: City Walk, Keats Walk and Sunset.
My next (and final) trip of the Spring Break was a little road trip to Devon. I'll keep that for next week because I need something next week to give me a breather from all my Analytics work.
I've come somewhere in the last few days of work so I'm very thankful for my very helpful coursemates and also for Blessings from above. When you're desperate for help, sometimes you just need to be reminded that there are people around you who are happy to help! 😀
Have a blessed weekend then! God bless you! 🌈
Ben