Hi everyone!
As you've known, there's been so many hours spent on research, coding in R and getting frustrated with the challenging projects in the MSc Business Analytics course. There's no doubt that this course is challenging but we also do get some fun days too. That's the reason why I'm so excited to write about our AR/VR fun at the Nodus Centre earlier today.
There's so much talk about Augmented Reality (AR) in recent times, especially with Pokémon Go making the world antisocial taking the world by storm last year. We got a chance to fiddle around with the Microsoft HoloLens which allows for AR applications during our final Supply Chain Analytics session and had so much fun with it. The cool thing about AR is that you get to set up your "workspace" in your surroundings and once you put the HoloLens on, everything you want is in just an "air touch" away! AR's potential in the area of simulation is huge but it will take a while for people to catch on to this, especially since the equipment is not cheap. We can only hope that Moore's Law holds true, that as technology advances, it gets cheaper. Truth is, who knew decades ago that everyone would have a computer in their pocket? Yet today, almost everyone relies on their smartphone for everything!
It took a little while to get things going but we eventually did. Here are some photos from our fun with AR and the HoloLens:
It does look a little silly when you're an observer though but hey… walking on the road heads bowed staring at smartphones is pretty silly too yet we're all guilty of it.
Aside from AR, we also had a chance to see how Virtual Reality (VR) helps with simulations. VR is slightly more relatable because it's been around for quite a while and it's been used extensively in waiting line (queueing) systems. Queueing systems are something all of us are familiar with. Whether it's queueing up at the supermarket to pay for groceries or at the airport to clear immigration, a lot of what we do involves queueing and waiting. This is where Supply Chain Analytics comes into play with simulations to help ease the waiting lines. With simulation tools, companies are able to visualise how their operations can be improved by making changes in a computerised system first. This helps make the implementation process more seamless. With VR, that's enhanced even further.
We looked at simulations in a warehouse where forklifts are shifting crates from point to point as well as in an airport where individuals are clearing each points at immigration. This was exported to Oculus in VR where we got to see how the queueing system moved items or people along. With the VR goggles on, you can observe all the movements. Once in a while, you get startled because you stand in the wrong place and the forklift "drives through" you:
As you can see, I had plenty of fun with it. This was VR, so my attempts to grab onto the forklift steering just made me look like I'm carrying an imaginary tray: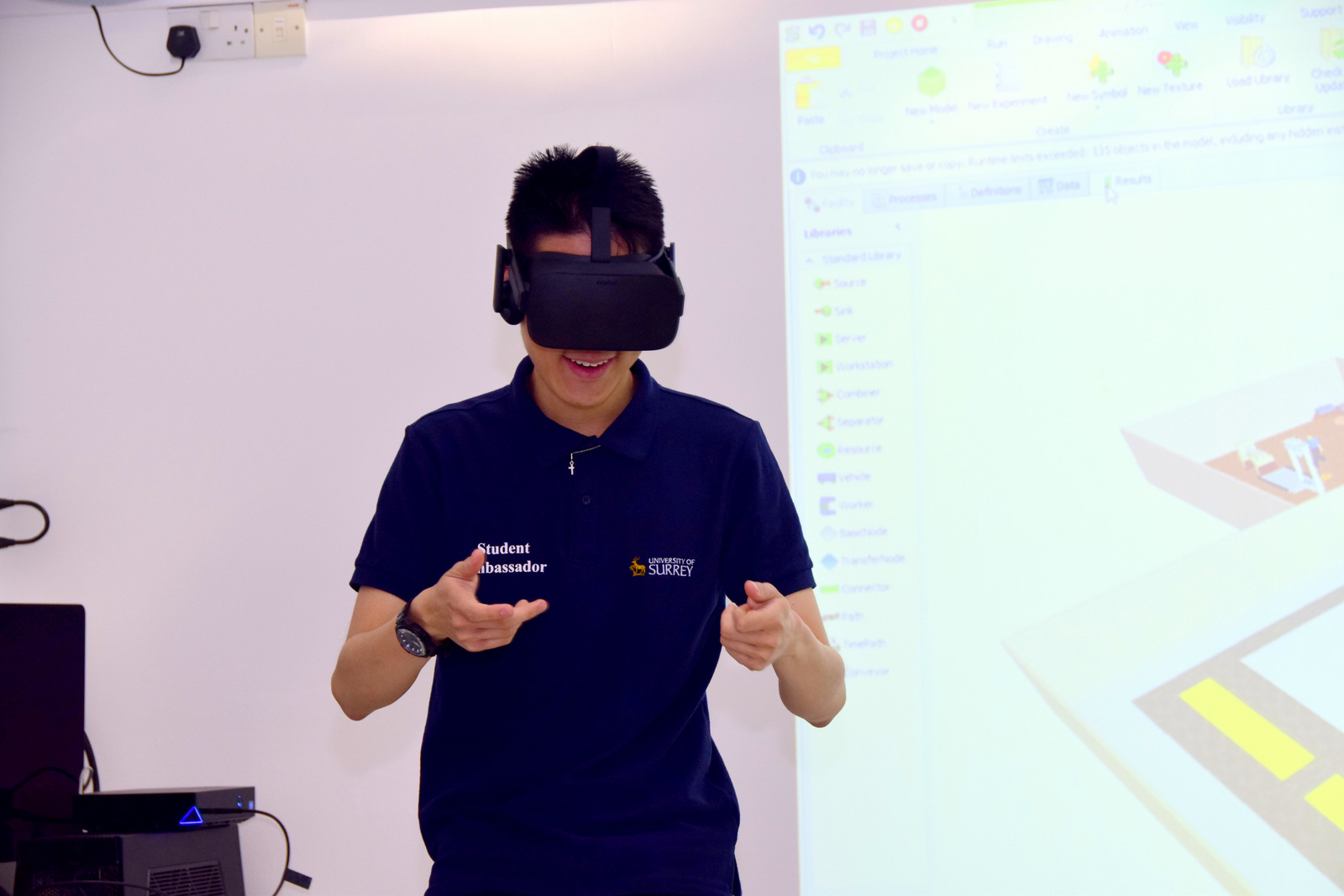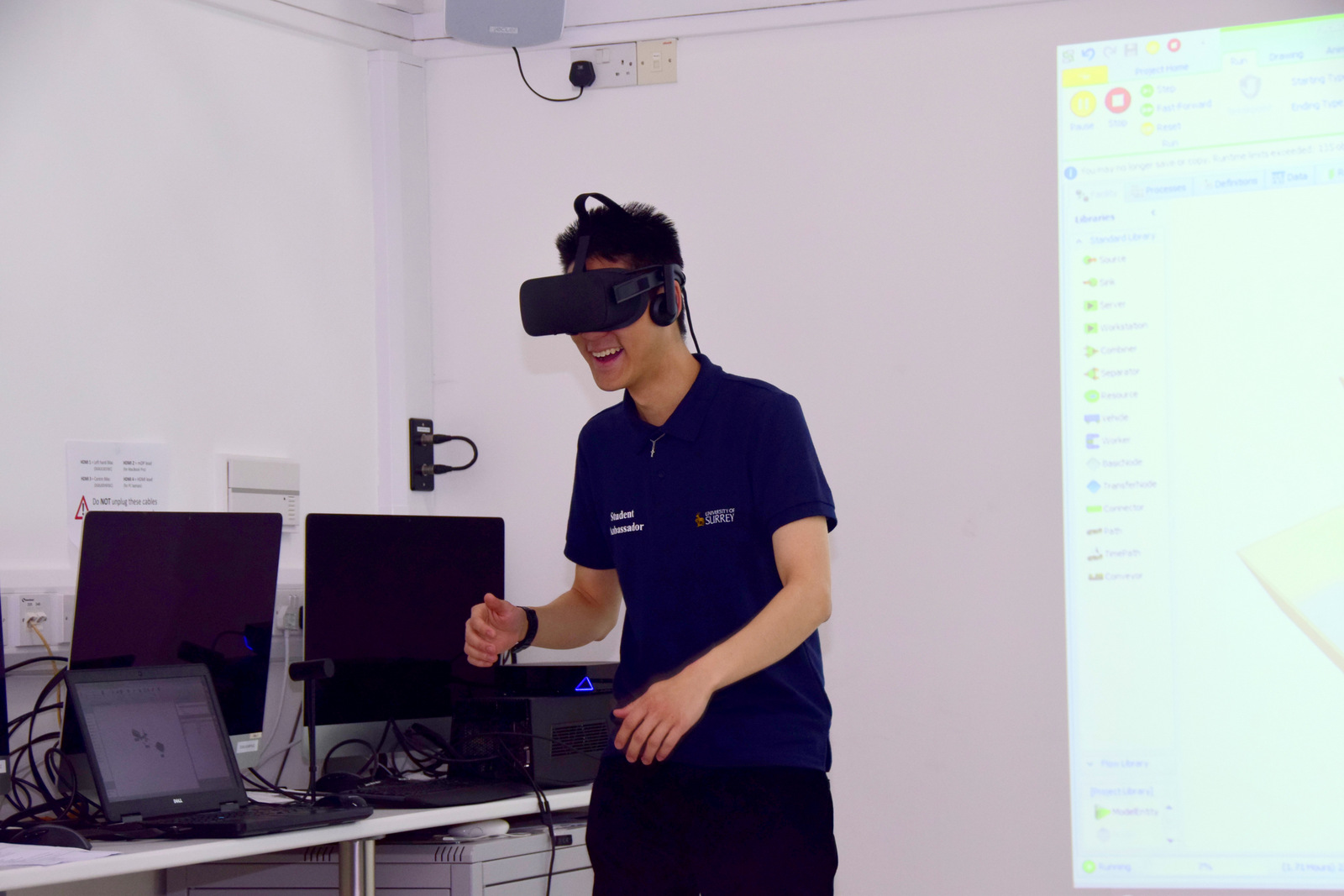 Another use for VR is obviously video games, which the students under Mr Kirk Woolford work on extensively. Here he is talking about a VR app that was showcased in the Middle-East that featured a VR-dancer (motion-captured) dancing in the desert: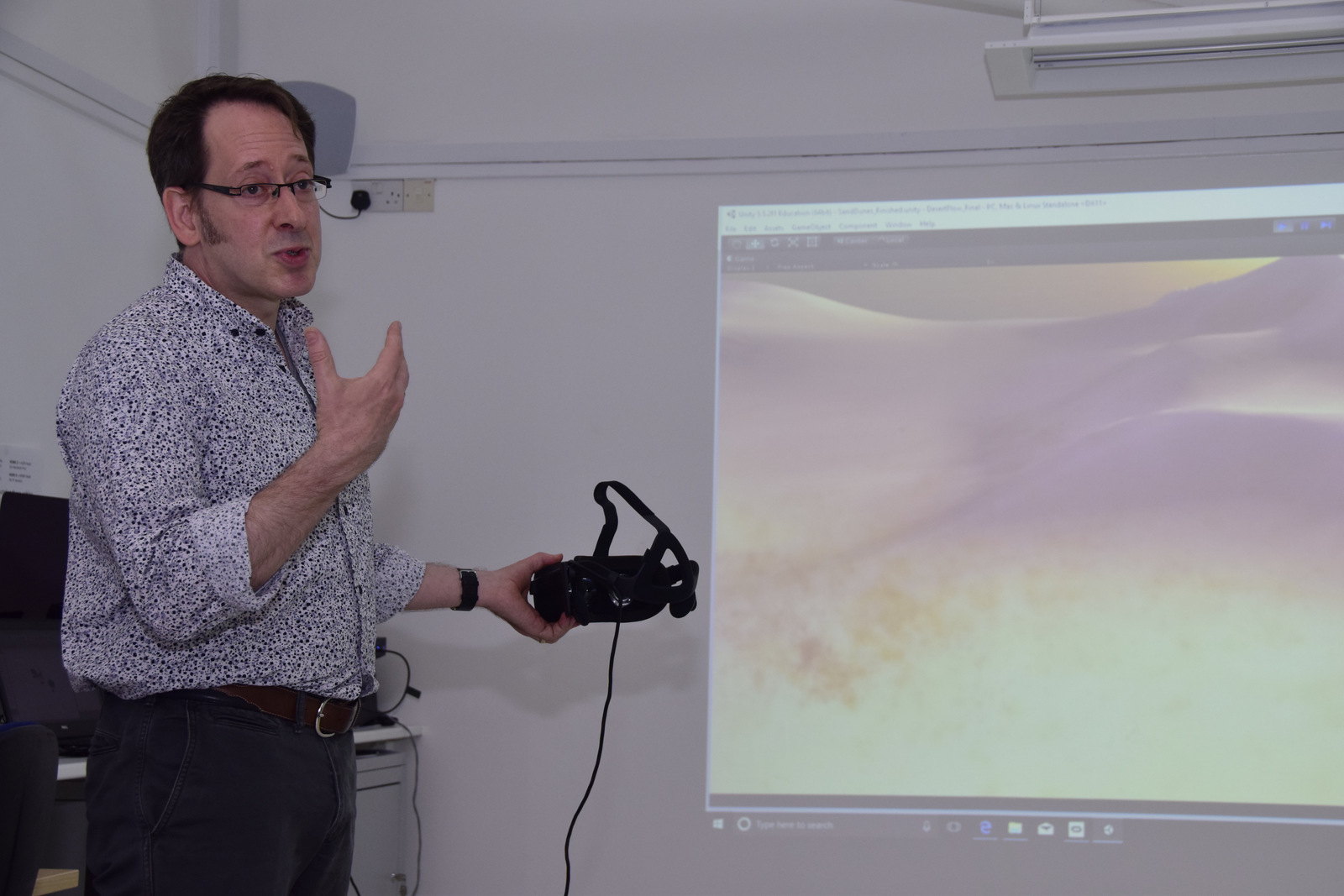 It comes with ambient music and a desert skyline that looks like it came from a video-game and we all got to try it out.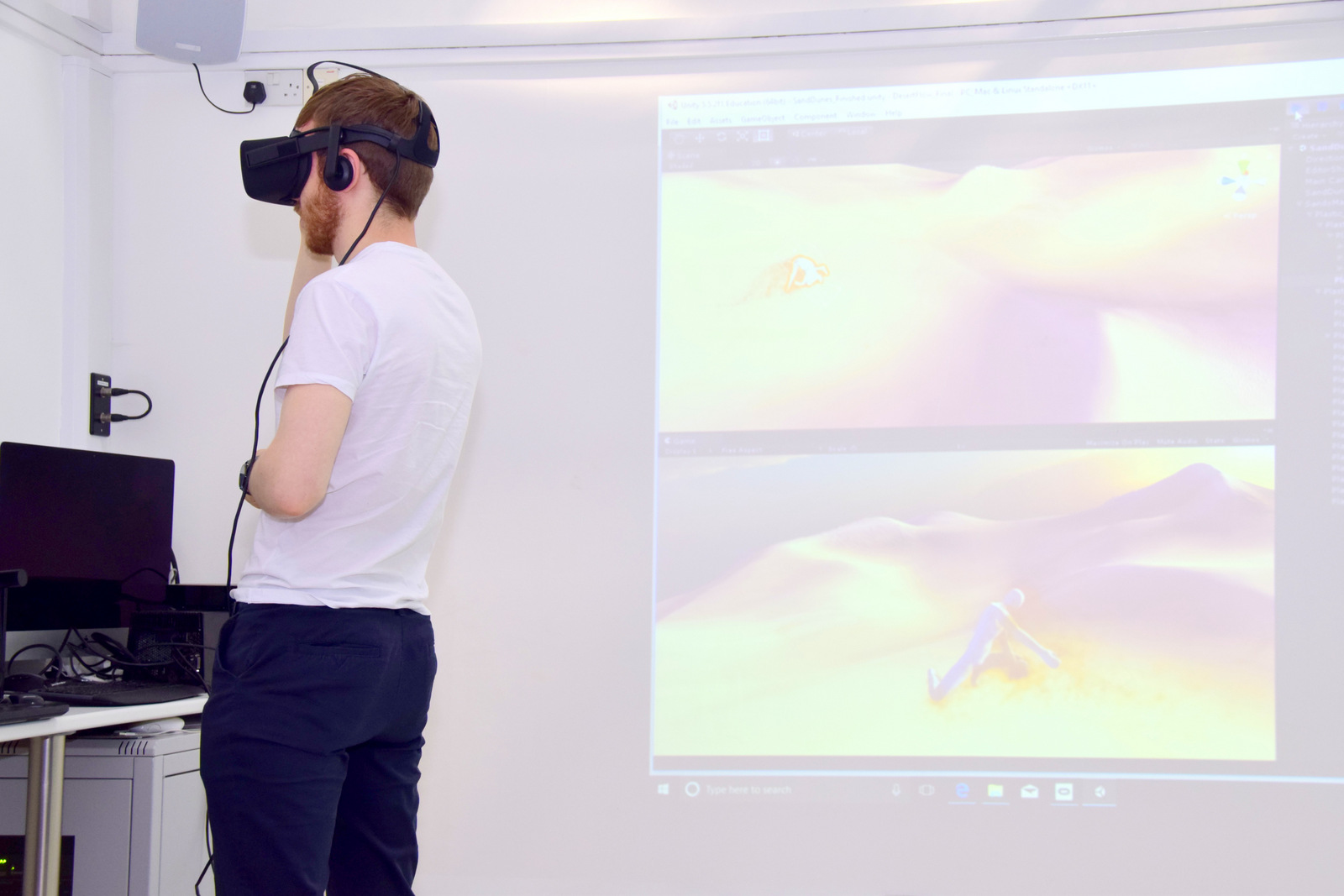 Even our Business Analytics Programme Director, Dr Garn, had some fun with it.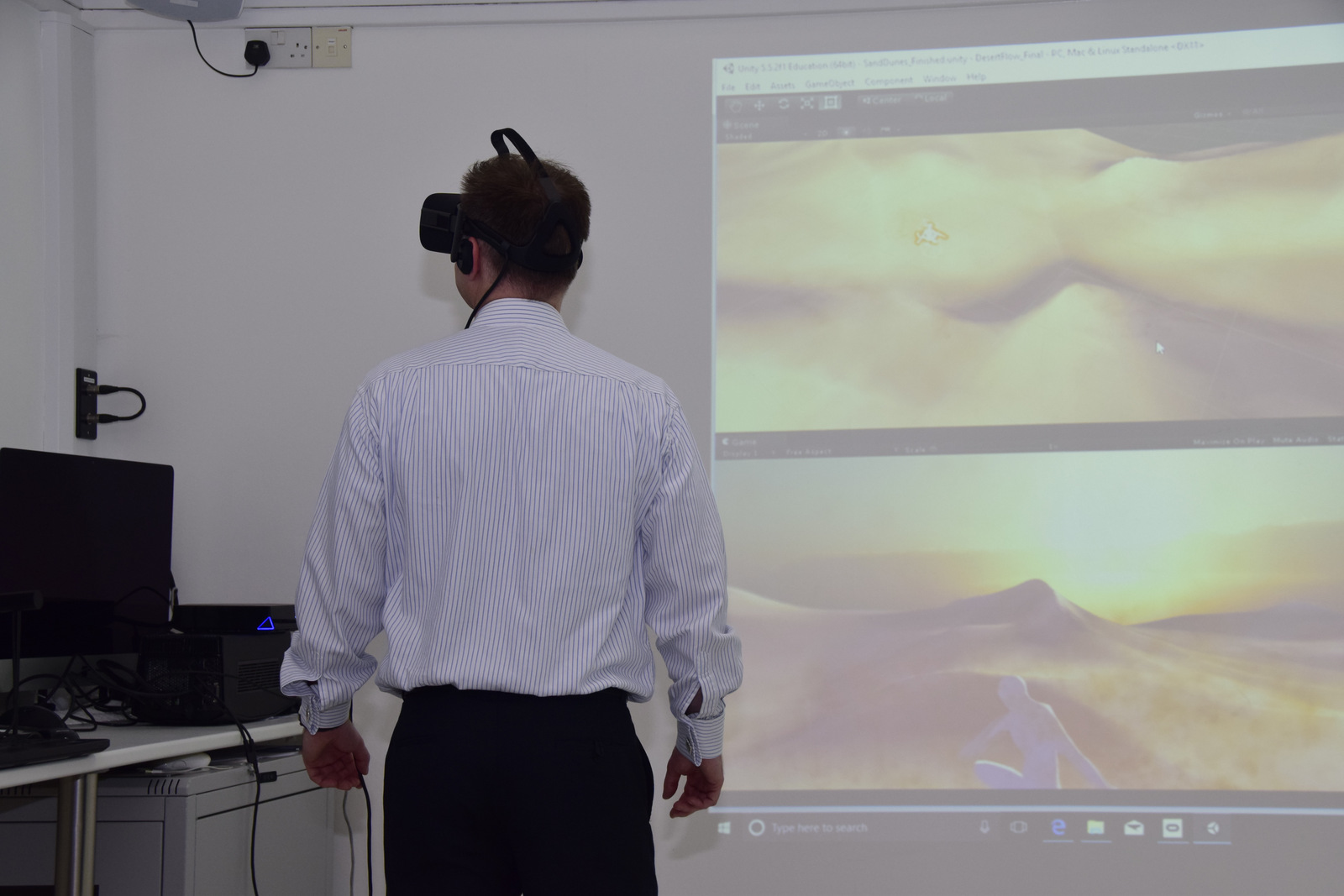 What's the fun of AR/VR if we don't get to play some games? 😜 This here was the AR HoloLens where we played an AR version of Space Invaders, using the "air touch" feature to shoot at alien spacecraft. After a while, it feels like you're shooting blasters directly from your fingers!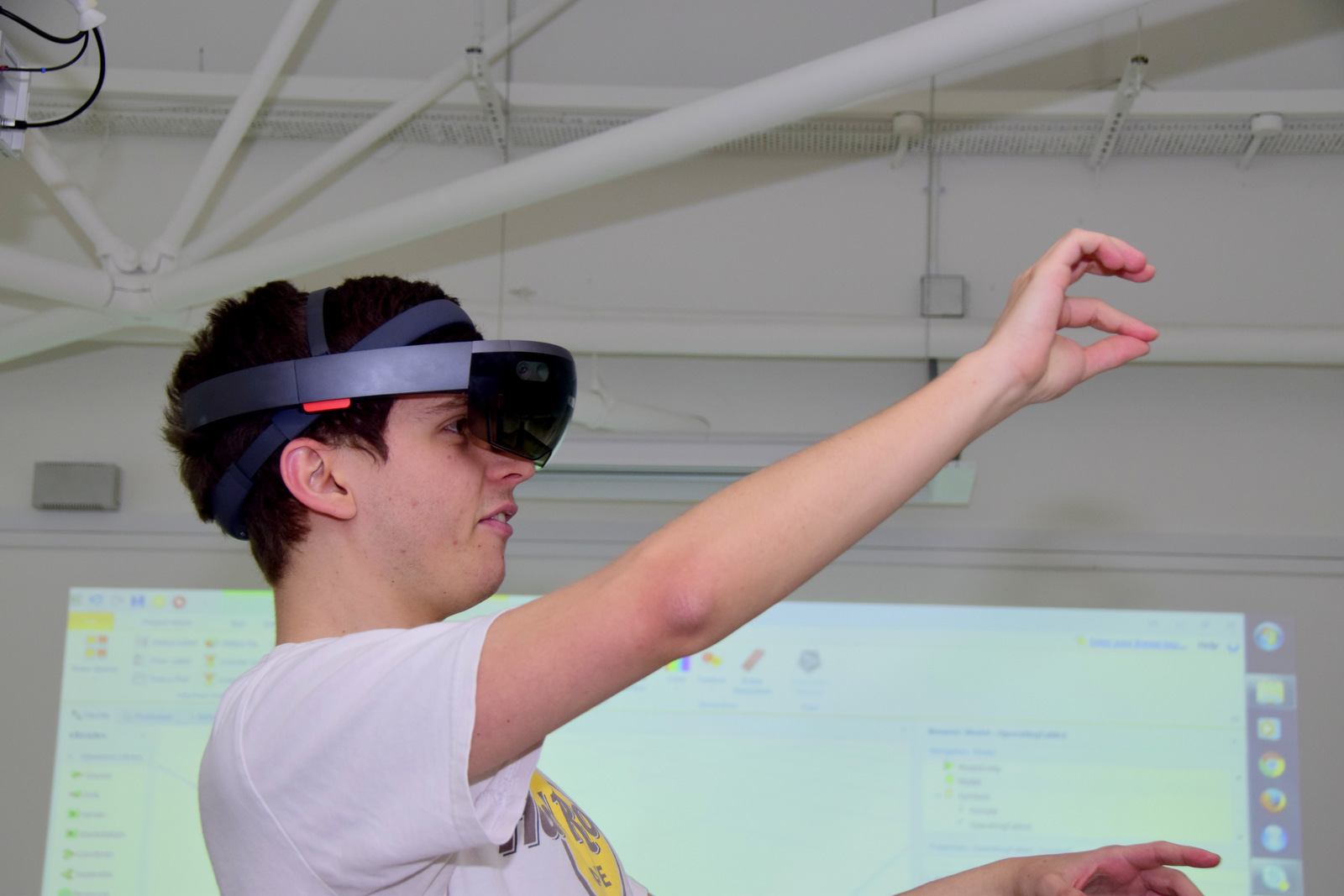 Captain Kirk also showed us some of his students' completed VR games, one of which was a super cool "Shoot that Dinosaur" game. I don't think it's called that, but that was what it was. When you put on the Oculus lens, it's like you're one of the soldiers shooting at the dinosaurs. Top that with all the high graphics (after rendering) and the sound effects, this must have got a super high grade for the assessment since it was above and beyond what was expected: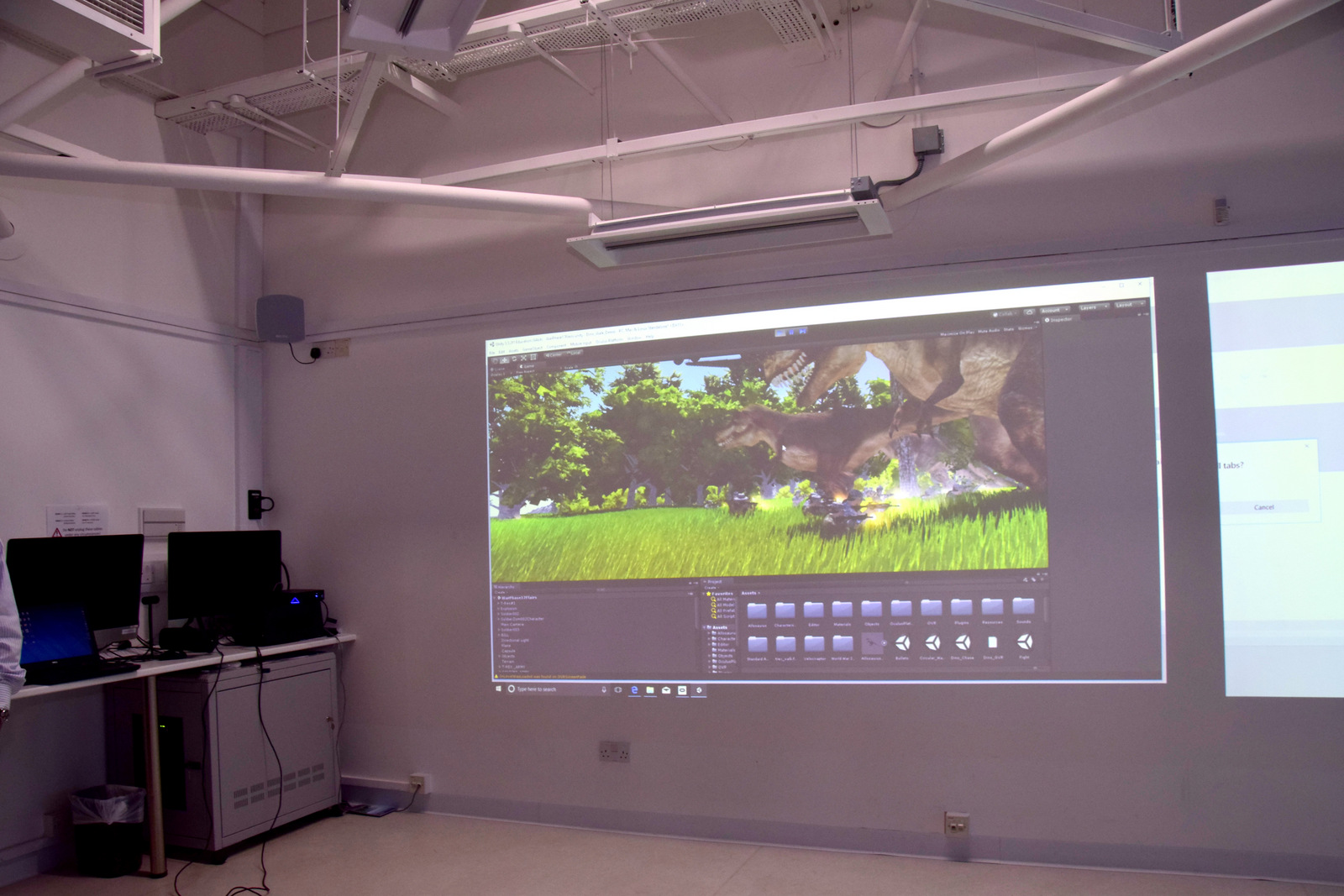 Shoot that Dinosaur! Shoot it…!!!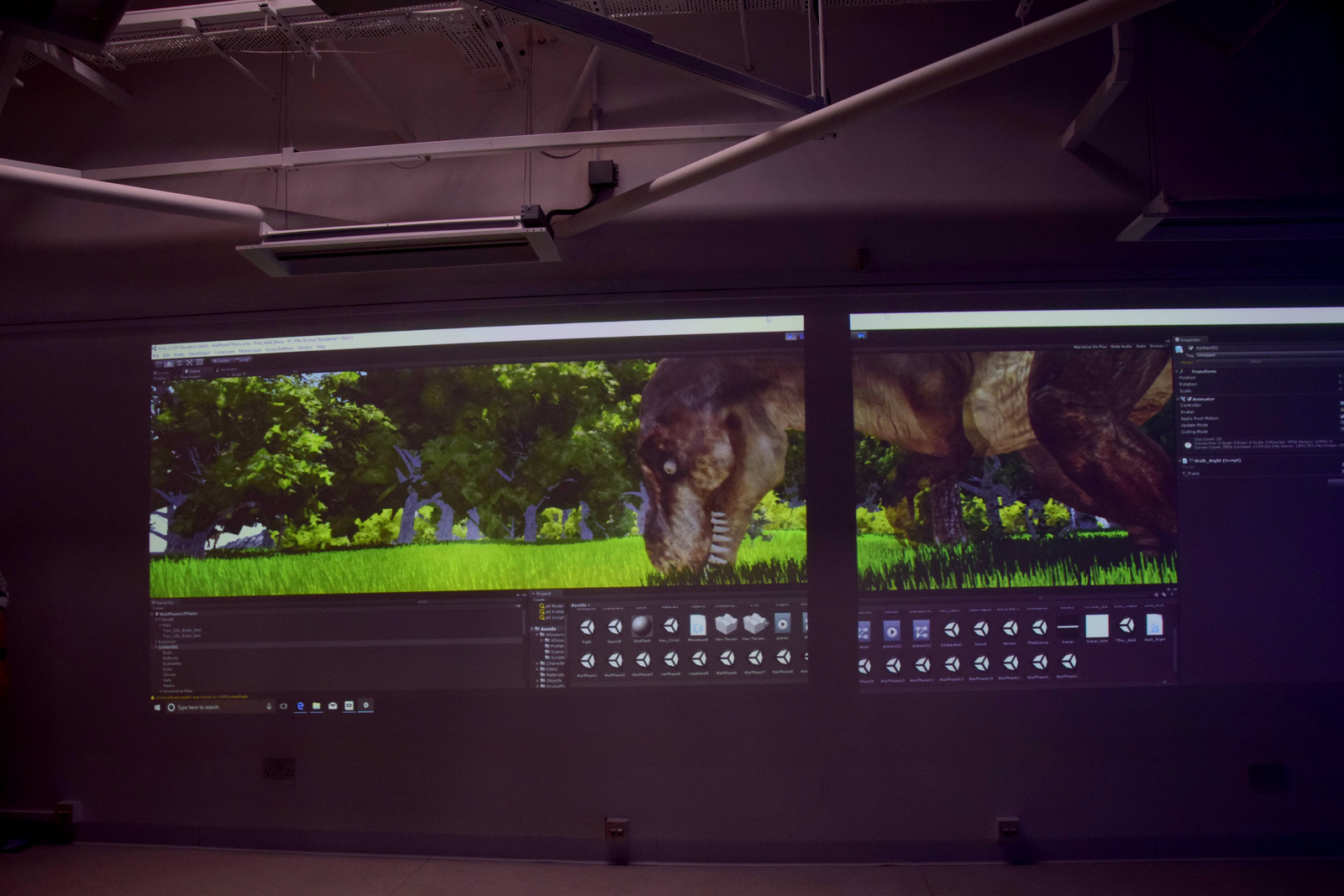 Here's the few of us who managed to enjoy this bit of fun and cool stuff with Dr Garn and Captain Kirk: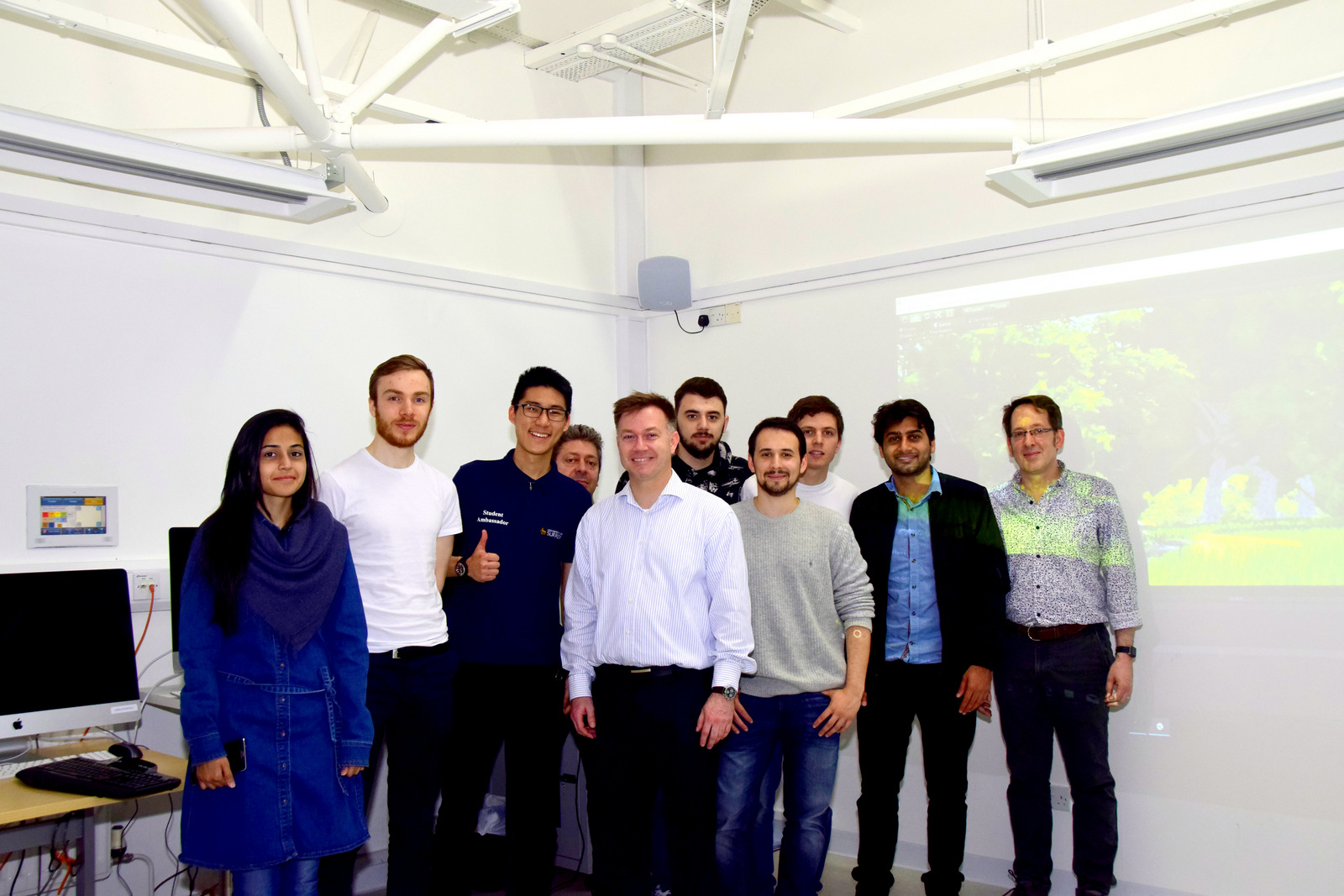 There was a slightly better turnout (but still not with everyone) for our last Supply Chain Analytics lecture the day before. Pity that so many of them missed the fun bit at Nodus 😜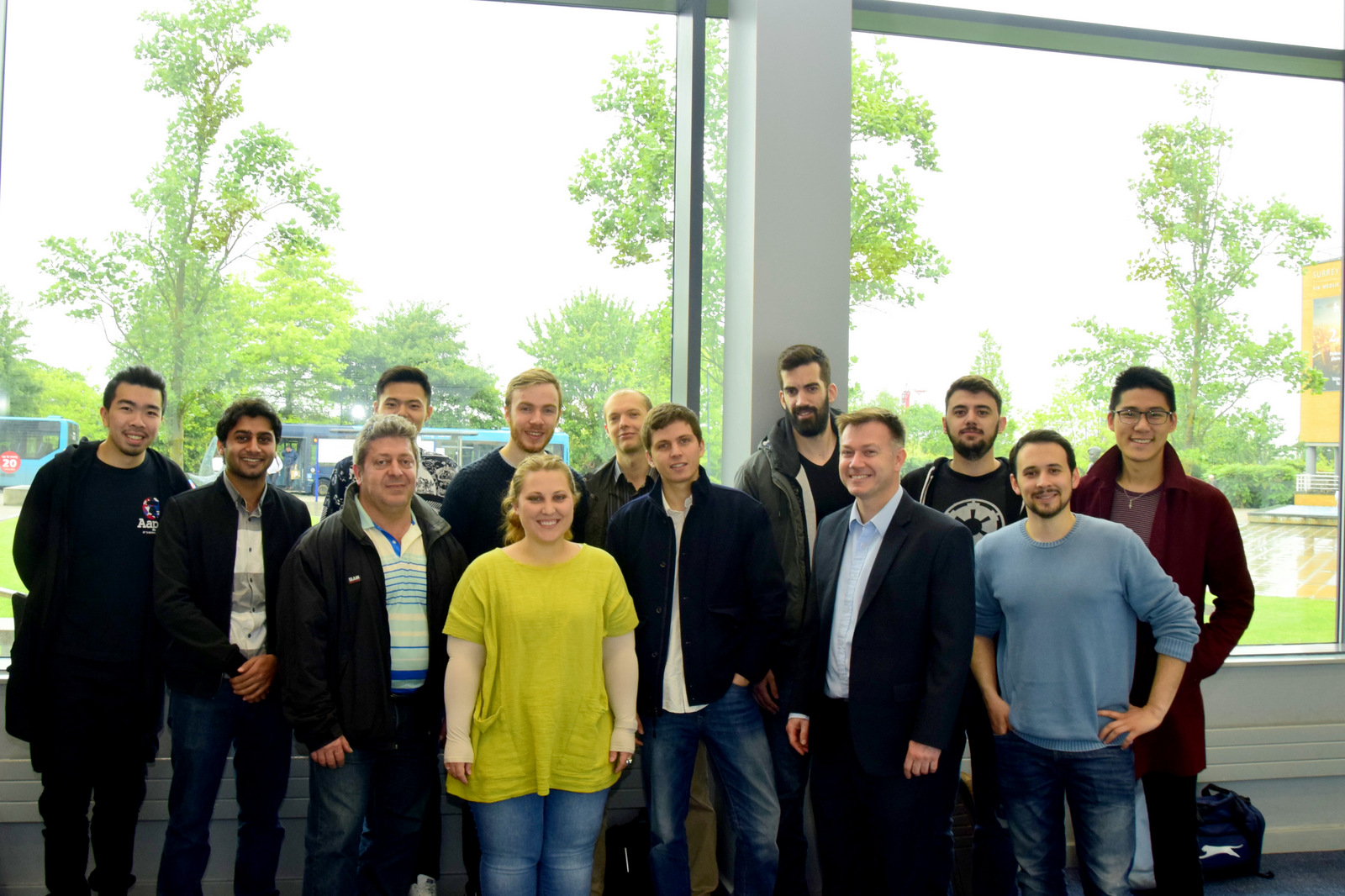 It's rare that I write about the work we do in our MSc Business Analytics course and part of it is because it can get quite technical. But this was a really fun one that I had to absolutely share. Hope you found it interesting.
I'll be back later in the week to continue my travel diary blog. Now, if I get back to writing my Machine Learning R Code again…
Until the next one, take care and God bless! 🌈
Ben