Hi everyone,
I've been busy working on my Masters Dissertation since mid-June after the exams ended and I'm happy to say that I'm on track to get it done bit by bit day by day. How I got from information-overload with ideas all over the place to a clearly-mapped out plan about how to take my Dissertation forward is down to a few things. Besides praying really hard for a breakthrough, what really helped me was getting out of my learning space at home and heading to the Business School.
Having found a nice Seminar Room where I could get my work done to great effect has helped me develop a nice routine for work on weekdays. Mornings are for prep work doing some essential reading. After lunch, I'll head straight to the Seminar Room and get cracking until it's time for Dinner break before then returning to work again until I get chased out by security (usually around 10pm). As such, the Business School has become a 2nd home to me so I thought this post would be a perfect opportunity to take you on a Photo Tour of the Surrey Business School.
So let's get started!
Surrey Business School (SBS) has its own building, called the Rik Medlik Building (also known as the MS block). It shares the Piazza with its neighbour, the Austin Pearce (AP) building, which is connected by a link bridge on Level 3 of MS and Level 2 of AP. The Piazza is the "central" bus stop for the school with buses coming into the stops here either heading out to Manor Park and then Stoughton (Bus 27) or to Town (Bus 26).
The 2 photos above are all taken in the evening at around 7.30pm during a normal summer day, which is why it's really empty. It usually is way more lively, especially before 4pm because Lakeside Coffee Shop is open even during summer.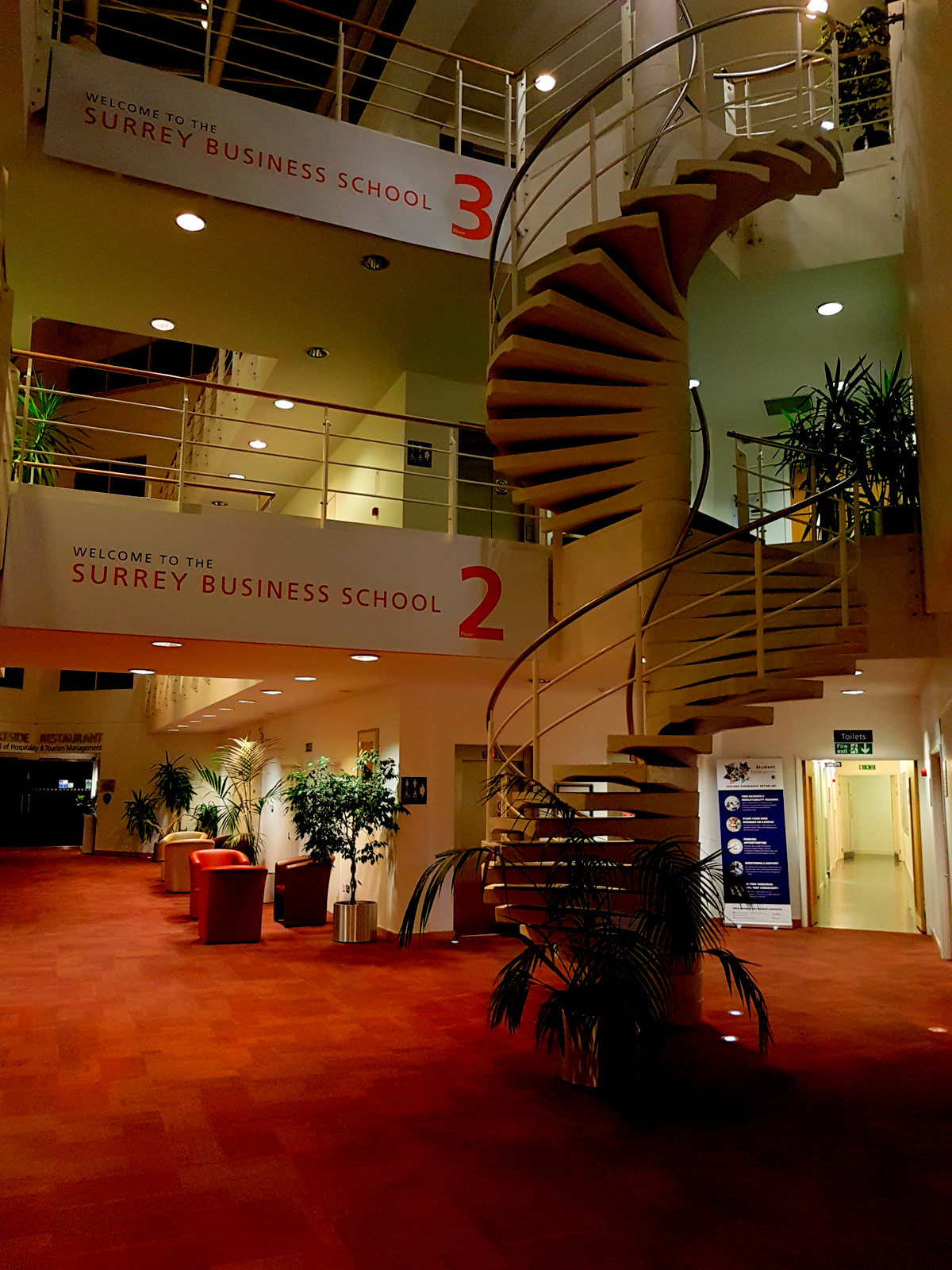 Once inside, you'll notice right away, the spiral stairs that take you up to Levels 2 and 3. Aside from Lakeside Coffee Shop, Level 1 also has Lakeside Restaurant as well as a Computer Lab free for students to use during SBS opening hours. There are a number of Bloomberg terminals here if you need to use them. You are also able to print journal articles and study materials from this computer lab as long as you're logged in to the Surrey network. SBS students are afforded 1000 pages of complimentary printing for each academic year so do make use of this if you need to print a lot of documents. The Business Insights Lab is also on level 1 and that's where Business Analytics Colloquiums have been held throughout the year. The Surrey Summer Analytics School was also held in the Business Insights Lab just about 2 weeks ago.
Oh, and how can I forget, the big auditorium that's also here on Level 1. I've only been in there twice. Once for a Welcome Week talk where Professor Marco Mongiello spoke to all the Postgraduate SBS students about what to look forward to in our year of study ahead and another time for the Students' Union Annual General Meeting. Maybe that's because my course only has 14 of us.
Let's head up the stairs to Level 2 then.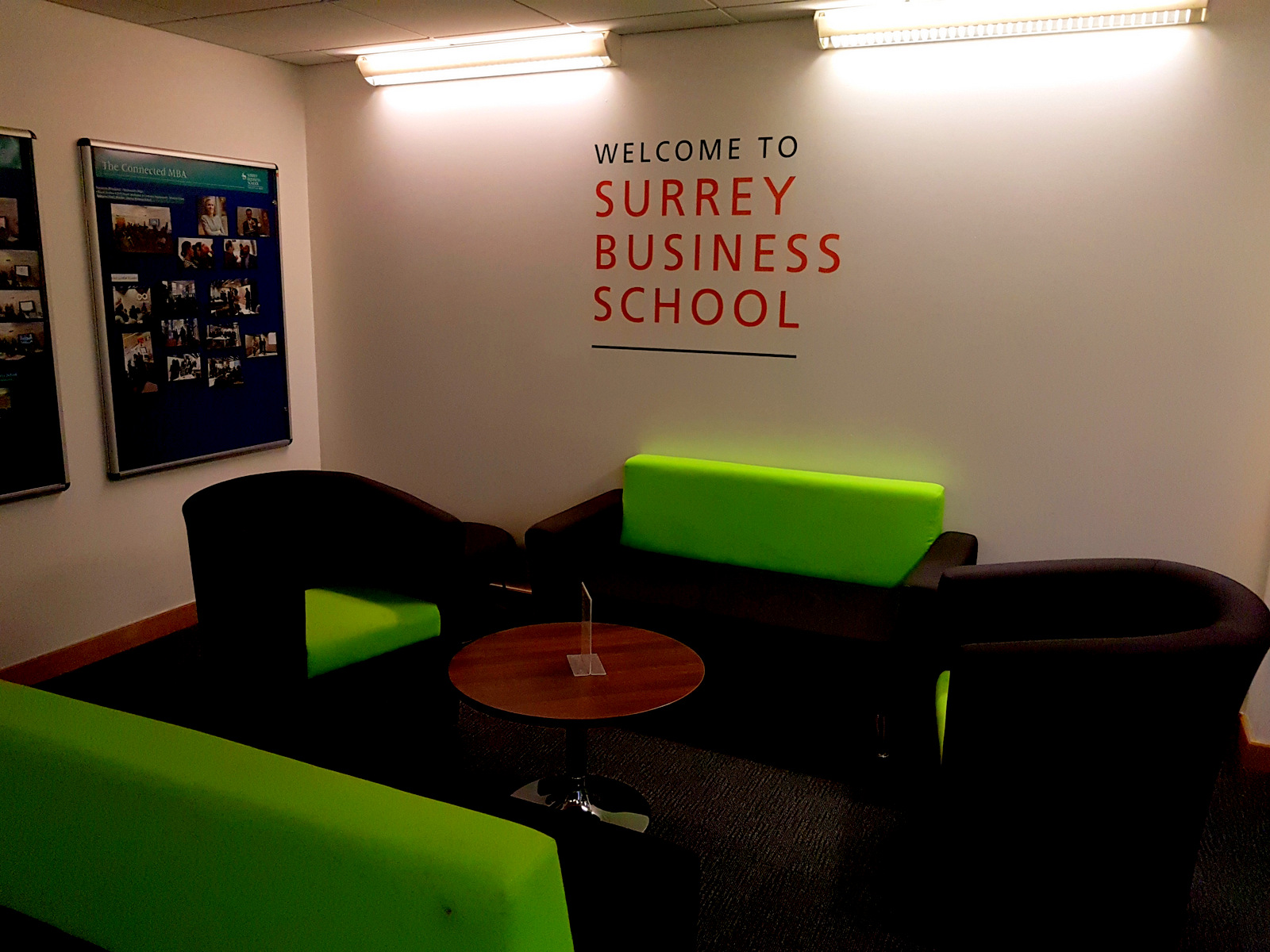 When you go up to level 2, you'll notice a nice quiet corner with green sofas. This is often where many students wait before seeing their Professors as long as Business Analytics students are not hogging the place. We've spent many hours sat here debating over the types of algorithms to use for our Machine Learning project. It's not just a place of frustration over R code that doesn't work but also where I've got to interact with and learn from my classmates outside of class. This also happens to be close to where our Business Analytics professors' offices are so there have been a few occasions where they have spotted us deep in discussion and have joined in.
Aside from faculty offices, Level 2 also has multiple seminar rooms which are learning spaces during term time, as well as the Teaching Computer Lab where my coursemates and I had our Supply Chain Analytics lab sessions earlier this year. There's another Open Computer Lab, similar to the one on level 1, except that it doesn't have the Bloomberg terminals and the printer is more of a photocopier.
Let's go up to Level 3.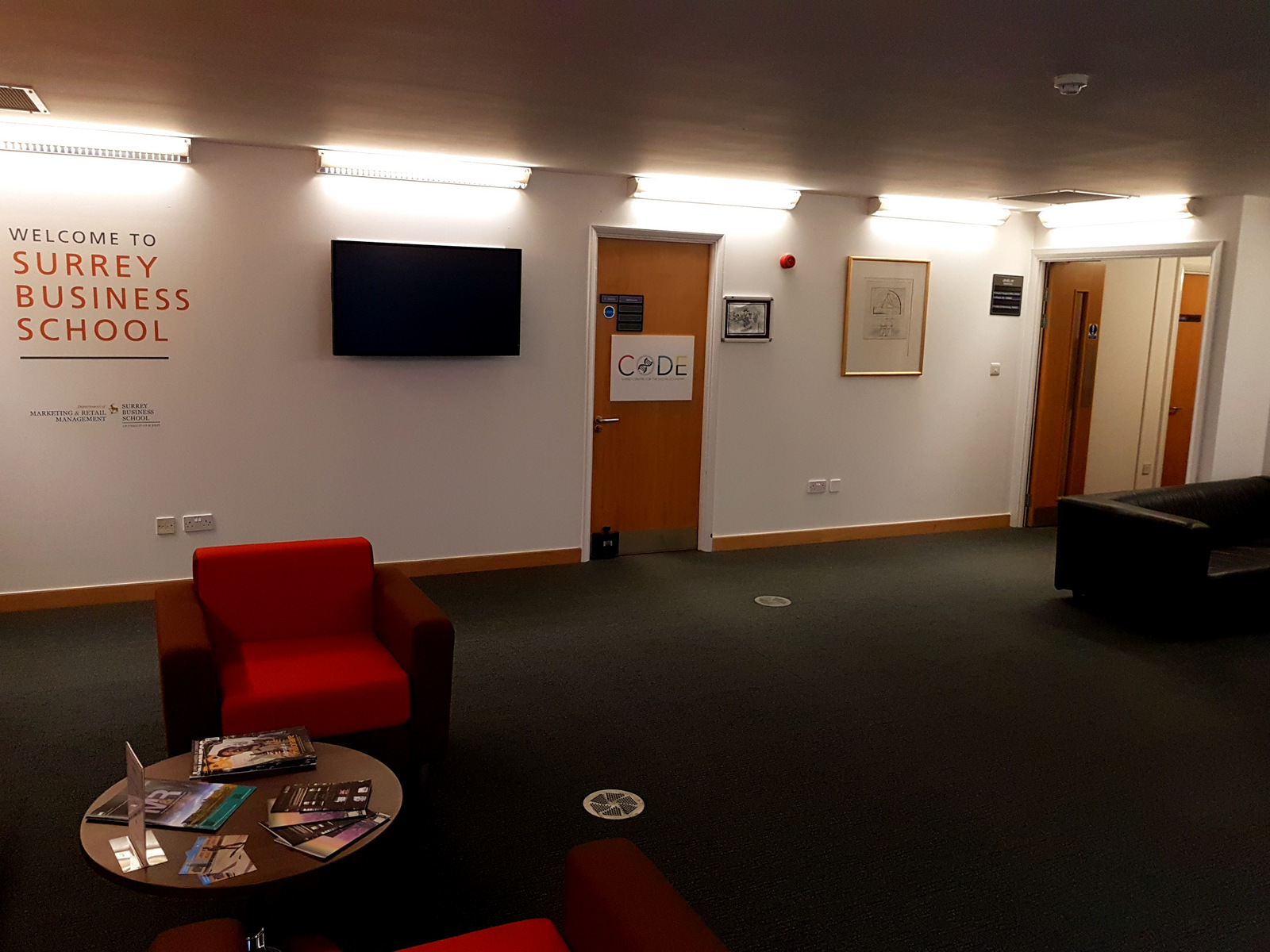 Level 3 features a larger open space as compared to the one on Level 2. The Surrey Centre of Digital Economy (CoDE) is here! (http://surreycode.org/) Digital Economy is a big deal now because of the immense digital potential that businesses can (and have to) tap into if they are to keep up with the wave of technological disruption.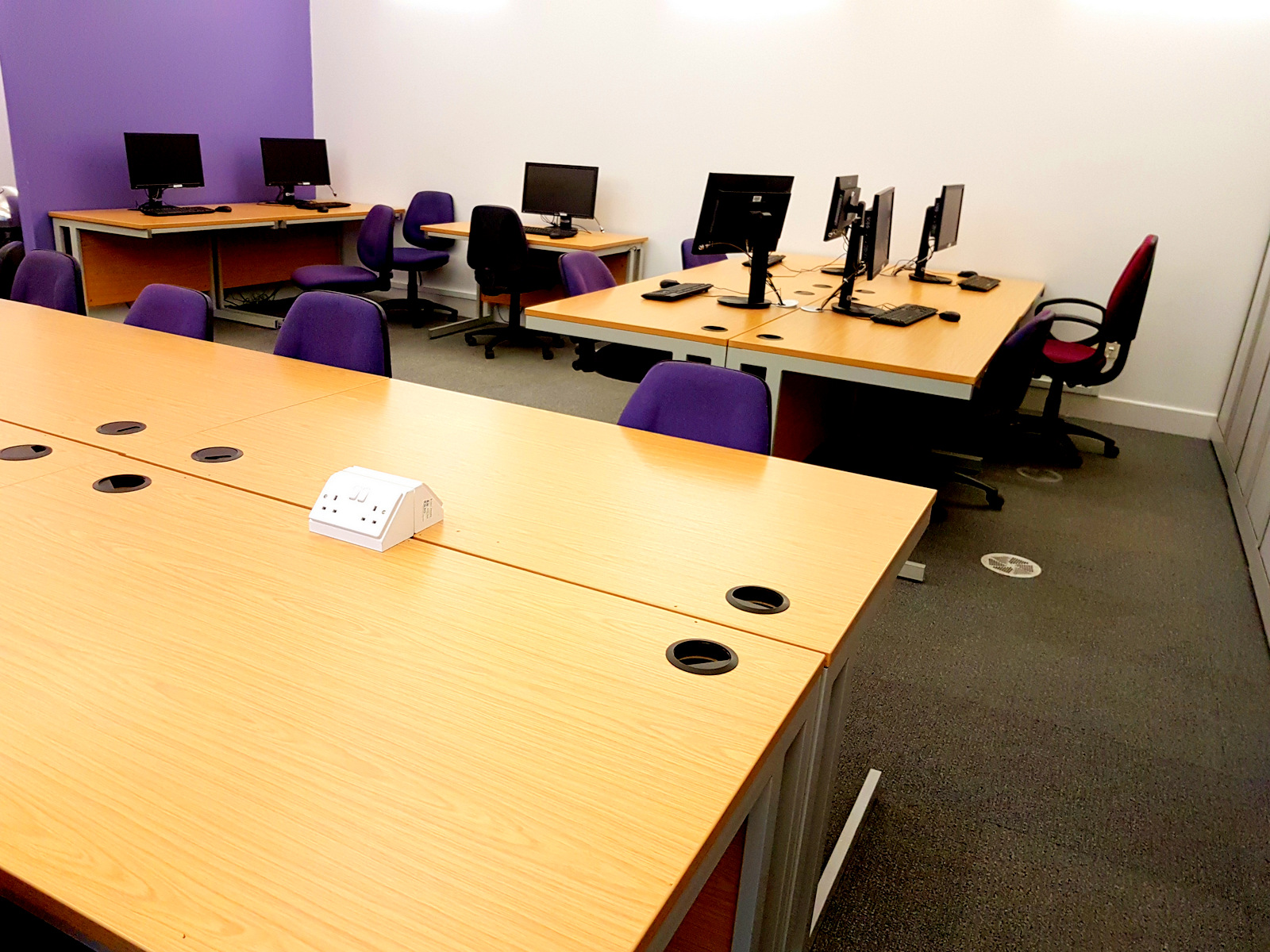 Level 3 is also where the Student Common Room is. This is an open secret that somehow few people know about. There are a number of Desktops available for use as well as tables with sockets for you to plug in to keep your own laptop powered-up. It's a good place to study if you don't want to squeeze with everyone else in the entire University in the Library during the exam period.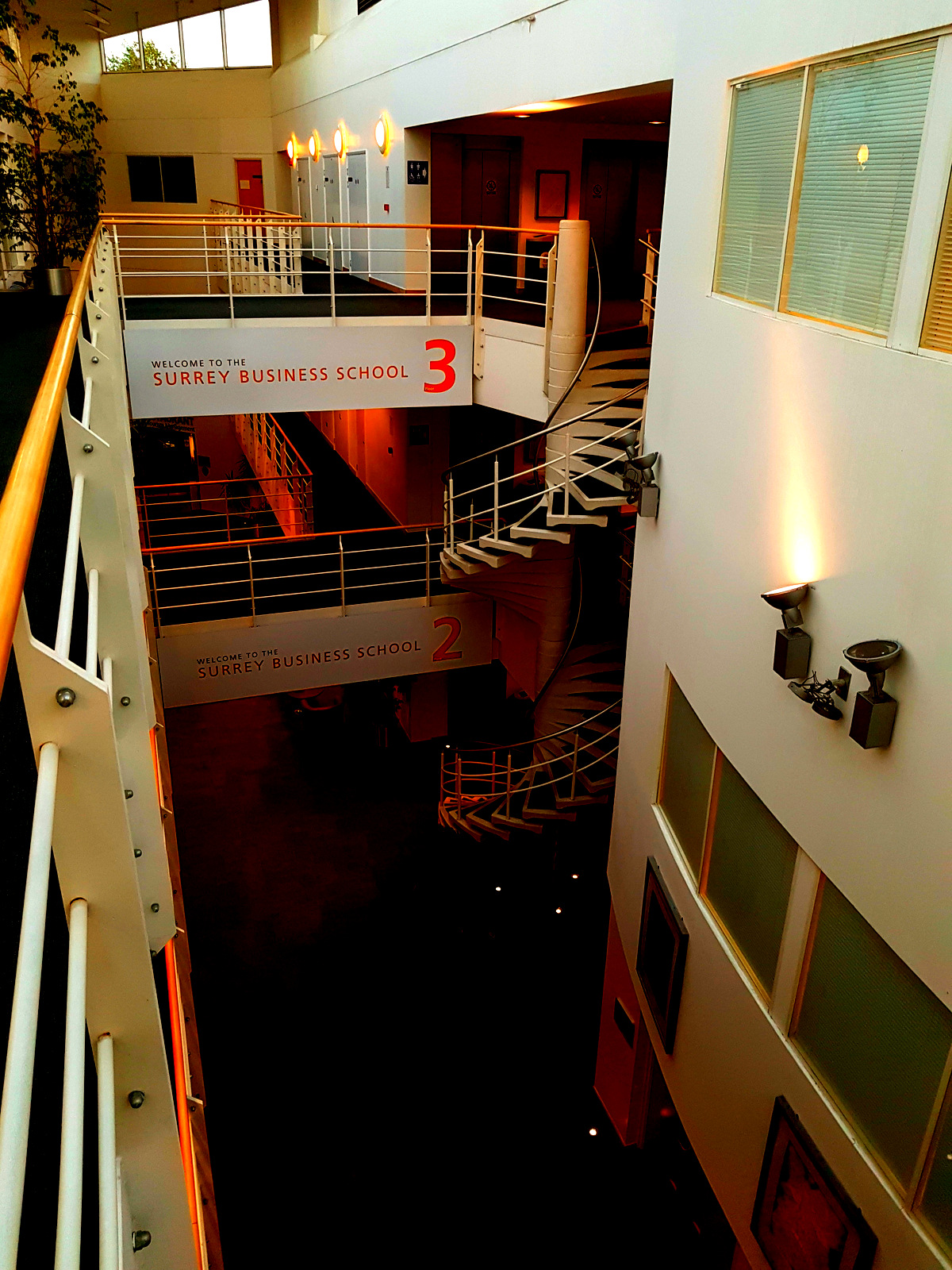 This is how it looks like from just outside the Student Common Room. Looks extremely empty but I must stress that this is during a summer evening, when few students are around (I think I'm usually the only one) and Professors have already knocked off from work.
My working room is one of the Seminar Rooms on Level 3 where there are 2 huge whiteboards for me to draw out my ideas and do mind maps. All I need is to bring along whiteboard markers, which I have a number because it has become a habit for me to carry them around given my teaching background. Drawing the mind maps out onto the whiteboards has really helped organise my thoughts. Best part of working in the Seminar Room is the huge space available that allows you to pace up and down when thinking out loud. Plus… there's an aux cable that you can plug into your laptop to play some music that stimulates thinking (for me, that's either Classical or Oldies).
That's it for the SBS Photo Tour then. Hope you've enjoyed this little sneak peek into the Business School. Now it's time for me to get back to Dissertation work! Until next time, have a blessed week ahead! God bless you! 🌈
Ben