Hi everyone,
Been back in the thick of all my dissertation work which is the reason why I've not managed to put up part 2 as soon as I'd like.
Here's part 2 of the 5-part photo-blog series from my Ireland-N.Ireland road trip:
Starting off where I ended off the last time, which was at the Cliffs of Moher, we had driven straight towards Galway to enjoy a nice seafood dinner.
Unfortunately, the sun had set by then, or Galway would have been perfect for some sunset photos. This also meant we had dinner really late because, by the time we were driving out of Galway towards Mountcharles near Donegal, it was 11pm. But first… FOOD!!! At Dock 1 Seafood Restaurant at the Docks in Galway.
They served up a delightful clam chowder, something I haven't had in a long while: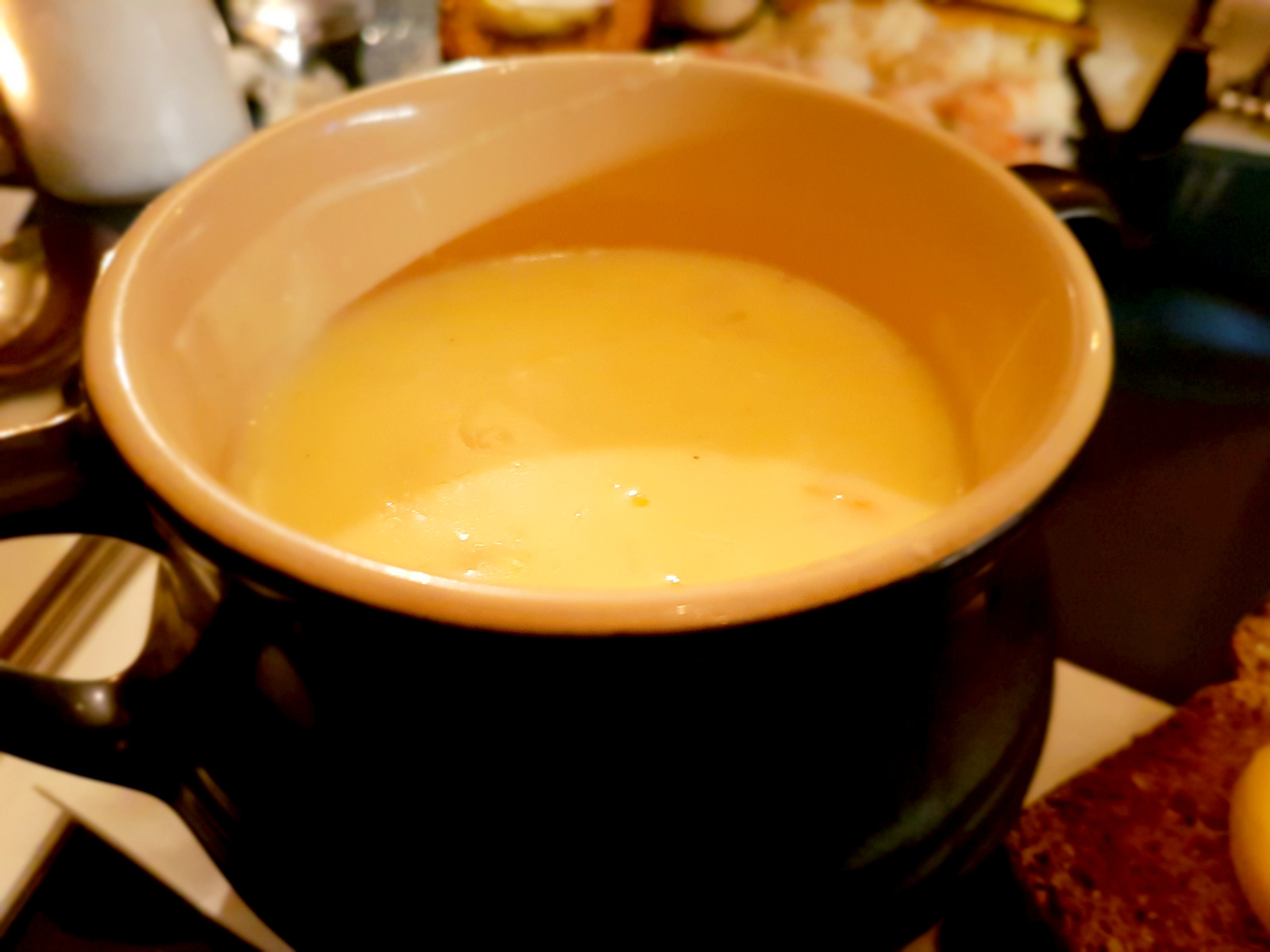 We made an error when ordering our platter because we ended up with the one that didn't have mussels or crabs in it. But we didn't realise it until we were almost done with it. Probably too hungry to realise we made a mistake. Either way, it was still a very good platter with fresh seafood!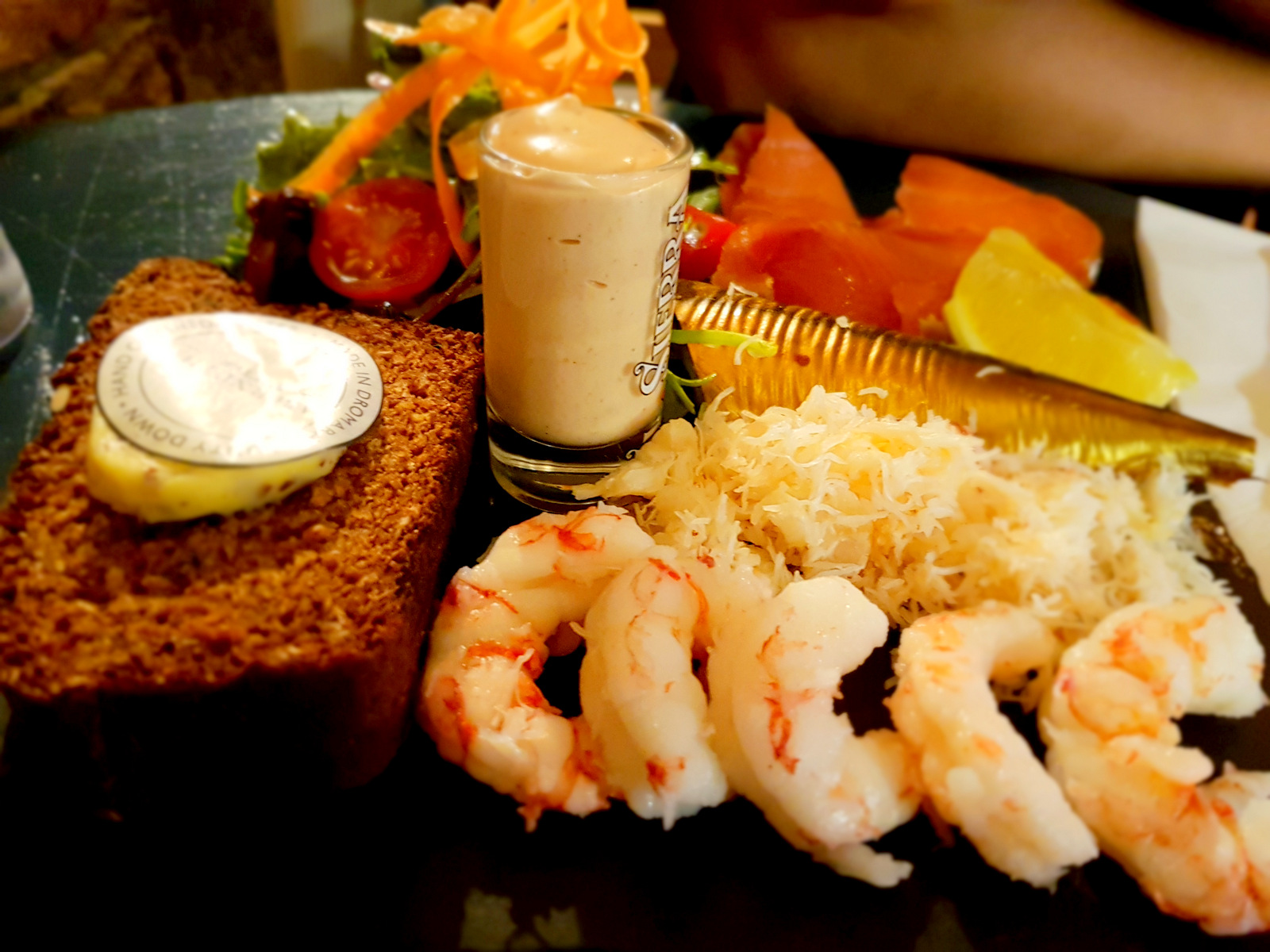 Their scallops and risotto cooked with pancetta bacon was really good too!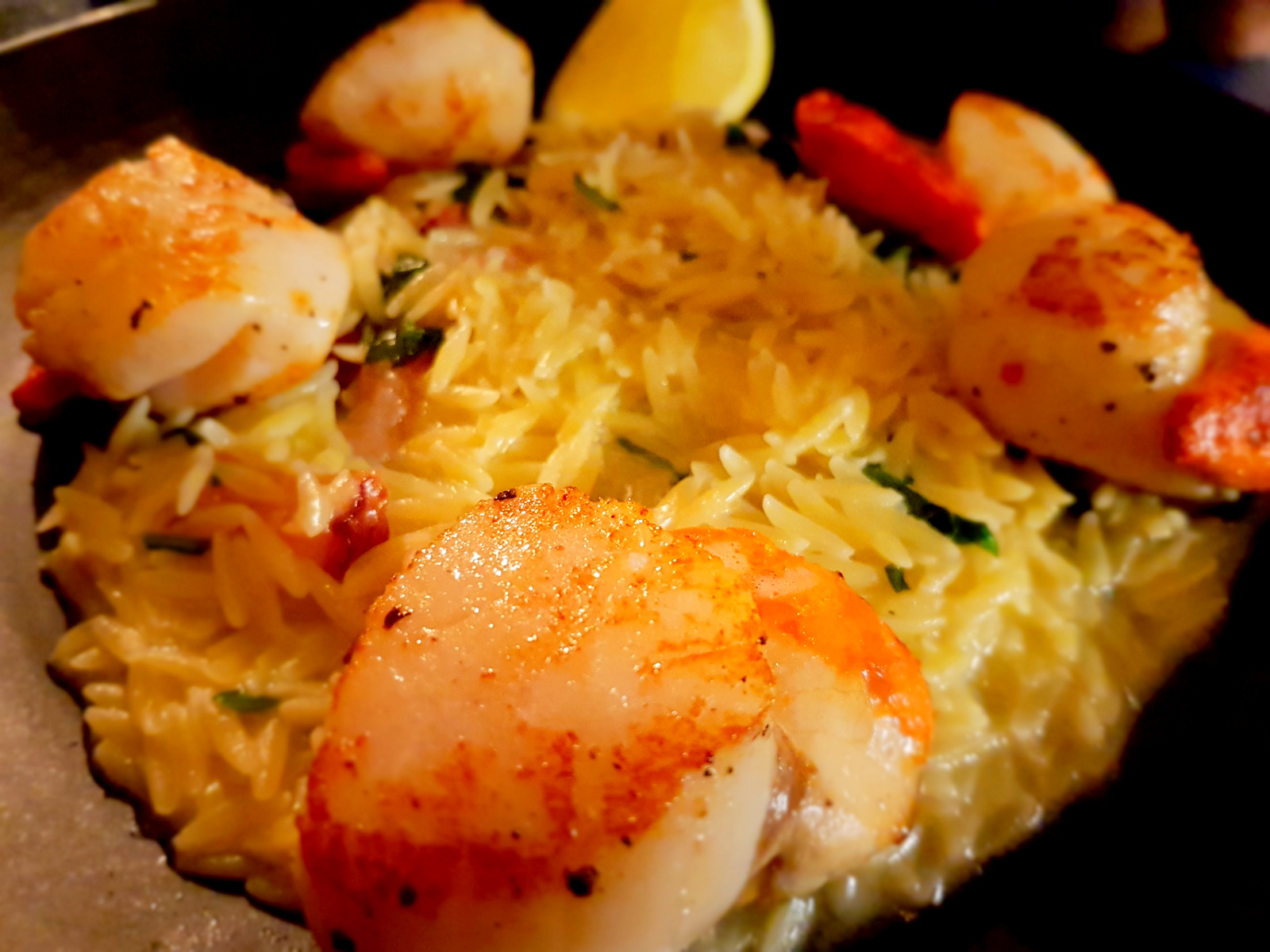 Next up was what was supposed to be the 3hour drive up so I had to really step on it all the way to try to get there before 2am. Thanks to the clear roads, I managed to shave off a full 30 minutes and arrived just past 1.30am, needing to wake our airbnb hosts to open the door for us. We felt really bad for having to wake them up but we expected it beforehand that we would arrive late so we informed them about it and they were okay with it.
Although it was already really late, he still made an effort to tell us about what was nice to say around the area the next day morning because it was still up for debate where we were going to go. We eventually took up his recommendation of driving up to the steep Slieve League the next day morning after sleeping in a bit more because we needed the rest.
Unbeknownst to many (including us), the Slieve League cliffs are almost 3 times higher than the famous Cliffs of Moher. The highest point at Slieve League is a whopping 600+metres, dwarfing the 150+metres point that O'Briens Tower stood. Although it's not as famous, the crowd going up the Slieve League mountain and around the area didn't seem to suggest it was any less famous than the Cliffs of Moher. Before we managed to drive up (a rather steep one I must say), we had to go through Largy, which was more or less the start point and the gateway to Slieve League. The viewpoint here was already a beauty to behold.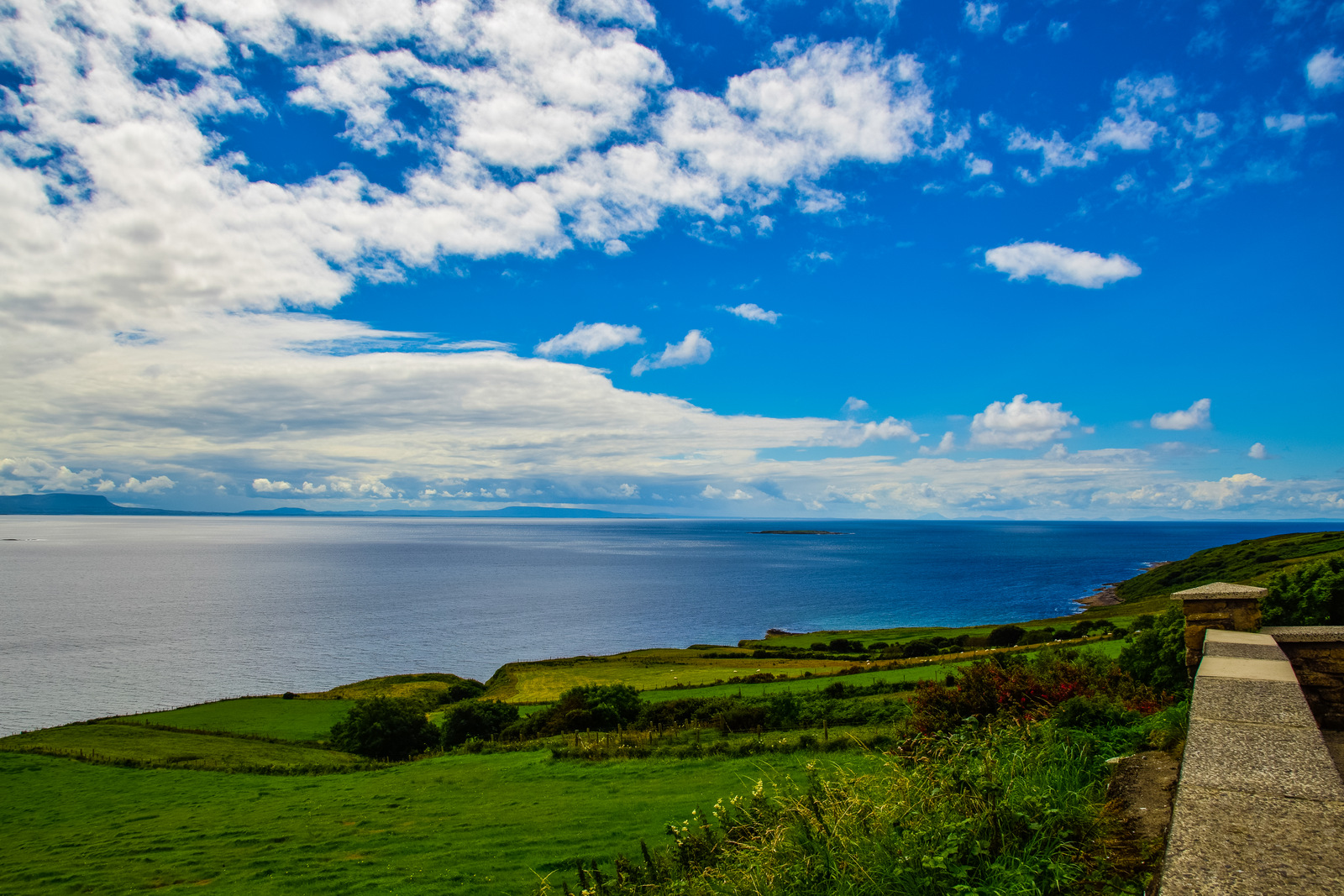 Once we were up the Slieve League mountains, it was just finding the most meaningful and beautiful shots to capture. Presenting to you, the breathtaking views from Slieve League mountain:
Including a ram in solitude on the cliffs, contemplating life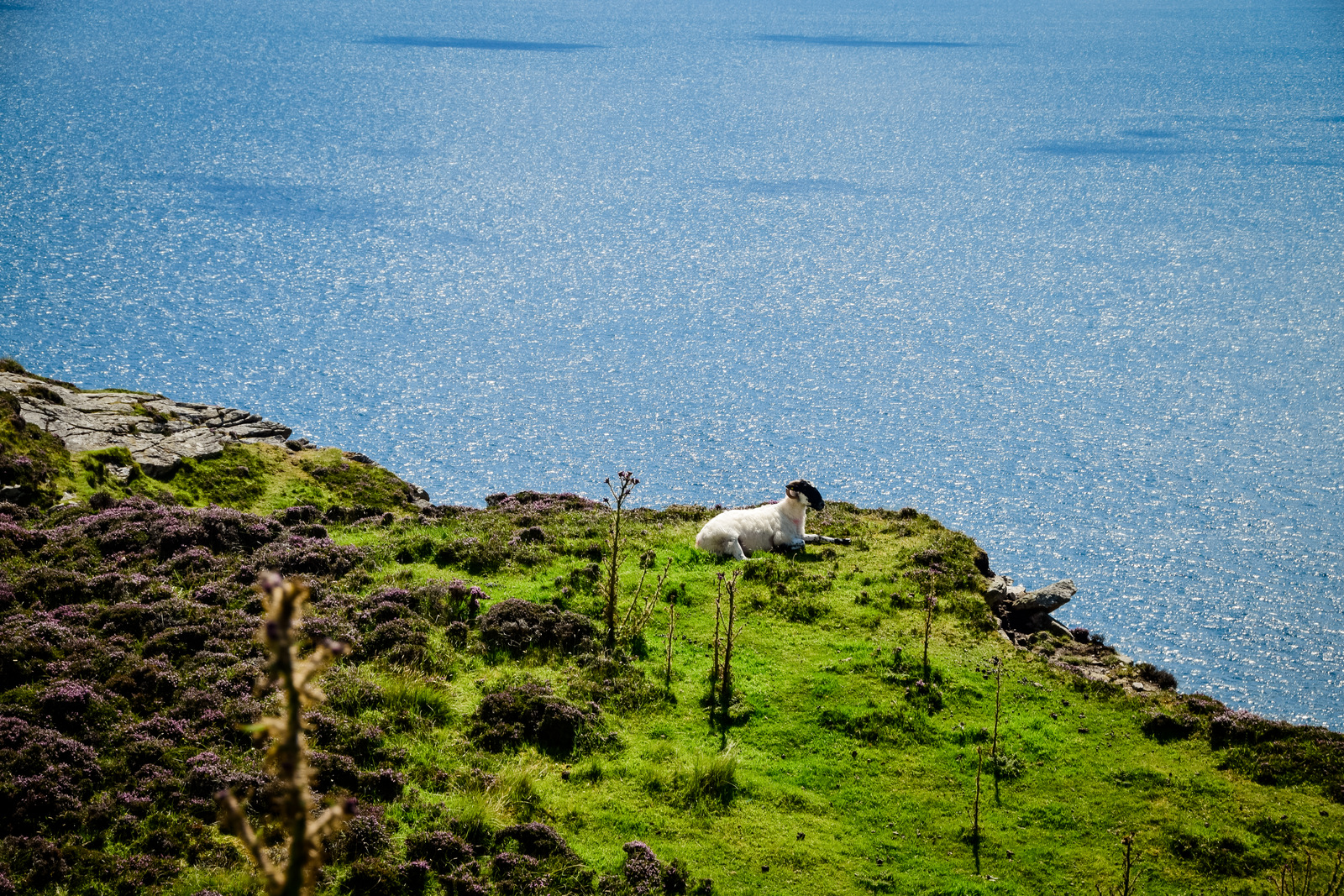 There were more fences here than at Cliffs of Moher, which is understandable, considering how much higher it was. It's still a beautiful view in itself if you look past the fences: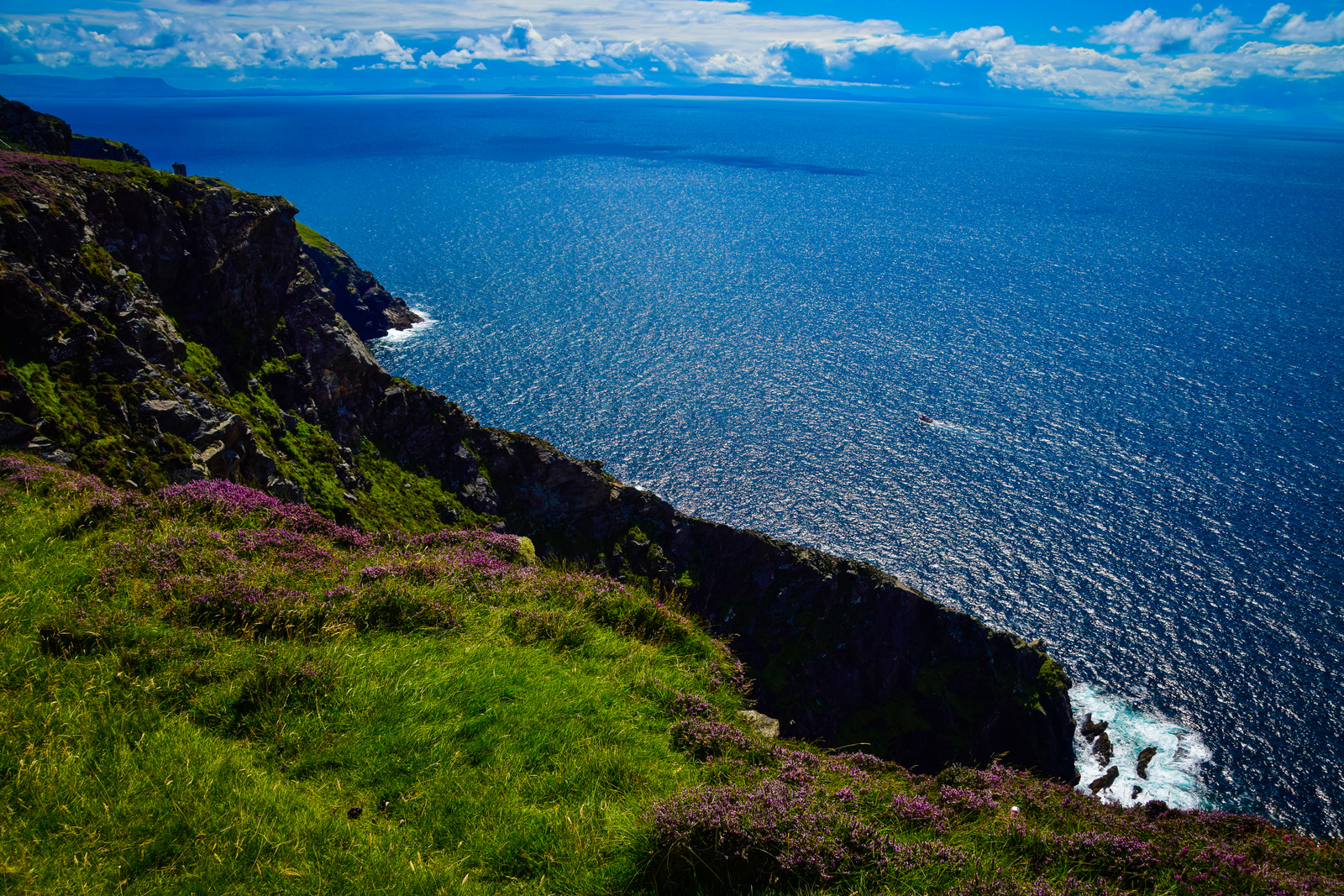 A closer look at the rocks way down below, by zooming all the way in.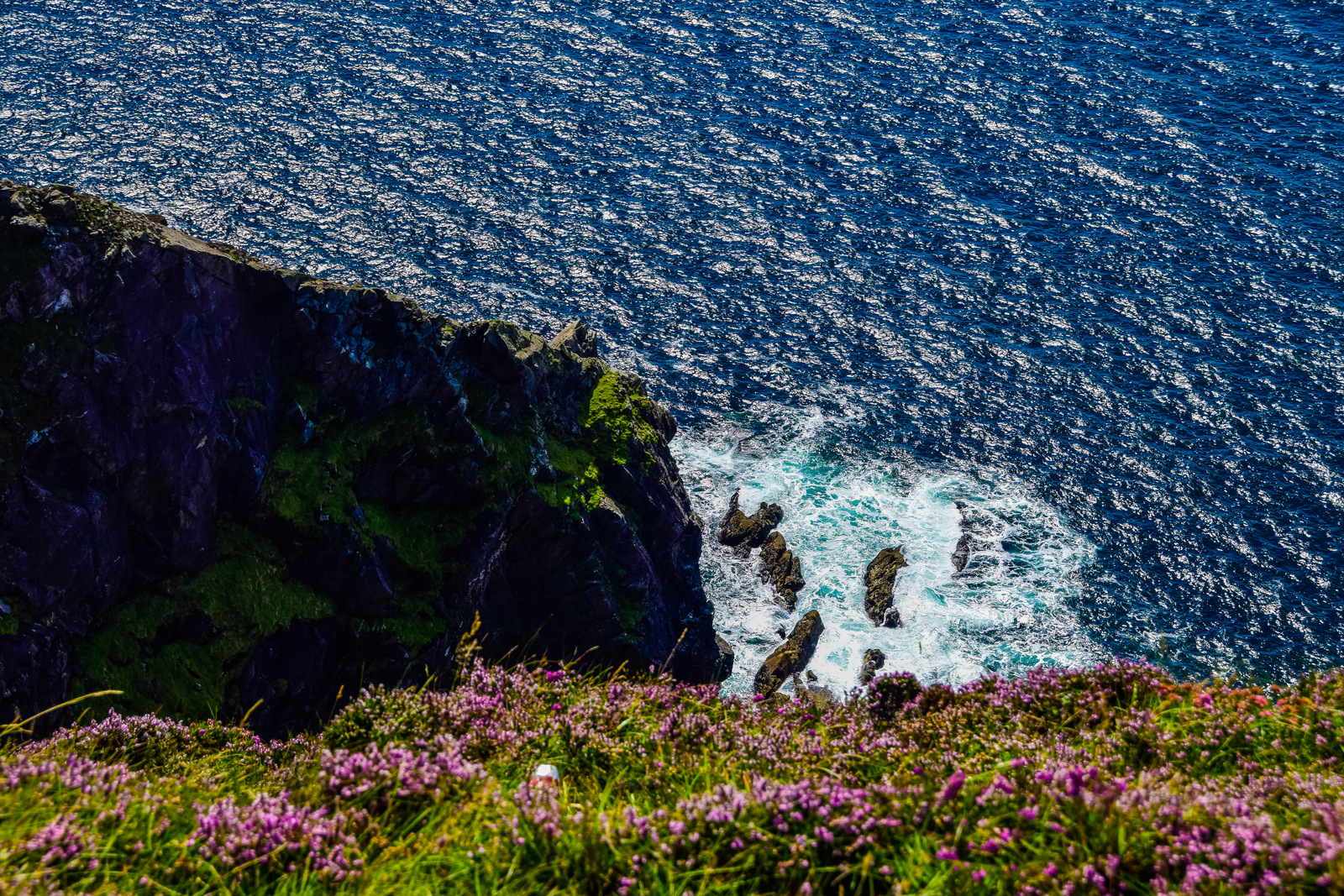 Just like Cliffs of Moher, Slieve League also has its own iconic shot and this was the one (or at least one of them). Didn't know it when I took it though. When I took this shot, I was just captivated by the mix of the colours in front of me.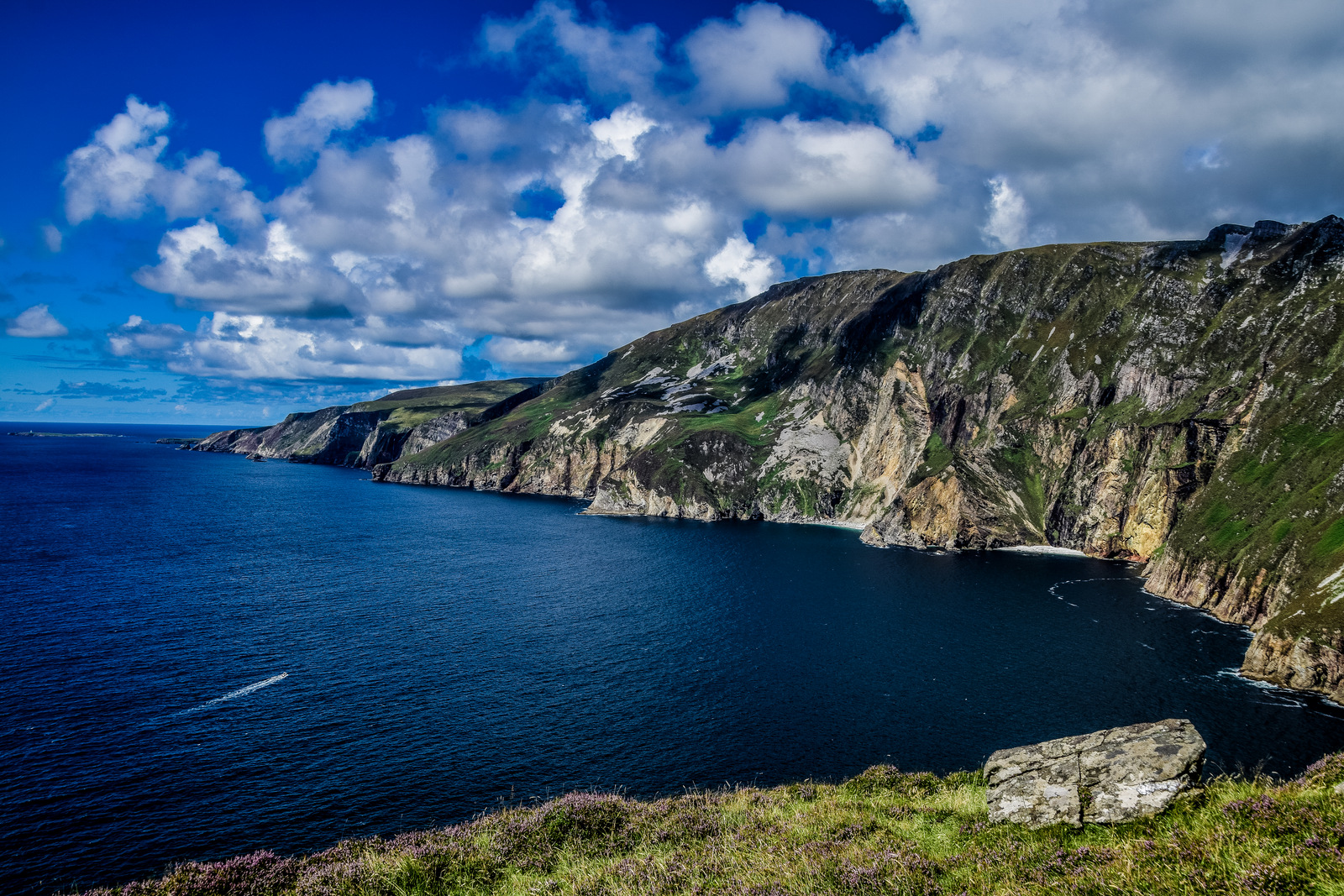 And as always, I like to take photos of birds in flight!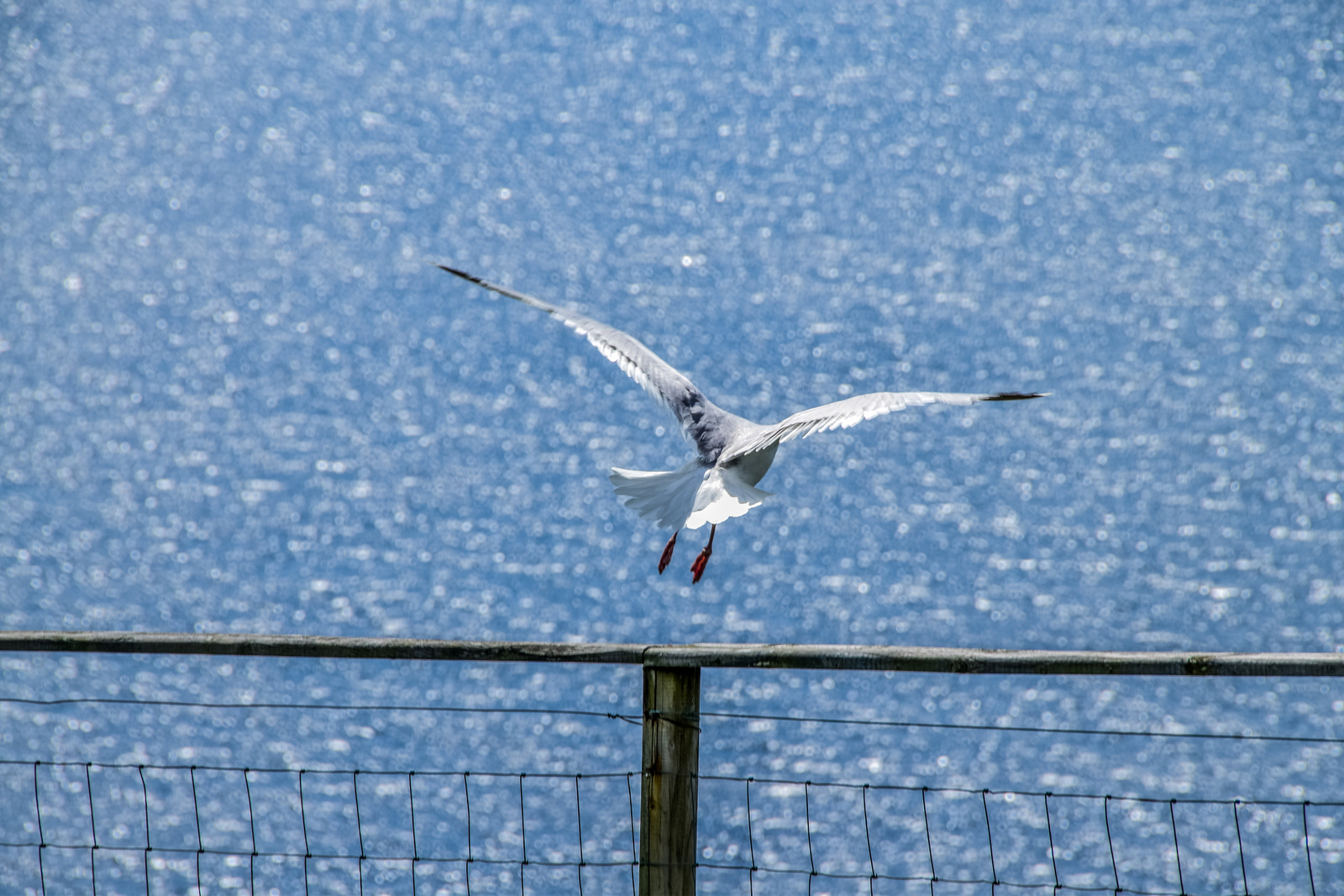 When you're so high up, the cloud cover casts beautiful shadows like this: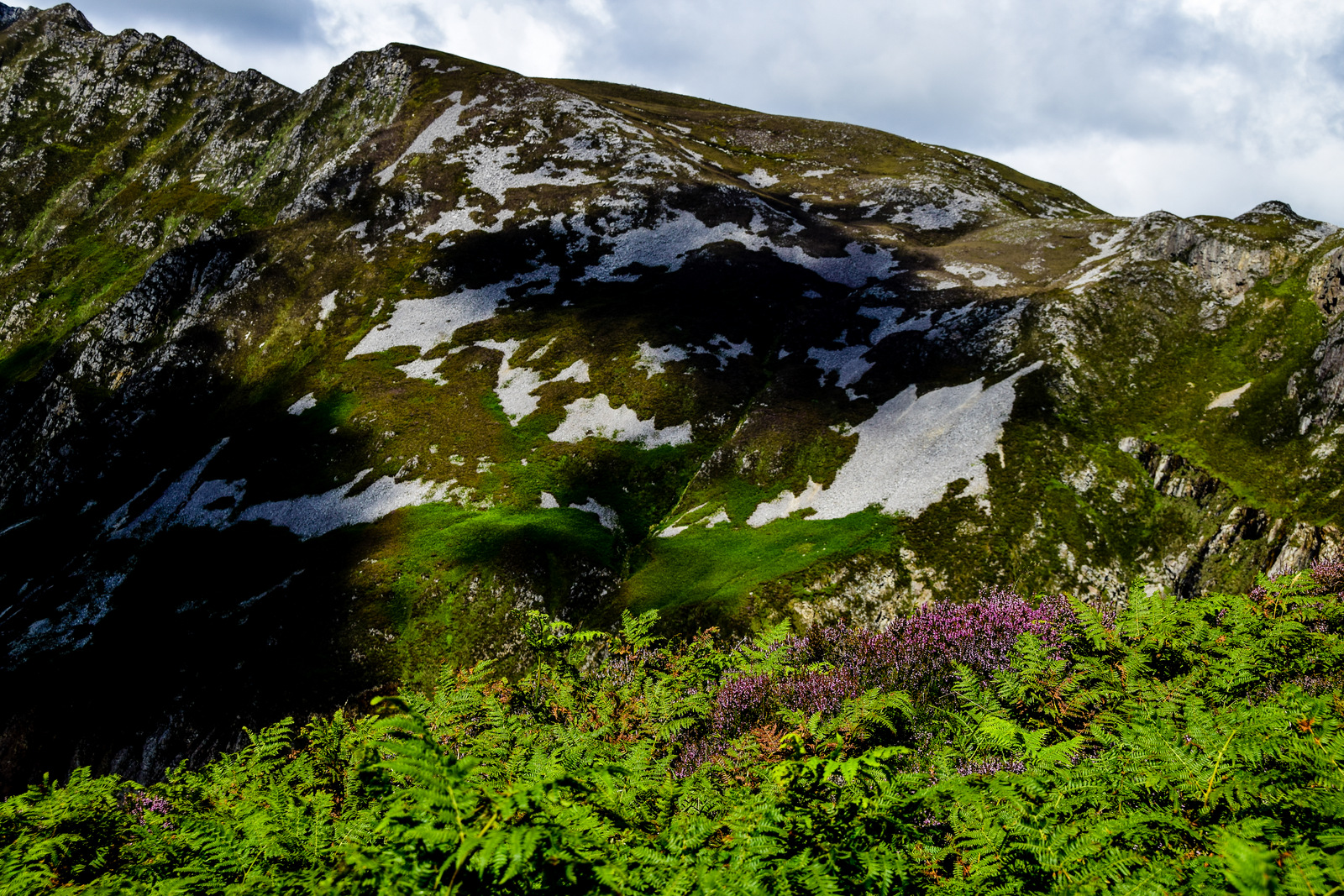 Here's the eastern end of the Slieve League mountains: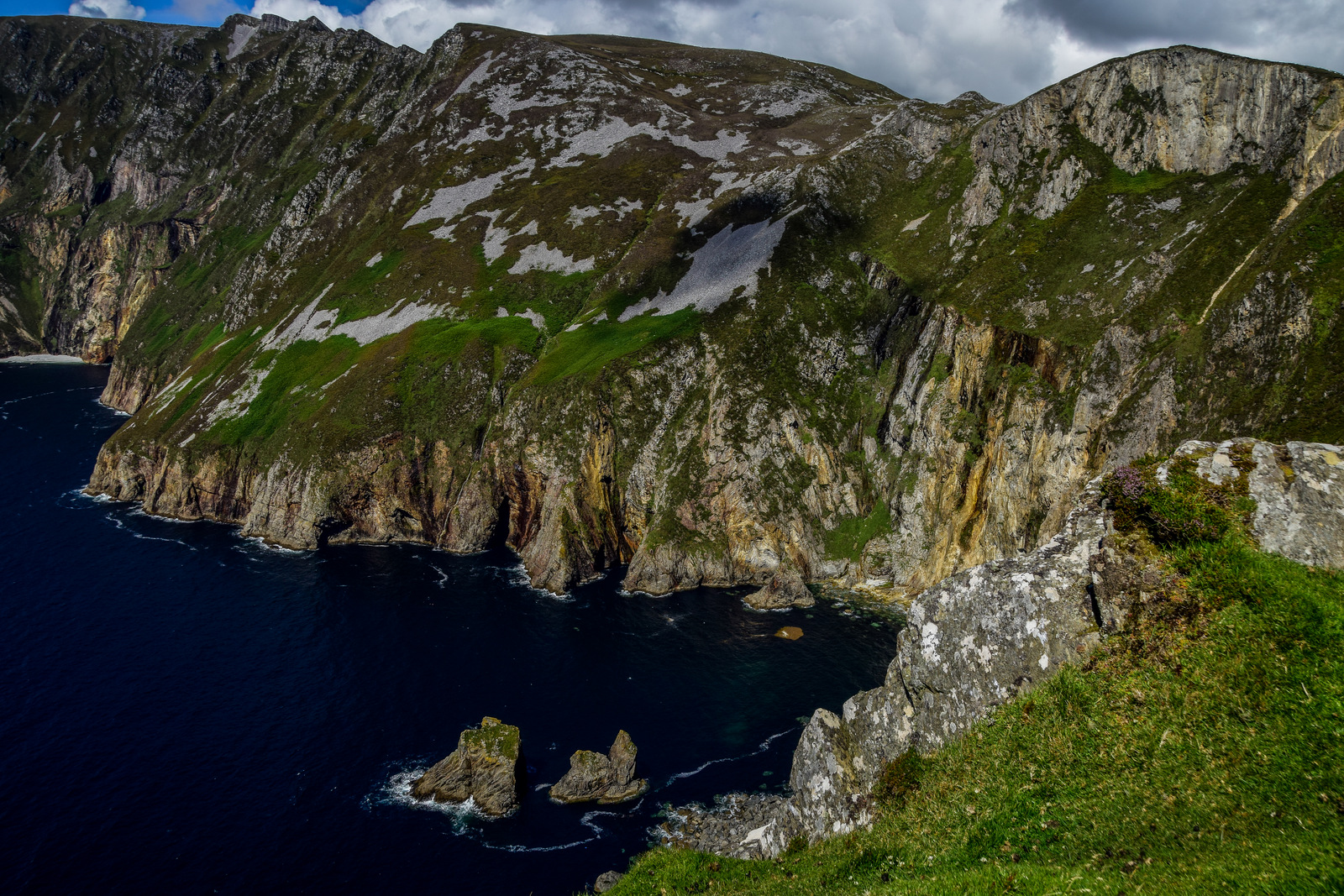 And of course, a close up of the rocks down below when the sun came out the clouds to give them a nice orange glow.
There was plenty of "activities" going on up here with kids racing each other up, people walking their dogs up, lots of photos being taken of course. This was the pick of the bunch though, doing yoga stretches at the top: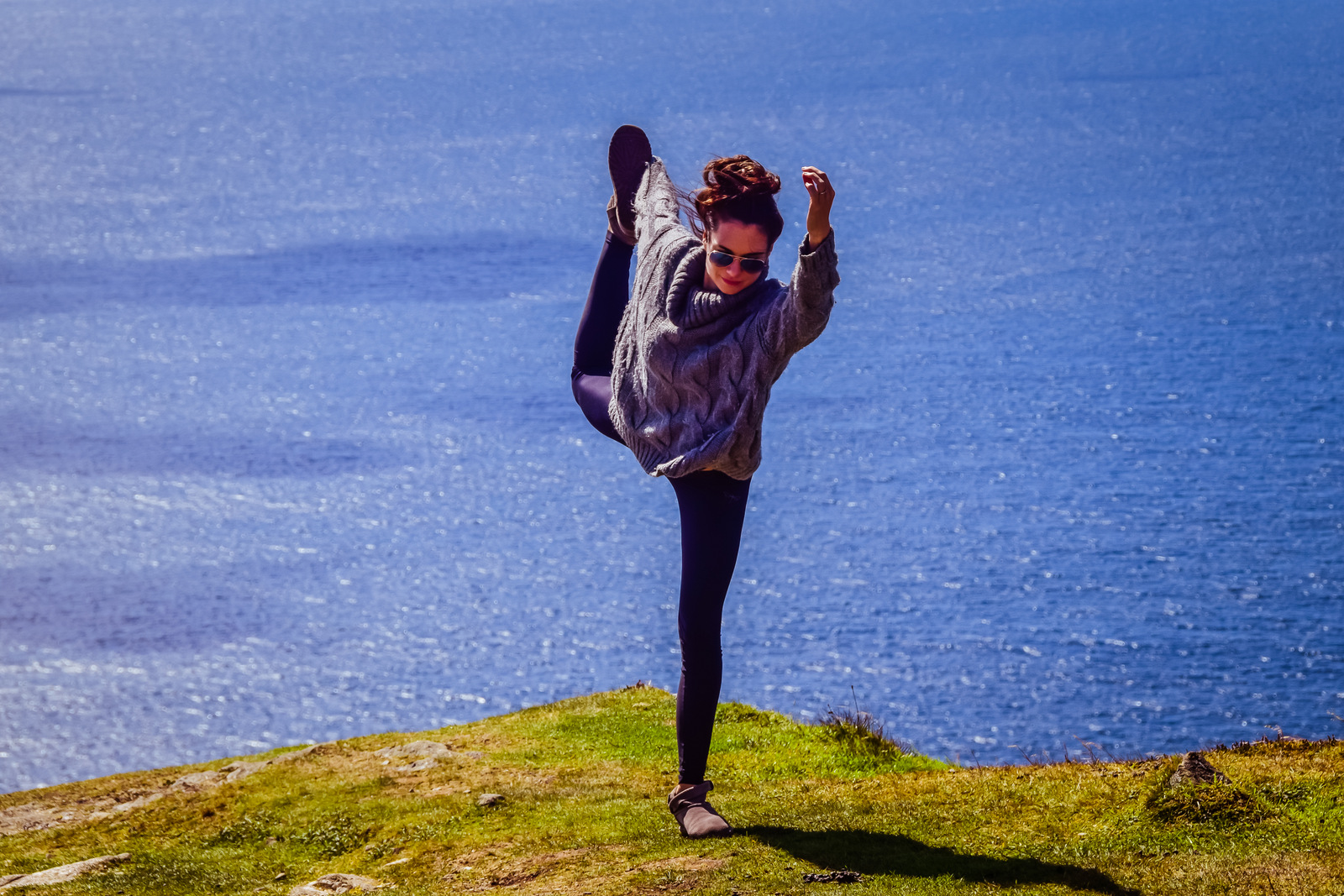 My next favourite was, of course, capturing the moment of other people taking photos of their family members, like this one: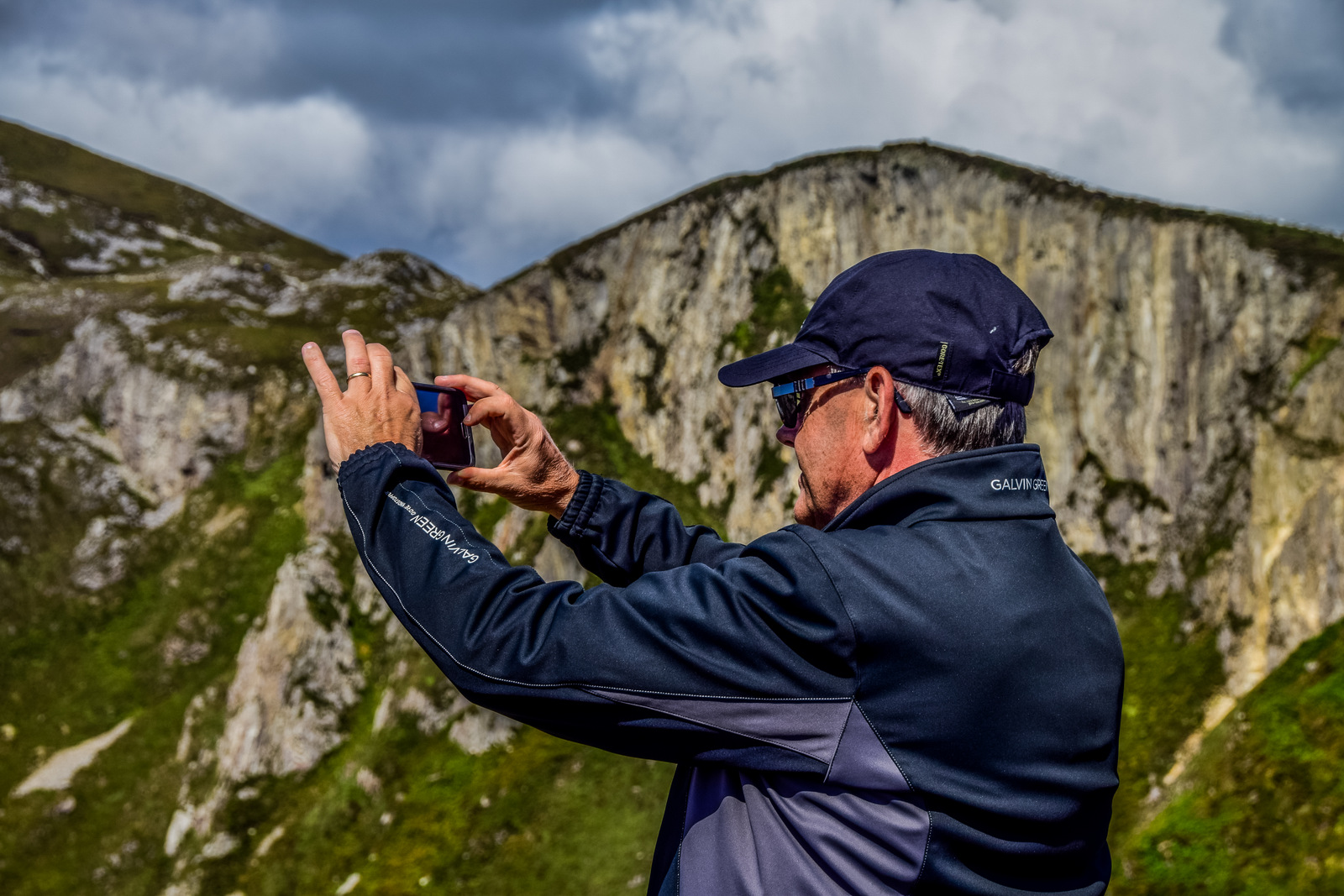 Since we were so high up, I couldn't help myself but to take this photo, with a bit of Team Surrey branding added to it 😉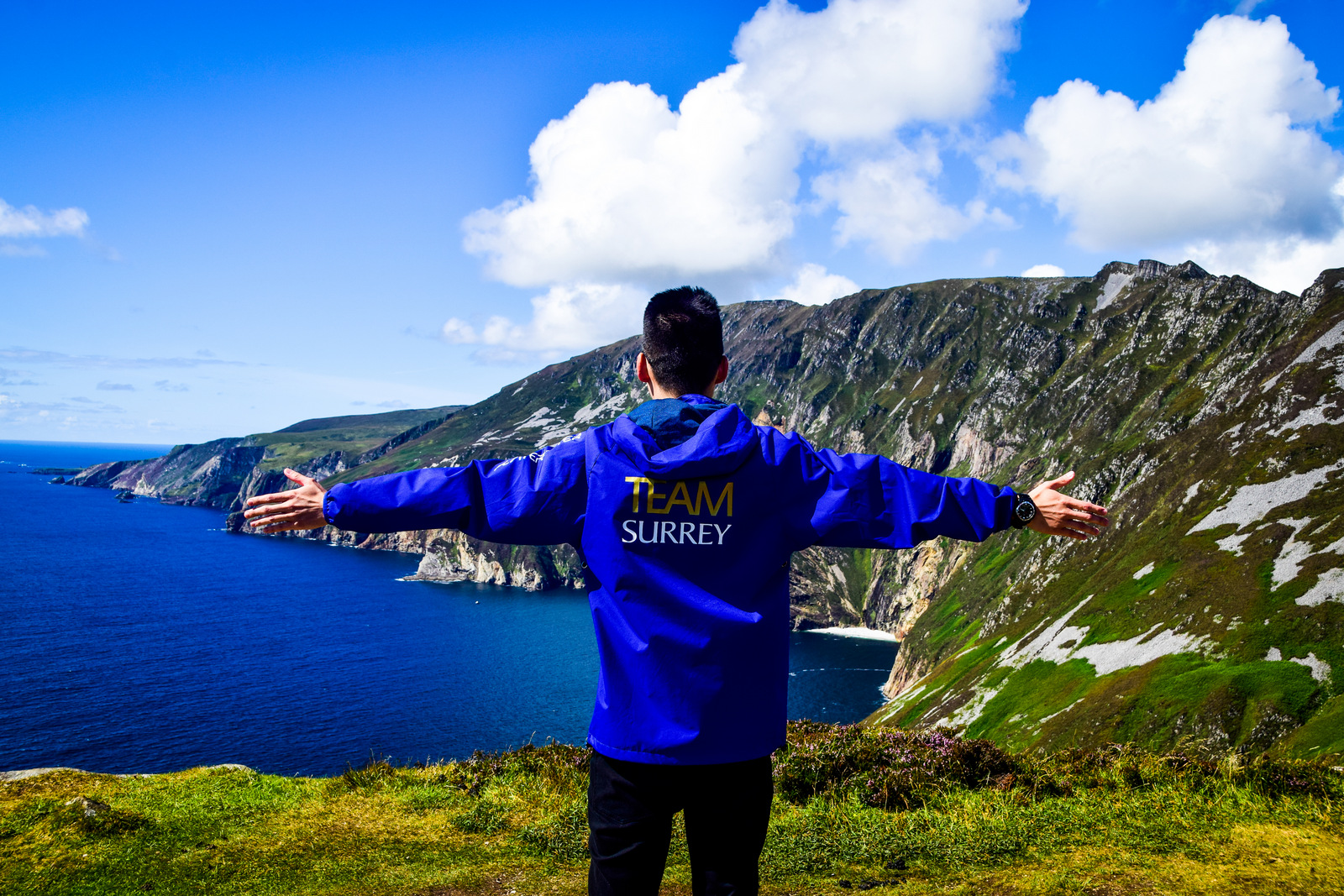 That was it at Slieve League because we still had the most Northern end of Donegal to go to and then to Northern Ireland to catch the sunset at Giant's Causeway. So off we went in the car again…
Unfortunately, we were stuck in traffic for quite a lot for the next hour or so, meaning we had to give up on going to the Northern end of Donegal where Fanad Lighthouse was but I was determined not to miss out on the sunset in Northern Ireland so I stepped on it as we crossed back into the UK!
Once we were in County Antrim and found our place to stay for the evening, we were back out again very quickly because we wanted to see what the big deal about the Carrick-a-Rede rope bridge was. So here it is: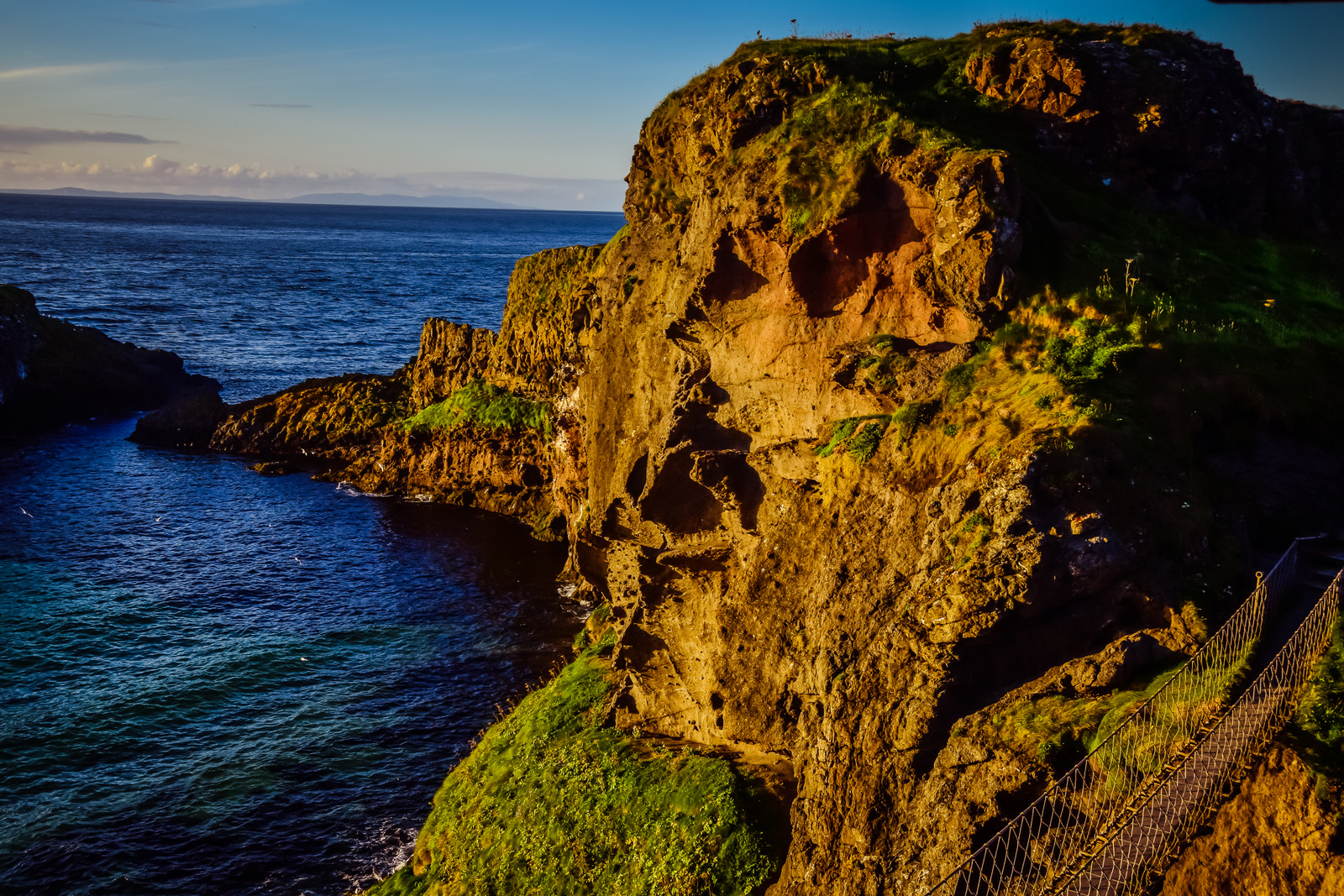 Given that it was closed by then, this was the best 2 I could from that angle but I figure that even if you'd be on the bridge, the nicer photo would be from the other end and taking a silhouette of the bridge connecting the mainland and Carrick-a-Rede island.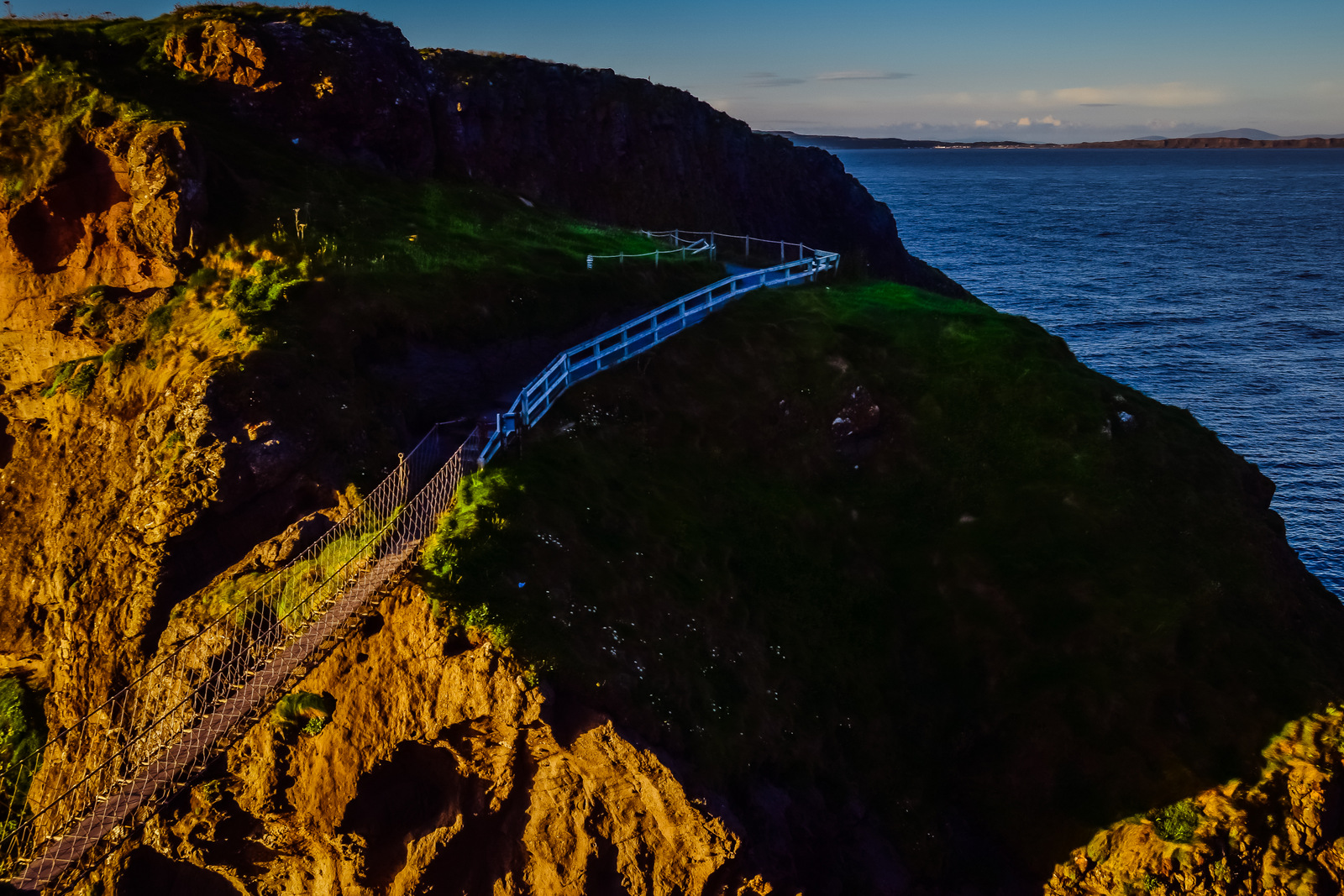 Very quickly, we were off to the last pitstop for the day, Giant's Causeway and the Causeway Coast: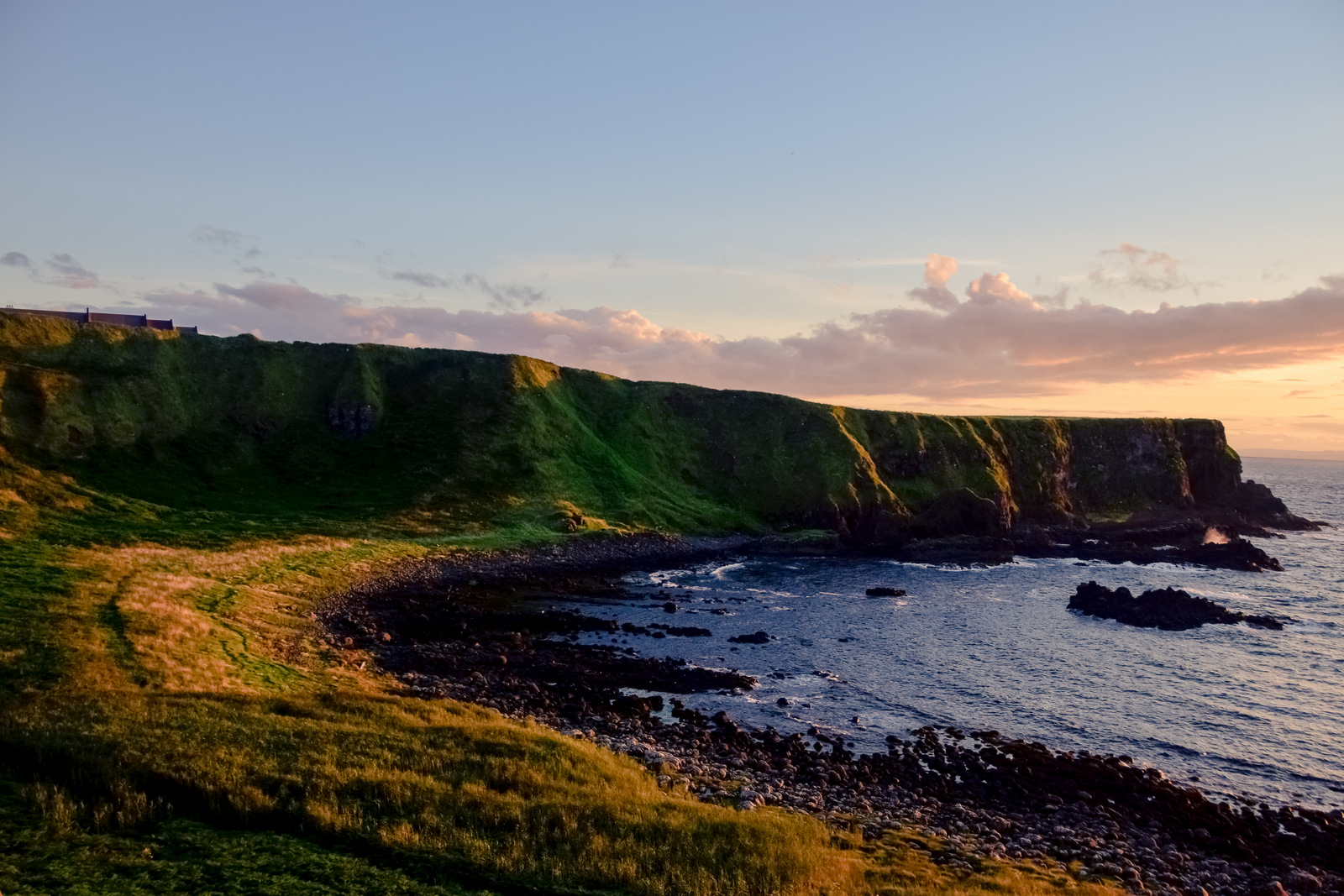 A very professional film crew was there flying a drone with very complicated equipment all around but I managed to capture this shot with their drone and the golden skies in the background from a distance away thanks to my zoom lens.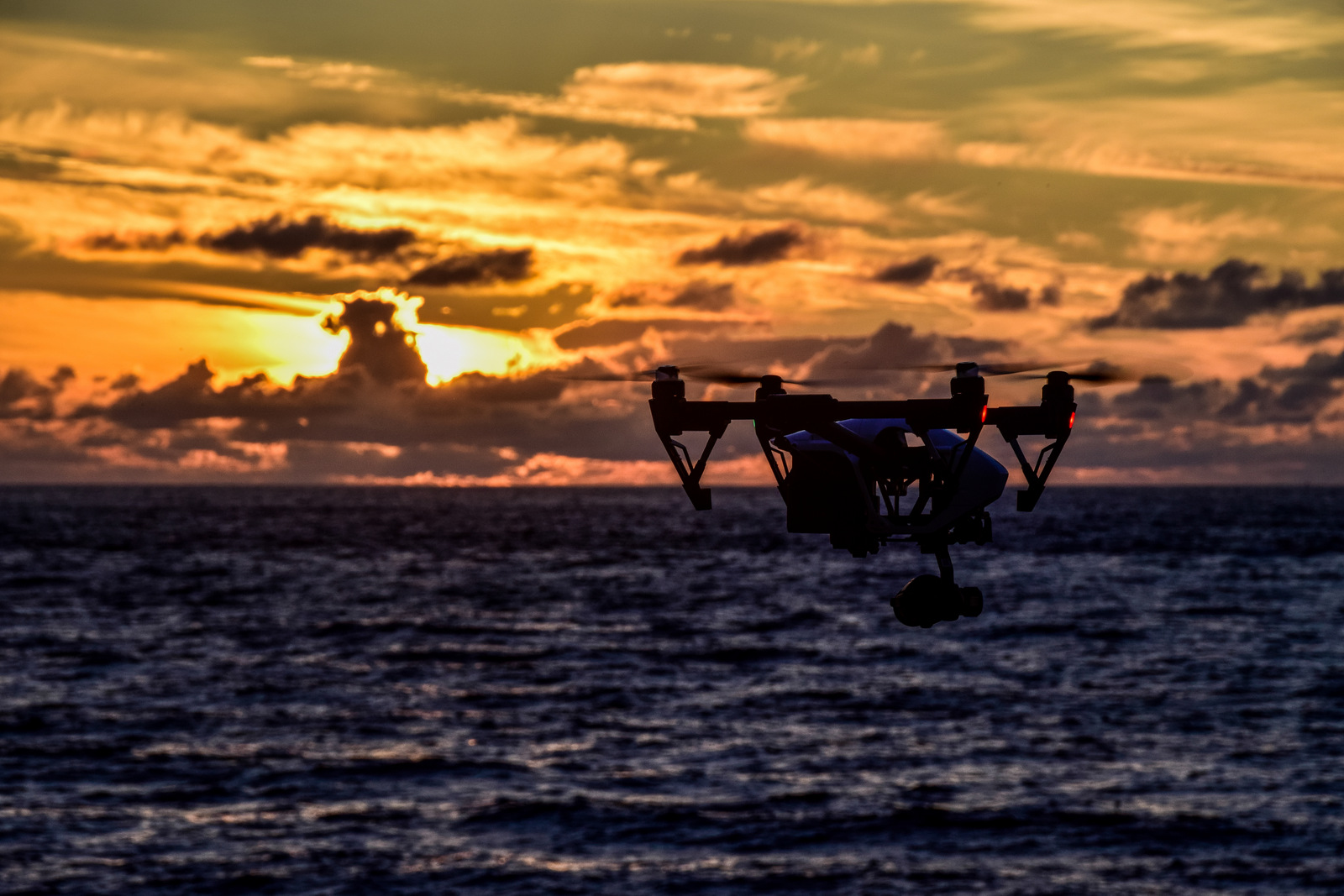 Among one of the greatest natural wonders of the UK, Giant's Causeway is famous for its hexagon-shaped rocks and columns as seen here. Probably not the best photo of it because you can't really tell that they're hexagon-shaped.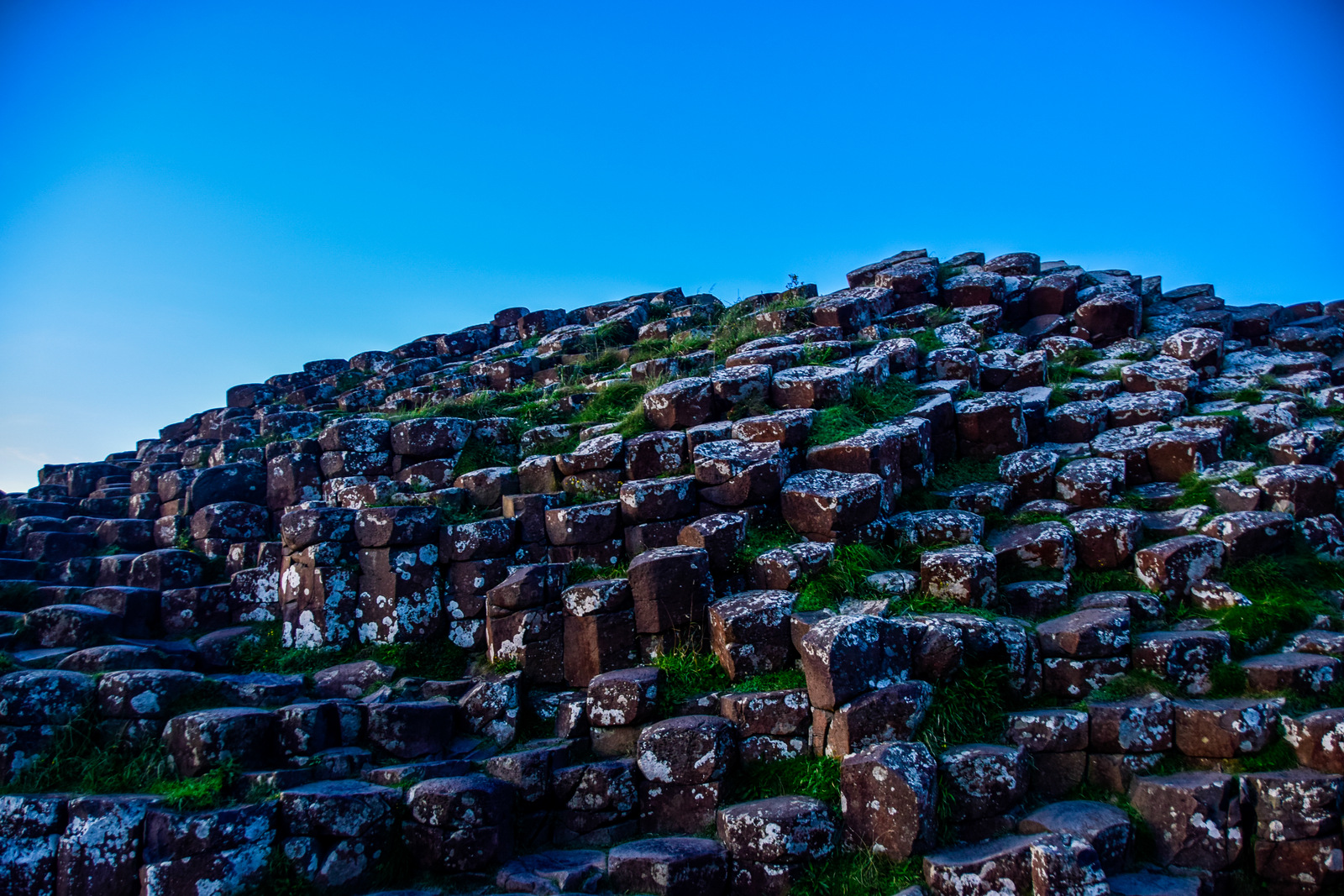 The last one for the day was the view of Giant's Causeway as the sun was close to setting completely, hence the less intense blue in the skies.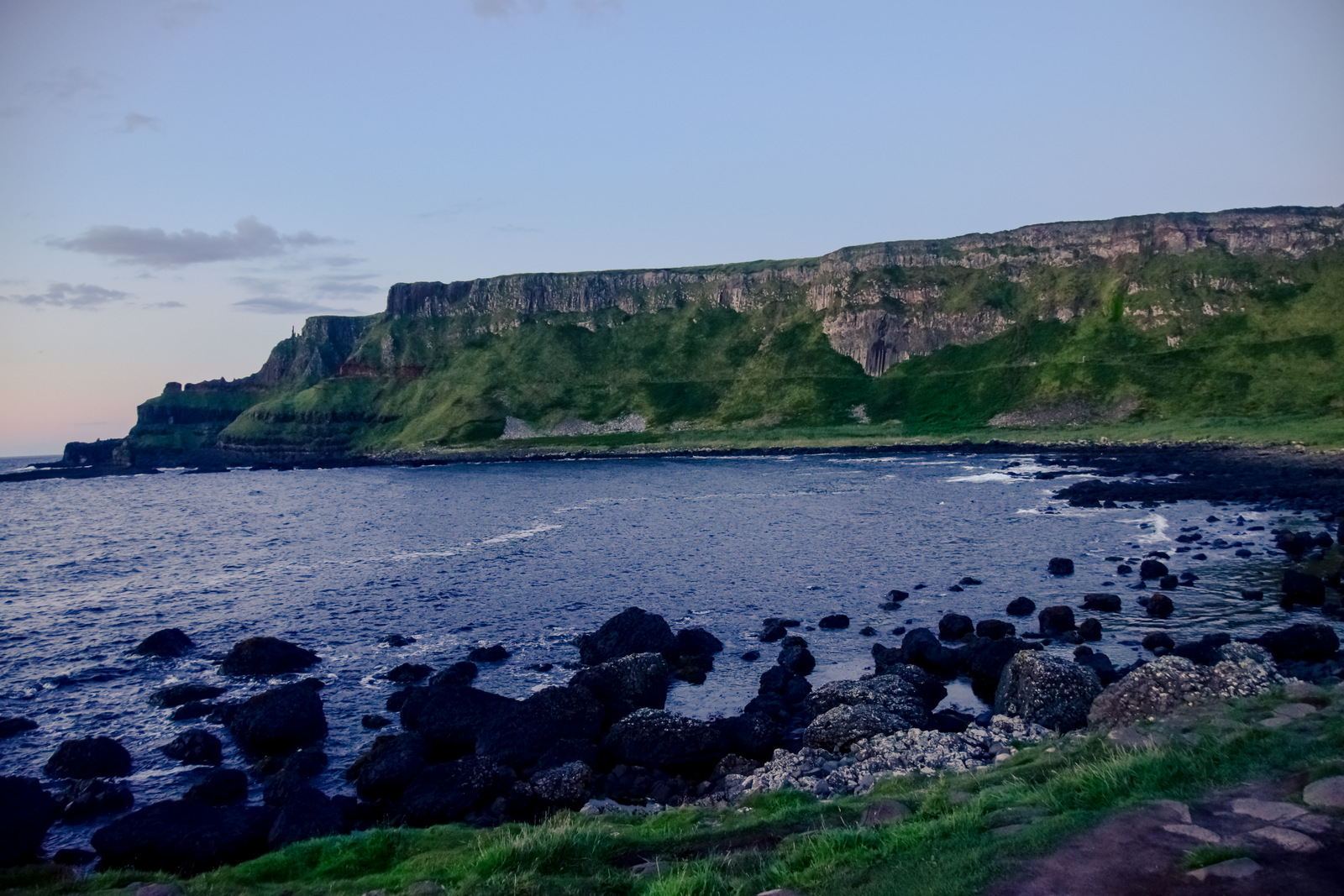 Can't believe it took me one full week before I got started on writing this post but I guess I got a bit carried away with putting my dissertation together, at least the first complete draft of it. There's still a lot of work to be done to improve upon it though so I'm looking forward to get feedback from the dissertation clinic next week. But as for the weekend, I'm going to really take a break and not spend too much time doing anything dissertation related. I might start consolidating the photos for part 3 too.
So until part 3, have a blessed weekend ahead! 🌈🕊
Ben