Hi everyone,
Hurray for the weekend! I'm in an especially buoyant mood because my dissertation is very close to completion now. There are just some bits and bobs left to iron out and it'll be ready for submission! Right then, let's get to the main theme then:
It's good to be able to continue with Part 3 of my 5-part Ireland/Northern Ireland photo blog series! Continuing where I left off, we were already in Northern Ireland at the end of Part 2, having gone to Giant's Causeway and the Carrick-a-Rede rope bridge.
Part 3 starts off as an incredibly wet day at Ballintoy Harbour, which actually is not far away from Giant's Causeway and the Carrick-a-Rede rope bridge. It's in the little townland of Ballintoy, which Game of Thrones (GoT) fans might know as the town of Lordsport. Unfortunately, that is not something I know because I don't follow GoT so some of the stops along the way didn't have special meaning beyond the history behind them.
Here's the harbour in very gloomy skies:
Next up was Dunluce Castle, another GoT filming location (Seat of House Greyjoy). It's a medieval castle that's now in almost complete ruin as you can see here. Being a significant GoT filming location also meant that it's crowded with plenty of tourists which was one of the reasons we decided not to stick around for too long. The rain had stopped momentarily, as you can see from the slightly bluer skies in the background but it wasn't long before it came back again so it was time to leave the Northern coasts of Northern Ireland and head towards Belfast.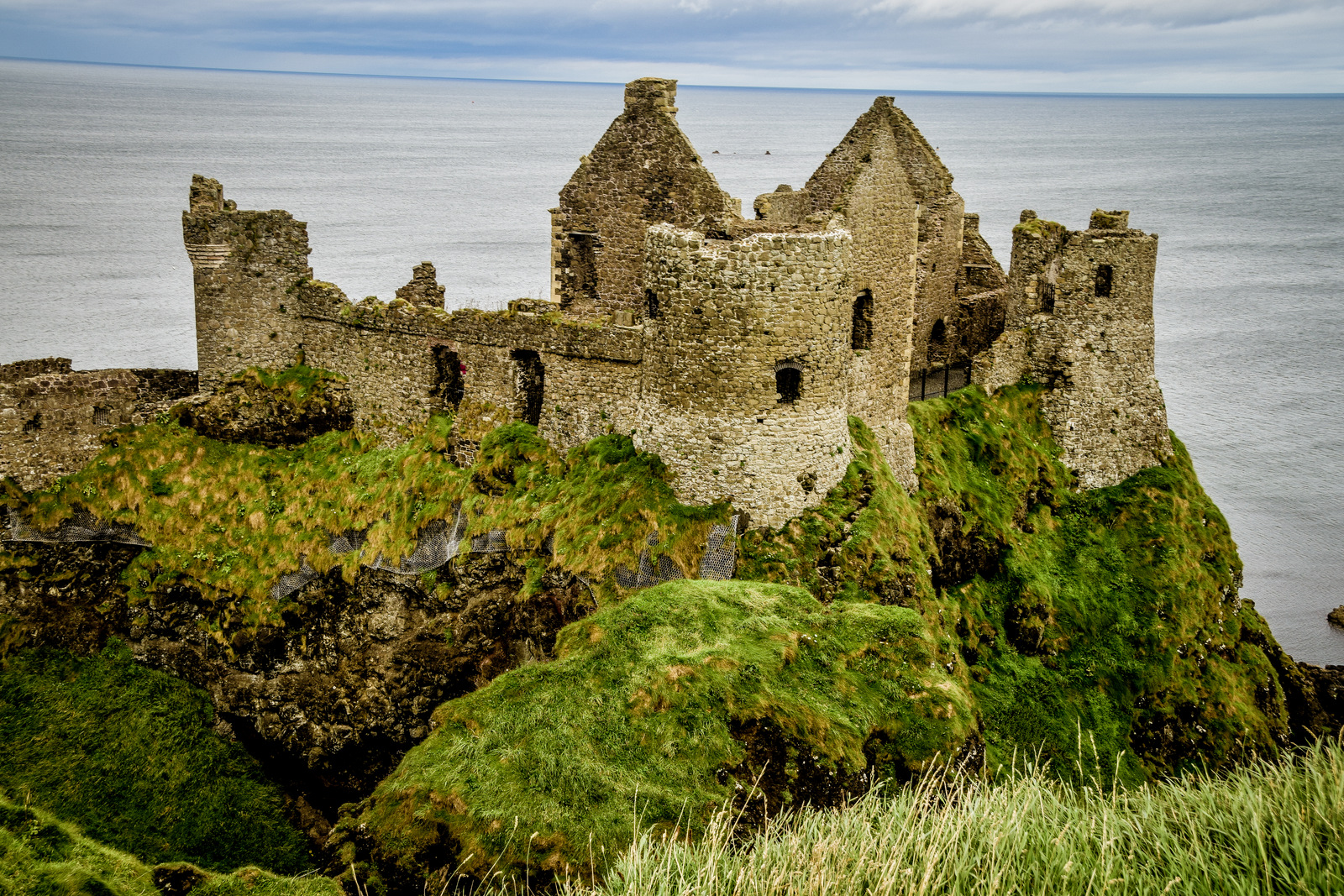 Before driving to Belfast, there was obviously still a need to get lunch, so why not stop by hotel that's close to the famous Dark Hedges? (More on the Dark Hedges later…) This here is a nicely roasted lamb that's part of a number of Sunday Roasts they were serving that day. Huge portions but given the extended time we had to stay indoors because of the rain, it was a longer than usual lunch.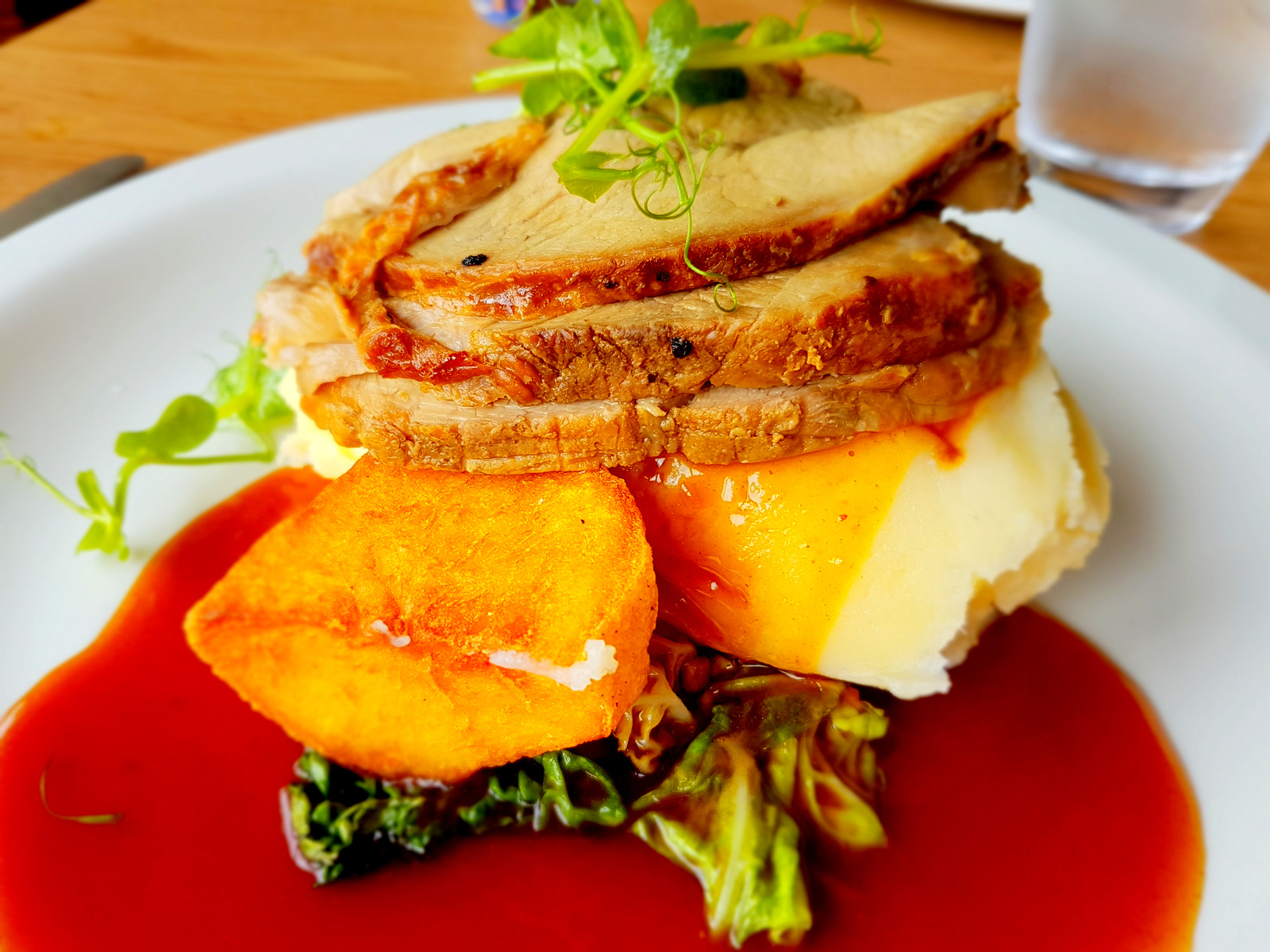 And… there was still time for dessert as well! 🍰 A delightful strawberry cheesecake with cookie crumble!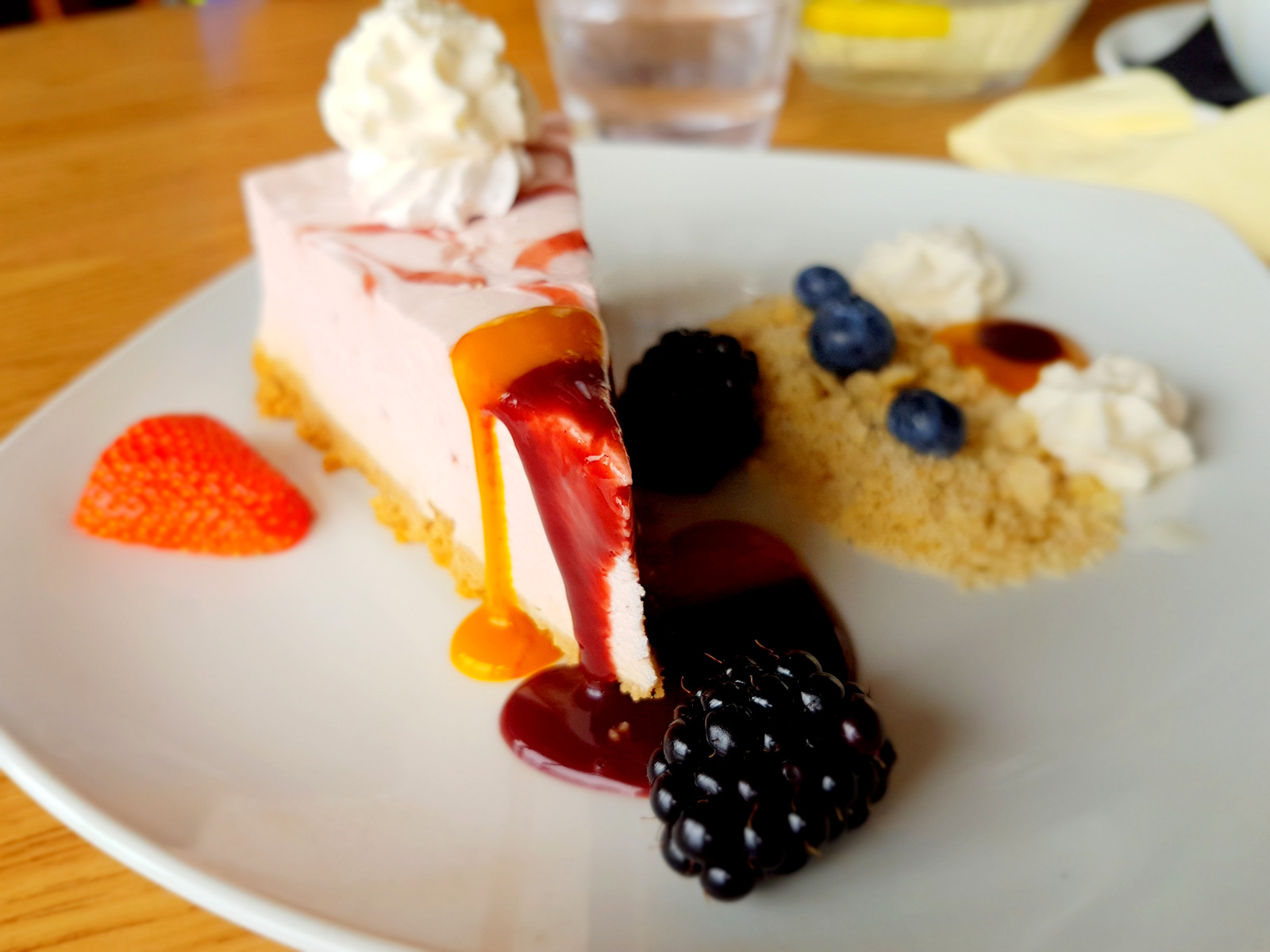 With the rain clouds finally moving away, it was time to head to the Dark Hedges! It's an avenue of beech trees that form a tunnel of sorts. Before GoT brought it "superstardom", it was already a favourite spot for wedding photos because the tunnel effect from the trees gave a very romantic feel.
Finally, you get to see me front-facing the camera. Taken by my friend who I told to just "press the shutter" however way you like and it's probably better than I would've taken, to be very honest. Sometimes, it's better to have someone else take the photo for you because you won't nitpick on your own.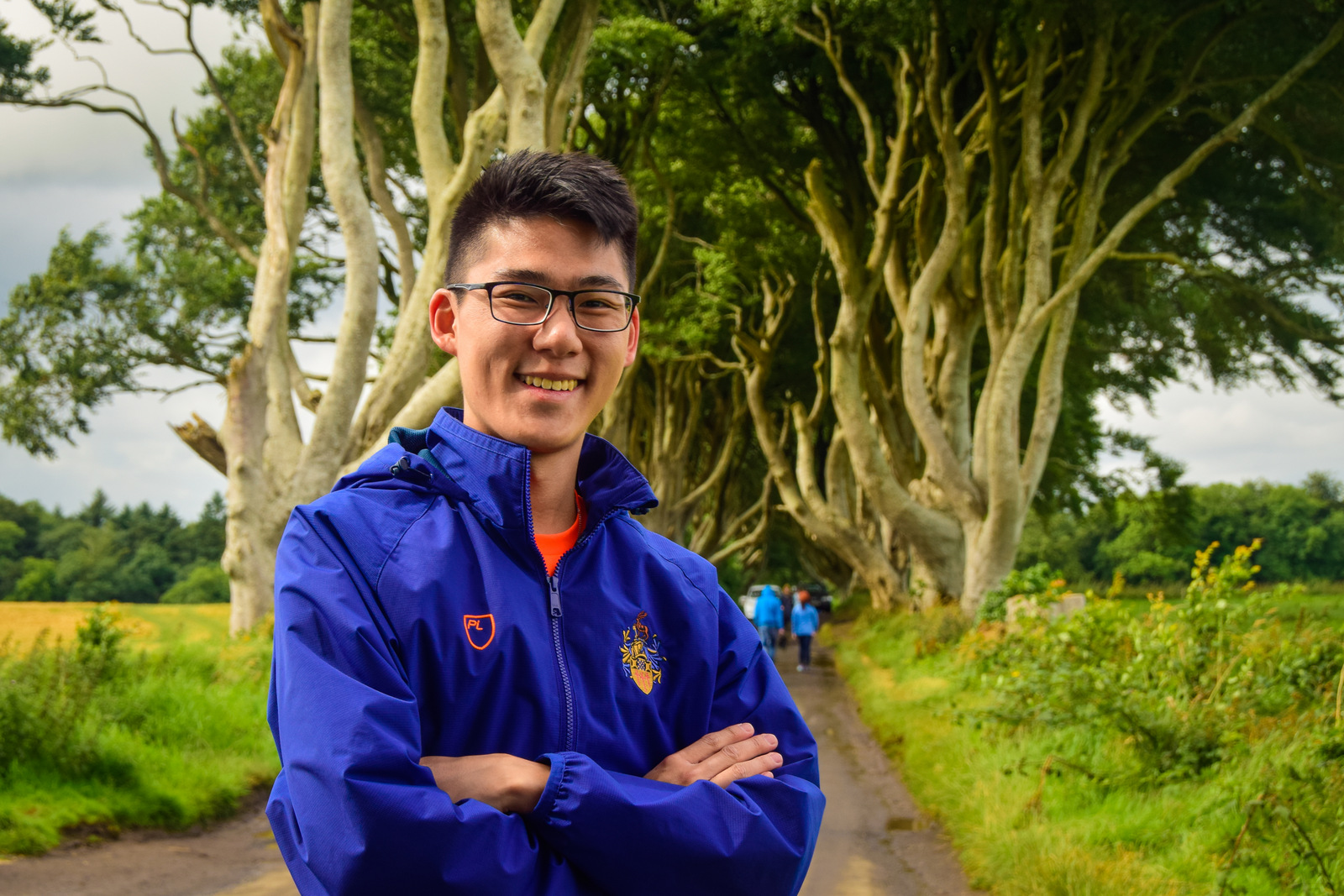 Here's a natural shot, no posing, just a snapshot of a young family enjoying their holiday.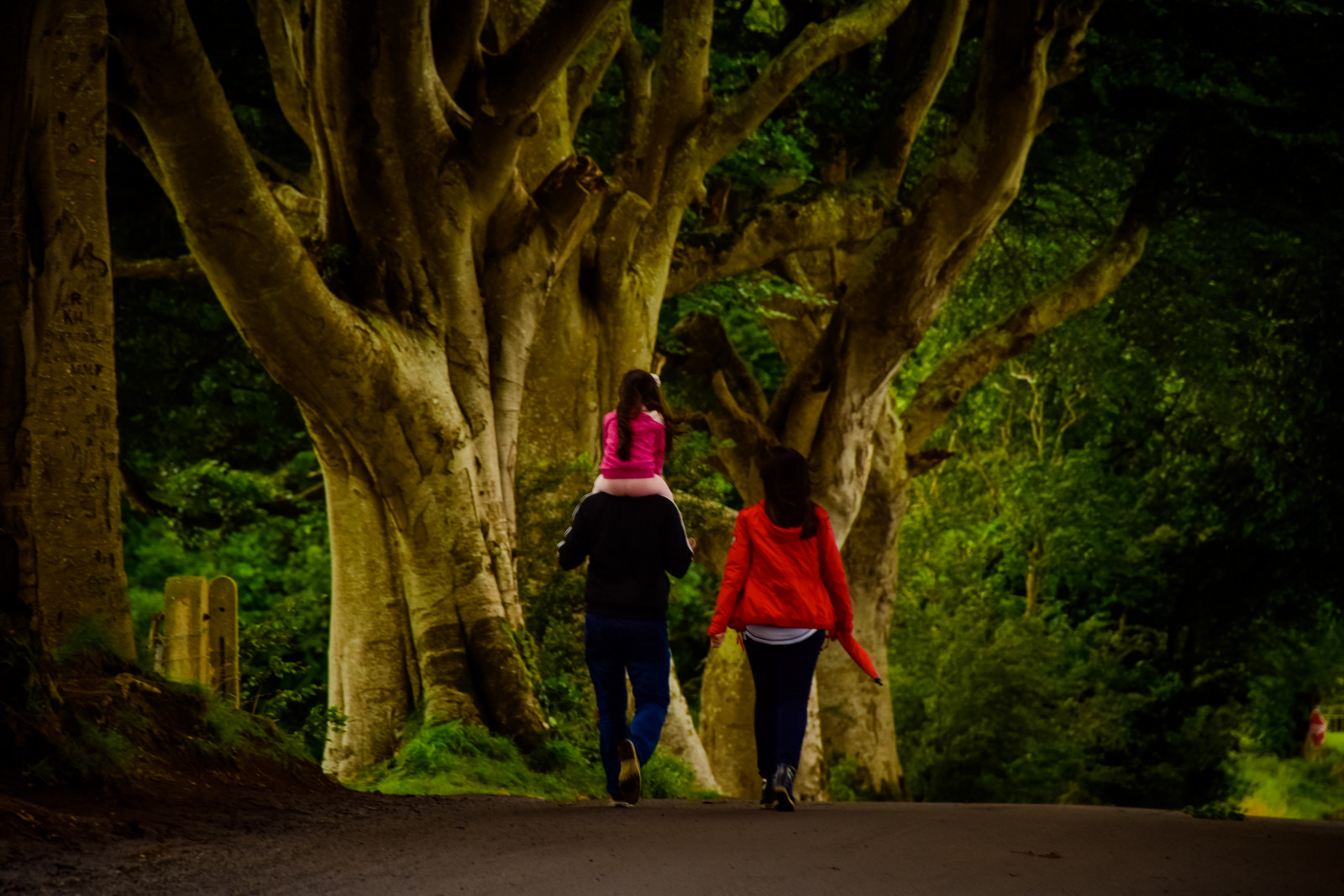 And another but this time with a dog clearly more intrigued by the camera than what the Dark Hedges at the back.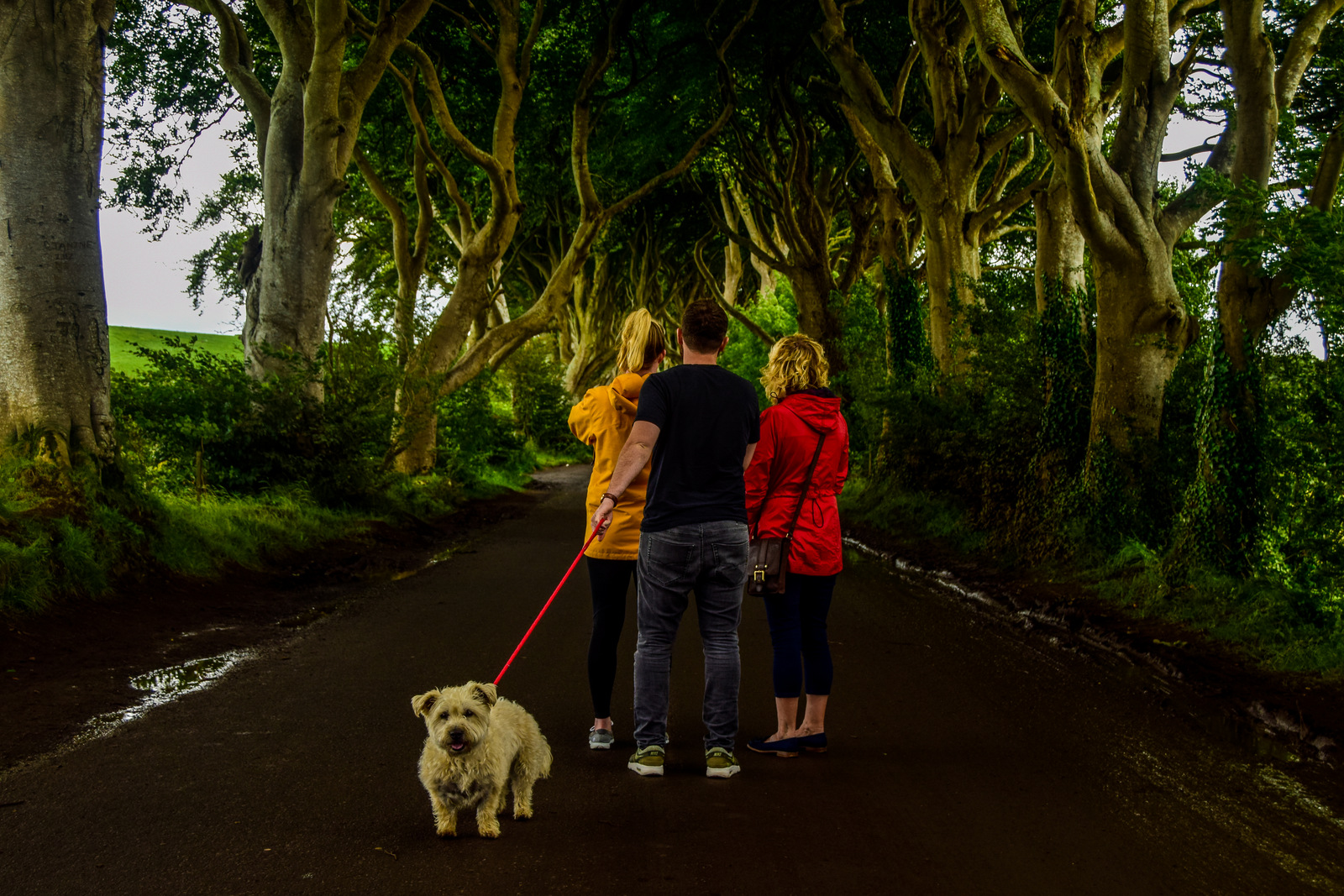 The Dark Hedges was used in GoT as the setting for "King's Road". That was the last of the GoT filming locations for us, especially since we weren't GoT followers, we weren't so much into finding all of them. Next up was the journey down south towards Belfast, the capital of Northern Ireland.
Turns out we actually booked a place to stay that was very close to the George Best Belfast City Airport, in the area of Holywood, without a double "L". Sightseeing in a city obviously isn't as scenic as going to the coasts so we were just taking it easy and planning to just go to fixed spots before calling it a day.
One of my favourite authors is the legendary C.S. Lewis, who was born in Belfast. Aside from The Chronicles of Narnia which I followed rather closely as a child, there are his series of Christian apologetics books such as Mere Christianity that are considered classics and continue to be referenced by modern day apologists today.
This here is the C.S. Lewis Square, where you'll find the wardrobe (referring to his first Narnia book: The Lion, The Witch and The Wardrobe). At the back of the wardrobe is a letter which he wrote to a little girl called Anne, in which he explained the Narnian story in the following manner:
"What Aslan meant when he said he had died is, in one sense plain enough. Read the earlier book in this series called The Lion, the Witch and the Wardrobe, and you will find the full story of how he was killed by the White Witch and came to life again. When you have read that, I think you will probably see that there is a deeper meaning behind it. The whole Narnian story is about Christ. That is to say, I asked myself 'Supposing that there really was a world like Narnia and supposing it had (like our world) gone wrong and supposing Christ wanted to go into that world and save it (as He did ours) what might have happened?' The stories are my answers."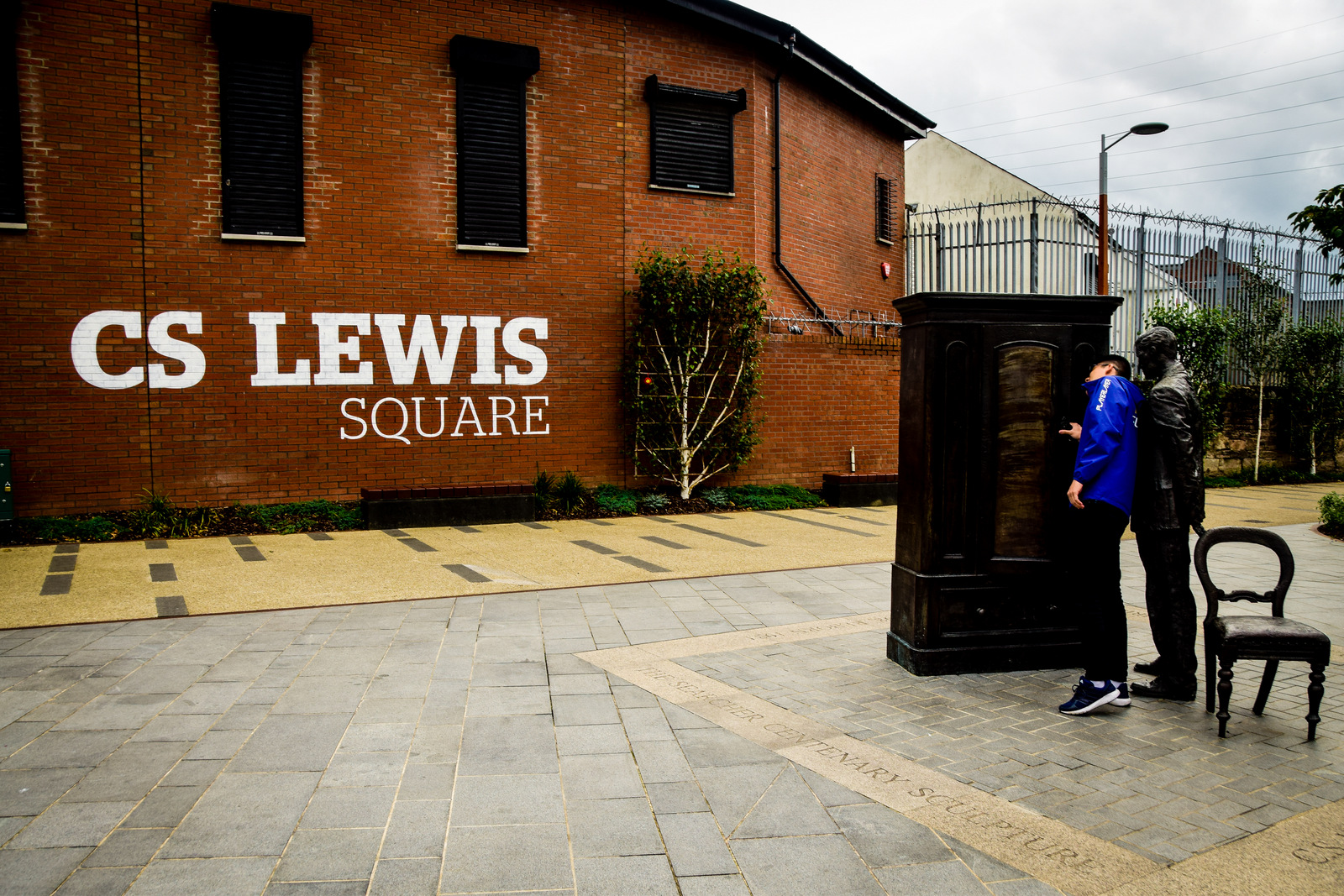 The sculptors around the C.S. Lewis Square are the creations of Irish artist Maurice Harron. Here's the sculptor of Aslan, the Lion from within the entire Narnian story.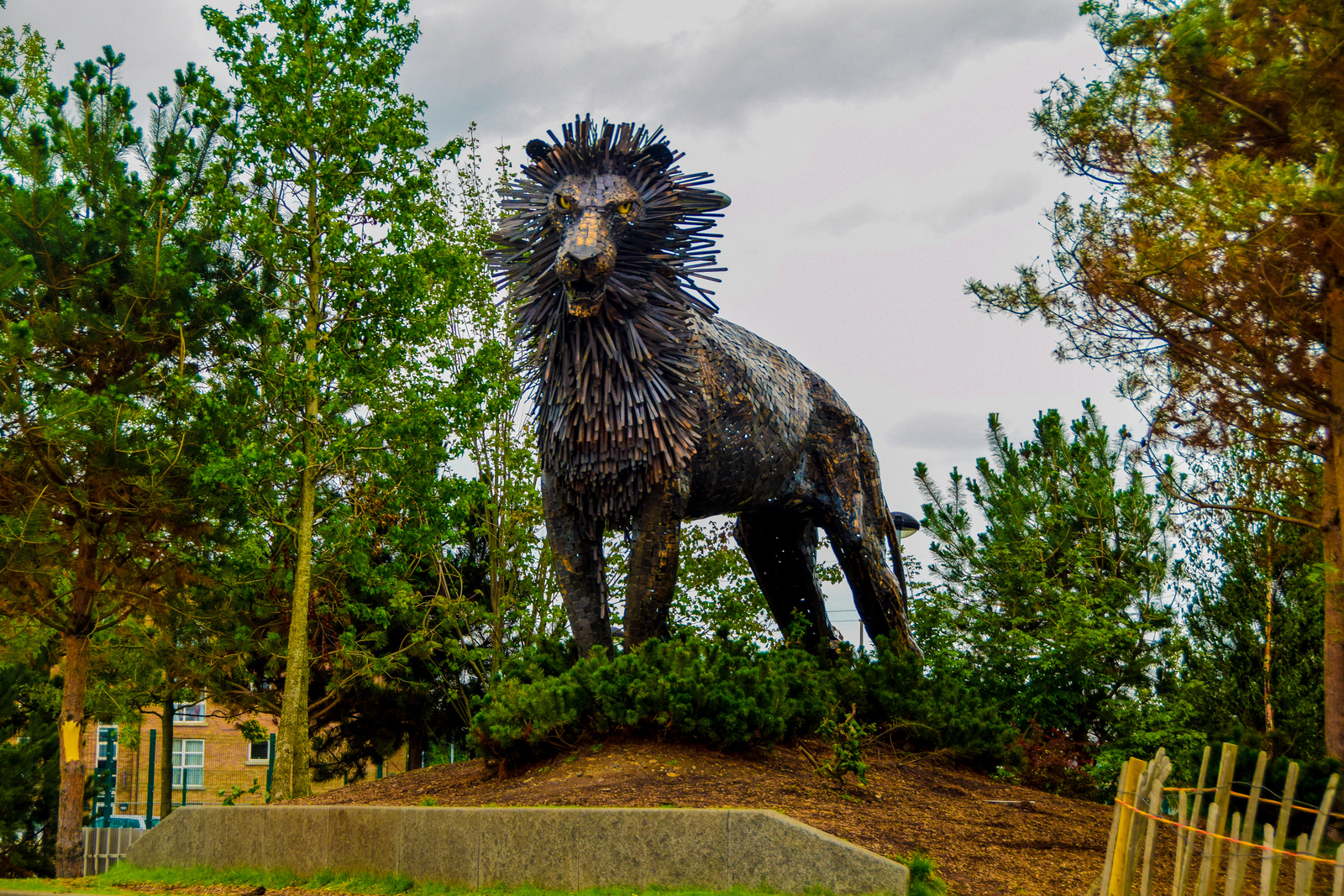 Near the C.S. Lewis Square was a mural (which is very common all around Belfast). This had many famous people of Belfast, including the great George Best, the one in a distinct shade of red. (I wonder if the lion in this work of art referred was Aslan though). So anyway, George Best is part of the Manchester United Trinity consisting of Denis Law, Sir Bobby Charlton and himself. He was a Manchester United legend who played a huge part in the success of the club during the reign of Sir Matt Busby after the Munich disaster in 1958. He's even got the Belfast City Airport named after him. Back during those times, there were 2 other footballing greats, Pele and Maradona. There's a saying that goes, "Maradona good, Pele better, George Best"!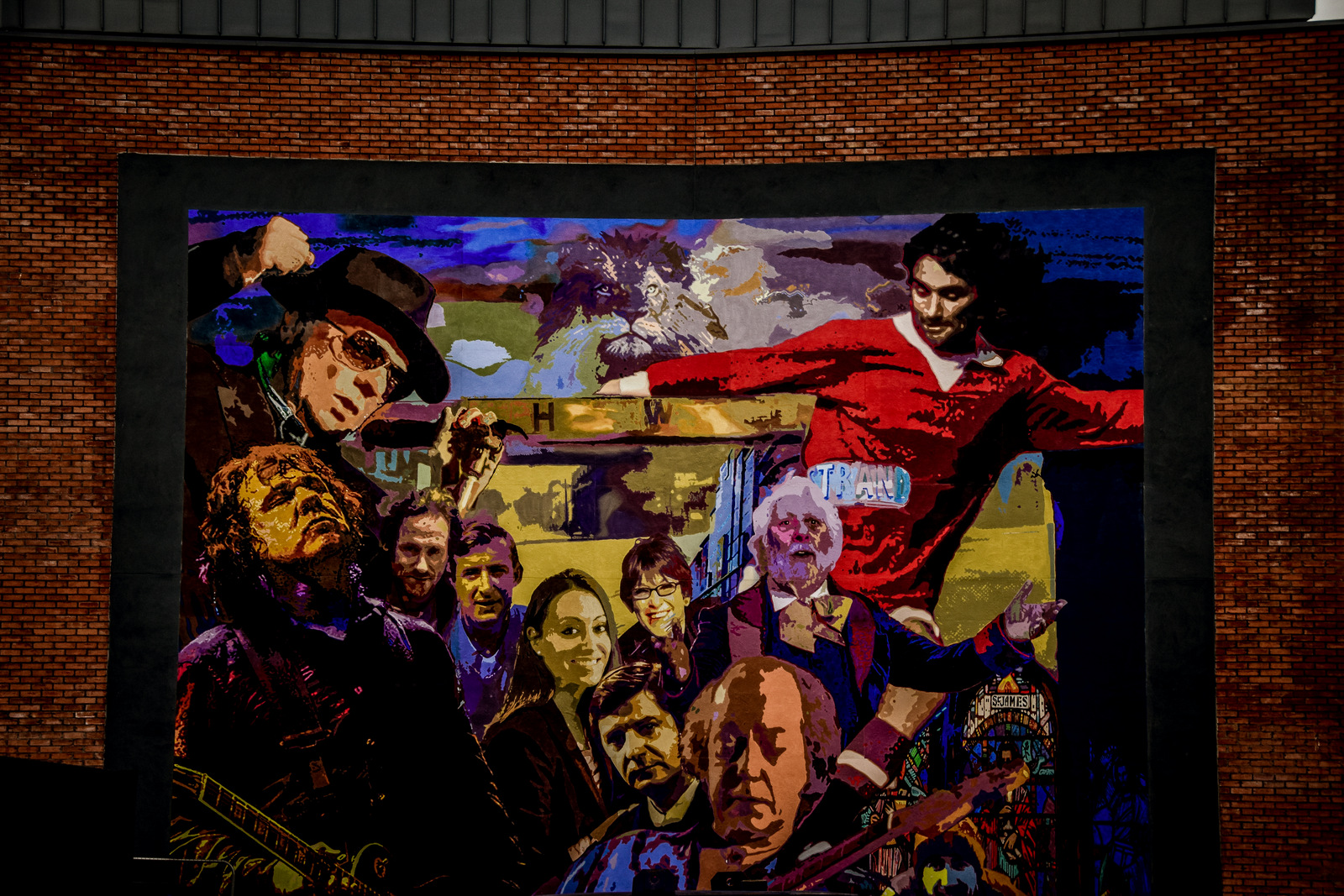 Just as we were heading towards the City Centre, it began raining again but since we were already there, we weren't going to stop so we headed to the Big Fish that's found at Donegall Quay. If you look closely at it, you'll realise that it's no ordinary sculpture because it's a printed ceramic mosaic made up of texts, images relating to Belfast from the Tudor era up till the late 1990s. Don't be fooled by the photo because it's actually 10 metres long. It's a work of art by John Kindness, completed in 1999. Quietly in the background, you'll also see the Albert Memorial Clock, that's a significant Belfast landmark.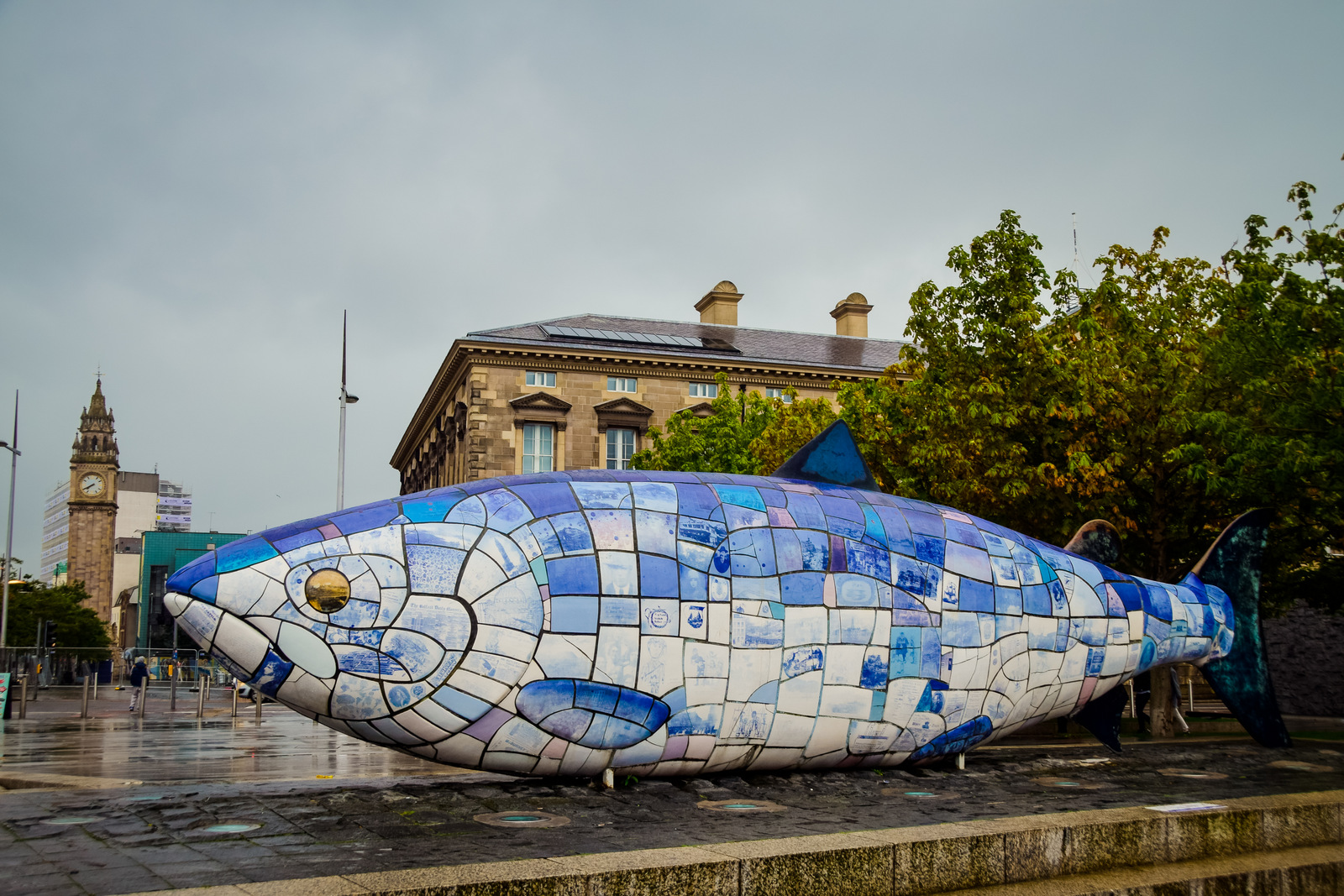 Being a Sunday, everything was really quiet in Belfast, which was a little strange, since it's the capital. Plus, the weather wasn't really holding up, which made walking around wet rather annoying. Once again, we turned to food as a form of shelter to hide from the rain before deciding to get a night shot of the Titanic Belfast.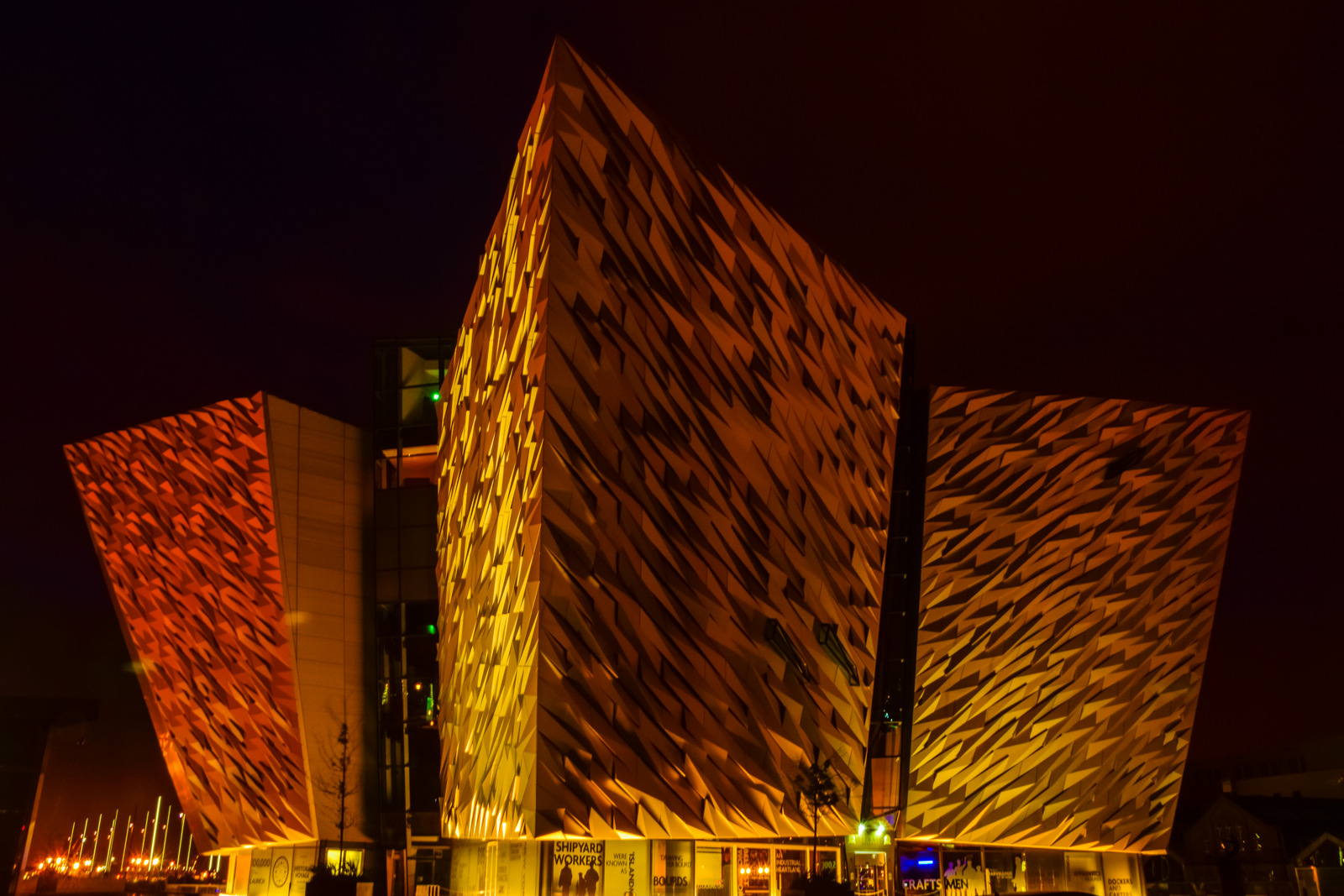 Having spent almost a full day getting battered by the rain, it was time to call it a night.
That's it for Part 3 then. Parts 4 and 5 will follow soon because next week will be the last week before I'm going to take a nice holiday after submitting my dissertation. There should still be opportunities to post some things along the way though but right now, I'm just looking forward to finalising my dissertation over the next few days and that will be it for this MSc!
Have a blessed weekend ahead then! 🌈 (Plus, it's the Late Summer Bank Holiday weekend!)
Ben