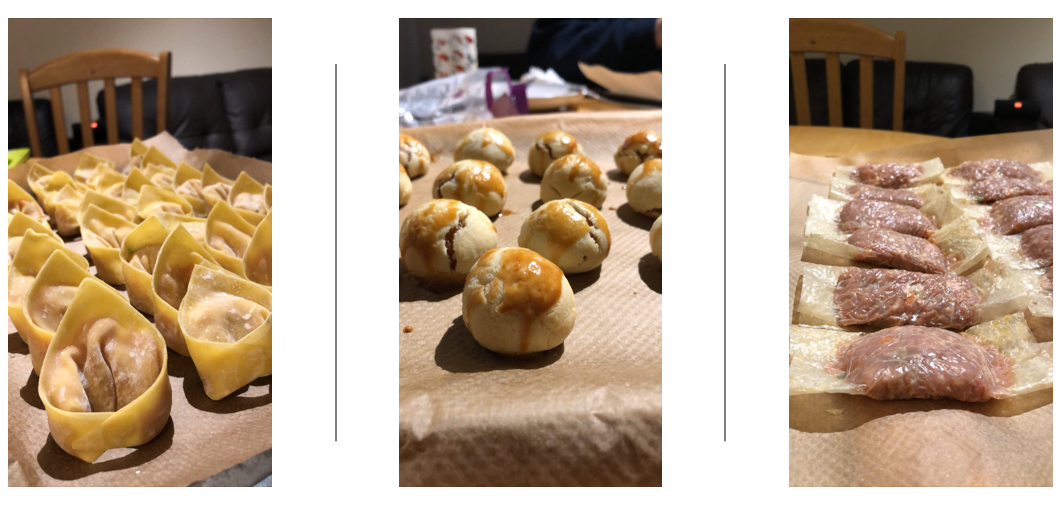 Hey guys! I am thoroughly enjoying the break that I have now hahaha. With the amount of free time at hand now, I've dedicated quite a fair bit of time to doing what I love most – cooking👨🏻‍🍳 I've made wantons, ngoh hiang and even pineapple tarts so far (have a look at the pics above!) and will be looking to bake some bread as well! Unfortunately, looking ahead, semester 2 will commence in less than a week 😪 Time really flew by this past couple of months, and that means I am ever closer to becoming a full-fledged working adult 😛 In view of the new term, I just wanna share my thoughts on this final stretch towards completing my studies at Surrey! Here goes~
For this coming semester, there are 2 modules that I really look forward to taking – Mentoring and Professional Development & Innovation and Development in Restaurant Operations. As much as I enjoy learning new concepts and literature in more theoretical-based modules (such as Leadership or Services Marketing), I tend to fare better in the operational modules. These kinds of modules enable me to really think about practical, industry-related issues and how to overcome these realistically. It really allows you to put the theories and frameworks you've learnt thus far into good use, translating academia to real-world applications.
The module on Mentoring and Professional Development pretty much delivers what I've mentioned above. Students will be paired up with an industry professional based on their current career aspirations and be assigned an industry-based project as directed by their mentor, how cool is that! This gives us a great opportunity to get hands-on experience in researching pressing problems with the industry and make business recommendations to our mentors in a bid to help their organization develop viable solutions. Apart from that, the exposure gained will be invaluable and hopefully, broadens my industry connections and networking. For me, I indicated my career interest as either F&B Business Development or Food Tourism. I think if I could be paired up with a mentor that does Food Tourism it would be amazing, but I'm not getting my hopes up too high as it is quite a niche area. Oh well, either way I'll be happy as long as it's related to food 😂🍗🧀🍞🍲 Having done an industry project during my internship with JW Marriott over the summer, I must say that I really enjoy such assignments and hopefully it will be the same for this module! Also, I hope that I will have a clearer picture on the career path that I will take in the near future after this module; I will definitely be asking for advice and guidance from my mentor!
As an ex-culinary student with a keen passion for the F&B industry, the module on Innovation and Development in Restaurant Operations really piques my interest. With a series of guest speakers and 2 restaurant visits in London, this module is right up my alley and I couldn't be more excited!! Having been out of the F&B scene for a while now, I hope that I can be kept up-to-date with the latest food trends and industry challenges as well as learn new theories that can be applied to my future job. Furthermore, one of the assignments requires us to write 2 blog posts about topics related to the F&B industry. Luckily for me, I already have a good practice blogging as a student ambassador 😛 and I have several ideas in mind already for the topics of choice hehehe
Amidst the studying and churning out of assignments in semester 2, arguably the biggest challenge that I may face in these coming months would be … (drum rolls) … finding a job. Ahhh yes, this issue is becoming real now hahaha. I do often snoop around online for job postings back home in Singapore just to keep a lookout for any opportunities that interests me. To be honest, I am still very much undecided on what career path I want to take which makes selecting my first job even more difficult. I do enjoy working in the hospitality & tourism industry and would love to experience every aspect of it from F&B, rooms and even sales or marketing but realistically, you will have to choose an area of specialisation to progress as a career. For now, all I can do is to actively search for new openings and determine if the job itself suits my interests and aspirations. Thankfully there are plenty of outlets for career guidance here in Surrey such as the Mentoring module and the university's Employability and Careers Centre that I'll be looking to leverage on. Also, I'll be seeking advice from my lecturers as well, hoping that they will offer me some advice from their bountiful experience.
Ok guys that's all from me today! I'll definitely blog about and share my experience with the 2 modules mentioned earlier as the semester gets going. Do wish me luck on my job hunting in the coming months as well HAHAHA I'll share my experiences with that as well when I can. In the meantime, I'll be taking a well-deserved holiday to Morocco🚀 with my mates to escape Guildford for a bit! Till the next time, ciao~
Signing off,
Dwayne