Hey guys! My final semester is officially in full swing and I can't believe its week 3 already!!! With 3 assignments due in March and another 4 in May, I really have to pace myself and stay focused for this final stretch of my academic tenure. With that being said, I am thoroughly enjoying the modules I am taking this semester! Of which, the module on Mentoring & Professional Development might just be the most unique and out-of-the-box module I have ever taken. As mentioned in my previous blog, this module will pair an industry professional to me based on my career interests and aspirations to do an industry-based report. I must say, this module has already met and possibly exceeded my expectations already! So for today, I will like to share a bit more about my journey thus far, highlighting my experience with being paired up with my mentor to the Mentor Launch Event. Here goes~
I remember being in Morocco when I first received an email from the module leader, introducing my mentor to me and establishing the first contact. My mentor would turn out to be Paul Greenwood from Tricon Foodservice Consultants and I IMMEDIATELY scrambled to do a thorough background check on the company and my mentor 😂 I was probably out in the middle of the Sahara Desert when this happened, not the most ideal place to be researching on a company but definitely a scenic one hahaha. Having delved into Tricon's company website and Paul's LinkedIn profile, I knew that I was definitely in for a meaningful learning journey by undertaking an industry-based report with him. I wrote a brief email introducing myself and invited Paul to the Mentoring Launch Event taking place on 10 February. I didn't have high hopes for him attending the event given the likelihood of such industry professionals having busy schedules. To my pleasant surprise, he responded swiftly saying he could attend the event!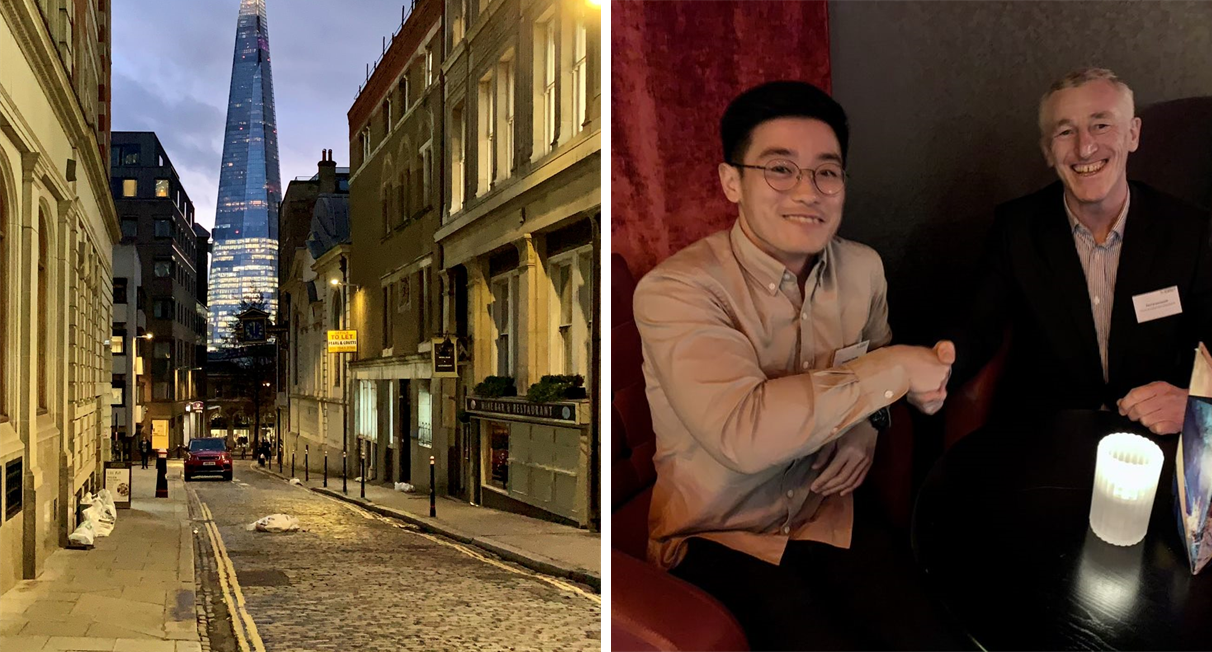 On to the Mentoring Launch Event itself, it was an absolutely gloomy and rainy day in London which added a tinge of anxiousness to my mood as I looked forward to the meeting with my mentor. At the event itself, I was seated quietly in anticipation while waiting for Paul to arrive. As I saw other mentees linking up with their mentors, the hearty conversations created helped to liven the atmosphere and made me loosen up as well. When I was finally introduced to my mentor Paul, we had a cordial chat that was akin to talking to a friend. We spoke about our personal lives and interests, and I found out that Paul was a foodie as well – we were definitely off to a good start! Again, having Paul talk about his professional career was a real inspiration as aspire to gain the wealth of experience he has and go on the path of being a consultant one day! I also got to find out more about Tricon itself and discovered that the company specifically provides services to their clients in designing restaurant kitchens, something that really piqued my interest as it was different to what I expected from the company. Shortly after the opening address, Paul introduced me to another mentor at the event as well and amusingly, both sang high praises for each other. This made me realised that Paul was a well-respected and knowledgeable industry veteran; I am very fortunate to have him as my mentor!
Overall, I had a really enjoyable time at the Mentor Launch Event and I genuinely have high expectations for myself to get the most I can out of this module in terms of networking, professional development and gaining insights into real-world industry issues. Alright guys that is all I have for today and do stay tuned for more updates about my progress with this module! I will have the opportunity to interview some professionals in senior management positions from Google and Hilton – exciting times ahead! Till next time!
Dwayne