By Kate Burningham, Ranjana Das, Paul Hodkinson, Anastasia Loukianov, Emily Setty and Sue Venn
Producing impactful research and engaging with policy-makers, practitioners and other members of our communities form a core part of our identity as a Department of Sociology. At the beginning of November, colleagues participated in a series of public events as part of this year's ESRC's Festival of Social Science.
Building on the Department's 2019 festival involvement, this year's sociology events centred on understandings of the good life in Hay-on-Wye and Woking, family communication about young people's digital lives and becoming a parent in a pandemic. Because of COVID restrictions, the events all were held virtually and this seemed to enable unprecedented levels of attendance and engagement.
Towards the good life
Understanding what people need to live a good life that does not involve environmentally damaging patterns of consumption is vital for securing a lasting and sustainable prosperity for all. Within CUSP (Centre for the Understanding of Sustainable Prosperity) Sociology colleagues Kate Burningham, Sue Venn and Anastasia Loukianov have been talking to people in different places, contexts and life stages about what they believe is necessary in order to achieve a good life where they live.
An important aspect of this work is community engagement and involvement, so for their two Festival of Social Science events, they ran workshops for local residents and stakeholders from two of their case study sites – Hay-on-Wye and Woking.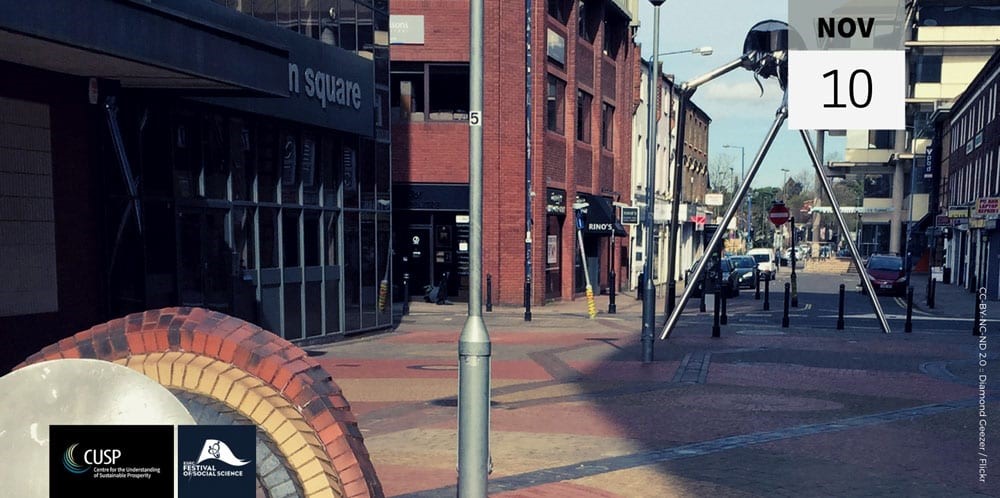 Early findings from focus groups and interviews conducted in these places were presented to participants and breakout discussions enabled local people to give feedback on this work from their own local perspectives and to consider what needs to be in place for a future good life in their home towns.
Suggestions for a sustainable future in both places included the need to preserve green spaces for their importance in terms of wellbeing, and to ensure that green spaces were equally accessible to all communities. Having public spaces where groups of people could gather were also regarded as a key component of enabling a sense of connectivity within and between communities and for helping people to feel positive about where they live.
The workshops were well received with people commenting they appreciated being able to hear a range of different views on their towns as well as being involved in discussions about what would make them better places to live. These discussions will form the basis of a report that Kate and Sue will share widely.
Engaging with young people about digital life
Emily Setty's research on young people's digital sexual cultures includes a keen interest in how parents and young people communicate about use of digital technologies, including taboo subjects such as porn and sexting. In this webinar, she and Paul Hodkinson – a specialist on both youth cultures and fathering – were joined by expert frontline providers Digital Awareness UK, Outspoken Sex Ed and Habyts, to discuss parenting in the digital age and approaches to conversing with young people about their digital lives.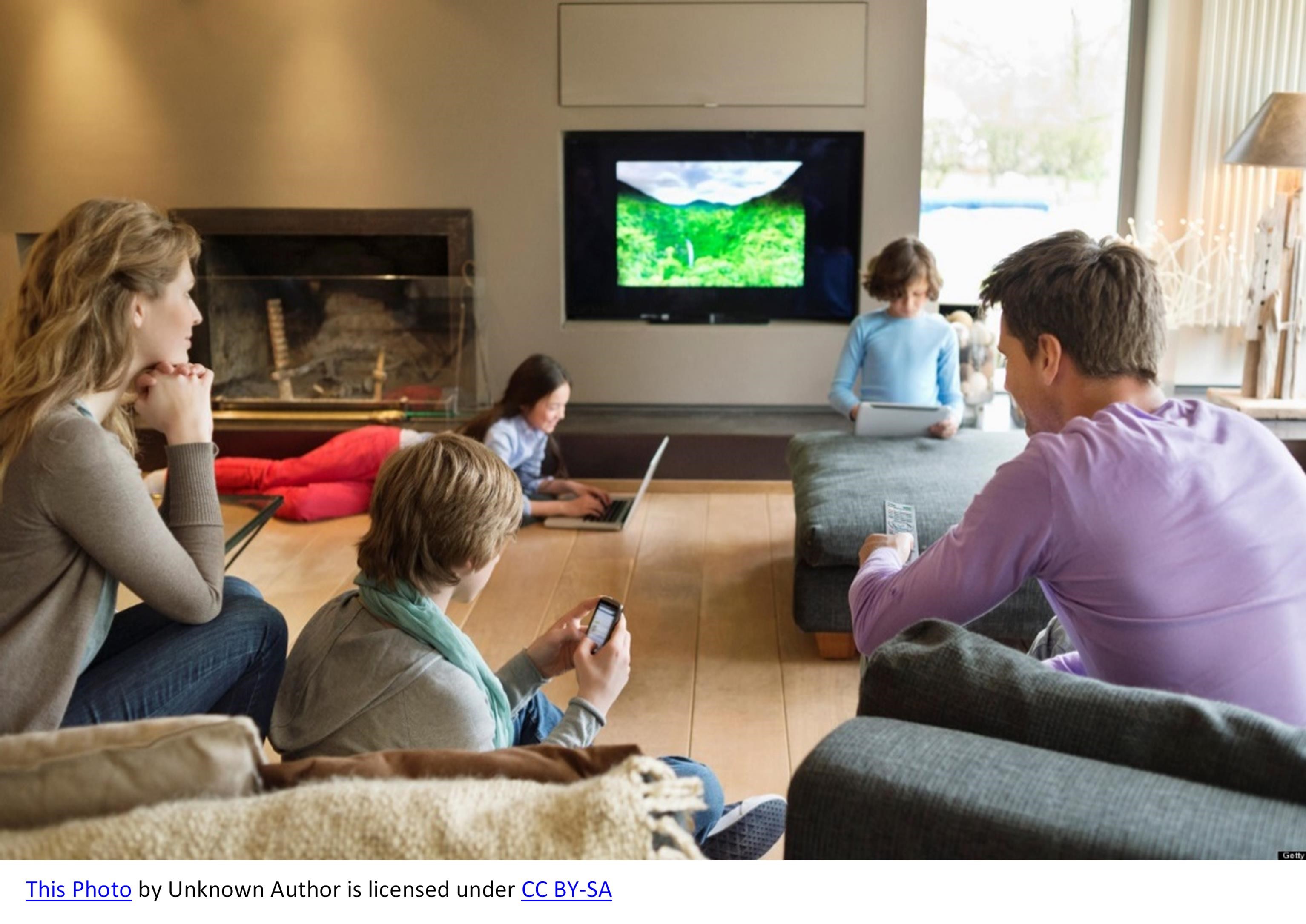 Welcoming the young people, parents, educators and third-sector practitioners and researchers in attendance, Emily began the event by outlining findings from her own research. The frontline providers then discussed evidence about the opportunities and challenges of young people's digital worlds and different approaches to talking about such issues in families. As well as covering sex and relationships, they explored topics such as screen-time, gaming, bullying and self-image.
The ensuing discussion highlighted the challenges of speaking openly in families about young people's digital lives, amidst varying perspectives in different families, and the barriers that can be created by perceived generational gaps. A range of practical solutions were explored, amidst emphasis on the importance both of families and a range of other spaces to young people's wellbeing in a digital era. The need to hear young people's diverse perspectives and create a climate in which they feel validated became a focal point.
The event ended with information about plans for collaborative research on the subject between the Surrey academics and the practitioners at the event.
Feedback was extremely positive and the event enabled the researchers to strengthen their connections with a range of stakeholders. The recording of the event can be accessed here.
Becoming a parent in a pandemic
The impact of COVID restrictions on those navigating pregnancy, birth and adjusting to life with a new baby has been especially challenging, generating related but distinct pressures for mothers and fathers.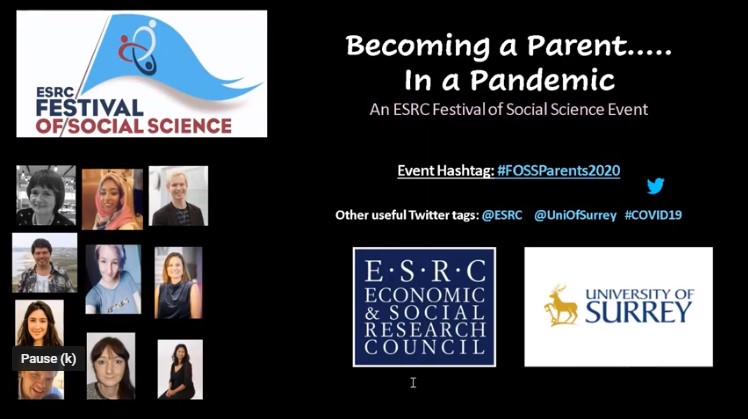 Drawing on a series of research projects on new parents and mental health conducted by Ranjana Das and Paul Hodkinson, this high profile event, oriented particularly to new parents and practitioners involved with supporting them, included speakers from the National Childbirth Trust (NCT), the Institute of Health Visiting (iHV), Dorset MIND, The Fatherhood Institute, PND Hour, the Lancashire NHS Trust and the ROSHNI2 project, as well as the University of Surrey, Bournemouth University and the University of East Anglia.
The particular issues facing mothers and fathers were discussed separately in the event's two main panels, each of which involved contributions from practitioners, campaigners, researchers and parents themselves. Then, in a final session, Rachael Parker from the Institute of Health Visiting (iHV) and the Elizabeth Duff from the National Childbirth Trust (NCT) connected the various issues raised to their experience, identifying core lessons and outcomes.
The event, which was featured as part of the ESRC's national press release on the Festival of Social Science, attracted extensive interest, with approximately 300 attendees on the day. Many shared their own experiences or contributed comments or questions either within the event or via the extensive discussion on the event's Twitter hashtag #FOSSParents2020.
The event forms part of a new collaborative project to enhance support for new parents that brings together the University of Surrey, the Institute of Health Visiting (iHV) and the National Childbirth Trust (NCT). Funded by an ESRC Impact Acceleration Award, the project seeks to bring together Surrey research with professional expertise to develop resources for parents and practitioners that with offer information and support related to wellbeing.
Feedback for the event was extremely positive and the live recording can be viewed here.