New digital technologies offering "smart" monitoring of health and wellbeing at home have a lot to offer for those with care needs: but how can we make informed choices about which solutions are right for us?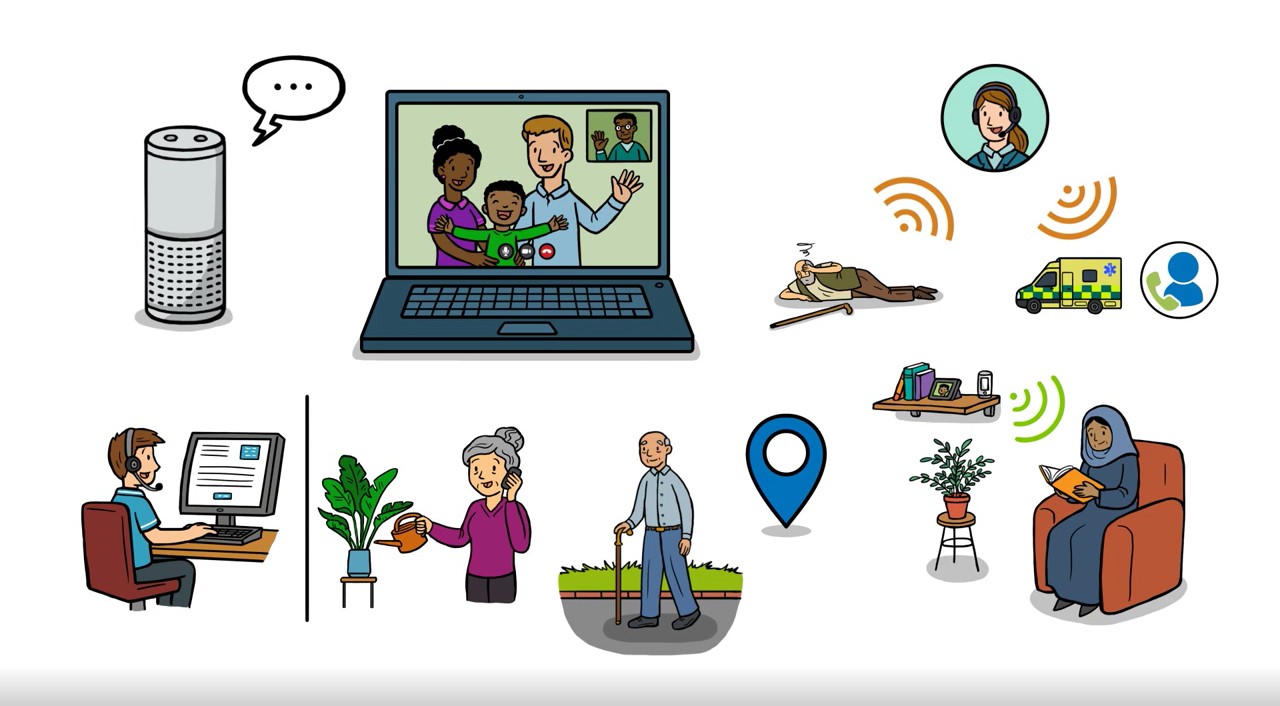 Within a burgeoning market for assistive technologies (a term used for products designed to promote independence for older people and those living with disabilities), a wide array of technologies now offer remote monitoring, with a view to helping people to live safely at home for as long as possible. Some solutions are badged specifically as monitoring services for particular needs, for example to keep an eye on a vulnerable family member's daily activities from a distance or to keep track of someone at risk of getting lost. In other cases, families creatively repurpose more general consumer products to meet their immediate care needs, such as by using video calling and smart speakers to check in on a relative or by using a video doorbell to track comings and goings. Health monitoring at a distance to track physiological measurements and sleep patterns is also increasingly available, and Internet of Things technologies offer the opportunity to monitor activities of daily living via motion sensors and smart plugs. The embedding of artificial intelligence into remote monitoring promises to allow us to spot trends and avert crises before they happen rather than only responding after someone has become ill or fallen.
These technologies offer a lot, but they may not be right for everyone. Caution is needed to match the right technologies to people's needs, as the recent ATTILA trial found. Monitoring technologies often enter into complex care set ups involving various people in different roles as informal and paid carers. An individual-based approach to consent based on a reading of "terms and conditions" rarely seems enough to be sure that consent is freely given and fully informed and that it balances the needs of all parties involved. It is in the nature of conditions like dementia that needs change over time, and it can be important to involve people in future care planning as well as making decisions on the basis of current needs and capacities. We know that levels of understanding of what artificial intelligence technologies do and what the implications are can vary widely across the population and that it can be hard for people to engage with the implications of smart care that could not only diagnose present needs but also predict future scenarios. If we are going to offer this form of care to people, we need to support them to make free and informed choices.
Christine Hine has recently been conducting research that explores how people think about the ethics of smart care in collaboration with Professor Payam Barnaghi of the UK Dementia Research Institute's Care Research and Technology Centre, based at Imperial College. Interviews have been conducted with researchers and developers, healthcare professionals, service users and carers involved with a smart care monitoring system designed for people living at home with long term conditions such as dementia. It is clear that there are many different facets to ethical design and implementation of smart care, and many steps are being taken with the development and deployment process to attend to ethical issues such as dignity, autonomy and security. Nonetheless, consent remains a difficult issue and many people struggle to be clear exactly what the technology can do and whether it might be right for them. With this in mind, a series of short videos were designed to introduce key questions about smart care. We hope that these can be used to prompt conversations when people need to make decisions about smart care and, supported by additional information resources, guide people towards making the right decisions for their own collective needs.
The videos can be viewed at https://mindermeetingplace.com/smartcareethics/ You can leave your response to the videos via a short questionnaire at https://surreyfbel.qualtrics.com/jfe/form/SV_bf7r9YSeEr6XO18
For further information about the research project on smart care ethics see www.surrey.ac.uk/smartcareethics
The videos are funded by a public engagement grant from the Royal Society, connected with the research project "Emergent everyday ethics in infrastructures for smart care" carried out by Professor Christine Hine (University of Surrey) and Professor Payam Barnaghi (UK Dementia Research Institute and Imperial College London). This research is funded by an APEX award (Academies Partnership in Supporting Excellence in Cross-disciplinary research award) scheme, operated in partnership with the British Academy, the Royal Academy of Engineering and the Royal Society ('the Academies') and with generous support from the Leverhulme Trust.
Please note that articles published on this blog reflect the views of the author/s and do not necessarily reflect those of the Department of Sociology.