Hello Everyone, I'm back again!
Sorry I have been gone this last month, but going home for holiday and coming back to uni to do all the work you were supposed to but haven´t done keeps you busy. I know it's unbelievable, but here for easter we had a whole month free, from March 31st to May 2nd, another really good thing of studying here!
Unfortunately, we have exams coming soon (from the 29th May to 16th June this year) so we will have to start studying little by little. But we still have time, the days are getting longer and the sun has come out these last days… there is a lot to do around!
Guildford is a small town that you probably never heard about before searching for this university, but trust me that you will fall in love with it as soon as you get here. Everyone that comes to visit me from home says "God is so English!", and it is. It has lots of "English movie" houses, little streets with special cosy pubs and cafes that are perfect to have something with your friends and so many restaurants offering all kind of food with different prices. Personally, my favourite restaurant in town is GBK, a burger restaurant with amazing burgers and milkshakes with reasonable prices. There is also a very good Italian called "Positano", and if you like waffles, ice cream and crepes, you NEED to go to Creams!!!!
There are also plenty of shoe-stores and clothe-stores, both around the street and the shopping centre called the Friary. You can find well-known brands such as Urban Outfitters, Levis, Hollister, Top Shop, Zara, Mango… and also smaller stores that sell really cute things. If you like shopping, you will definitely have where to shop!
If you are more interested in activities, the Spectrum is your place. You might need to take the bus to get there, but once you arrive you can go bowling, ice skating and there is also a swimming pool with slides. There is a cinema in the town centre too (really expensive, about 11 pounds), and finally, a really fun trampoline place called Air Hops.
But, what I most like from Guildford is the nature. There is a river that crosses the town and you can walk next to it for kilometres, lots of green spaces for picnics, a beautiful castle with plenty of flowers… I have attached some pictures of our morning walks.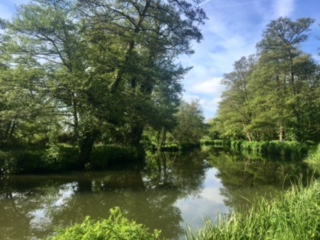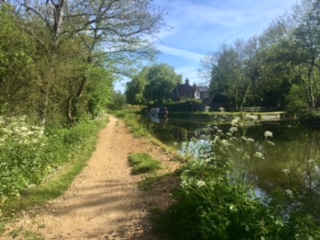 In summary, even if it might not be the famous London city centre, I believe that Guildford has plenty of things to offer to all kind of tastes and interests. After a year, I still keep discovering new places and spots that prove I made a wonderful decision coming to this University!