Christmas has always been related to that warm feeling of cosiness and homely festive lights. But Surrey is my home away from home, and at Christmas it's still just as magical.
It still surprises me how our university tries to make everyone feel so comfortable, with such a wide diversity of people enrolled at Surrey.
At Christmas everyone should feel at home, and everyone should feel the magic of Christmas, so here are my 3 favourite things about Christmas at Surrey…
1.We have the most beautiful campus in the snow
Surrey has the most beautiful campus in the Summer when all the flowers are blooming and sunbathing round the lake is a blessing, but in the Winter it's just as beautiful. Sure, you can't walk around in last year's flipflops and sometimes those embarrassing old Ugg boots may be the best thing for the cold weather, but it's still just as magical to feel the crunch of snow underfoot, or feel the Winter's sun on the way to a morning lecture.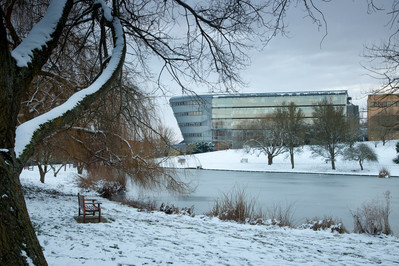 Really when it comes down to it, if you have to endure the cold, surely you'd prefer to do it somewhere that looks pretty, with a good view? With the Guildford cathedral covered in snow and the lake frozen over the campus suddenly becomes an Instagram contest.
2. Events put on by the university
As the semester starts to run down there is always plenty of fun activities put on by the Students' Union to get involved in. As usual there is always the club Christmas nights, where various people always decide to come dressed up as Santa every year, and DJ Leroy always makes sure to play a bit of Mariah Carey for the final song.
There's Carol's in Rubix put on by the Gospel Choir every year, and the Christian Union hand out free cups of tea just to show that little bit of extra Christmas spirit to everyone as the semester comes to a close.
As well as all this, if you decide to join a society, many will have their own kind of Christmas celebration in mind. For example, the Harry Potter society host The Yule Ball every year which my flatmates and myself all attended last year. We had a fantastic evening in black tie and enjoyed all the Harry Potter themed drinks that were on to offer the night.
3.Flatmate fun
So now is time to embrace your family away from …. family? Your flatmates will become very important to you throughout the year as you'll all be going through the university experience together. Christmas is a great time to all come together and watch Christmas movies with a glass of mulled wine or a nice mug of hot chocolate. During my first year my flat and I cooked a traditional English Christmas dinner (cooked by the girls), and put on a Christmas nativity scene (performed by the boys). We even got each other secret santa presents (with a £10 spending limit of course because we're students).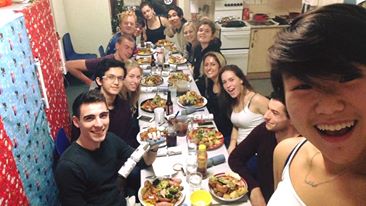 So Christmas doesn't just have to be about celebrating at home, university is another great place to embrace the Christmas spirit with people who love this Winter season just as much as you do.
Have a holy, jolly Christmas!