University isn't just a place to get a degree. I mean, that's understandably the main reason that we're all here, but there are a lot of enriching activities available at our fingertips to have a go at.
Sports and societies at Surrey are extensively varied; a full list of sports clubs can be found here and societies here. Joining a sports club and/or society is such a great way to meet people who aren't necessarily in your flat or on your course, and also brings some recreation to what is often a study-focused week.
Throughout my time at University, I have been involved (on and off) with:
Squash
Badminton
Mountaineering
Surf
Ballroom and Latin
Water polo fitness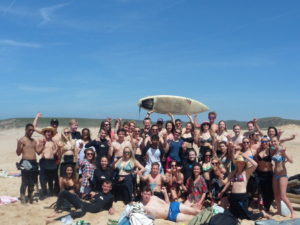 Jazz Orchestra
Gospel Choir
(helping out with) Big Band
Art Soc
Christian Union
…and have been on the committee for Gospel Choir for two years. This is the wonderful thing about being involved with sports and societies; they are all student run. Through the Students' Union, we go and do outreach performances at sheltered accommodation for the elderly in Guildford, we have done busking to raise money for Surrey Marrow and we have put on charity concerts throughout my time at Surrey. So joining a club or society isn't just a good way of benefiting your University experience; it also benefits so many others, on and off campus.
At the end of the academic year, the Students' Union hosts the Student Awards; an event to celebrate the success of students, staff and the general non-academic related achievements of everybody at the University. In my second year, Gospel Choir was titled the "Arts Society of the Year" and it was such an amazing celebration to be there with the rest of my committee.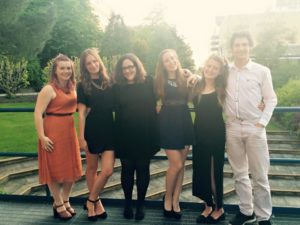 I can certainly testify that being heavily involved in several sports and societies in the last few years has really enriched my time at University; it's always great to make friends, make a difference in the community and do what I love and not think about work for a while!
If you're applying to University at the moment, be sure to check out the Students' Union website and see what you could be getting involved with when you start.
Until next time,
Kirsten