Author: Rebecca Cofie.
In my final year of university, I discovered Guildford's countryside. When I needed a break from writing my dissertation, I looked forward to these long walks where I was surrounded by nature.
In comparison to my second-year student house which was located in Woodbridge Hill, I was fortunate enough to live on the side of university near to the station, where these places were in easy reach. If you want to escape the stresses of university life and appreciate the beauty of the Guildford landscape during your time at Surrey, keep on reading.
The Mount
I'm sure you've all heard of, or at least spotted from a distance, the big hill that overlooks Guildford. I was only a 10-minute walk from the hill, so I would frequently make trips to the place. There are two routes which you can take to get there; Route A, which is straight up the side of the hill. As you walk up this path, you'll see a view of Guildford unfolding before your eyes.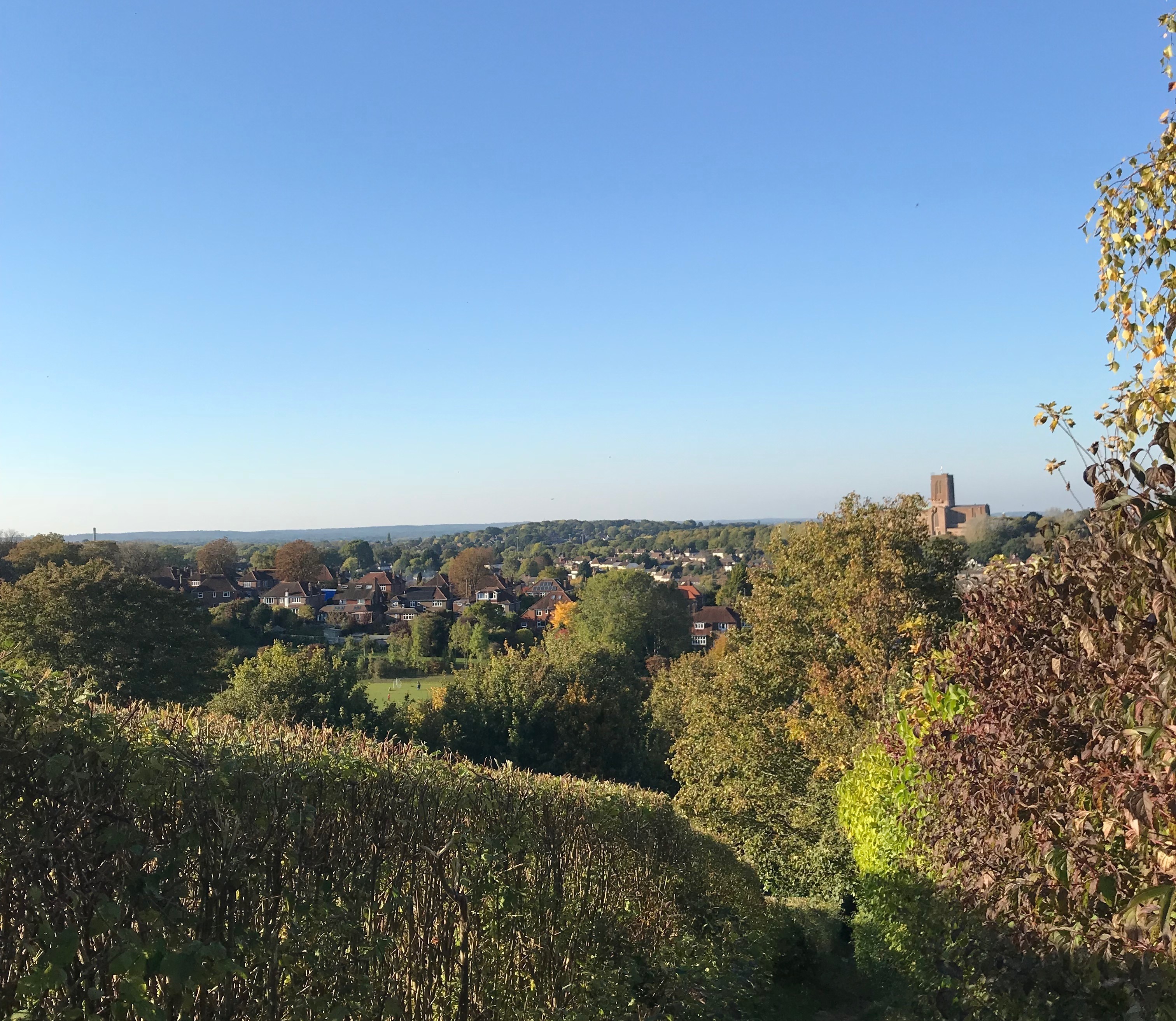 Or Route B, which is via Farnham Road allotments, at the bottom centre of the hill off Wodeland Road.
When you arrive at the top of The Mount you are rewarded with a breath-taking view of Guildford and beyond. If you look into the horizon, you can even see The Shard and Wembley Stadium in London!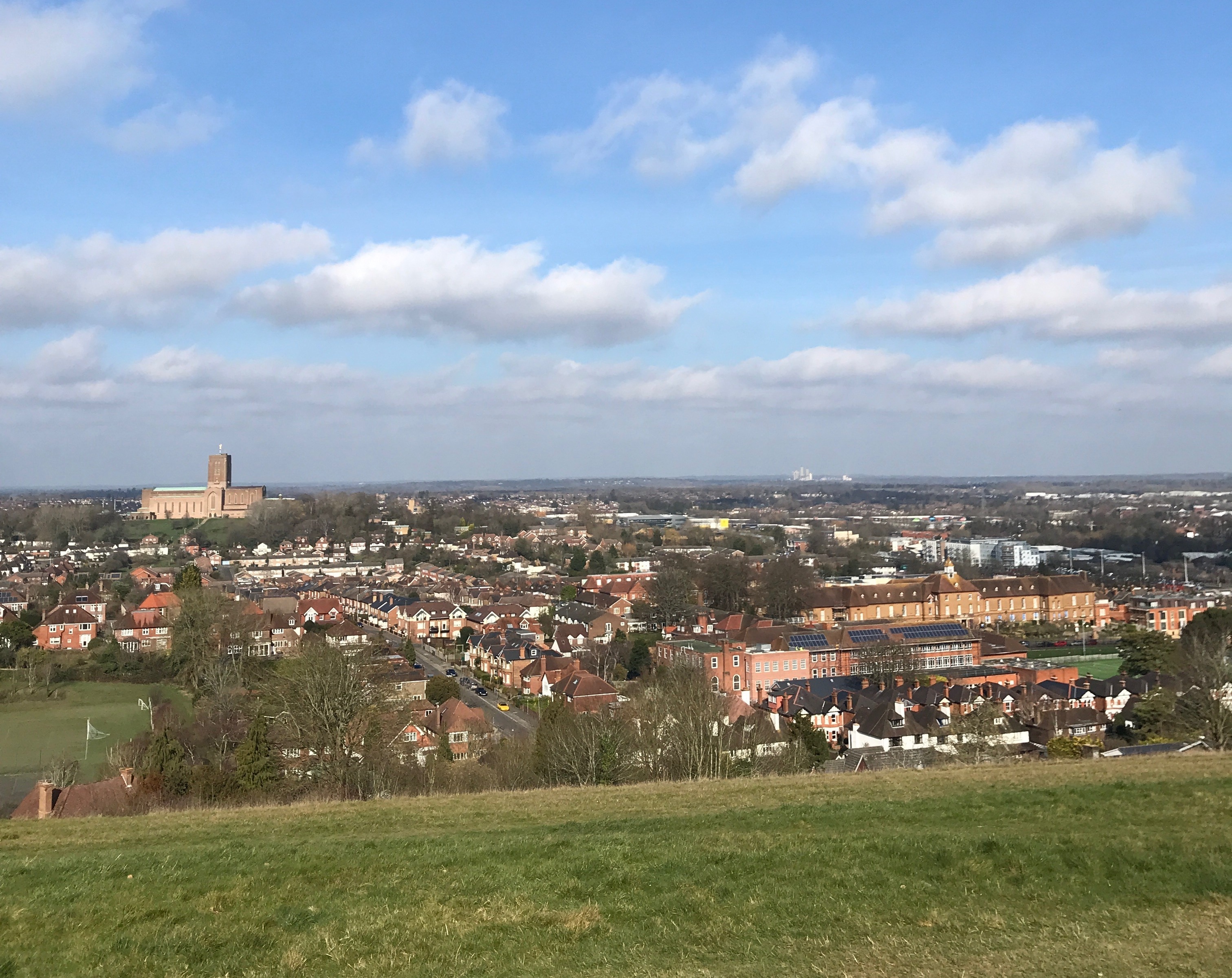 The Mount Part 2
But, there's more! If you go to the side of the hill, there is a gate which leads to another hill. This overlooks the Sports Park and the West side of Guildford.
'The other side'
Behind the main part of The Mount, is the true Guildford countryside. After knowing about the area since first year, discovering another side to The Mount was pretty exciting! It overlooks nearby Surrey villages, Artington and Compton.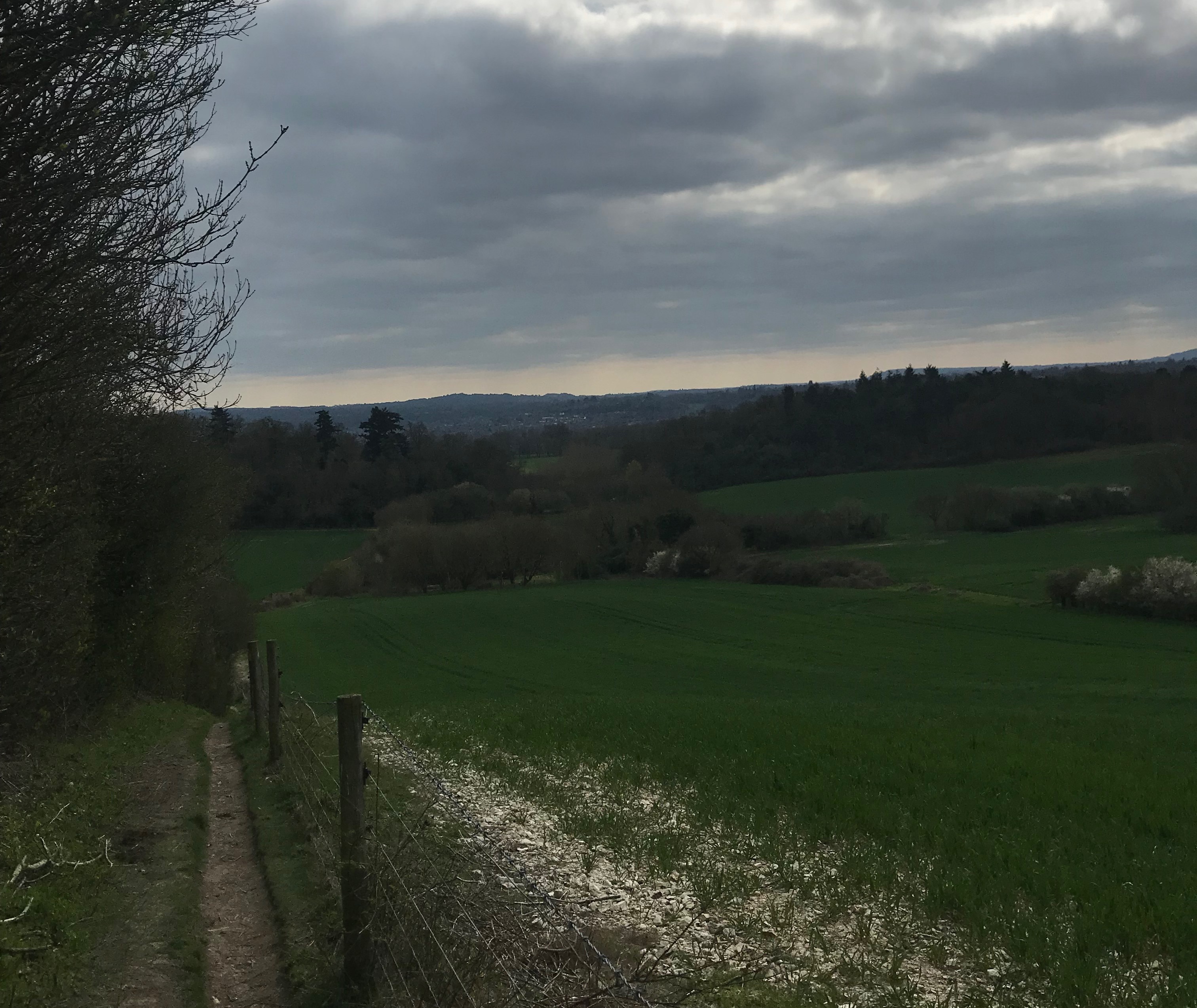 Artington
Google Maps lead me to this charming village by literally walking through the fields of countryside of the other side of The Mount. I would not recommend walking to Artington past sunset through this means, as there are no street lamps or pavements to guide you.
However, once you get into Artington, you'll discover plenty of cute houses, horses, farms and nature. The people are also very friendly. If you happen to go during Springtime, which I did, you'll see fields of blossoming flowers. 😍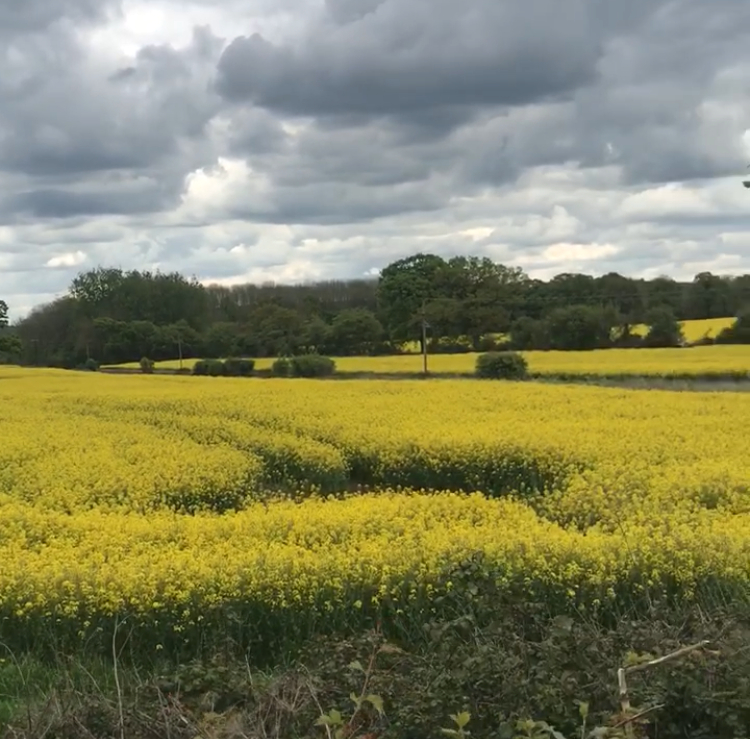 Loseley Park
If you walk even further, you'll discover a lovely place called Loseley Park, which contains a manor house, botanical garden and park grounds. As I had a full workout from walking there, I decided to just stay for a beverage, especially as I had a dissertation to write. However, the café was situated within the garden which has an admission fee, but luckily, they let me in for free as I just wanted a cup of tea! From the little part of the garden I did get a glimpse of, it looked amazing!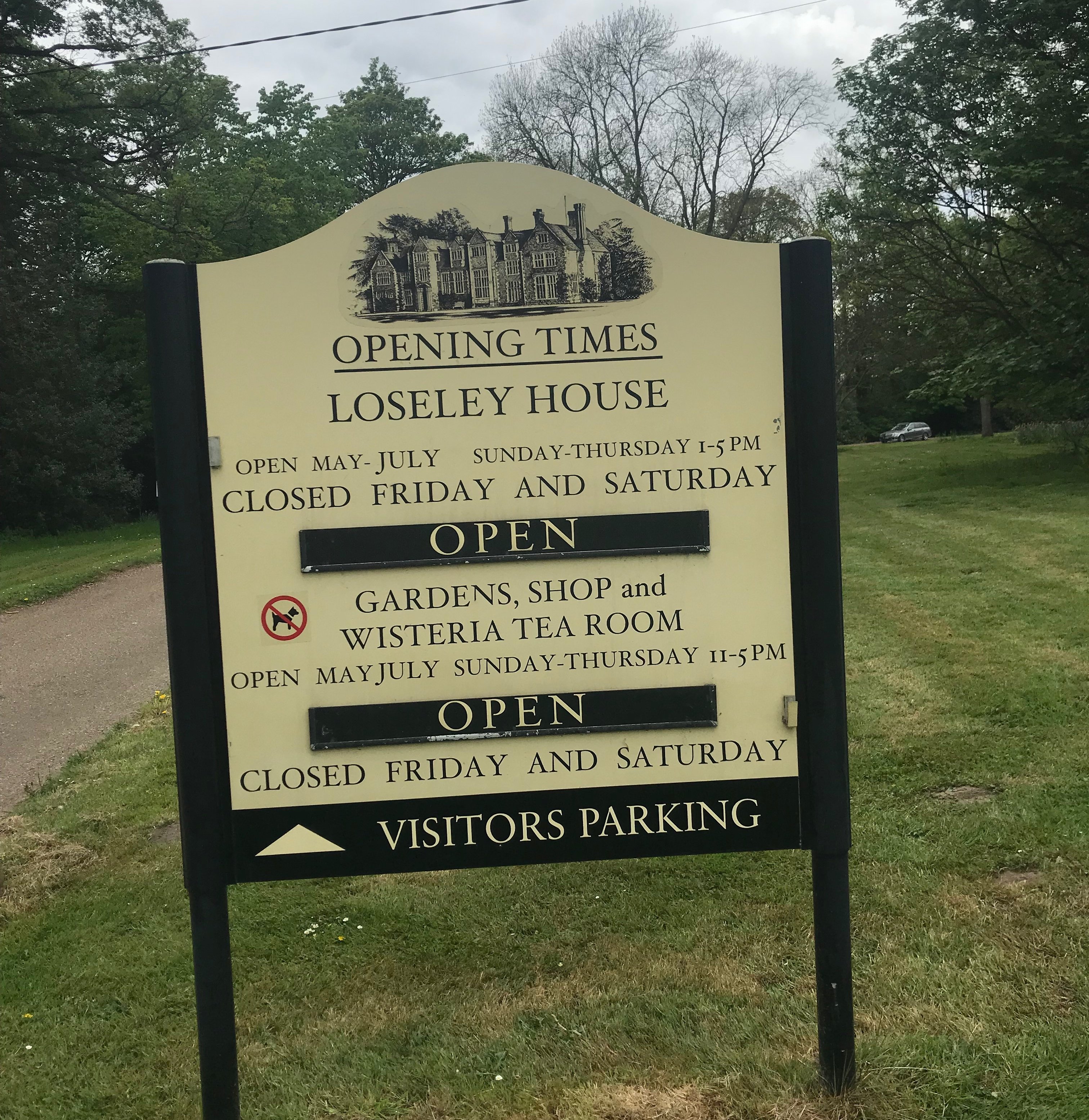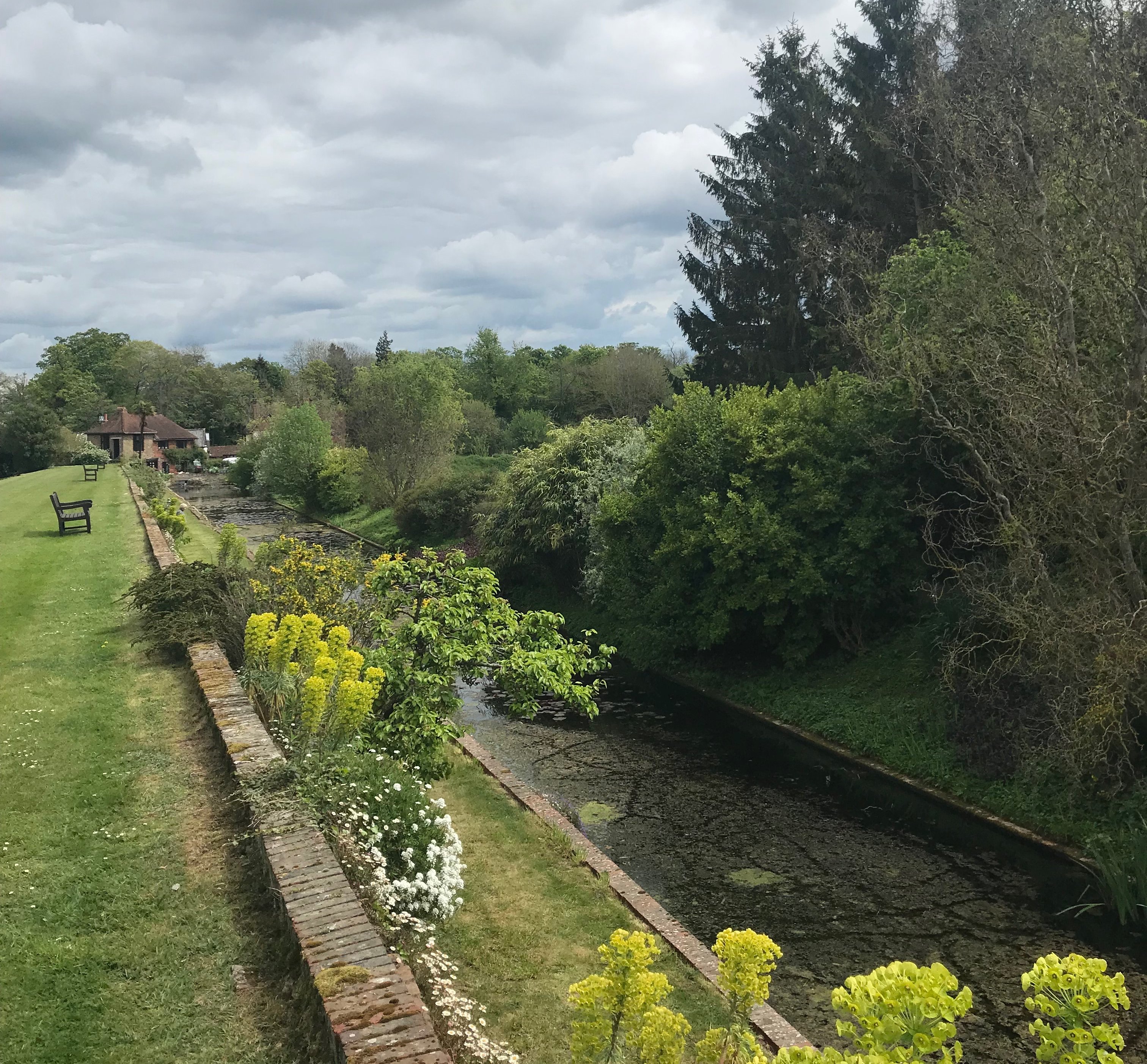 On the way back, I requested a GM car. DO NOT call for an Uber, which I did (twice), as they both ended up cancelling on me as they got lost on the way! However, GM Cars are a local taxi service in the Guildford and the surrounding area, so fortunately the driver knew exactly where to pick me up from.
River Wey and Shalford
The final walk I did in Surrey was along the River Wey. If you go underneath Guildford Town Bridge, you'll see a path that goes alongside the River Wey. You can either continue along this path or verge off it, which led me to Flower Walk, where I saw some beautiful mansion houses. At the end of Flower Walk, I then discovered an outdoor office space with amazing views overlooking the river.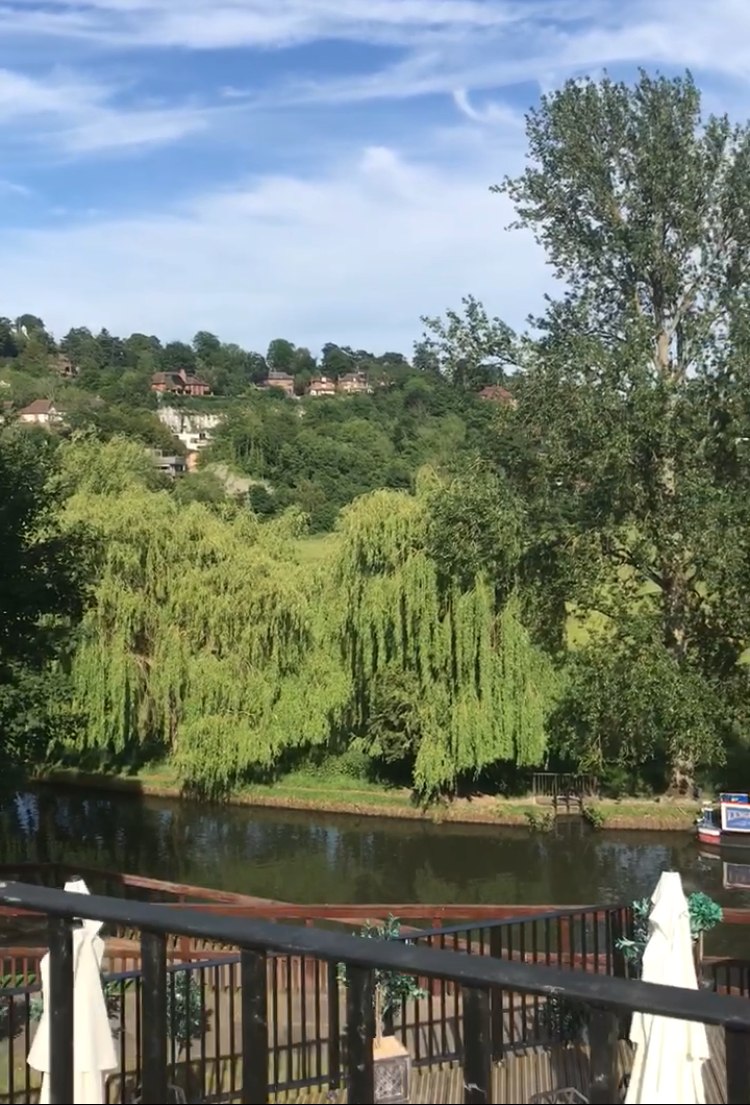 There was also a small stairway nearby which led back onto the River Wey. This river path is a beautiful, tropical paradise. Crossing the other side of the river also leads you to an open green space, perfect for sunbathing, situated in Shalford.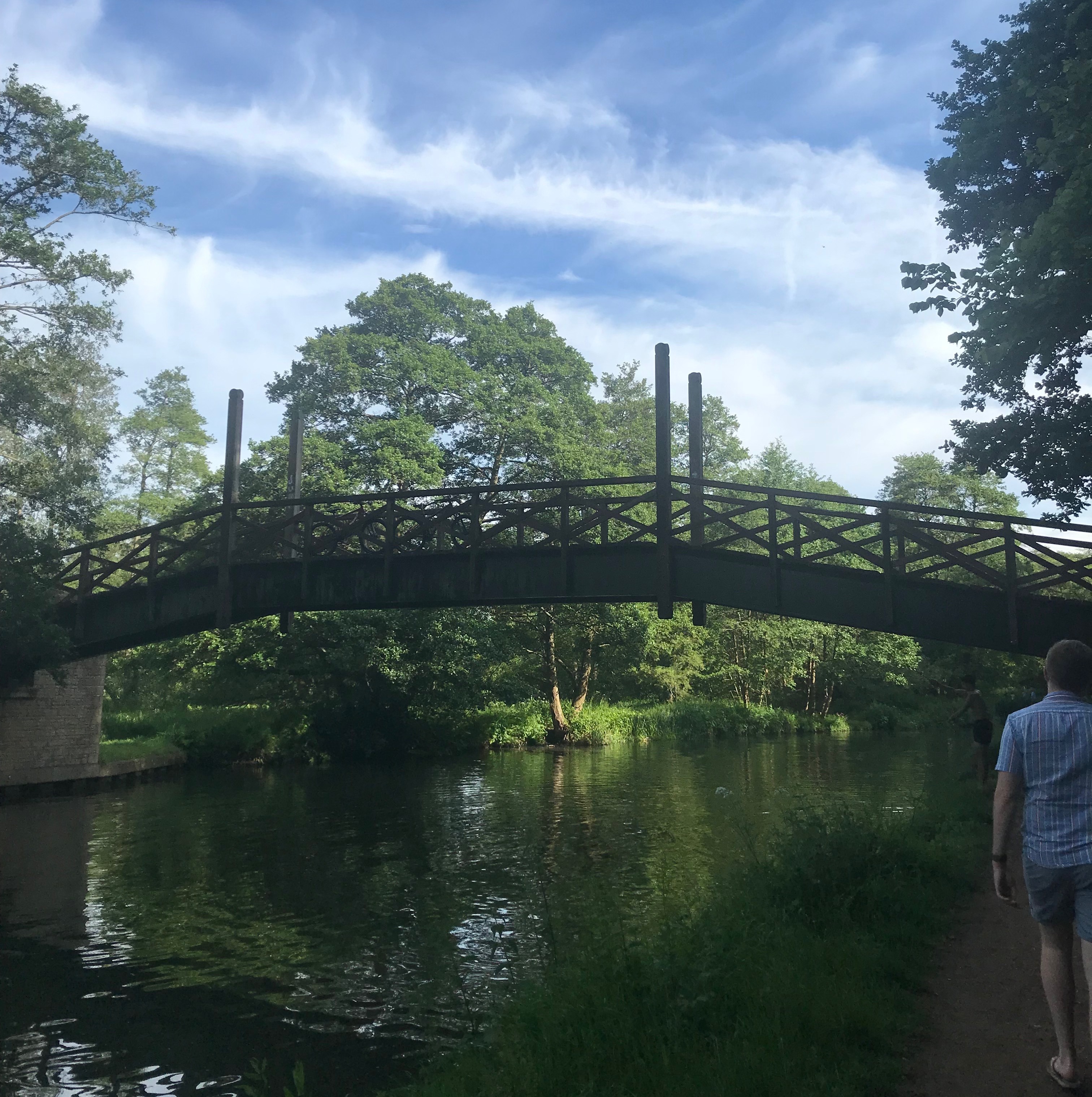 Views
Finally, I also discovered places where you can absorb the stunning views of Guildford:
Guildford Cathedral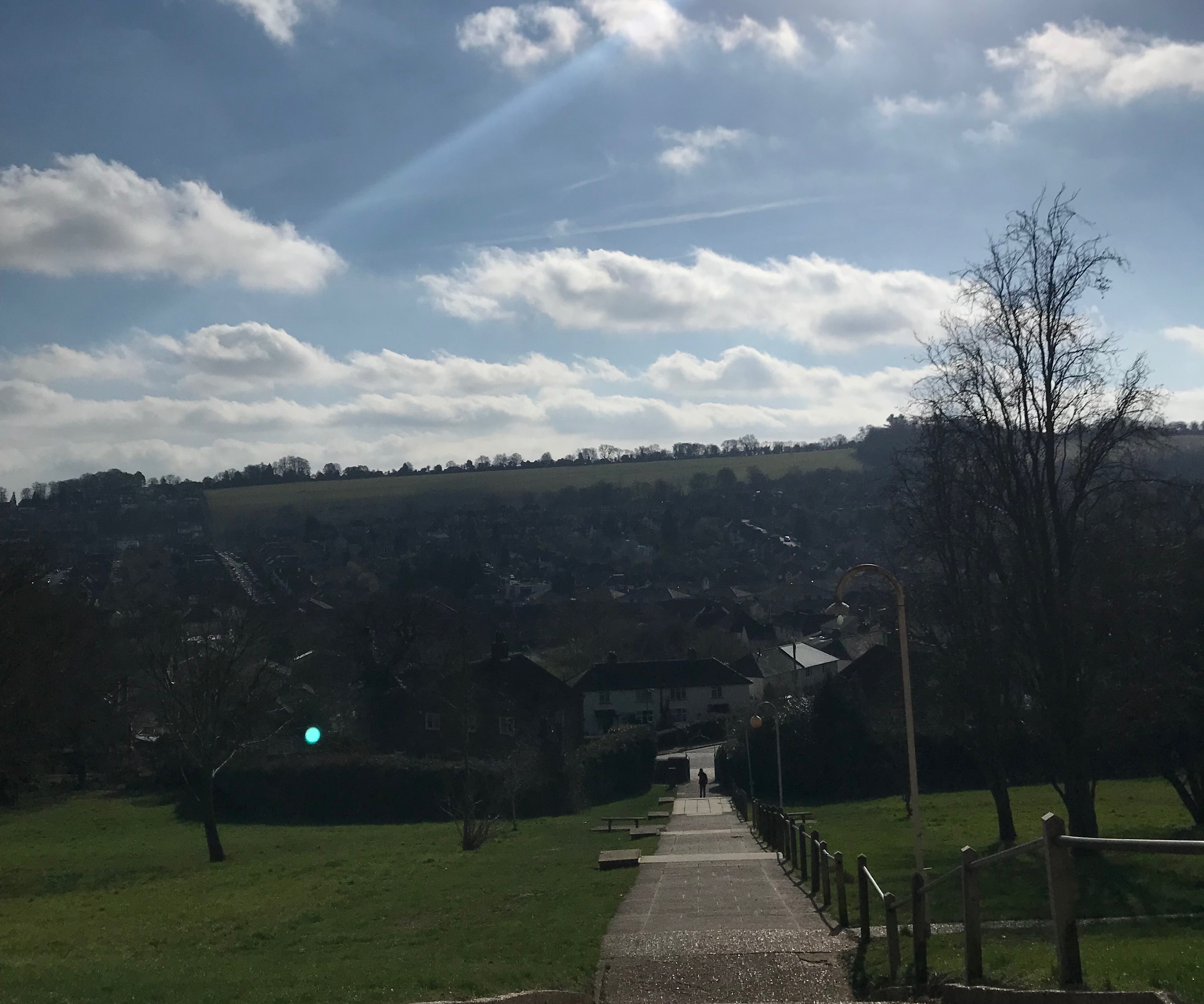 Scholars Walk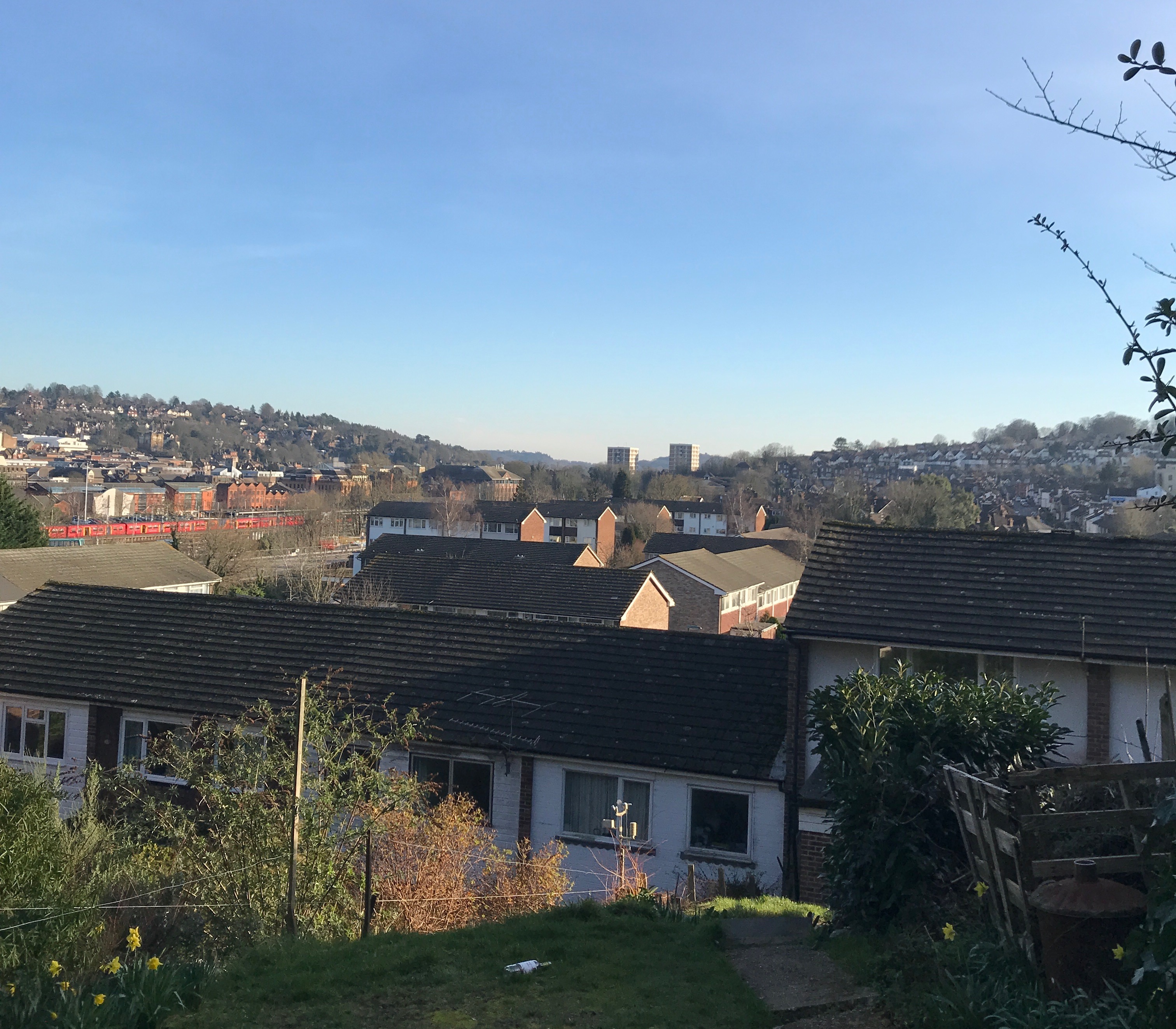 The Tea Terrace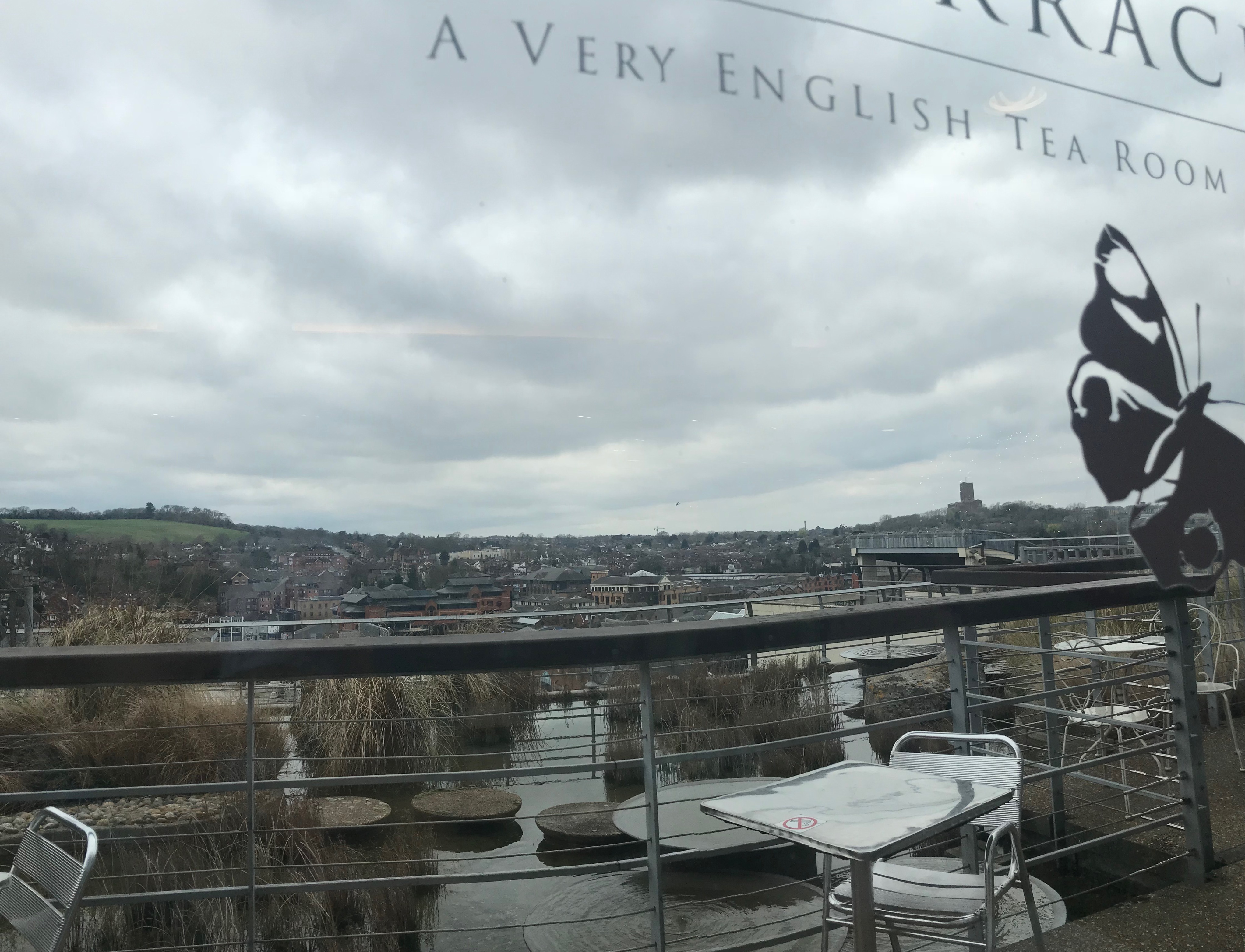 Exploring the Guildford countryside was definitely one of the highlights of my final year. It relieved me of my stresses, particularly in the final semester, which was particularly challenging. But I would also thoroughly recommend it to anyone that wants to see Guildford beyond the usual places of the university, Tesco, the sports park and town, as is there is a lot more to Guildford than just that!