Going to University, for many students, is a big change and can bring with it many different situations where you could require assistance from someone in order to help you through. Whether it be: information about societies or placement opportunities, assistance on English Language or applying maths to a subject or helping you through a tough personal event, the support network at Surrey will always be there to hold you up and help you through.
Although everything is a little different now; and lots of services have moved online, the support is still out there and is in some ways, more important now more than ever.
Personal help
During the first few weeks of your first year, every student will be assigned a personal tutor from their department. They will be with you through your University journey, to talk through studying and academia, personal matters, opportunities and future prospects; and should be a support and someone to call upon throughout your time at University.
The My Surrey Hive is a fairly new hub on campus that brings all of the different services together into one, cosy, friendly place. They currently offer virtual drop-in sessions (mainly on Microsoft teams) for an array of topics: from finance to accommodation and careers. It is also a good place on campus to relax, meet friends or get some work done. Look at their website https://my.surrey.ac.uk/hive to find out more information.
If you are personally struggling with anything for which you would like to see someone or gain access to help and support, the centre for wellbeing https://www.surrey.ac.uk/student-support/health-and-wellbeing is a really valuable place that looks out for students, and they offer sessions to support you through hardships or ongoing situations.
Peer supporters are students who are available every day from 7-9pm to listen, help and support you with anything you are struggling with – and as current students, they can relate to, appreciate and understand what you are going through. Also, all societies must now have at least one trained 'Wellbeing Champion' who you will be able to talk to during the sessions about any concerns you have – either personal, or to do with the society.
Professional help
Surrey is very well known for its placement opportunities and there are a number of fayres throughout the year that advertise the available placements on offer to find more information. Keep an eye out to see when and where they are taking place.
The https://study.surrey.ac.uk/placements page gives some information about who to talk to regarding placements, and explains what they are. Talking to your personal tutor or a lecturer linked to a particular field of interest can also be beneficial and help you to understand what a career in that profession would entail.
Academic help
The library is not just there as a place to study, find books or print off lecture notes, there is a whole host of support services there that can help you. The library website is a very useful resource https://www.surrey.ac.uk/library where you can find English Language support, maths and statistics help (for any queries; even if you are not doing a 'maths' degree), additional learning support, and opportunities to attend writing workshops to help with academic writing and style. There are also referencing and academic integrity courses to help with essay writing and maintaining authenticity.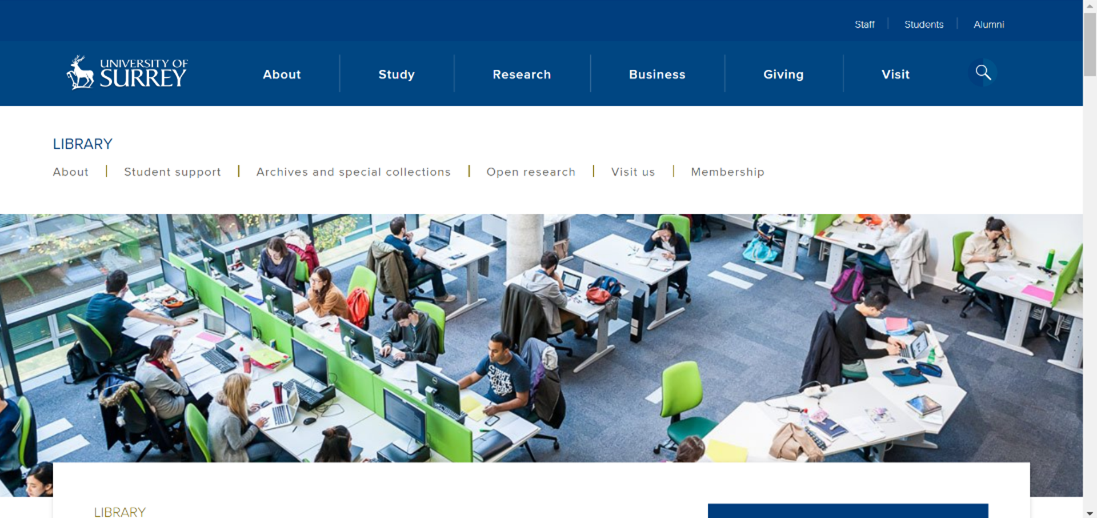 Despite many of our lectures now being online, we can still interact with academics and query and discuss content. Many academics will set up discussion boards on Surrey Learn for their module – which are really useful to ask questions about the topic or anything that you are finding difficult to understand.
This just demonstrates the array of support on offer at Surrey for all of your queries and concerns – you are not alone. It is a reminder that, no matter what you need assistance or support with, the best thing to do is to ask – talking about something or seeking help from someone else and be a little scary or feel like you are not able to support yourself, but it is really important for growth not a sense of weakness, but strength.
Other helpful resources: