Hello! I'm Elena, a second-year student at Surrey. Today I'm going to talk about the accommodation on offer at University of Surrey.
Most students will choose to stay in halls for their first year. If you choose to stay in private accommodation or to commute, that's great too. I stayed in halls last year and I personally think it's a great way to meet people and adds to the "fresher experience".
At Surrey, there are 6 different accommodation bands, depending on what you're looking for and your budget. The prices vary between the different bands, but electricity, water and wifi bills are included which makes everything so much easier. I think it's very useful that all bills are included as it eliminates some of the hassle of moving into a new place, and being new to uni and a new town, or maybe even country (like I was), it gives you some peace of mind.
Band A is the cheapest, with the cost being around £73 a week. Band A has shared and individual rooms, both with shared bathrooms and kitchen. Some Band A blocks are on campus and some at Hazel Farm.
Band B rooms are single and located at Hazel Farm. Most rooms have a washbasin, are a bit bigger than Band A ones and are also more expensive. Band B blocks have shared kitchens and bathrooms.
Band C rooms are all single, in different places across campus and there are a large number of these. They cost around £105 a week. They are about 1m2 bigger than the rooms in the previous bands and most rooms include washbasins. There are shared kitchens and bathrooms in this band.
You can see StagTV's tour of Band C accommodation here:
Band A-C rooms are perfect for students who want more affordable options and don't consider an en-suite as a priority when choosing their accommodation.
Band D accommodation exists in Stag Hill and Manor Park, and there are even more rooms in this band than Band C. The rooms are all single and bigger than those in the other bands, including an en-suite bathroom. Band D accommodation also has a shared kitchen per flat. These rooms cost about £50 more a week than Band C rooms. Band D rooms are perfect for students who want an en-suite but still want to meet people in halls.
Band E rooms are much bigger than Band D rooms and have a double bed and en-suite, the kitchen is shared. There is a limited amount of rooms and they cost about £190 a week. There are Band E rooms on campus and in Manor Park. Band E rooms are perfect for students who want a more spacious room or who need more space for their belongings.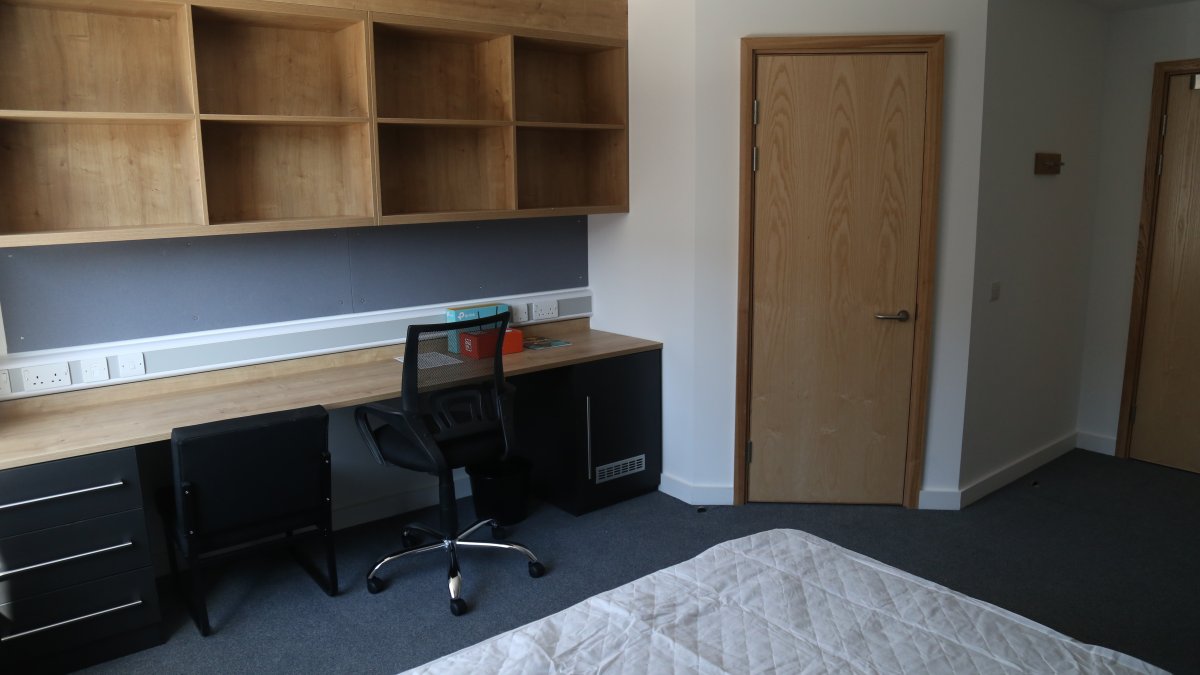 Band F rooms are very limited in number and cost £238 per week. They are studio flats in Manor Park, meaning the room, bathroom and kitchen are not shared with anyone. They are perfect for students who want their own space and more privacy.
Family flats are available on campus, Hazel Farm and Manor Park. They are brilliant for couples with children. They start at £238 per week and the price will vary per number of beds in the flat or house.
Band A-E accommodation includes a weekly cleaning of the communal areas, and all bands include security and maintenance repairs.
I'd also like to note all accommodation at Surrey is self-catered. This is a great opportunity to get out the chef in you and save some money. You can always turn to ready-meals and takeaways, but I think it's useful to learn to cook for yourself daily (adulting, yey!) It's also nice to be in the kitchen learning tips from your new mates, or just hanging out with your friends.
To learn more about the accommodations on offer at the University of Surrey, click here.