An important factor to consider when deciding which University to apply for is accommodation!
With over 6,000 rooms available, Surrey has a fantastic range of accommodation to suit everyone, no matter your budget or lifestyle.
As accommodation is guaranteed for first year students, the majority of students move into halls in their first year and then move out into the wider Guildford area in their subsequent years. You can still apply for student accommodation after your first year, but please note it isn't guaranteed.
At Surrey, accommodation is separated into bands from A, the cheapest and most affordable rooms, to F, which are studio flats and, therefore, the most expensive. For the most up-to-date information on the prices for each band, click here.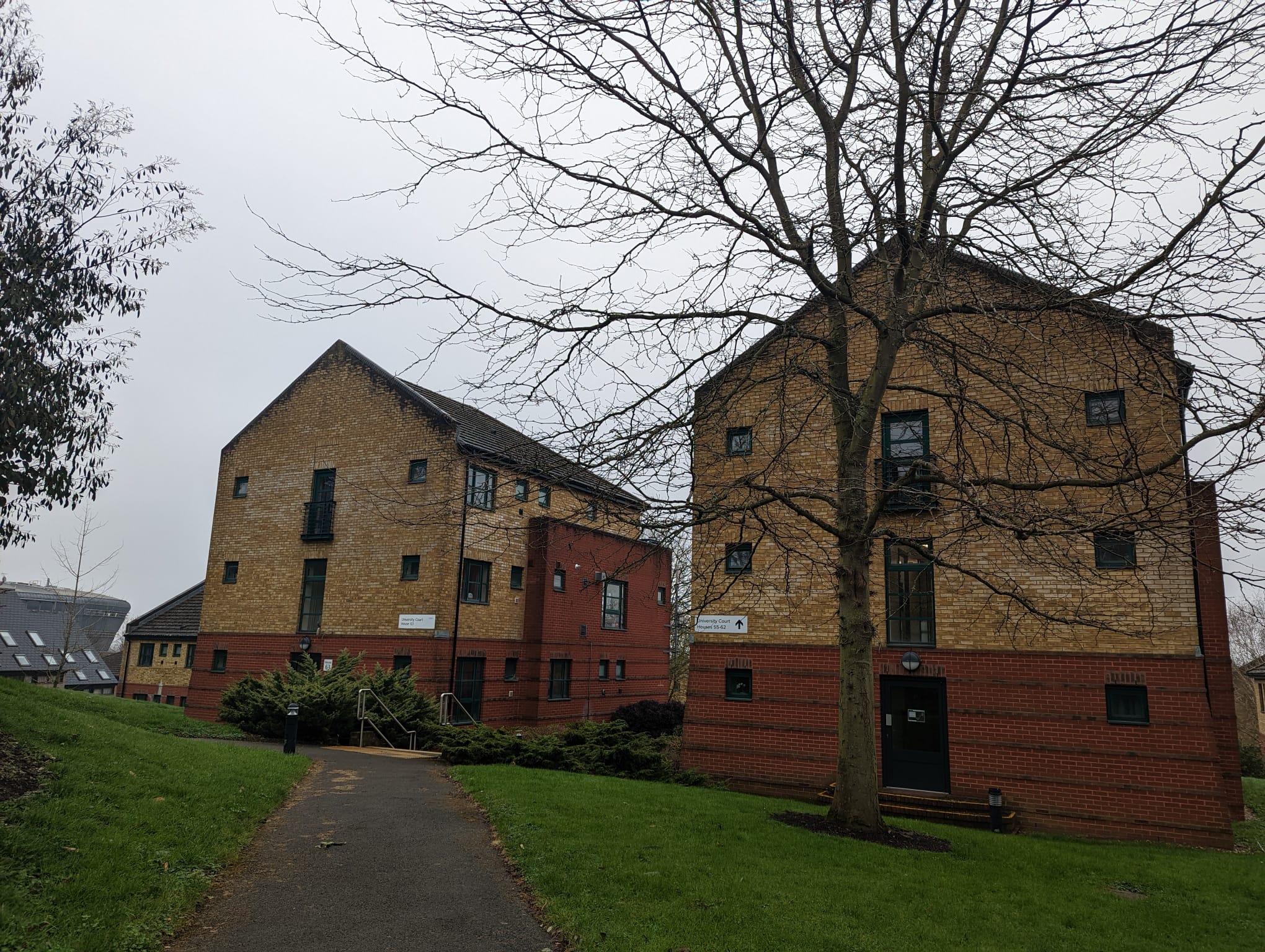 Band A shared
These rooms are located on Stag Hill court on Stag Hill campus, our main campus. They're the cheapest rooms and split over two levels, so even though you're sharing the room with someone else, you still get your own space. The bathroom is shared between 4 people and the kitchen facilities are shared with the rest of the flat.
Band A single
If you're looking for a budget-friendly option but don't fancy sharing a room then don't worry! Single Band A rooms are available over on our Hazel Farm campus, which is about 5km away from campus. These rooms are located within a two-story house, consisting of 7 rooms, 2 bathrooms and a kitchen.
Band B
Also located on Hazel Farm, Band B rooms are very similar to Band A rooms, except these rooms have washbasins (great for those who like to do their skincare without being rushed). These rooms are located within a two-story house, consisting of 6 rooms, 2 shower rooms and a kitchen/living room. Resident parking is also available to Hazel Farm residents.
Band C
These rooms are all located on Stag Hill campus across Battersea, Surrey, Cathedral and Stag Hill Courts. These flats range from 5-15 rooms with shared bathroom and kitchen facilities. The best part about Band C is the fact they are based in the heart of our main campus, so everything is just a short walk away.
Band D and E
Located on both Stag Hill and Manor Park, Band D rooms all consist of a single bed room and an ensuite. So if you don't fancy sharing a bathroom, these might be the rooms for you! Band E rooms are similar, however they have a double bed and more floor space. Manor Park is just a 15/20-minute walk or a 5-minute bus from Stag Hill campus, and is right next to Surrey Sports Park and Tesco. Band D flats can range from 3-15 rooms with shared kitchen facilities.
Band F
Ideal for couples, Band F flats are studio flats with combined bedroom, kitchen, bathroom and living space. These flats are also on Manor Park.
What's included
Something that's really helpful about student accommodation at Surrey is how all shared spaces are cleaned for you! So if you have a communal kitchen and/or bathrooms, you don't have to worry about buying cleaning products or toilet paper!
All flats are self-catered, so each kitchen is well equipped with a cooker, microwave, kettle, toaster, fridge and freezer. Everyone gets allocated two cupboards too, so there's plenty of space to put all your pots, pans and food!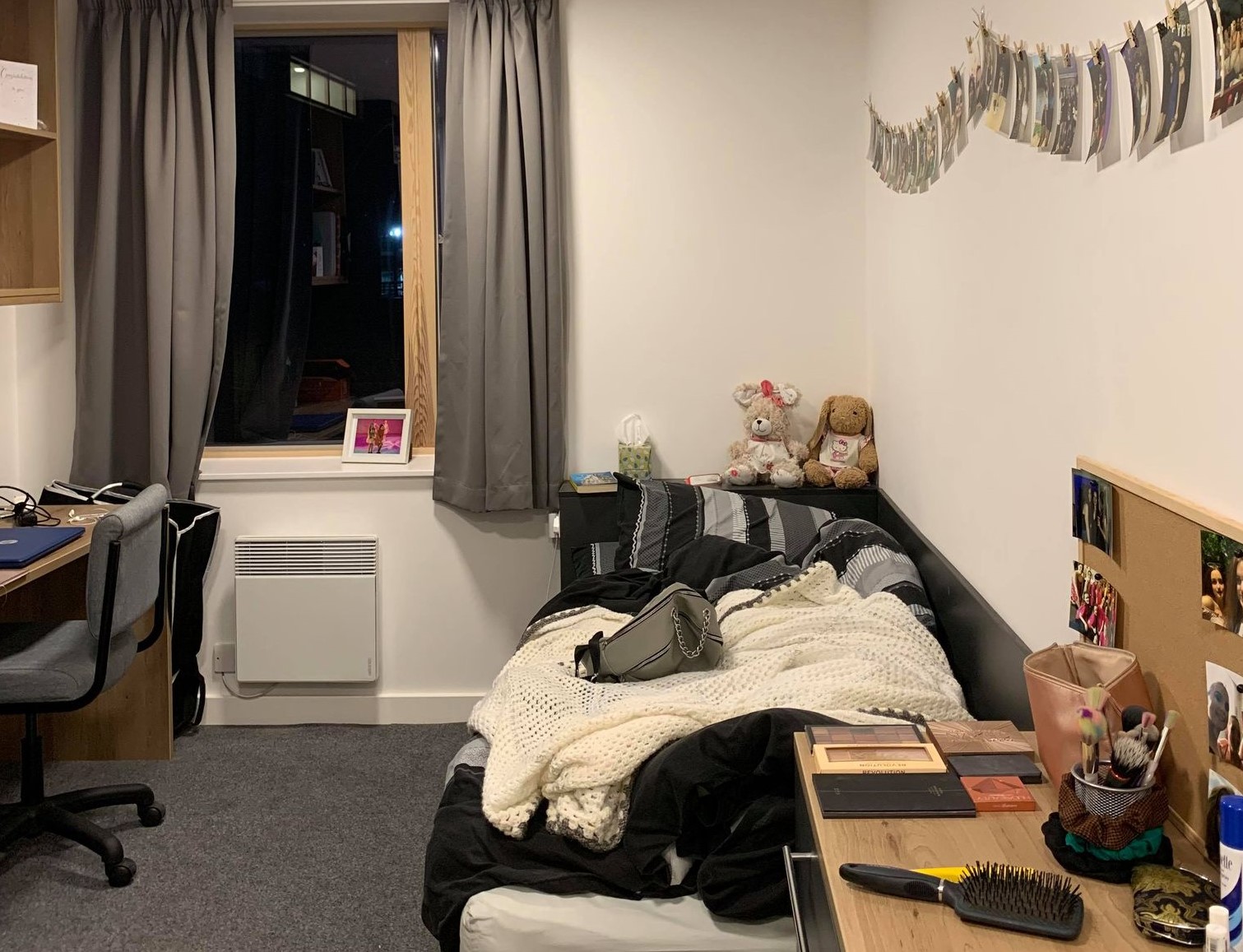 Living in accommodation is an amazing way to meet people, especially as a fresher! You get to meet lots of other students from different courses and walks of life. I really enjoyed my time in accommodation, as it was my first taste of living away from home and I developed lots of independent skills, from planning what to cook to doing my laundry!
To have a look at some of the fantastic accommodation on offer, click here!