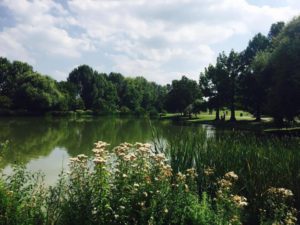 哈囉大家好久不見,因為小編前陣子同時得準備期末考和期末報告所以消失了好一會兒呢!
(好啦其實還有跑去葡萄牙玩,然後也順便回台灣過年了,但有人在意嗎哈哈)
這次要來跟大家講講小編的Pre-Sessional經驗,因為有一些人來信詢問這個Pre-Sessional (也就是語言先修課程)的事情,所以小編想說那就統一在這邊跟大家講好了。
小編自己去年(2016)是上五週的語言課程,
Surrey的語言課程有分為12週、8週、5週,
是看你科系的要求跟你雅思的成績有沒有到你申請的系之標準。
如果你的雅思成績沒有達到申請的標準,
而你也不想再考一次雅思的話可以選擇上這個語言先修課程來拿到無條件入學的資格,
不管是幾週的語言課最後都是要考試來評斷你的語言能力是否可以繼續入學。
而小編很幸運的剛好成績都符合自己系的標準,
那為何小編還要選擇來上Pre-Sessional呢?
簡單來說小編是個路癡,
複雜一點來說的話是想提早熟悉新環境,
再加上又可以了解英國論文的寫法和台灣有什麼不同。
這樣講好像會讓大家很困惑,那小編就用列點的形式來讓大家清楚明白好了
1. 可以提前多瞭解學校每棟建築物的所在位子
(這真的很重要,因為你不會想要開學的時候還在手忙腳亂找不到教室吧)
2. 提早來適應一下英國的環境,以及你生活的環境
3. 可以認識一些跟自己不同科系的同學,俗話說出外靠朋友多認識一點人對自己當然是沒有壞處啦
4. 小編覺得這個非常重要,因為Pre-Sessional會教你一些寫作的技巧,其實跟雅思考的東西真的很不一樣,因為在這裡需要寫的比較學術性也需要了解到如何使用正確的reference
當然看了以上這幾點你們一定在想說,所以是一定要參加這個語言先修課程嗎?
嗯…..你成績沒有到當然是得參加,但如果你成績到了就是完全看你自己的意願囉!
沒參加也不打緊,因為在開學的第一個禮拜會有新生週,帶大家認識新環境的,不過小編覺得參加語言課的唯一壞處就是學校不會提供接機服務吧!
(但如果你是直接9月正式來開學的話,學校是有接機的喔!)
有人跟小編說過,一個人去適應一個新環境需要大概3個月的時間,
真的是這樣沒錯啊!
不過永遠別小看人的適應環境能力,真的很強的,
所以不用害怕,因為時間到了生命都會自己找到出口的^___^
PS 照片可能有點圖文不符,但那是小編初來乍到剛到學校時拍的surrey一隅哦
---
Hello guys, I had disappeared for a while due to the assignment and my final exam. (Ok I will also admit that I went to Portugal and I went back to Taiwan for the Chinese New Year, but who cares about these lol.) This time I will share some experience about the pre-sessional because some of you had asked me about it. I went to the 5-weeks pre-sessional, Surrey also has the 12 weeks and 8 weeks pre-sessional. To attend the pre-sessional is all depended on your IELTS, so if you didn't meet the goals to apply your ideal program and you don't want to retake IELTS you can choose to go to the pre-sessional classes. No matter how many weeks are the pre-sessional, all the students have to take the final exam to determine whether you can continue your journey or not. I am lucky that I just got the scores that I don't have to attend the pre-sessional classes, but still I chose to go for the 5 weeks one. The reasons are :
1) You can know the location of the building more clearly.
2) You will have the chance to know the environment better.
3) You can have more friends though they didn't major the same as you, having more friends is always helpful right?
4) I think this reason is the most important one, pre-sessional will teach you more about how to write the assignment, the report or the dissertation, which I can tell you is very different from IELTS tests, also how to use the reference correctly.
So, you must be thinking if you already got the unconditional offer do you really have to go to the pre-sessional? The answers is no this is all depend on you, Surrey won't force you to join it, but if you got the conditional offer you have to go to the pre-sessional. However, don't worry if you came in September there will still be a fresher man week to guide you through campus. Someone told me that a person gets used to an environment need almost three months, I think is quite true. But never look down on yourself, you never know how strong you are.