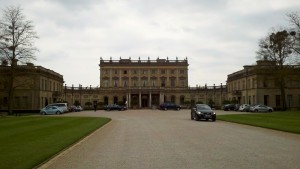 In case you haven't heard, we don't have Thanksgiving in England- not even the fake Canadian version. Instead, on November the 1st all of England seemed to have jumped right out their Halloween costumes and straight into the Christmas spirit. What are you to do, then, when this coming week turkey day rolls around and you fear that you'll spend the year stuffingless? Fear not, there's hope for an English Thanksgiving yet.
Something has changed this year, it seems. and some of those over here have realised that the 190,000 or so people born in the United States living in England and Wales might want to do something for their much-loved day of over-eating. By this, I mean that Waitrose (which has just opened to much fanfare in the town centre, and if you plan to do your grocery shopping in big weekly shops is worth the walk or taxi ride) has put up big signs advertsing their avalibility of Thanksgivng turkeys. This is a big change from the 'is Thanksgiving an American football game' that has been experienced in years past. If Thanksgiving is more to you food-wise than thr turkey, there's not a better time you could have picked to be going to Surrey. Online supermarket Ocado (think Peapod or Stop & Shop deliveries if you're from the mid-west or New England respectivly) has launched a whole range of Thanksgiving essentials in addition to a great range of American treats. Fear not, you can now have your English friends too settle the Skippy vs Jiff debate (Peter Pan, in my mind, shouldn't even be an option). They'll deliver your turkey, stuffing, and pumpkin pie so long as you spend over £40, and you can get shopping here to explain all the mysteries that the British find American food to be.
But what if, like me, cooking the full meal that you're used to your mother making sounds like a lot of effort? Fear not, because for years now the delightful Cliveden House in near-enough Berkshire do a splendid Thanksgiving dinner in the country house pictured above. It's also a great chance to speak with some other Americans in England. At £70 a head for non-members, it doesn't come cheap, but I'd recommend you get together a few friends willing to splash the cash and have a holiday to remember. I'm lucky enough that my whole family come over for the occasion (and so that I don't have to personally pay that £70), and it's great to explore this very English house and grounds whilst at the same time having a very American event. If we do ever get our North American society at Surrey, I'm sure it's a trip that will be planned.
As much as I would like it to be, some people have decided that Thanksgiving isn't all about food. There's still no mention of the pilgrams here, no hand turkeys, and a distinct lack of pumpkin-themed items, but for you American football fans out there that's not a Thanksgiving tradition you'll have to give up. Just find yourself a TV (or a laptop) and get on Sky Sports and you'll feel right at home down to the NFL on Fox duh-duh-da-duh. It may not be the cultural phenomenon or even days/week off that it is in America, but you certanily won't feel far from the pumpkin pie action here in England if you know where to look.
As always, if you need help booking that dinner, finding that peanut butter, or have any questions about life in Guildford and at Surrey, please do email us at northamerica@surrey.ac.uk or on rf00149@surrey.ac.uk.