Hello!
I have a variety interests that may not seem to go together. I am a ballerina and love dressing up to see professional ballerinas with my dad. On the other hand, I play video games, enjoy cars, and occasionally go to the gun range (in the USA). When I was looking for the right University, I looked at what the area had to offer in terms of my interests. I am rather pleased with the opportunities that are available to me!
The dancer in me is very satisfied. As I have mentioned a couple times, the school has a dance squad that competes in many areas, the Guildford School of Acting that offers Saturday school lessons, and a Ballroom and Latin society. When I want to go see a ballet, I can go to a Royal Ballet performance in London. Obviously ballets are very expensive to see and as a student I often do not have the money to spend on a ballet. However, the Odeon, the movie theatre in Guildford, is hosting a live showing of the Nutcracker performed by the Royal Ballet in London. The ballet competitive team and I are going to see it. It is only £16 in the movie theatre as opposed to £30-£100+ at the actual showing.
My love of cars is easily expressed here. There are endless beautiful country roads to drive on. Furthermore there is a fantastic outside karting race track called Daytona Sandown Park. It is located in Esher and took me about 15-20 minutes to drive there. There is also a train station that is very close to the track. The karts can go 70mph! It is one of my favourite tracks I have been to. It costs about £30-50 each.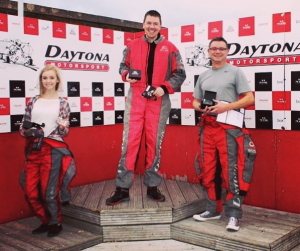 https://www.daytona.co.uk/venues/sandown/
If you really love racing and cars, there is a company called Everyman racing that will let you take out supercars including Aston Martin, Lamborghini, and Bentley. To add to that initial value, the track that is closest is Dunsfold or the Top Gear test track! The cost ranges depending on the option chosen, but it costs about $60+ each, however everything is on sale right now so is down to £40+. Considering what you are getting, that is an amazing price.
http://www.everymanracing.co.uk/supercar-taster-experience
Finding a place to shoot a gun is quite a bit more difficult in England than America as you might suspect! There are plenty of places to go paintballing though. The paint ball company nearby comes every year to sell discounted tickets for groups. The tickets end up about $7-10 each. There is a gun range in Camberley, about 8 miles away from Guildford, which uses rifles to shoot clay pigeon targets. I have not been here yet, but would love to go soon!
http://www.bisleyshooting.co.uk/
Class is starting soon so I must say goodbye!
Holly