Similar to many of my other US Surrey friends, I originally never expected to land in the UK for my postgraduate degree. Hailing from Lancaster, Pennsylvania, a mid-size rural town famously known for our farms, handcrafted quilts, and large Amish community, I already felt that pursuing my undergraduate degree in Boston was a giant leap out of my comfort zone. It's safe to say that pursuing higher education in a foreign country was an idea that never crossed my mind. So how have I arrived here, you may ask? To be honest with you, how I ended up in Guildford and University of Surrey is a strange array of circumstances, chance, and, judging from how much I love my new home – fate.
My abroad journey began in 2014 when I undertook a dual degree in International Relations and Business Administration at Boston University that necessitated that I take additional course credits over the summer. Feeling adventurous and a bit price conscious (rent in Beantown is expensive), I began looking into opportunities to study abroad. I came across a program in Brussels, Belgium, that my university offered and immediately felt such an attachment to it. I envisioned a beautiful summer spent in Brussels and backpacking across mainland Europe. Unlucky (or lucky?) for me, these visions were interrupted when my university withdrew the Brussels program offered for the summer that I applied for, leaving me to consider other options. A few weeks and numerous hours of research and deliberation later, I confirmed my place for a three-month program in London.
My summer in the UK was by far the most incredible summer of my life. I could write volumes about how much I loved my studies and experiences while abroad but I'll spare you the lengthy reading. Essentially, at the end of my time in London I discovered that I not only had a fantastic time living in the UK's capital, but living in the UK in general, and that I retained so much more information from the UK's style of teaching (more on that in a later post). Finally the idea of postgraduate study in the UK became not just an idea, but a goal I dedicated my final two years of undergraduate study toward.
I was introduced to University of Surrey through a postgraduate fair my undergraduate university hosted. Although originally only considering London-based schools, I was extremely impressed with Surrey's program offerings, their rankings (#4!), and I appreciated how everyone I encountered from the university wanted to get to know me, what I hoped to obtain from my postgraduate experience, and encouraged and provided guidance throughout the application process. Surrey's international team even worked with me to change the program I was originally accepted to to one that I discovered later and decided better fit my interests. Suddenly the idea of being just a short 34 minute train ride from the center of London didn't seem like a bad idea. (2 months into my experience, I can confirm that it wasn't a bad idea – it was actually a brilliant one.)
So here I am two months after landing at Gatwick airport, an MSc International Hospitality Management (Euromasters) student, and reflecting on my time at University of Surrey. It's been a busy two months full of meeting friends from around the world, cohort members with diverse and unique subject perspectives, taking advantage of the high-tech library, looking right then left before crossing the street, Guildford events, losing at pub quiz nights, enjoying afternoon teas and Sunday roasts, and visiting London and the surrounding area. And studying – lots and lots of studying. With these past two months in mind, I am so looking forward to what the next 22 months hold.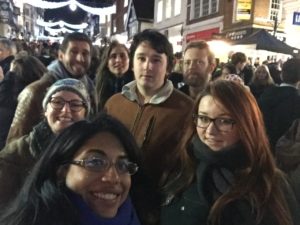 Guildford High Street Christmas Light Switch-on with Friends