Since as far back as I can remember, I've celebrated Thanksgiving at my Aunt Cindy's house with my extended family. It was a tradition to have mini hot dogs for appetizers, follow the feast of Turkey and mashed potatoes with a friendly game of Taboo or Scattergories, and fall asleep on the car ride  home out of exhaustion from feeling like a stuffed Turkey. But this year was different. This was the first year I wasn't home for Thanksgiving. I tried not to have any expectations for what I would do for the holiday because I knew my family would all be coming together in Chicago while I was still here working on essays.
So what did I do instead? I had a very uniquely wonderful Thanksgiving. I first celebrated a few weeks earlier, Nov. 12th, with a British family. My dad knew this guy through work who's originally from the US but has lived in the UK for the past 36 years. His favorite holiday happens to be Thanksgiving, so he celebrates with his family every year and tells the story of the pilgrims. It's their tradition to have strangers/new people at their feast every year (lucky for me the Brits are super friendly and hospitable). It couldn't have worked out better because one of their daughters is vegan and had made an incredible mushroom wellington, so my first Thanksgiving as a veggie (cute UK slang for vegetarian) wasn't awkward at all and was absolutely delicious. After a lovely meal, we had tea and played a lively game of "who's in the bag?" my favorite game by a different name (I learned it as fishbowl). It's a combination of Taboo, Charades and more. I came in just excited for the experience to visit a British household in a suburban town I hadn't explored yet (Bromley), and left thrilled that I got to experience another family's Thanksgiving tradition that was both the same as my typical Thanksgiving, but also had a British flare to it.
So what did I do on actual Thanksgiving? I spent last Thanksgiving working during the day, going to the Surrey Sports Park, and eating out with friends. That might sound kind of lame, but I actually really enjoyed having a normal day. For dinner, I went to TGI Friday's with friends from all different countries (Trinidad, Hong Kong, Bolivia, and the UK). I refused to go to that restaurant beforehand because I didn't want to go to an American chain while living here, but I told them that Thanksgiving was the only day I would go there. They found it funny, so we ended up celebrating Thanksgiving at TGI Friday's in town and had a great time.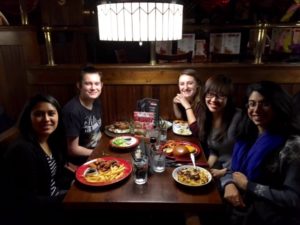 There are other ways to celebrate Thanksgiving in the UK though: there's a restaurant in London that has a prefixed menu special for Thanksgiving, you can reserve a room in Manor Park to host a Friendsgiving potluck, or you can shop the sales during Black Friday, because despite the UK not celebrating Thanksgiving, they do celebrate Black Friday.
If you're interested in visiting a British family's home, but don't know anyone who lives in the UK, the University of Surrey is connected with HOST UK where you have the opportunity to stay at a British family's home for the weekend, or Friends International where you can share a meal with a British family if you're looking for something with a lower time commitment.
Cheers!