Happy late Thanksgiving!!
I love Thanksgiving. As my extended family lives in England and my immediate family lives in America, my immediate family had our Thanksgivings alone. We created our own tradition! We drive up to Vancouver, Canada for the weekend. Our actual Thanksgiving is at this lovely restaurant on the water. When I was younger, I would fall asleep in the booths after my meal. However, the special meal was the next day when we would get afternoon tea at a fancy hotel. The whole experience is just so special. Wandering the markets and high street of Vancouver in the bitter cold, is what Thanksgiving is to me.
While I was at work on Thanksgiving this year, I couldn't help but let my mind stray to Vancouver. It's hard to be away from home over the holidays. It has been over 7 months since I have been home and have another 5 to go. Things soon go a lot better though. The office went to the nearby market and got some street food. I got Pad Thai in an omelet! It was delicious. It was a really fun twist on a classic. There are quite a few markets in London. Even if they aren't the big ones (Brick lane, Camden, or Borough market, etc), there are still loads just dotted around the city. When I worked in Oxford circus, there was one every day of the week a couple blocks away where the West End starts. As London is such a diverse city, there was amazing food from all over with something for everyone.
After work, I went to the pub to get some drinks with a couple of people I work with. It was so cool to hear about the projects that people have worked on. From Xbox One to Fable to BMW, these people make the everyday world we live in function. We went to this adorable pub with stunning ornate windows, funny arches where you had to duck to get from section to section, and that perfect pub smell. I have fallen in love with pubs. They are cozy with lovely comfort food and drinks. It is a great place to just relax with friends.
I stayed there for a couple hours before heading off to see my sister. We got a Groupon for a little Italian restaurant between Kingston (where my sister lives) and central London (where I live). It only cost £16 for a three-course meal for two people! The food was amazing. We got mini pizzas as a starter, tomato pasta for main, and donut sticks with Nutella for dessert. The manager even brought us ice cream to share after. It was fantastic. The manager was so friendly and helpful. It was the perfect Thanksgiving. Plus, we saved about £50 by using Groupon.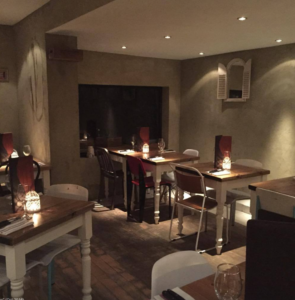 I have been getting into Groupon a lot more recently. Like I mentioned, I used it to get a delicious Thanksgiving meal, but also to get Italian lessons over £100 off. I am taking Italian lessons at a language school in London called Happy Languages after work on Mondays. Normally the intensive course costs £153 and I got it for £40! I highly suggest it for students. There are some good deals out there J
In news about my travels: I have booked a trip with my sister and best girlfriends to Copenhagen for the weekend and a trip to Madrid over May bank holiday with my boyfriend to visit our good friend who is doing his placement there. The exploring never stops!
Ta for now!
Holly