Sometimes life doesn't always go as planned. Myself and three Surrey friends found ourselves in those exact circumstances this past Saturday when we missed our 8:00 AM train from London Euston to Lancaster, Lancashire by three minutes (note to self: account for traffic on the London Underground when allocating time to get from Point A to Point B). After attempting to transfer tickets and rebook to no avail it became evident we were not going to make it to Lancaster that day. Lucky for us we were "stranded" in London, perhaps the greatest city in the world.
London has something of interest to offer to everyone. Personally, I think that London's market scene is one of the city's coolest features. After some discussion and deliberation, my friend's and I made our way to Portobello Road – a huge antiques, food, clothes, and anything-else-you-can-think-of market situated in the beautiful neighborhood of Notting Hill. It's difficult to classify Portobello Road as one of London's hidden gems because it is, well, massive, and it also happens to be extremely famous, appearing in many films and TV shows. The market begins as soon as you round the corner past the Notting Hill Gate underground station and doesn't stop for another two-three miles, making it both a huge shopping scene but also a great weekend stroll.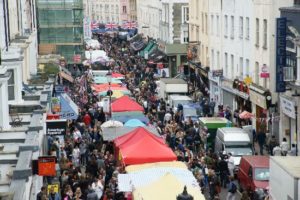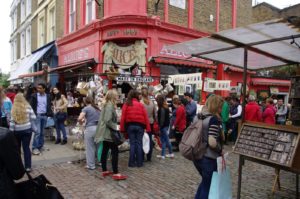 One of the greatest things about Portobello Road is its vibrancy. Expect street performers, musicians, food vendors offering dishes from all over the world, colourful houses, and quirky bars and restaurants housing decorations from past street festivals, including Carnaval and Day of the Dead. Portobello Road isn't all about what you can buy, but rather simply being there among all the buzz and chaos. It's also a great place to get authentic British souvenirs for you and friends and family from home, such as antique tea sets, old maps of London and the surrounding area, and cashmere made in the Scottish Highlands. I managed to bargain for a tea set that I ended up getting for just £15 – a great deal for a student.
After a few hours of exploring, shopping, and filling up on fantastic falafel, Cuban food, and churros, my friends and I checked out the new Fantastic Beasts and Where to Find Them film near Oxford Street, a street famous for its Christmas lights in the winter time. The UK movie theatre chain Odeon offers great student discounts with movie tickets for just £10.
One of the greatest things about life at Surrey has been being a part of the tight-knit community of Guildford while only being a 34 minute train ride away from the heart of London and all of the big-city features it has to offer. I'm sure there will be future posts from me about London's other great markets and markets in Guildford, such as the vintage market and monthly farmer's market. That's all for now!
Cheers,
Briana