Another amazing weekend in London! I fall more and more in love with England every day. I can easily see myself living in England long after I graduate from University of Surrey. I just love the people, the diversity, the humor, the food, the entertainment, and the experiences.
My best friend from America, has been doing a study abroad for the last semester in Florence. I have seen her in three times over the last four month in three countries: Germany, Italy, and now England.
She arrived on Thursday night and we headed back to my place to drop her things off. Immediately we headed off for an adventure. One of the things I enjoy doing in London, is search for cheap, but amazing restaurants. I love having dinner with a view of London. I have found a couple places: Tattershall Castle (a boat on the Thames across from the London Eye), Darwin Brassiere (inside the Sky Garden of the Walkie Talkie building on the 36th floor), and now Din T (a restaurant with views of Tower Bridge and town hall). These places have stunning views and cost less than 15 pounds for a main meal. I took Julie to Din T. As we were walking there she said to me "Could we get some Pad Thai before I go?" My response was "You're going to like where we are going!". Din T has some amazing Asian food. One of London's perks is that there is endless diversity in food. Julie has been missing loads of foods because they just don't have that diversity in Italy. She says she refuses to have pasta and pizza when she goes back to America. The walk we took to Din T, took her through Bank, over Tower Bridge, and along the Thames. It was a lovely introduction to the city gave her some of the most beautiful views of London.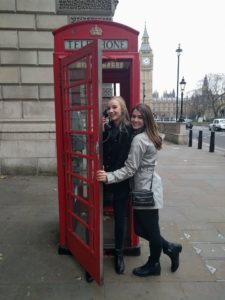 Friday was insane! I still cannot believe how much we got done. We started off at Harrods at 10am, ready for opening. We wandered through the different rooms. It is a place that just being in it is cool. You go from a Egyptian themed room to a winter wonderland. Julie got the world's most adorable cupcake with perfect sugar flowers.
After we headed to meet one of my good friends from England who has been doing his placement year in Spain. He brought back his boyfriend, so I was so excited to meet this guy. We went to Winter Wonderland in Hyde Park. Winter Wonderland is a fair with a Bavarian style Christmas market, carnival rides, and street food. It is only on over Winter, so it was nice for her to get to see it. The four of us went ice skating. We had 50 minutes on the ice where we danced to the music, pushed each other around the ice, and tried our best not to fall! We finished our time in Winter Wonderland with a couple carnival rides and some mulled wine. When we left, we took a walk through the rest of Hyde Park and fed the birds at Serpentine Lake.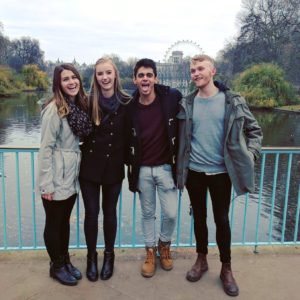 From there we walked to Buckingham Palace where apparently, the Queen had left the day before to go to Windsor Castle. There is a lovely walk that I love to do that heads from Buckingham palace, goes through St. James Park (this park and Kensington Gardens are my favorite), and ends at Westminster and Big Ben. It flows nicely where you can see major spots of London while enjoying everything in between. We headed along the Thames to Embankment where Tattershall Castle is and has views of the London Eye. There we had delicious fish and chips and some risotto.
From Embankment, we walked through the area of Soho. Here you can find Covent Garden market, Chinatown, Leicester Square, Piccadilly Circus, and Oxford Street. We went back to my house where we met up with my boyfriend and a friend that works nearby. We had some drinks and got to catch up. I have always wanted to go out in Essex, I describe as the Jersey Shore of England. My friend that is doing his placement in Spain is from Essex, so let us go to his to meet some more of his Essex friends and go clubbing. It was hilarious. I loved going where both of my world were colliding.
On Saturday, we went to St Pauls Cathedral, over Millennium Bridge to the Shakespeare Globe Theatre, along the water to the bottom of the Shard, and through Borough Market. I learnt this weekend how connected London is. There are so many beautiful walks like the one from Buckingham Palace and now this one from St Pauls Cathedral. The city just flows. You are always stumbling across something else. Every inch of London has history and sights to see. From Borough Market, I took Julie to Camden Market. It is a place where everyone must visit. It is so different from anywhere I have been before. It is an incredibly alternative place with some fascinating fashion and shops. We bought some street food and sat in a courtyard.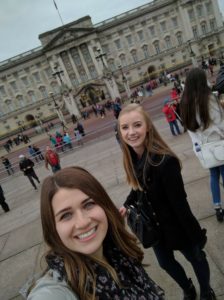 We ended our day by going to one of the most British type of play possible: A pantomime. It is a strange play where there is always a man in drag, makes pop culture references and jokes, and has lots of audience involvement where you boo the bad guy, sing along to songs, and yell known phrases. It is a play where children and adults can enjoy it. It is a classic British winter time play. I was happy to share that with her. It was lucky that I had explained a lot of the references while we had been walking around the city.
So much was done in such little time. I loved every minute. I love sharing my home here. It is a very special moment for me to connect with my new home and reflect on every little thing that I love about this special country.