I can't believe it took me so long to go to Windsor. Not only is it trivial and cheap to get to, it is absolutely gorgeous! From London, I only had to pay £7 for a return trip from Paddington Station to Windsor. It took about 30-40 minutes to get to and stopped in slough. The journey was super simple though. Transferring to the other train meant simply walking across to the other side of the platform and then it was only one stop to Windsor from Slough.
Immediately arriving in Windsor, you are greeted with a market of little shops with quaint English design. Part of this shopping area is covered by a glass roof that allows it to be used in all weather. We had bought tickets online for Windsor Castle that included a special exhibit of 90 years of the Queens fashion to celebrate her 90th birthday and longest reigning monarch. The tickets were about £20, typical for any major English attraction, and the exhibit did not cost extra, so I recommend going when there is an extra exhibit to get your money's worth. An extra bonus with Windsor tickets is the opportunity to have your ticket signed and transformed into a year unlimited pass. After seeing the castle, I will be going back. I was astounded.
When entering the castle grounds, you are given an audio guide. The guide was amazing as it was laid out to follow a common route and would give you commentary that kept up with your pace of walking. As we first walked in, there was a massive crowd forming along the front of the grounds near the main gate. We approached it and found soldiers in rows with instruments. Before long, they were playing and marching out the gate and into the town. Now that's what I call a good welcome party!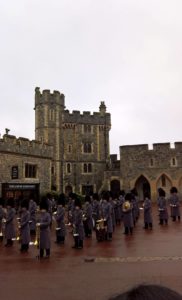 We headed to the church nearby. The audio guide pointed out some really interesting facts and encouraged you to speak to the volunteers for more information. While in the quire, the guide spoke about an order of knights that are still around today. Along the sides of the benches, helmet and flags that represented the current knights stood. As there is a one in, one out system, some of the spots were empty from those who had recently passed away or their flags were being made. I took that opportunity to ask a couple questions to the volunteers about the knights. I found out that the queen is given a list of people who she chooses the next knight from, they can be from all over the world, and are given to people who do humanitarian work. The volunteer made sure to point out that these are not the same kind of knight as Sir. Elton John, but their own section of knight that has been around for hundreds of years. The church also held the remains of the queens grandparents, parents, and sister. It was rather humbling to stand before their coffins. I also felt bad for the Queen that her closest family is ogled at by tourists every day. This will be the place that the Queen and her husband will also be held upon their death.
Enough about that, we headed to the main castle after. First entering the Doll's house, we gazed upon the most detailed dolls house you could imagine. Apparently, the doll's house was not a child's toy, but one of the queens who just had a fascination for miniature items. In the next section, we saw beautiful doll outfits (unfortunately made with real fur) used by the queen as a child. After was an incredible display of china plates, bowls, cups, etc. that had been hand-made for massive dinners that the royal family has hosted. Many people seemed to walk straight pass these works of art, but if you look closer you will see the craftsmanship of each piece. The centrepiece of the display was adorned with delicate 3D flowers that looked like they had just been plucked from the ground. I was awestruck.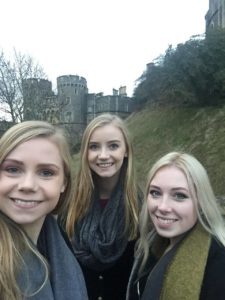 Next came the staterooms. They were way more ornate than I ever would have guessed. It had furniture pieces that were made of solid silver, famous artworks, and portraits of famous generals and popes. Every room was intricately designed from top to bottom. My favorite room was a dining hall where the china was used. It was impressively long with high ceilings. The guide had a recording of a dinner that was held here once with the Queen walking into the room. From where we were standing you could picture yourself at this dinner with the most important people in the world, eating on the most beautiful china, and inside a 700-year-old castle. On the ceiling were the crests of the knights I mentioned previously. They covered the whole ceiling, but if you looked closely you could see that some of them were completely white. When a knight committed a crime, their shield was painted over to serve as a warning to the other knights. There were quite a few of them that had been painted over. Each one holds a story and I wonder what they did to lose their honor.
After the staterooms, we came to the fashion exhibit. It was fascinating to see how her fashion changed over the years due to trends and simply being older. Many of the outfits were accompanied by photos of her wearing them at events. It was almost like standing next to her. A section of the exhibit covered how her fashion expresses messages or are designed with a particular country in mind. One of her dresses was for a visit to Japan and therefore was adorned with cherry blossom flowers as a sign of respect. It was very interesting to see the dedication and work that goes into the Queens wardrobe.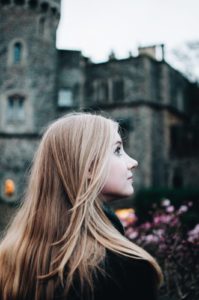 Overall visiting Windsor took about three hours. It was amazing and I can't wait to go back. I plan on going again in spring when the leaves return and can walk along the iconic path to the castle.
That's all for now!