Over the years I have written blogs about various friends doing study abroad programs in the UK. They mostly have been people who have only done a 3 to 4-month program with their university in the USA. This time I'd like to share the story of my own sister. Unlike the rest, she properly took the plunge and moved to England for her entire degree! She did her undergrad in the USA and is now doing her masters in the UK. I asked her several questions about her first 6 months. Read her answers below.
Why did you choose England?
I chose England not only because our family originates here, but also because of the history. I am able to travel freely throughout the United Kingdom and walk on cobblestone roads and visit beautiful architecture that dates before United States history began. The handmade statues and painted ceilings of enormous cathedrals, right down to the delicate and ornate details of village churches.
I hope to live in unique cultures around the world, but I didn't want to completely overwhelm myself with such a big transition. I am aware of how severe culture shock can affect some people. I have a lot riding on this decision and I wanted the best possible environment, therefore when I considered moving abroad and leaving behind everything I've ever known, it wasn't so daunting knowing I could speak the language.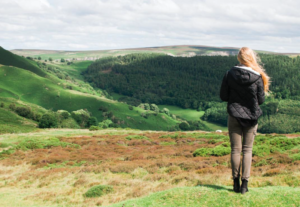 What things have you found strange or different? (Culture, food, fashion, entertainment, etc.)
My cohort is very international, and working to respect cultural differences and personalities has been a challenge, but an incredibly rewarding one. I have met more unique people from all over the world in the last five months than I have in my entire life. This opportunity has allowed me to build relationships and gain perspective on different lifestyles and cultures, which is invaluable.
What are the main differences between the American and UK school system?
The US and UK educational systems are quite different. Apart from the different terminology for level of education, such as, High School in the US, and Secondary school or Sixth Form and A Levels in the UK, the way students are marked also differ. In the US, depending on your field of study, most assignments and overall grades are cumulative. You have homework assignments that are worth 10pts here and 20pts there. Each assignment is worth a small percentage of your overall grade, essentially meaning you're not totally screwed if you miss or fail one assignment. In the UK, in my graduate program specifically, I have one group work assignment weighted typically 30% to 40% and the rest of my total mark is an individual assignment, 60% to 70%. Of course, you're typically given ample time to do the assignments, but at a graduate level, a lot of research and reading of academic journals is required.
What aspects of each system do you prefer or miss?
I wouldn't say one system is better or worse, they're different and have pros and cons on each side. I prefer not having small assignments and frequent due dates throughout the course and focusing on core projects. However, I can see why the US system would work for different personalities because procrastination is a big killer, and waiting until the last minute to do a massive report worth majority of your year mark can be detrimental to your studies.
Would you recommend studying abroad to others?
This transition has been a profound experience and has been a crucial stepping stone in broadening my future.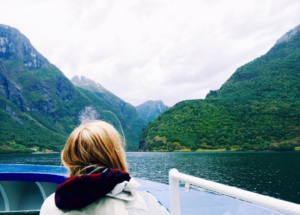 Would you like to live in England beyond your studies (potentially even more long term)? What is your favorite part of living in England?
I am planning on staying in England but would absolutely consider other European countries. What will ultimately determine where I choose to reside will be based upon where I get a job. I am not considering moving back the US, specifically Seattle, despite my love for the Pacific Northwest, my home, I am not big on backtracking. I've spent my whole life in Washington and after traveling, I want to continue to live outside what I know and experience new things.
The ability to travel so easily throughout Europe and other parts of the world is my favourite thing about living in England. I recently had a friend from the US visit and was able to tell her we would be waking up in London and having breakfast in Amsterdam, Netherlands. That is simply not feasible otherwise.
Of course, I also love living in England because of the rich history around every corner and the attachment I have to it because of my family's roots.
Do you think living abroad has changed your perception of the world or impacted you in anyway?
I think living abroad has had a profound change on my perception of the world and it has absolutely sparked that itch for travel. It really puts your life and the relationships you have built into perspective. The vastness of the world makes you realize how small your problems are, how easy it is to live within a bubble, to take so much for granted when you're unaware of those around you. As a creative I am also humbled by the work of international artists. The details within a city, a community, a language, it makes the world an exciting place to explore.
Some months ago, I joined a Facebook group called Girls Love Travel. It now features over 200,000 members from across the globe, sharing and supporting fellow female travelers. The group has sparked thoughtful discussions and opened a dialogue to being a well-rounded and respectful human being.
I firmly believe those who do not travel are unaware of the beauty around them, and I struggle to understand or relate to people who do not appreciate diversity. I think if people traveled more often, lived abroad, experienced new cultures and built unique relationships, our world would be a more peaceful and understanding place. Our society is so consumed with such trivial details, that it is no wonder there is a lack of respect and support for other nations.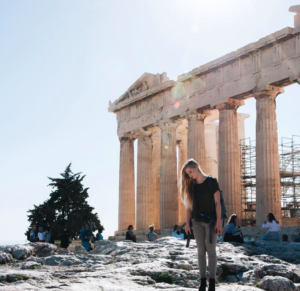 What advice would you give to others if they were going to live/study abroad?
Advice I would give to others considering to travel and open up their minds to new ideas and experiences. DO IT. Don't hesitate. And when you do, push yourself to go out of your comfort zone and try new things. Join communities of likeminded individuals. You won't regret it.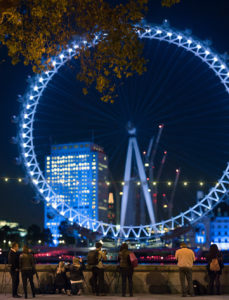 Photo by: @pli.panda
At Open House London 2016, we met a group of London Instagrammers, through which I have joined a community of hobby and 'Insta-famous' photographers. We have met at iconic locations throughout central London to learn and create together, giving me an outlet from my daily university life. We have toured London practicing night photography, specifically long exposures of classic red double decker busses and black cabs. We have set up on Westminster Bridge and captured Big Ben, toured around Royal Albert Hall, the London Eye, St. Paul's Cathedral and Harrods.
For some awesome London instagrammers follow: @levanterman and @londonviewpoints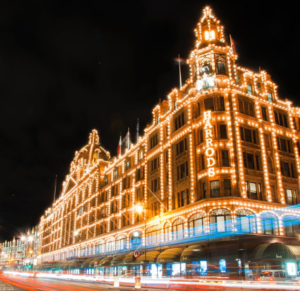 Jasmine's experience shows that by moving to England to study your full degree, you can invest yourself into the culture and not just touch on it like a tourist. Since moving to England, we hang out with people from Europe and beyond, thereby learning about different countries first-hand. We both are starting to consider ourselves more English than American now. We are learning about the politics, national perceptions, and behaviors in a natural way. A traditional American study abroad program essentially just picks up the classroom and moves it somewhere else. Now this is great if you just want to travel, but you won't get as nearly as a fulfilling and life changing experience as moving to study long term. As my sister says, take the plunge and just do it! You won't regret it 🙂