Hi everyone, I'm Aimee! I want you to know that everybody here is in the same boat; University life is completely new for every 'fresher' and seems far away from our comfortable, dependent days back at home. Sure, everyone feels homesick at times, everyone feels scared, and everyone has their ups and downs. But this is absolutely not a bad thing! Moving out of your comfort zone is amazing, especially for a young person making the massive decision to spend a few years a couple of thousand miles away from home.
Okay so how do I know all this? I'm a final year Psychology student born and bred in Manchester who spent her university career just a couple of hundred miles down South. How can I even begin to understand how you're feeling? Well, last August I spent a year in your home country; I moved out to Boston, Massachusetts with no friends, nowhere to live after the first two weeks, and no idea what to expect from either America or my brand-new placement role at Boston University. Although not as brave as the rest of you, this was a really big decision for me to make, as I knew it would mean starting again a few flights away from home. I had no friends in the same time zone as me, University was just beginning again, and I needed to spend a whole year in this city. I landed at Logan Airport on August 15th, 2018 with 3 suitcases, a newly acquired Visa, and an Airbnb booked for the next two weeks as I made this horrifying realisation. I was a fresher again.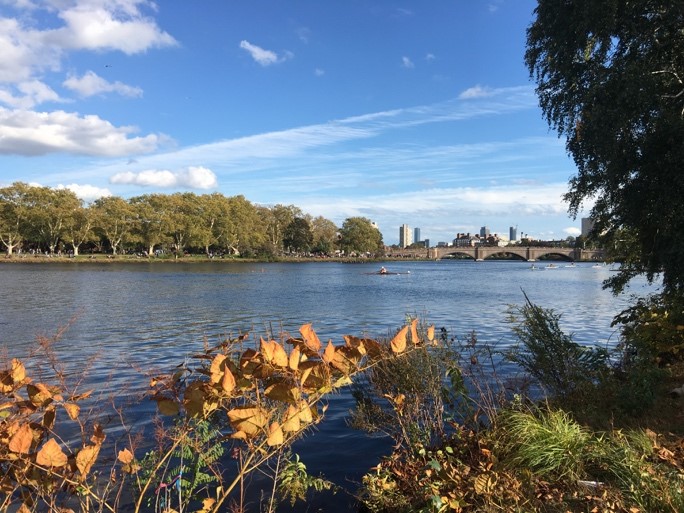 So, what next? I had a few free days before placement started where I began to explore the city and try to find a room to rent before the state-wide move in date, September 1st. As I knew nobody, I scoured the facebook pages and found some possible roommates who were around my age and were moving into an apartment not too far from Boston University. After meeting them I decided that they probably weren't serial killers, and so moved in with them just before university began. So your housemates are the first people you've met, I got lucky with mine but if you don't you shouldn't worry, there are so many other people out there who you'll meet in loads of different ways. A few of the undergrads spent some time in the lab that I worked in, and the people I met there were similar to your coursemates as we had this shared interest in Psychology. I was so nervous to meet them all, but honestly there were all so intrigued by this new British person with a completely different background to them that I immediately forgot my worries and started talking about myself and learning about them! In a way you are quite fortunate to be from somewhere different and exciting, it's an immediate conversation starter. I found that I put myself out there and have honestly made some lifelong friends in the process. One girl in particular introduced me to her university life, and it is a completely different one to that which I have here. She is part of an acapella team and invited me to one of her concerts (I'm sure this isn't surprising to you but this was an entirely new concept for me!) and I was introduced to a whole new genre which was amazing to hear. I felt like I was in Pitch Perfect it was so unreal! Without her, my year would have been so much worse, as she completely brought me into her life and allowed me to experience an American university alongside her (you know, without the classes and tests and all that). I'm incredibly grateful that she was so open and welcoming, and I can honestly call her one of my best friends, alongside some of the lovely people she introduced me to. Aish provided me with this little family that I could rely on, I spent so much time with them and I miss them tonnes after the brilliant year we spent together. So get chatting to people and find a couple of really good friends to explore with, if you have different hobbies it's a chance to be introduced to something new!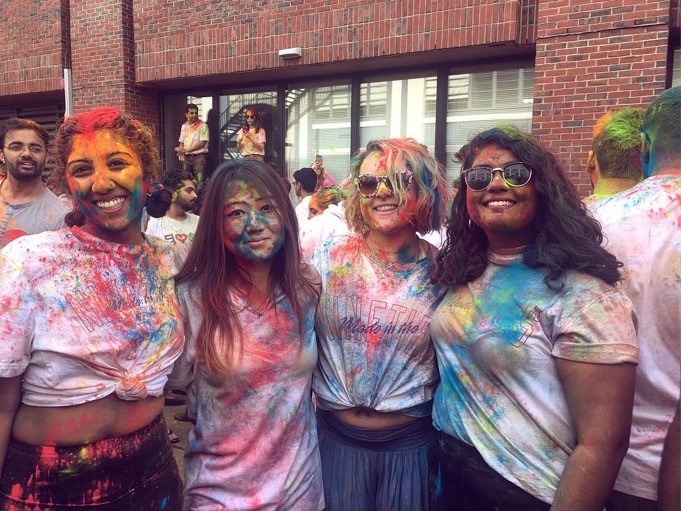 But if you aren't getting along with your coursemates that well, don't worry. You can take advantage of Active Freshers and Freshers Fayre, because your society (or societies) will be a massive part of university life, they'll get you out of the house when you're feeling down, give you some time to do the things you're interested in, and meet people with similar interests who often eventually become a little family, an extra support system that you can rely on. I would say that University is all about the support systems you create for yourself whatever country you're in, I joined cheerleading when I was in Boston, and it kept me active even in the FREEZING winter (seriously, how was it that cold?). It also allowed me to watch the other sports teams play, so I had to learn the rules of basketball really fast (although if I'm honest I still struggle after a year!), and I saw how sport really is in the States, it provides a real community for undergrads and towns, and my year would not have been the same without it.
Although my year was so different than it would have been back in the UK, and I was so scared when I first arrived, I ended up having the time of my life over in Boston because I got involved with everything over there and just dove in head first. But I did exactly the same thing when I first got to Surrey, with exactly the same results. So, wherever you go, that would be my advice to you. Don't be scared, you're not the only one even if it seems that way. Let people help you settle in but step out of your comfort zone and you'll feel even better about yourself. Have fun!
Sending you my best wishes,
Aimee.