Since I have arrived in the UK, I have been fortunate enough to be able to be in London a few times. A couple times just for fun, but the other times were related to my course. One of the best parts of the International Event Management course is it requires you to actually experience events and not just sit in a lecture or read textbooks. Those are a major part, but the hands-on experience helps put all of that information into perspective.
The first event I went to was MCM Comic Con at the London ExCel. I went with my friend who is in the same course as me. We started chatting months before classes start because we connected through the Postgraduate Offer Holder Facebook group. If you receive your offer, I highly recommend joining this group because it is how I met a few of my friends at Uni. We were able to travel there together and spend the whole day exploring different booths and trying amazing food. At Comic Con we were lucky enough to see the first episode of Jason Momoa's new show See and he was on stage for the panel afterword! We ended up going for an assignment, but ended up having a fantastic time at an event in London.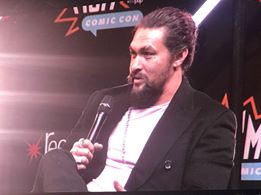 The next event I attended was also at the London ExCel venue and I was able to travel there with another friend. The event was The World Travel Market. All the different countries across the world had booths throughout the venue to showcase and promote tourism in their country. Different tourism companies were there and the layout was unbelievably creative. The design of the event gave me ideas for one of my modules, but I also spent the day laughing and having a great time with a friend.
Those two examples are just the academic related trips to London, but I have been able to explore the city outside of the London ExCel venue. A couple other places I have been able to enjoy is Camden Market, London Dungeon, Art Galleries, Borough Market, and City Social. All of these are unique and amazing places that are definitely worth stopping at. There are more places I plan on exploring with my friends and will update you on my future London adventures!
For those of you considering coming to the UK, but live currently in cities with little to no public transportation I wanted to include this advice. Originally being from Michigan public transportation is not good. Almost was not even an option when I was growing up, so I was nervous about traveling out of Guildford. One, I made friends that knew what they were doing and they were more than willing to help me out on my first couple trips. Two, Google Maps is your best friend. It keeps you updated and helps you find out exactly where to go. So, if you want to travel London just make sure your phone is charged and you will be able to navigate public transportation without getting lost.