There is no doubt that universities are facing unprecedented challenges; Brexit uncertainty, pension issues and public debates about the purpose and value of universities. To me, public engagement both locally and nationally is critical to any university's mission. Universities have existed and will exist for centuries for the purposes of education and knowledge creation, and also for serving our society more directly. The latter could be through thought leadership, providing solutions to practical problems, or outreach that inspires and supports. All these pillars of a university's mission transcend government legislation and media headlines.
While universities have become increasingly more global in people, outlook, and their reach and collaboration, they are simultaneously a local intellectual anchor with an immediate impact on their community.
And making contributions to our local community is what we do here at Surrey. We are taking a few deep breaths after the whirlwind that is the Guildford 'Pint of Science' festival last month. It was a busy three days, and tremendous fun! The combined Herculean efforts of our fabulous volunteer team of hosts, academic speakers and marvellous MCs from across all three of our Faculties and the wider University always deliver fantastic events each year as part of the nationwide Pint of Science festival. This year, however, we sold out all 535 seats over three days at four venues – a new milestone. Congratulations to all!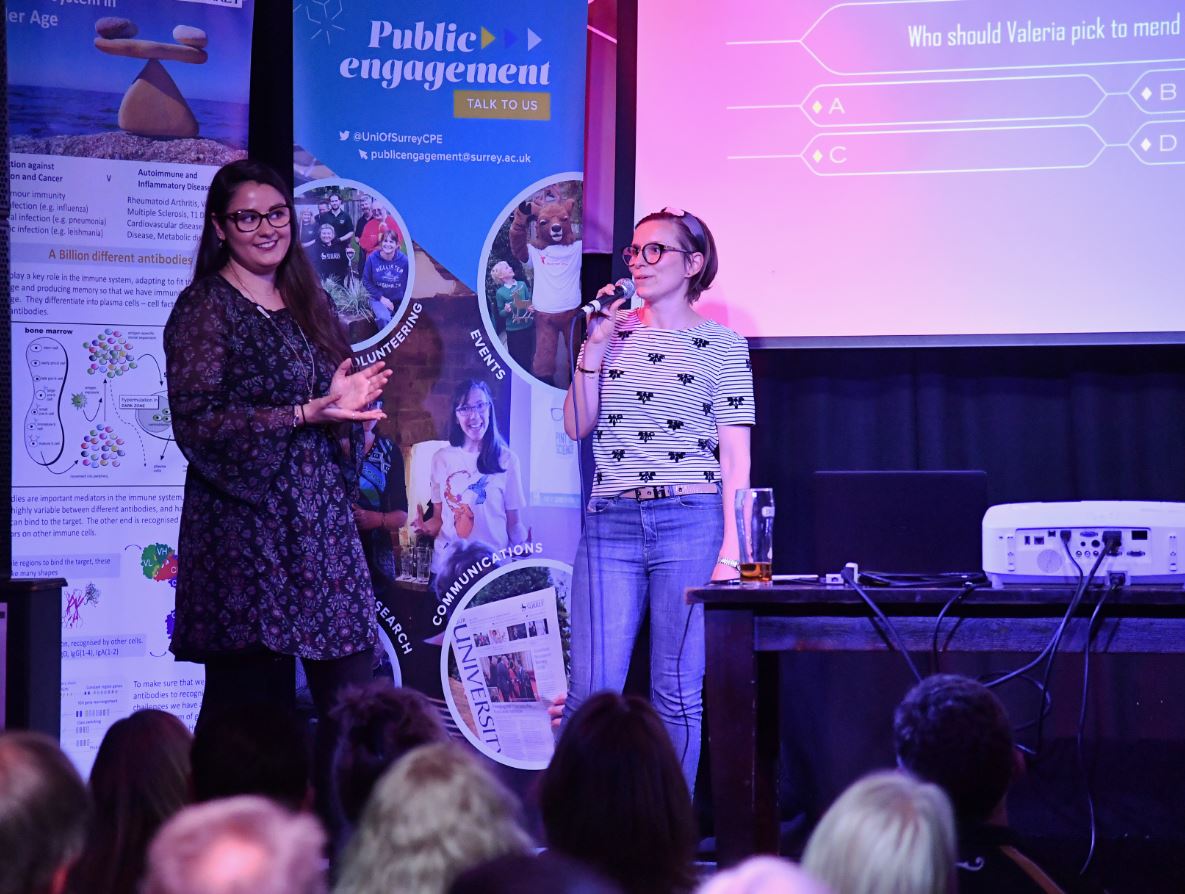 I think the unofficial award for Most Science per Square Metre must go to Ye Olde Ship Inn, which hosted several events in its cosy back room, including a rather intriguing confluence of themes on Brexit, viruses and parasitology. Other Guildford venues that got involved with the mayhem were The Star Inn, The Weyside and the Boileroom.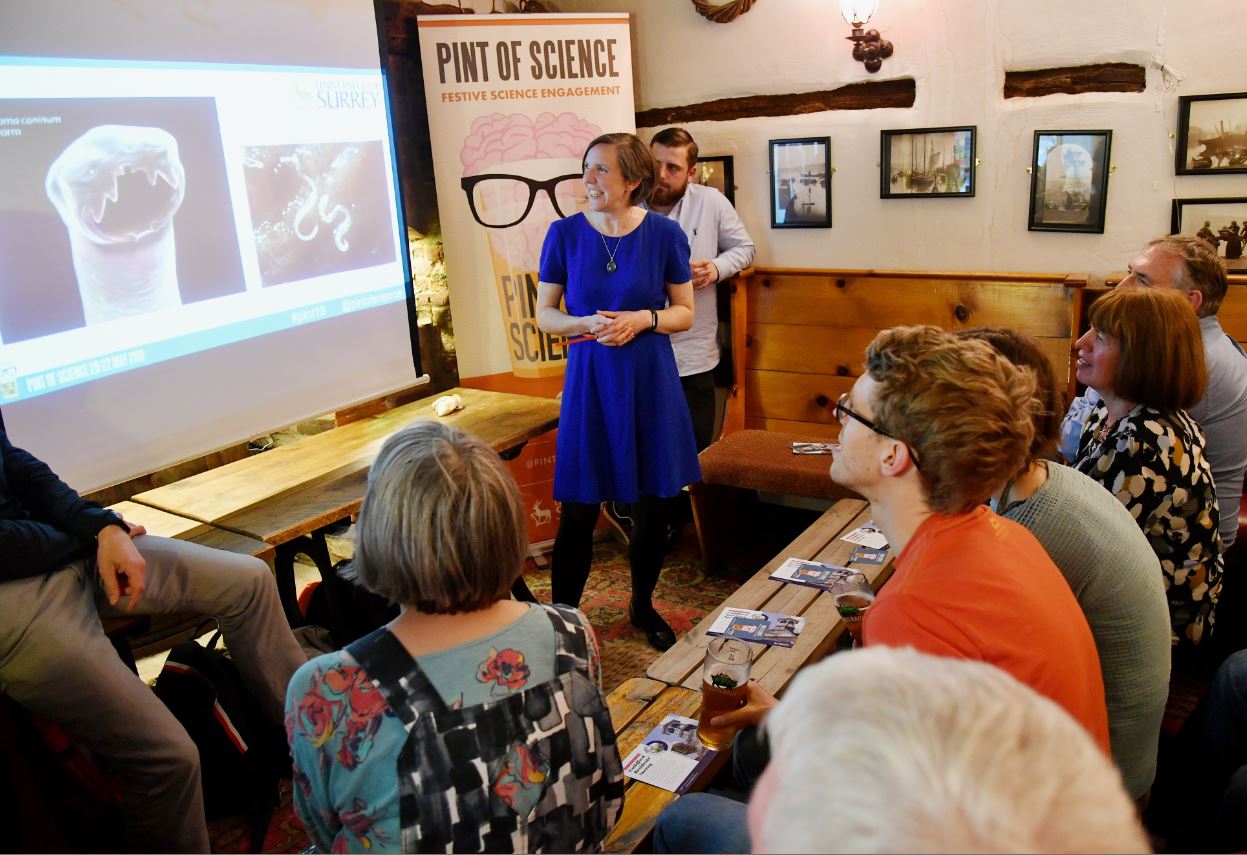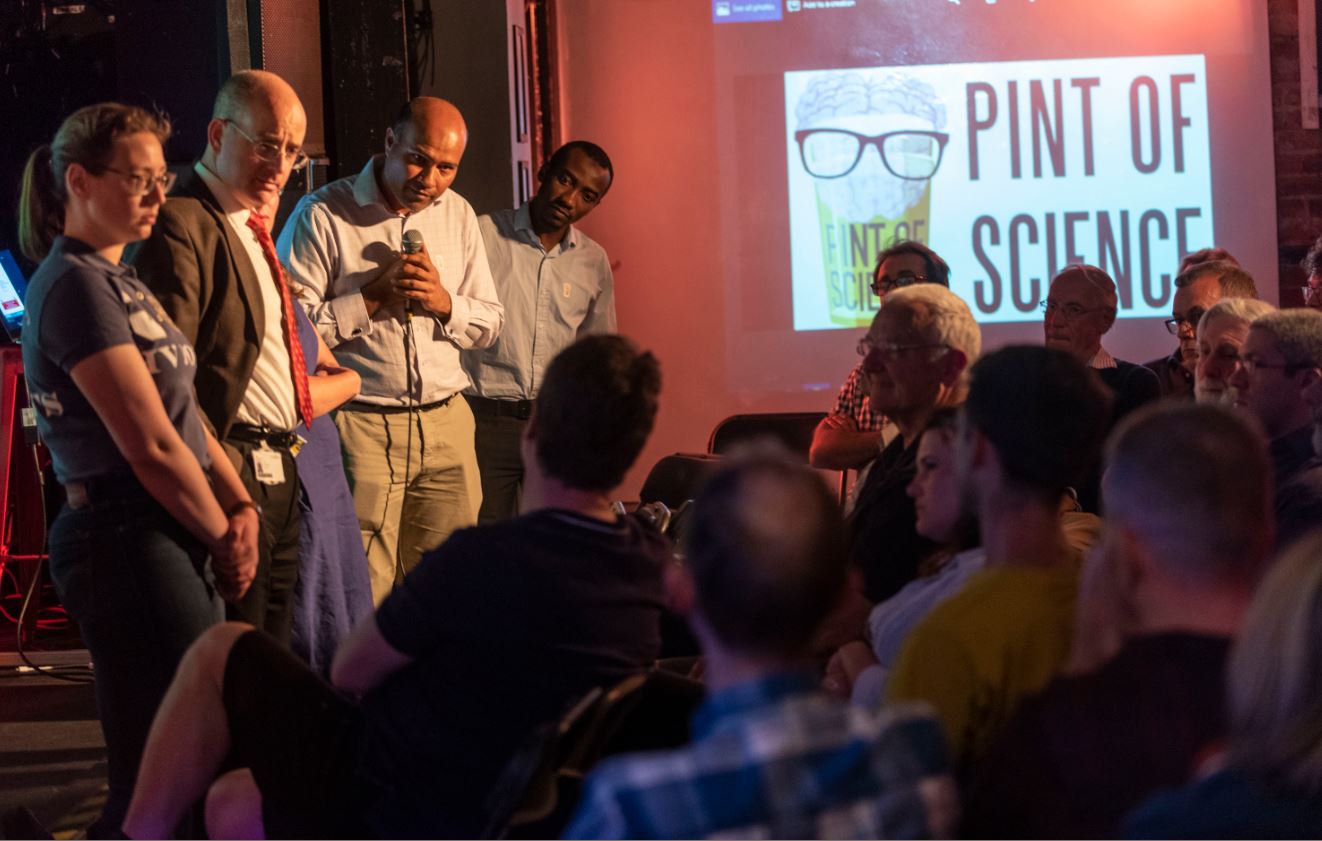 Hopefully everyone who attended Pint of Science will now have a better insight into the world changing research we do at the University of Surrey, and its immensely positive impact on people's lives both near and far.
We are proud to call Guildford home, and we are more engaged with our local community than ever.  In fact, in terms of public engagement, it has been a very busy spring for our staff and students:
Your University newspaper was delivered to 45,000 local households on 20 May;
The Guildford Residents' Survey kicked off on 13 May and will run until 1 July;
The new specialist Maths School for Guildford – set to open its doors in September 2021 — got the Government green light to proceed. We are really excited about our next great leap forward in supporting local education!
Our 'Quantum Garden' entry for Guildford in Bloom is folding in residents along with volunteer students and staff in transforming the garden at 5 Guildford Park Avenue. This year's garden design comes from physics PhD student Daisy Shearer, in a celebration of Quantum Physics to tie in with the Guildford in Bloom 2019 theme: the 50th anniversary of the first lunar landing.
Our collaboration on the Silent Pool Gin Garden won the Silver-Gilt Medal at this year's Chelsea Flower Show.
Our ongoing contribution to our communities in Surrey and Guildford is also impressive. Together with the Research Park, we support some 17,800 jobs across the UK. And more than 8,000 Surrey alumni live in the Guildford area. Our students raised more than £10k for our local charities last year, and more than 150 thousand people each year come to our public events and Surrey Sports Park special events.
This truly reflects our belief in thinking globally and acting locally, in fulfilling our mission to contribute to society.
Many of you may know the story of Kings College in Guildford. Working together with the University and other partners, Kings College achieved a dramatic transformation from an Ofsted rating of 'Inadequate' to 'Good' in 18 months. A small team from the University provides students and parents with a better awareness of future options and support for learning through a programme called 'Finding Our Futures'. For a community dealing with many challenges, the difference between a failing school and a thriving one is enormous. Just last month the school, together with the University partnership programme, won two national educational awards at Westminster.
It's important that the University is a good neighbour, a great partner, and works with the community. The support flows both ways.
In fact, collaboration is one of the University's five core values – and rightly so. Without collaboration, very little of value is ever achieved. I am reminded of a proverb:
'If you want to go fast, go alone. If you want to go far, go together.'
And collaboration and public engagement can be fun, informative and entertaining too, as many have experienced in our recent Pint of Science festival — mark your diaries now for next year!
Our public engagement team are always looking for creative engagement opportunities. If you have an idea, please get in touch at publicengagement@surrey.ac.uk.