Good morning to you all, and a very warm welcome to Surrey and the first co-hosted THE conference!
I feel very privileged that Surrey is jointly hosting the 2019 Young Universities Summit. I would like to thank THE for this wonderful opportunity, and the University of Wollongong for their ongoing and valued partnership.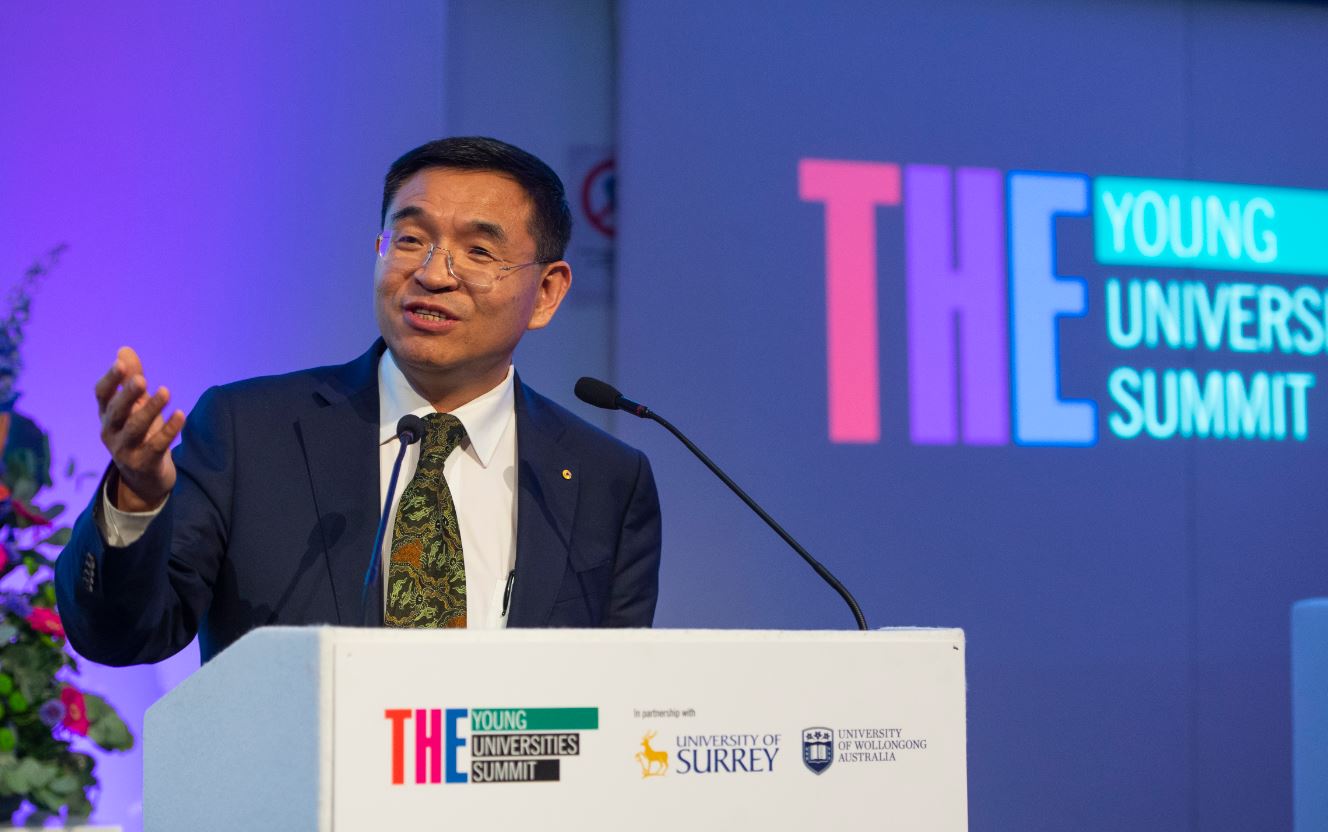 And of course, thank you to the Surrey team who coordinated the Summit in a tremendous and impressive collaboration with their Wollongong counterparts.
I hope it won't alarm you to know that we now consider you part of the Surrey family — so please explore our beautiful campus and hometown of Guildford, ask questions, and start conversations with our friendly and multi-cultural community. You will find out what makes Surrey so special.
As you know, this Summit will explore issues around embracing risk and creating opportunities. You are here as the great minds in higher education, industry, government and our communities. You bring your expertise and insight to shape discussions about the best possible future for our students and global society. We are grateful for your participation at this Summit.
Today, risks and opportunities are constant. The challenges UK universities are facing as we exit the EU and review tuition fees are also a chance to re-frame the mission and the relevance of higher education. This is what it means to be young universities:  we are uniquely placed to not only understand and respond to change, but to have the courage to drive it, and to lead from the front.
We can harness the power of our world-class researchers, and cultivate new talent who aren't afraid to experiment and think laterally. Our imagination is not constrained by history, nor by habit, and certainly not by the current challenges.
Together with Wollongong, the Universidade de São Paulo and North Carolina State University, Surrey is part of the University Global Partnership Network – an academic network spanning four continents. We are committed to pursuing excellence in education and research with real-world impact.
Our work with UGPN is creating significant opportunities to lead positive change. Last year's annual conference – hosted here – brought together more than a hundred top academics to discuss collaborations, and to address global challenges.
Australia and the UK are prolific research partners[1], and we will always have a lot to learn from each other. As part of UGPN, Wollongong and Surrey are working together on a research theme focused on digital innovation and applications.
Very little of worth happens if we act alone. Collaboration is vital to the success of our endeavours. I know this summit will provide many opportunities for making connections that will have great impact.
In today's uncertain and challenging times, more than ever we rely on each other. Strong partnerships with government, business and other institutions are critical to the research and innovation, education and entrepreneurship that change people's lives.
At Surrey, we believe that a university's purpose is to contribute to the wellbeing and prosperity of the nation, and of humanity. We know that impact on society begins with the 'small' stories, the personal triumphs, and the local successes that mean so much to individual, family and community.
We also know that education is powerful. It enhances self-worth, increases opportunities and unlocks the mind. I know first-hand that background and circumstances need not constrain nor disadvantage anyone, and that education is the key to a bright future. I am delighted that together with you, Wollongong and THE, Surrey is part of such a strong partnership to make a better world.
[1] https://thepienews.com/news/uk-and-australia-map-out-future-research-partnerships/