Good afternoon, everyone! What a pleasure to be here at the official unveiling of the new Surrey Stag.
The fountains were like an old friend to many of us; it was hard to picture anything else keeping Alan Turing company in the Piazza. But, the Stag looks right at home.
Personally I find the thinking behind this new installation inspiring– reconnecting with both the history of our site as a royal deer park, and our commitment to sustainability with the use of recycled and 'living' materials.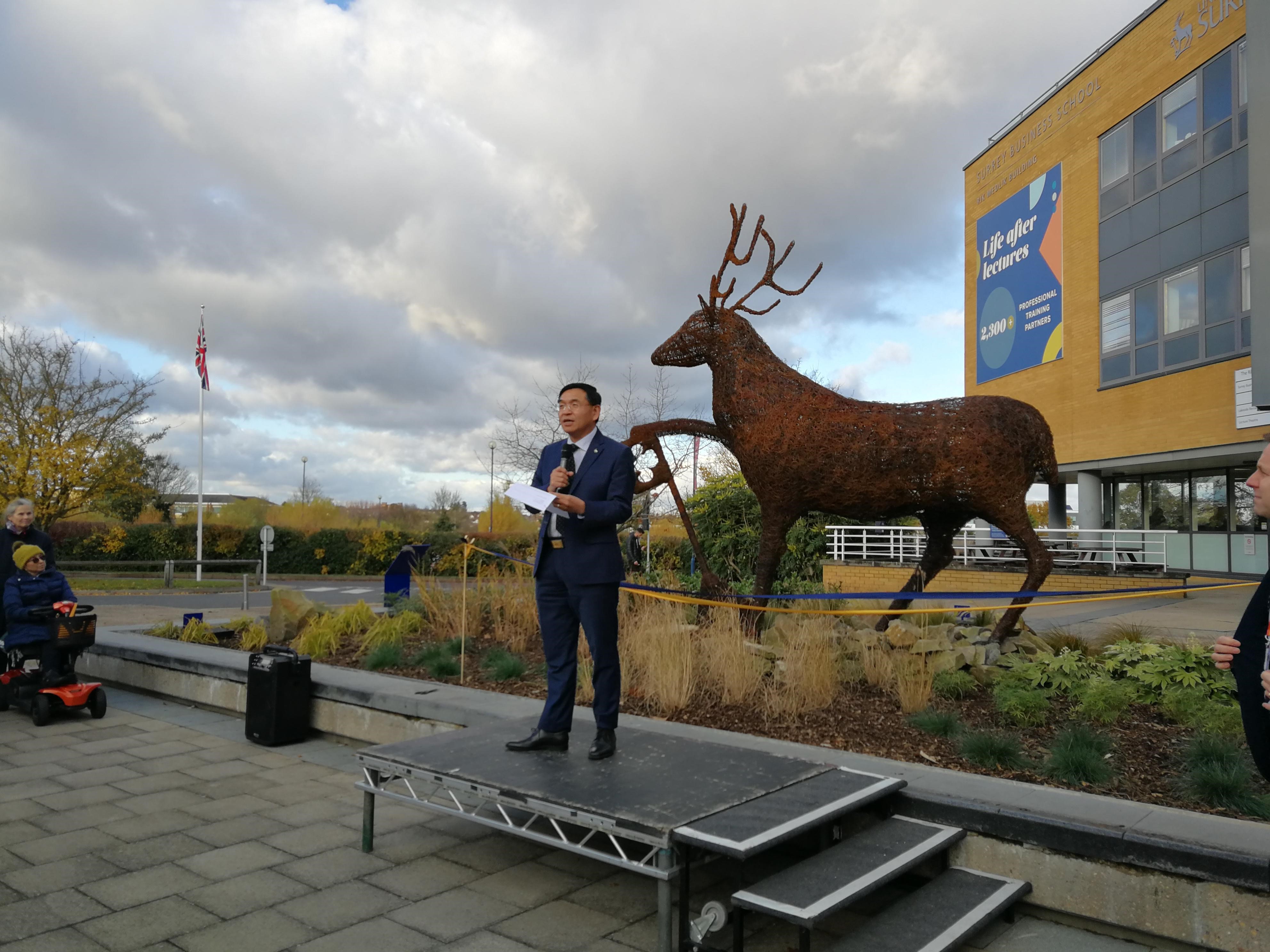 The royal deer park was created by Henry II in 1154 – which puts the University firmly in the centre of a fascinating historical narrative. The park stretched to over 1,620 acres, and its highest point was the hill where the Cathedral now stands.
So, we are here today not just at a place on the landscape, but in the story of the nation as well.
Anything that grows and evolves always discovers how to turn the old into the new again. We apply our learning and insight to the latest circumstances, and build on well-established foundations, so that we are always adapting positively to the changing world around us.
In this way, I see the new Stag sculpture – holding its key of knowledge – as a metaphor for this University itself. Here, we have the vision to see what is needed both now and in the future, and to re-purpose our skill, energy and experience to create a new expression of what we stand for.
We build on robust materials from the past that retain their strength and value; we reshape them, and give them new life.
I congratulate my colleagues at Estates, Facilities & Commercial Services on their hard work to make the Stag a reality, and local sculptors Mark and Rebecca Ford for their wonderful and inspiring design.
I know that students, staff and visitors for many years to come will be developing their own relationships with Surrey, with the Stag as a landmark in their journeys.
Thank you.