Good afternoon, everyone.
I am delighted to be here today to sign the Memorandum of Understanding between the University of Surrey and Winchester Science Centre. It is a great privilege to be partnering with such a successful and inspirational Centre. This ceremony is an important milestone in the journey to a strong and fruitful partnership between two communities that share a passion for learning and for the promotion of science and technology.
For those of you who don't know Surrey very well, I would like to tell you a little about us.
Our ambition is to make a great contribution to global society through our research, teaching and innovation. With nearly 17,000 students and over 120,000 alumni from 175 countries, we form a powerful community for making a difference to lives all over the world.
Our campus in Guildford is home to notable research and achievements, and our STEAM strengths are legendary. From the 1981 launch of the first small-scale satellite by the Surrey Space Centre, to last year's Surrey-led RemoveDEBRIS project, we aim to inspire the world. Since 2015 we have been home to one of only three 5G research centres, and our School of Law recently filed the first-ever patent applications for two inventions created autonomously by AI.
Our research and innovation reputation further extends to sleep research, food and nutritional sciences, health care, sustainability, AI, data and the digital economy – to name only a few.
We build our successes on collaboration. Great collaborations help us to act quicker, work smarter, and achieve more.
In fact, our Community & Public Engagement team works tirelessly to build relationships, share resources, inspire projects and share our love of knowledge with our community. For World Space Week in October of last year we hosted more than 1,000 children and their parents in hands-on activities, demonstrations and exhibits. We also sponsor the annual Guildford 'Innovate' Science & Arts Festival, and participate with great skill and enthusiasm every year in the worldwide 'Pint of Science' events.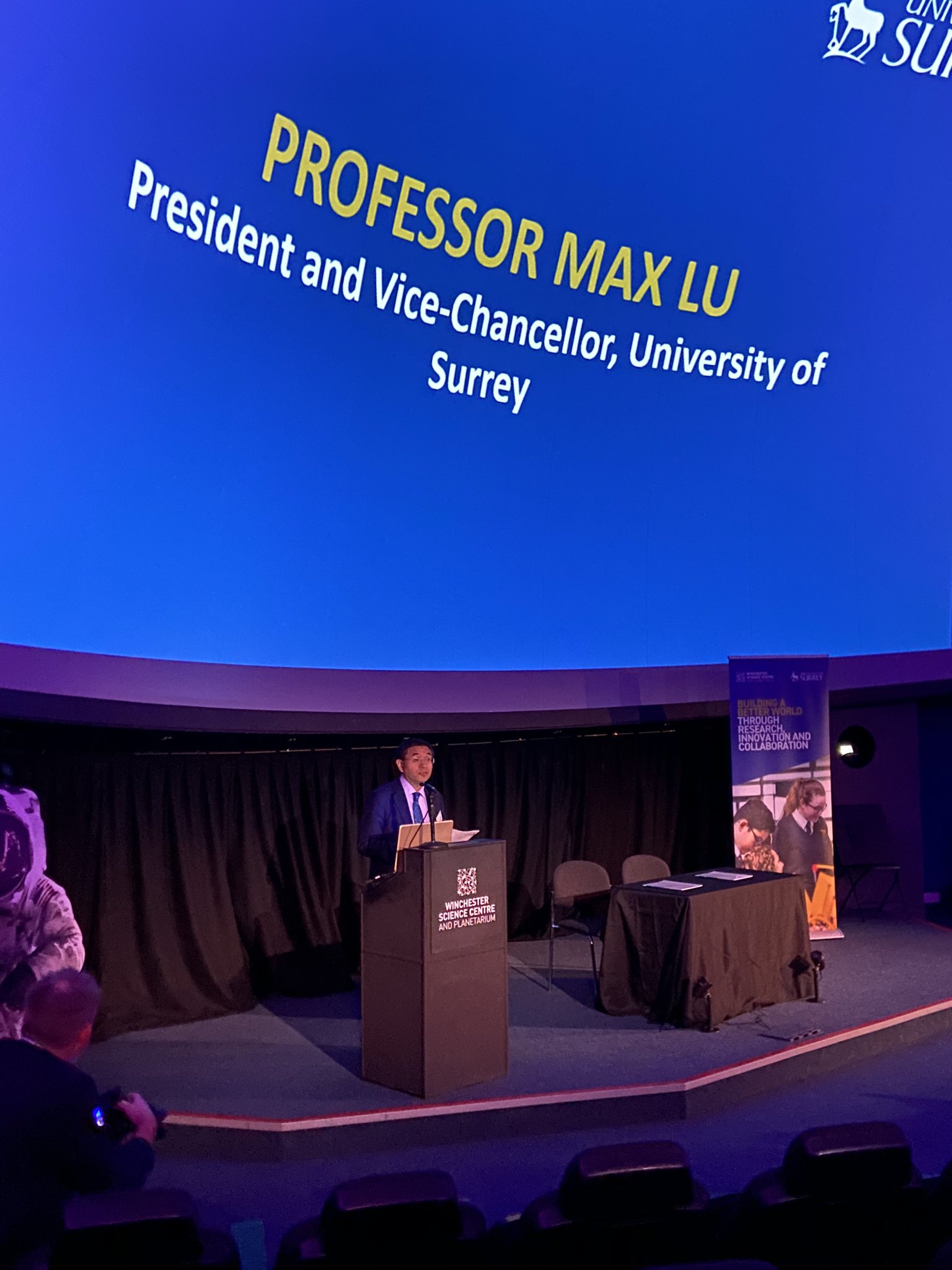 At Surrey, we also know that impact on society begins with the 'small' stories, the personal triumphs, and the local successes that mean so much to individual, family and community. Our role in the regeneration of a local school, Kings College, is another example we are proud of. We provide support and inspiration, so students can aspire to more and believe there is a better future for them personally.
Education is powerful. It enhances self-worth, increases opportunities and unlocks the mind. I know first-hand that background and circumstances need not disadvantage anyone, and that education is the key to a bright future. So I am particularly pleased to celebrate the launch of this partnership today.
Our joint mission is about bringing research and innovation to the world, raising aspirations regardless of background, gender, race, sexual orientation or disability. In pursuit of this, we will introduce a larger and more diverse cohort of minds to STEAM subjects, and continue to engage the curiosity of children, families and the broader community. We will interweave our research capabilities with these goals, to strengthen the power of our partnership and promote our work. Finally, we will leverage the wonderful opportunities this partnership brings, such as collaboration on projects and events, ideas and funding, and resources and placements.
I would like to thank:
Professor Justin Read of our physics department,
Janet Preston, who is one of Surrey's alumnae, a trustee of WSC and a driving force behind this MoU,
Heather Campbell, Surrey physics SEPnet and Ogden Trust outreach and public engagement manager, who worked with WSC to form the initial draft of the MoU,
Surrey's Community Engagement team, and
Ben Ward and colleagues from WSC for their valuable efforts in making this partnership a reality.
I am looking forward to working with everyone to promote and develop our shared vision, to learn from each other, and together continue to serve society and change our world for the better.
Thank you.