Good evening, and welcome!
May I extend a particular welcome to Lord Philip Hammond, Chair of the Future Economy Surrey Commission that authorised the report we are launching this evening, to members of the Commission, and to Tim Oliver and other representatives from Surrey County Council. I would also like to acknowledge the attendance of Angela Richardson MP – Member for Guildford.
The University of Surrey is proud of its association with the county of Surrey. We have been actively engaged at every level with its local governments and communities, and we will continue to do so. As Vice-Chancellor, I am pleased to note that many of my colleagues from the University give their time and expertise to our county and communities. I myself also try my best to contribute to the county's Economic Future Commission and Surrey Growth Board.
The University's engagement with our community enriches many lives, both directly and indirectly. We celebrate successes in this area – and yet some of the most important stories, of lives changed for the better, never get told. Together all these stories make up the narrative of our strong partnerships throughout Surrey.
I am delighted that Professor Amelia Hadfield and her team at the University successfully conducted the study that has produced this comprehensive report, which highlights the key economic sectors, social issues, and challenges and opportunities for the county particularly in the context of Covid-19 and Brexit.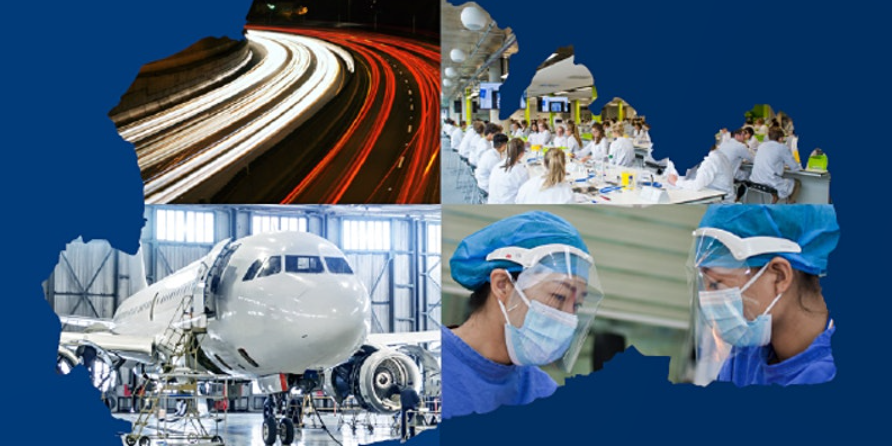 Its detailed analysis and strategic recommendations are based on inputs from business, healthcare, aviation and knowledge economy stakeholders from across Surrey between June-October 2020.
This extraordinary time has taught us a great deal about new possibilities, limitations to be overcome, and ways to think differently about sectors and issues that once, not long ago, seemed unlikely candidates for change or improvement. In this spirit, the report's recommendations aim to ensure Surrey's overall recovery that is not just a 'back to normal' but a transformation into something stronger, fairer and better.
The link between academia, policy makers and industry leaders is crucial to a future where we and our planet can all thrive. Shared understanding, insights and knowledge exchange with our local partners bring us closer together and shape our agenda for current research and innovation. There is always room for new conversations and more collaborations: events like this one can reveal unexpected connections and give rise to fresh ideas – and we must act upon them.
At Surrey, we look forward to continuing to support the county's and the community's prosperity during both stability and upheaval. We will stay agile and engaged and contribute our talent, research and solutions to meet whatever the future brings.
Thank you.