Your Royal Highness and Chancellor, colleagues, alumni, students, and friends: good afternoon.
Whether you are here on campus in Guildford – or watching online from around the world – may I extend my warmest welcome to you all.
And we are so delighted to be joined by His Royal Highness, The Duke of Kent, who celebrates 45 years as our Chancellor.
We thank you, Sir, for your tremendous contributions and continued support.
Today, we are here to mark a special day, to launch the University of Surrey's first international fundraising campaign.
The Future Says Surrey is a three-year initiative to raise £60 million.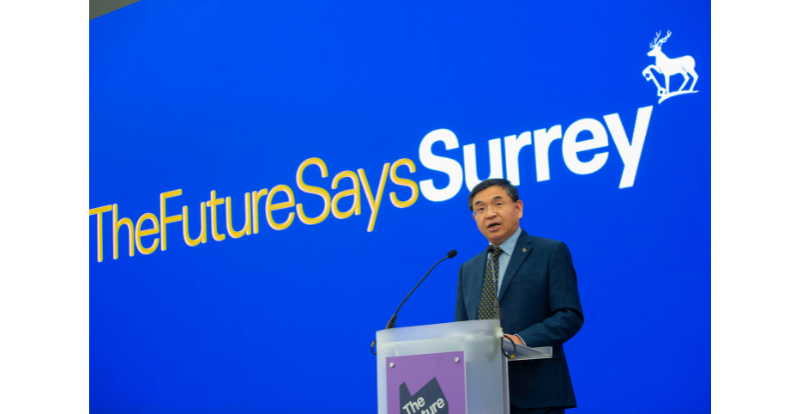 It will enable us to define our future, building on existing excellence in research and student experience.
In turn, this will raise the University's profile locally, nationally, and globally.
One example of our research excellence is our newly established Institute for People-Centred Artificial Intelligence.
At Surrey, we already work alongside public sector partners – such the BBC and the NHS – on projects involving machine learning.
Our researchers are also working with industrial partners and investors to unlock the potential of AI in health, robotics, cybersecurity and the creative industries.
With more funding, we'll be able to drive an ethical approach that places people at the heart of an inclusive and responsible AI-driven economy, for a safer and fairer society.
Another example of our future-facing work is in the field of sustainability.
Our Global Centre for Clean Air Research already collaborates with colleagues across the world.
With additional funding, our goal of 'clean air for all' will become a reality.
Our researchers are creating a brighter future for clean energy by prototyping the next generation of solar cells and developing green hydrogen and fuel cell technologies.
This will have huge implications for the way we heat our homes and power our businesses.
And in the field of health, we're investigating the close links between humans and animals. Our researchers are developing new diagnostics as well as treatment for diseases.
This may help us prevent the next pandemic and help improving the quality of life in an ever aging society.
All these projects – and many more – will help shaping the future for a fairer, healthier, and more sustainable world.
Alongside advancing our research, we'll develop innovative ways to support and nurture current and future students.
We'll provide more scholarships for the brightest minds to come to Surrey, regardless of their financial background.
As a grateful recipient of two scholarships myself, I can promise you, such gifts change lives.
They go on to create 'ripple effects' that touch many other people.
We'll also improve learning spaces, support clubs and societies, invest in employability opportunities, and provide a helping hand to those who experience unexpected hardship.
At Surrey, we're fortunate.
Our generous alumni and friends have always played an active role in supporting our people, in research and education.
We have much to thank them for.
Their ongoing belief and investment remain an exceptional measure of trust in our capacity to shape the future.
And for more than 50 years, we've demonstrated that capacity.
Incredible innovators have passed through our doors.
It was our Professor Alf Adams who helped make the digital world we live in possible – by inventing the quantum strained-layer laser.
Sir Martin Sweeting invented the first small satellite and helped to build affordable satellites to monitor disasters worldwide. We've even led a mission to remove junk from space.
Our researchers at 5G innovation Centre are among the pioneers for 5G and are leading on the development of 6G.
We developed a rapid blood-based PCR test for meningococcal meningitis.
Our music and media graduates have won 3 Oscars, 9 Baftas, many Grammys and Emmys.
Our past and current achievements build our global reputation that we are very proud of.
But this campaign is not about the past but what comes next.
By coming together, we can produce more life-changing graduates and research, and we can create that brighter future for everyone.
We are about to take our next step.
We hope you will join us on this exciting journey.
The Future says Surrey.