Your Royal Highness and Chancellor, Lord Lieutenant, members of the University Council, distinguished guests, University colleagues and students:
I am so delighted to welcome His Royal Highness back to our campus today to celebrate the 45th anniversary of his Chancellorship.
So strong is his commitment and support to this University, so deeply-rooted is his impact over 45 years, that it is fitting that in a few minutes' time his Royal Highness will plant an Oak tree at the heart of our campus to mark this fantastic occasion.
The English Oak is described by the Woodland Trust as "the ruling majesty of the woods".
I can think of no better symbol to illustrate how proud we are that his Royal Highness continues to be intertwined with the growth, resilience and success of our university.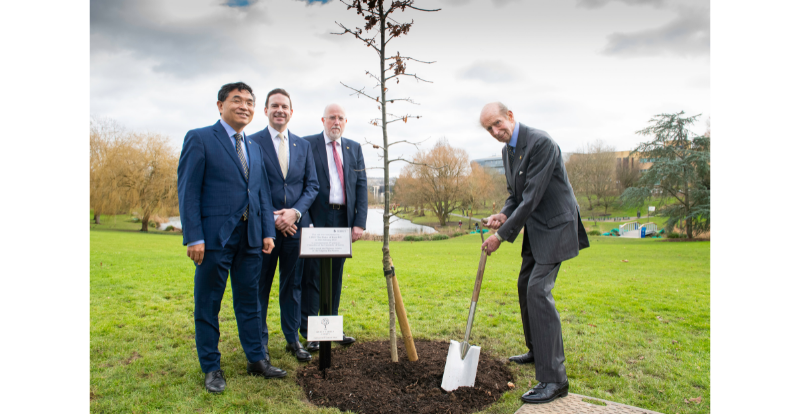 Today is an historic day for Surrey for another reason too.
This afternoon we will officially launch 'The Future Says Surrey' – the first international fundraising Campaign in the University's history.
It is our chance to plant a fresh future.
I'm sure you've heard the saying "Great oaks from little acorns grow".
Such is Surrey's story.
It begins in 1891 with His Royal Highness the Prince of Wales – later to become King Edward VII – laying the foundation stone for the Battersea Polytechnic Institute. By 1966 the Institute had outgrown its footprint and was transplanted in Guildford, following the Royal Charter to establish the University of Surrey.
When His Royal Highness the Duke of Kent accepted the Chancellorship a decade later, student numbers were above 2,500.
Today the University campus is such a thriving and vibrant community of about 20,000 students and staff, and we are blessed with an amazing collection of trees, of some 300 different species!
Our campus nurtures students and champions sustainability just as this Oak tree will support wildlife and help us in our goal to become a net zero carbon campus by 2030.
His Highness is, of course, a regular visitor to our campus and has been present at many of the University's defining moments, including:
the Surrey Research Park in the mid-eighties, which signalled a new era in the University's commitment to engaging with industry.
the Austin Pearce Building in 1997, which enhanced our teaching and learning
the Duke of Kent building which won many awards at the turn of the millennium for its architectural merit.
Your Royal Highness and Chancellor, your service has been tremendous and generous, and we thank you for it.
Your dedication mirrors that of our Queen. This year Her Majesty is inviting people across the United Kingdom to "Plant a Tree for the Platinum Jubilee".
It is with great pride that today we are joining the Queen's Green Canopy scheme. In so doing we are creating a legacy in honour of The Queen's leadership of the Nation, which will benefit future generations.
So, I now invite Your Highness to finish planting our tree.
We have a spade specially engraved to mark the occasion, which will go on display in our Special Collections after the ceremony…