Good afternoon, everyone, and welcome to the 2022 Surrey Showcase!
I am delighted you could join us on this special day – a day which now is even more special as we are celebrating our stellar rise in the Complete University Guide, to 18th in the country.
Exciting. Engaging. Enlightening.
This afternoon you can discover more about how our amazing future-facing research and teaching is enriching and changing the world.
Our community has always prided itself on breaking new ground.
And that pioneer spirit is thriving right here on campus as we work together to tackle the global challenges confronting us all.
Our thirst for knowledge drives us forward.
I remember Sir David Attenborough saying: "There are always new things to find out if you go looking for them".
That ethos and that curiosity underpins all we do and I encourage you to visit our new Teaching Innovations website, where you'll find many of the ways that we are enhancing teaching and learning.
I am sure that you'll feel a sense of wonder today – and hopefully learn a lot too!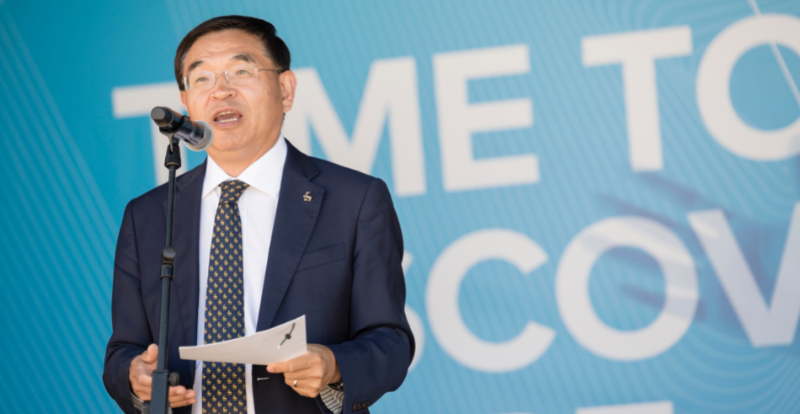 Today, we have a wonderful line-up of inspirational speakers and interactive demonstrations for you to enjoy.
They will tell you about some of our world-leading research earning Surrey such an enviable reputation for Research and Innovation.
Last month, Surrey rose 12 places to 33rd place in the Research Excellence Framework – the UK's system for independently assessing the quality of research in higher education institutions. 
41 percent of Surrey's research is rated as world-leading
Surrey is now ranked in the top 20 in the UK for the overall quality of research papers and other published works
We are proud of our inspirational academics, who are changing the world through the impact of their research.
So how are we doing it?
Our speakers today will share their insights on topics as diverse as REF, green fuel, sustainable food systems, AI, Chatbots and the stellar DNA of our Milky Way galaxy!
We are determined to do ever greater things.
In February, we launched an ambitious new global campaign called The Future Says Surrey, aiming to raise £60 million to enable us to enhance excellence in research and student experience, and in turn our students and staff will help shaping the future for a fairer, healthier, and more sustainable world.
We will achieve this by investing in our strong research capabilities, which include health, sustainability and people-centred artificial intelligence.
Our newly-established Institute for People-Centred Artificial Intelligence is already working with industry and investors to unlock the potential of AI in health, robotics, cybersecurity and the creative industries – all the time putting people and our needs at the hearts of AI development.
I'm delighted to say that just recently we have appointed a new Director of Sustainability who will drive forward our multidisciplinary research on sustainable living, net-zero energy, clean air and sustainable prosperity.
And in the field of health and medicine, we have launched the new Surrey Medical School to train new generation of doctors and we are researching to develop innovative solutions to healthcare for humans and animals.
Our researchers are developing new diagnostics as well as treatment for diseases, helping to improve the quality of life in an ever-aging society. 
Because of our contributions to the United Nations' Sustainable Development Goals, the University of Surrey was ranked at 55th place in the Times Higher Education Impact rankings
And through 'The Future Says Surrey', we will also improve learning spaces, support clubs and societies, and provide more scholarships to deserving students.
I firmly believe that anyone, regardless of their personal circumstances, should have the chance to benefit from an excellent education and launch their career here at Surrey.
It has been 10 months since we launched our refreshed strategy, Forward thinking. And doing, to drive student experience, focus research intensity and create the conditions for success.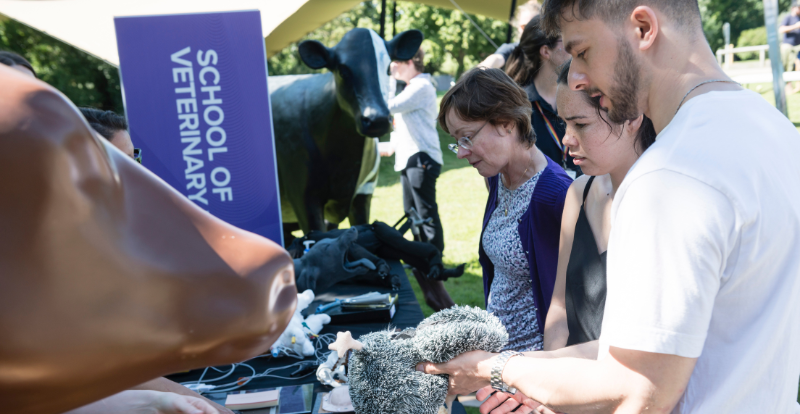 Highlights this academic year include launching the Surrey Graduate Futures Programme to give our graduates a unique opportunity to start and grow their career and our new Values Awards scheme to recognise staff for their passion and dedication in line with our University values of inclusion, inspiration, innovation and integrity.
I was asked recently where I see Surrey in five years' time.
My answer was simple.
I see Surrey firmly established among the UK's top HE institutions, enhancing our reputation for world-leading research, innovation and graduates who shape our future.
Today is another day on that exciting journey.
I hope that you have a fantastic afternoon and take more than a little bit of Surrey inspiration, expertise and knowledge home with you.
Thank you.