Good evening, everyone and a warm welcome to you all.
It's wonderful to see such a diverse and influential audience here this evening, bringing together the very best of industry, NGOs, Members of Parliament, charities and social enterprise as well as our community of local dignitaries, partners, alumni, academic colleagues and students.
I would like to extend a special welcome to Lord Stern, the High Sheriff and Lord Lieutenant of Surrey and, of course, tonight's panel speakers.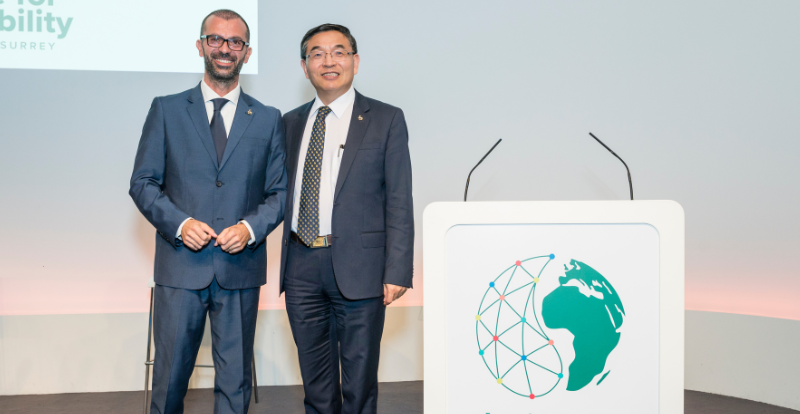 This evening's launch is a major milestone in the calendar of our University.
It is a celebration of the inspiration and endeavour of our colleagues who have embraced the concept of a new Institute and made it reality.
The University of Surrey is a world-class university, with dual excellence in both teaching and research, as well as high impact in sustainability.
We produce high quality graduates, and generate tangible social, economic and environmental impact.
It is important we build on our success, to keep improving the quality and the impact of our outputs, in turn, enhancing our reputation
Such reputational capital is a great asset and resource.
This is what I called the Virtuous Cycle of a World-Class University.
And this is why we have developed the idea of a pan-university, transdisciplinary Institute to to develop solutions to the global challenges, particularly in sustainability.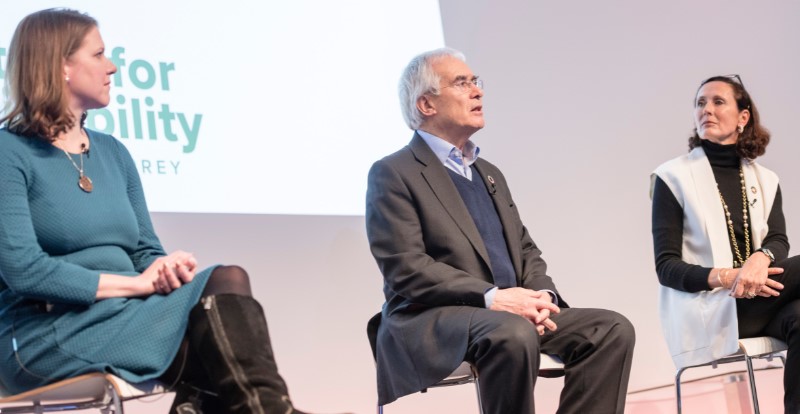 Sustainability is what we teach, research and practice at Surrey.
Surrey is ranked 55th in the world in terms of our contribution to the United Nations sustainability development goals – ranking in the top 10 in clean water and sanitation, and responsible consumption and production.
We already have a large number of research centres and groups working in areas ranging from clean energy, clean air and water, to sustainable prosperity, sustainable living, and sustainable tourism and transport.
Integral to our vision is our plan to become Net Zero by 2030. We will get there by creating a new 10.5MW solar farm and upgrading our heat pump system on campus, among other initiatives
In so doing, we partner with many industrial companies in all these areas for research, and research training.
But we want to do even more for our planet and society.
This new Institute brings together expertise in social sciences, engineering and health sciences, within the three faculties at Surrey, to develop solutions to the global challenges we face as a society.
As the Institute's new logo conveys, this is about joining the dots to produce a tangible impact on the world.
After all. We pride ourselves on looking after the wellbeing of our staff and students. Why shouldn't sustainability be a social goal as well as an environmental one?
I have experienced the true value of collaboration in my own areas of research expertise, which includes hydrogen production and storage. In the context of decarbonising the energy supply for net zero, hydrogen as the cleanest energy vector is very promising. It can be economically produced particularly from renewable energy, and it can fuel maritime, aviation and land transport without producing any pollutant or carbon dioxide.
The road map to solar hydrogen points to a pathway that ultimately leads to the direct conversion of energy from sunlight to hydrogen via a process called photocatalysis, which is the artificial photosynthesis.
However, we are not there yet! By interdisciplinary collaboration, we can shorten the pathway to sustainable solutions.
Anyone who has heard Lorenzo speak about the Institute has already had the good fortune to be infused by his passion and vision.
If you haven't yet, I won't delay the moment much longer!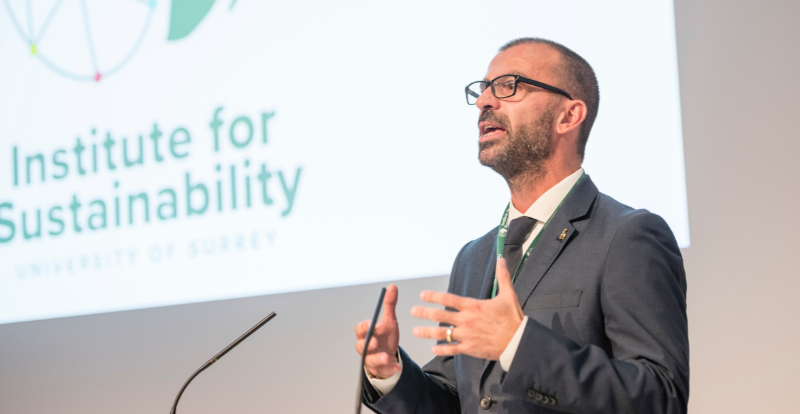 But I do want to encourage you to take Lorenzo's message and that of our Institute back into your communities to tell a story.
The story that at University of Surrey we are pioneering a new way to address sustainability by connecting multidisciplinary capabilities and social goals to build a better future for our world.
It now gives me great pleasure to hand back to Lorenzo, to expand on this Institute's mission and philosophy.
Have a fantastic evening.
Thank you.