Young's Kitchen
Young's is the University's one and only Asian restaurant. It is a great spot to find your Far-East favourites, where you can get anything you are craving, whether it is bibimbap, tom yum, pad thai or some rice with various toppings offered or even breakfast! The restaurant has cheap prices and large portions, and offers takeaway. Opening hours: Monday – Friday 7 am – 8 pm.
Young's là nhà hàng châu Á duy nhất của trường. Đó là một nơi tuyệt vời để tìm những món ăn Viễn Đông yêu thích của bạn, nơi bạn có thể mua bất cứ thứ gì bạn thèm, cho dù đó là bibimbap, tom yum, pad thai hay một ít cơm với nhiều loại toppings khác nhau được cung cấp hoặc thậm chí là bữa sáng! Nhà hàng có giá rẻ và khẩu phần lớn, đồng thời cung cấp dịch vụ mang đi. Giờ mở cửa: Thứ Hai – Thứ Sáu 7 giờ sáng – 8 giờ tối.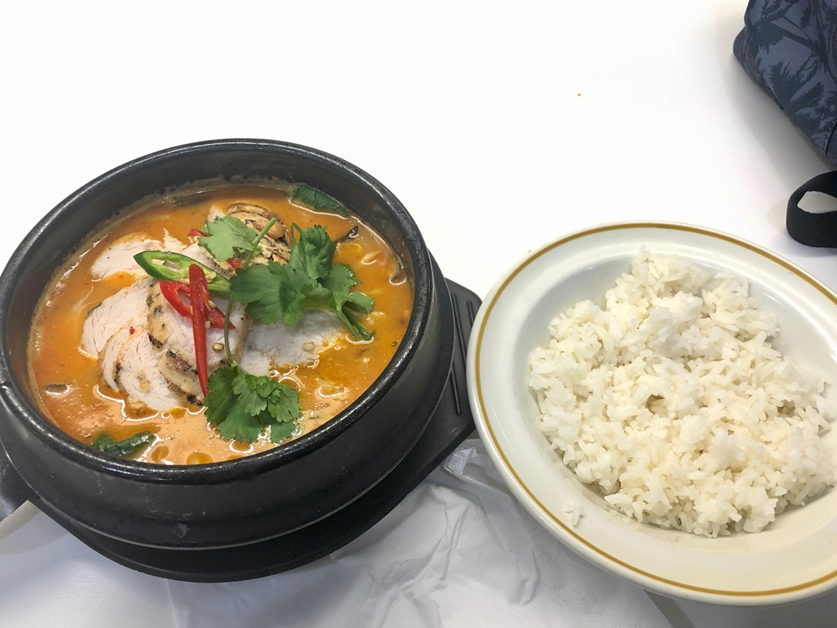 Thursday Market
Every Thursday, during term time, the Students' Union (Rubix) offers hot food to take away. There usually is an Asian street food stall: Momo's Fusion which offers dumplings, katsu curry or noodles. Opening Hours: 11 am – 4 pm.
Thứ Năm hàng tuần, trong thời gian học kỳ, Hội sinh viên (Rubix) cung cấp đồ ăn nóng để mang đi. Thường có một quầy thức ăn đường phố châu Á: Momo's Fusion cung cấp bánh bao, cà ri katsu hoặc mì. Giờ mở cửa: 11 giờ sáng – 4 giờ chiều.
Zenchai Bubble Tea
If you want bubble tea, Surrey has just opened its own bubble tea shop! Zenchai is located inside the Hillside Lounge. Opening Hours: 12 pm – 5 pm during the weekdays.
Nếu bạn muốn thưởng thức trà sữa trân châu, Surrey vừa mở cửa hàng trà sữa trân châu của riêng mình! Zenchai nằm bên trong Hillside Lounge. Giờ mở cửa: 12 giờ trưa – 5 giờ chiều các ngày trong tuần.