Hi everyone!
It's now full swing at University as I'm in my 2nd week of lectures and definitely feeling the pressure! To top it off, the temperature has dropped significantly that you will never see me without at least 4 layers of clothing, a hat as well as a scarf. Times like this is when I daydream about going somewhere beautiful and sunny for a holiday! This brings me to my topic today which is about my trip to Budapest last month 😀
Whenever I return from Malaysia, I tend to go on a holiday before classes begin. I think it's my way of trying to prolong my break before reality kicks in :p This time, I visited Budapest, the capital of Hungary for 4 nights in September 2016 with a friend. I chose Budapest for its amazing food, breath-taking views, as well as gorgeous weather. During my entire trip, it was 33 degrees and sunny; I was in paradise!
Budapest is definitely a place to visit for students on a budget. Our accommodation was £44 each for 4 nights which included a private bathroom as well. Even the return flight prices were a steal, especially when booked a couple of months ahead. We arrived on Tuesday the 6th at Budapest Ferenc Liszt International Airport and made our way by public transport to our hostel which was located in Pest.
Fun fact: the city is divided into Buda and Pest by the Danube River but has multiple bridges such as the renowned Chain Bridge, the Elizabeth Bridge or the Liberty Bridge connecting both sides.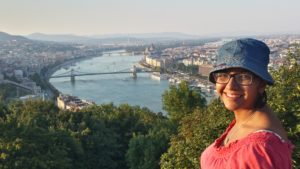 The public transportation includes funky looking trams, trains and buses which are efficient; signs are all in English. In fact, English is widely spoken besides Hungarian. In terms of currency, we paid for our hostel in Euros but opted to carry Hungarian Forint for all other expenses which I felt was better value compared to Euros.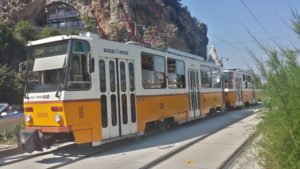 As we arrived at night, we planned on attending a show as Budapest is known for its Opera performances. Unfortunately, due to bad map reading skills, we ended up getting lost on our first night and missing the show! All was not lost however as we stumbled upon a restaurant where I had the yummiest Goulash, which is a soup or stew of meat and vegetables, seasoned with paprika. Budapest is absolutely beautiful at night and so I was more than happy to just wander around. It also helped us get a sense of our bearings for the coming days ahead.
Our first full day in Budapest was spent visiting the Great Market Hall, the Citadella as well as spending the afternoon at Gellert Baths and Spas, just one of the many thermal baths and spas in the city. Great Market Hall was a treat for the eyes and tummy as the ground floor was abundant with grocery produce and the first floor had all sorts of souvenirs and delicious eats! It was great that besides being a tourist spot, many local were doing their daily grocery shop. I saw some pretty weird stuff such as pork tongue and chicken feet which are considered delicacies here. I also got to try Langos, a deep fried flatbread with anything you can think of as toppings! I went for the tradition sour cream, cheese, tomatoes and Hungarian sausage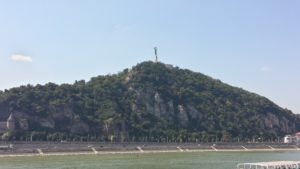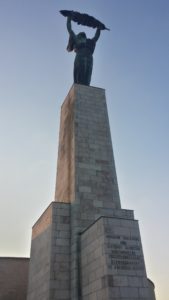 Citadella from afar and after hiking to it!
We spent our second day visiting Varosliget Park which was at the North East of the city. Public transportation is very cheap even for a 72 hour pass but we opted to walk everywhere since the weather was beautiful and it wasn't tremendously far to get to anywhere. Budapest is known for its Ruin Bars which are huge pubs with old mismatched items and quirky settings. Thus, we spent the evening of our second day at one! It was amazing as entry was barely £5 for both of us and we got 5 drinks free. By 9pm, the bar was transforming into a 3 storey club with different rooms playing different music. Some bars don't even open until 12am and stay open till 6am!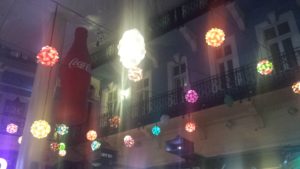 For our final full day in Budapest, we decided to visit Buda Castle and its surroundings which is located in Buda. It was wonderful to visit such a historical sight and read about its history. There was lots of see and do, which included visiting a Labyrinth, a complex of caves and cellars beneath Castle Hill where there was lots of information about Dracula whom I never knew was an actual person and not just a myth! We then headed to Margaret Island, located in the middle of Danube. The island is mostly covered by landscape parks and a popular recreational area which included a water theme park! Sadly, we did not anticipate the water park and hence did not have enough time to visit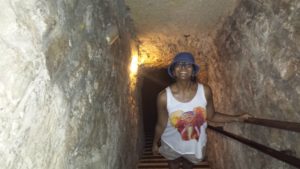 Entering the Labyrinth!
The next day was our flight back to London. Since our flight was only at 4pm, we decided to visit the Hungarian National Museum. We actually saw Beethoven's first piano and as a music geek myself, I was thrilled! Unfortunately, we were not allowed to take any pictures of the piano.
All in all, I absolutely loved my time in Budapest! It's a great city for students to visit and has so many things to see and do, not to mention eat! All this holiday talk is making me want to book off another holiday now :p
Till next time; Selamat tinggal! X