Hello Hello!
I had the best time at the Malaysian Society Meet and Greet last Friday! It's always lovely to be around fellow Malaysians as it feels like having a piece of home with me especially since I've been feeling pretty homesick. This tends to happen around Deepavali time which falls on the 29th Oct, this coming Saturday. To curb my homesickness, I plan on heading to London for the day to visit a temple and then go on the hunt for some proper South Indian food (I shall let you all know how that goes!) The Indian Society (ISA) will be holding a Diwali event on 3rd Nov and I'm super excited as I have a chance to wear a half saree. As its pretty complicated to wear even when compared to a saree, my mum and I will be having a practice run on Skype the day before: P
Coming back to the Malaysian Society event though; It was so good to meet lots of new and old faces at the event! The highlight was definitely getting Free home cooked Nasi Lemak ♥ It honestly tasted like the Nasi Lemak from a mamak stall in KL which was delightful. After being away for a year, I'm pleasantly surprised with how well the Malaysian Society is being run this year (Shout out to the President Deborah Tan!) Not only is the membership just £5 this time around, but the society has discounts at certain restaurants in Guildford Town Centre such as a 15% discount at Sir and Madam Thai for all evening menus daily! The Malaysian Society is open to all and for those interested in joining, feel free to drop the society as email or get in touch with me for more details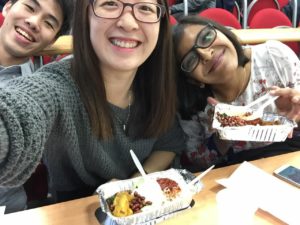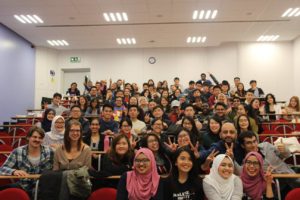 I thought I'd speak about something that I'm sure many students can relate to especially as classes really start kicking into gear; Coping with Stress. I'm someone who tends to overstress over the smallest things so you can imagine that being in my final year, I'm currently a walking and talking stress entity. I'd like to share some of the ways I'm trying to cope with the stress which seems to be working for me
I consider myself an exercise addict and hence have signed up for a year's membership at Surrey Sports Park. One of the ways I'm coping with stress is by working out. With the sports park, there's so many way to get some exercise in that doesn't include the gym for those who aren't into it. I've been making my rounds trying out rock climbing, swimming, social sports such as Tennis and Netball as well as the countless classes held throughout the day such as Zumba, Yoga and Body Combat to name a few. I find it great because besides getting a good workout and keeping healthy, I get a change of scene from my usual study spot + fresh air!
Another way to cope with the stress is by doing yoga on a daily basis. I'm recently discovered the wonders of yoga and have been religiously doing yoga every morning for the three weeks and I must say, I definitely feel much calmer when thinking of the amounts of reading and revision still to be done. There are many Youtube vidoes available for beginner guides to yoga as well as soothing music tracks to just calm one's mind. The University also has a Surrey Yoga Society which holds sessions twice a week as well as a Zen Society who hold meditation sessions every Monday at 7pm
I find meeting up with friends a really effective way of dealing with stress. Time seems to be flying back and before I know it, it'll be graduation time! Even though I am aware that it's my final year, I don't want to miss out on making memories with my friends. Hence, I'm making it a point to see my friends on a regular basis; whether it's for a quick drink at Starbucks or a meal in town on a Saturday or just hanging out in the front room together J I'm also trying to get in the habit of revising with friends as I feel less alone that way. Revising together is super effective as we can help each other out and grasp concepts quicker. It's also just nice to have company as it does get pretty lonely studying on my own
Coping with my stress also means not stress eating. I've got a pretty bad habit of eating everything in sight when stressed which includes an entire cake from the Cooperative. To curb this, I've got into the habit of stocking my selves with lots of different types of fruits as well as wheat cracker bread which believe it or not, is only 19Kcal per biscuit! This way, even if I do snack while revising, at least it's on healthy bits
I've also been reaching out to my lecturers and personal tutor much more this time around. I found them to be an invaluable source of help and guidance with tackling final year. I find it much better to ask for clarification from the lecturer regarding certain content in a lecture instead of spending hours trying to figure it out in my own. Time is insanely valuable as there's so much to cover and hence I'm trying to find ways to maximise it
On a quick side note; the 50th Anniversary Procession in Guildford Town Centre the previous Saturday was amazing! It was so exciting to be part of the celebrations as I was a marshal and had the opportunity of walking alongside the Processions. It was wonderful to see so many students and locals joining in the fun and cheering on the Procession. Wonderful things truly do happen here 🙂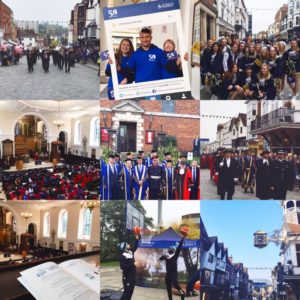 Till next time; Selamat tinggal! x