Heyyyy everyone 🙂 How's life been? Hopefully everything is going well for all of you. As for myself, I've been really busy with work everyday and really missed the time I had in Surrey. Uni life is much nicer compared to work life as you have more time to yourself and also socials! After starting the work life, I leave in the morning for work and reach home at about 7.30pm after work, which then I'll be busy cooking dinner and lunch box to bring to work for the next day, and by the time everything's done it's almost 9.30pm. I am usually exhausted after the long day at work and the cooking part that I'll shower and go to bed by 10pm everyday. Life actually becomes healthier huh. 😛 Anyways, I don't have much friends here as most of my ex-coursemates and friends are currently back in China, while the rest is still in Uni back in Guildford, so it's a completely new environment for me here and I'm still trying to adapt myself and try to be more independent. Social time with friends have become a major challenge due to the work time and also the fact that they are about 2 hours away by train. 🙁 Awwwww writing about this really makes me miss Surrey so much. All those wonderful things that happen there. 🙁
Anyways, back to the post today. Soooooooo, its University of Surrey's 50th anniversary this year and thus I would like to take this chance to dedicate this post and wish Surrey a very wonderful and happy 50th anniversary! Thank you so much for giving me an incredible year in Surrey and pray that the coming 50 years will be even amazing and bring blessings to more prospective students! 🙂 Coming to the UK and studying in Surrey especially is definitely the best decision I've made in life and I couldn't be more happy to be part of the celebrations.
So, special thanks to Katie's recommendation, I was really honored and happy to be chosen to represent international students in the Thanksgiving Ceremony which was held at Holy Trinity Church in town on 22/10/16. The event was a by-invitation only event which is held right after the procession in town with the presence of HRH the Duke of Kent and other VIPs. I was involved in the Thanksgiving Act session whereby I get to lead the crowd in declaration alongside the Vice Chancellor, Prof Max Lu and representatives from Surrey's teaching staff, Student Union, alumni and other VIPs.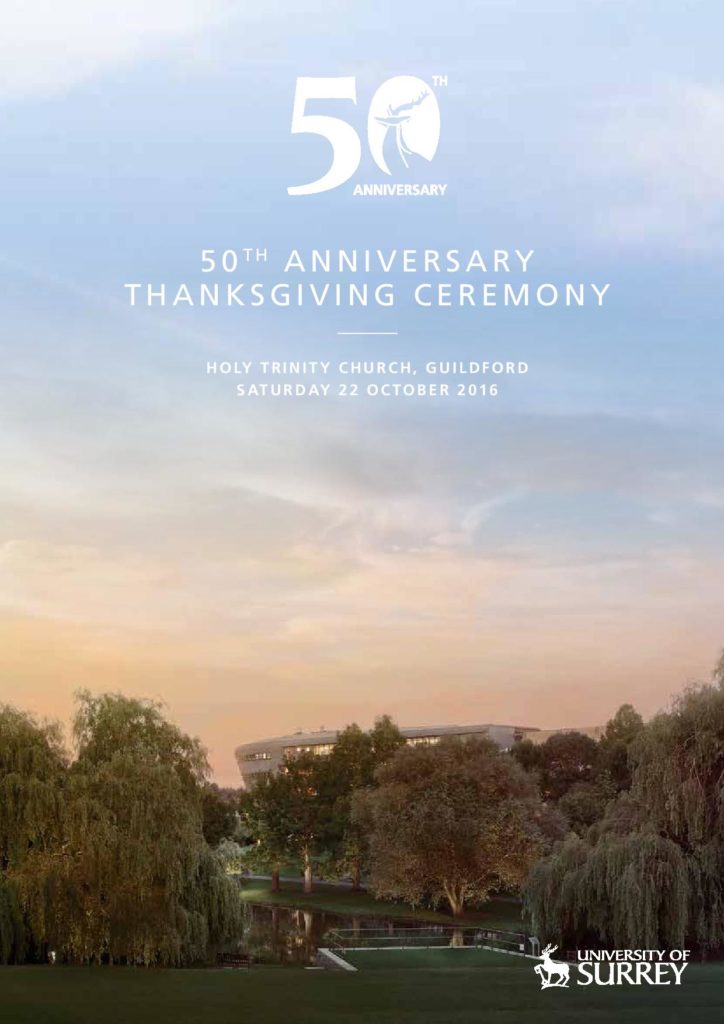 On the day of the event, I was really excited and woke up really early to get ready for the day. There's a huge crowd in town that day as there's also a celebration procession that is taking place prior the Thanksgiving event and the University has also put up street banners and a booth on the High Street whereby the public can join in the celebration and get some goody bags or take pictures using the props provided. As I need to reach the church earlier on the day to standby, I didn't get to join in the procession in town but I did hear from my friends that went and all of them commented that it's a really enjoyable and memorable moment. If any of you that is interested to look at the pictures for the procession, please click here and follow University of Surrey's FB page!
Sharp at 11am, the Thanksgiving Ceremony starts officially with the entry of the processions accompanied by live band music performed by students of the Department of Music and Media of the school. The entrance was really grand with HRH The Duke of Kent, Chancellor of the university leading in front followed by the University, Civic and County High Officers and other representatives from all over the university. It was really honored to be able to meet HRH The Duke of Kent in person after hearing about HRH for so long and working in the Duke of Kent (DK) building in University every week to blog! 😛 Aww this bring back memories again. 🙁
Okay sorry for the short non-relevant interruption. Back to the ceremony. 😛 So after all of the people arrived, the ceremony kicked off with a warm welcome from Revd Canon Robert Cotton, which is the Rector of Holy Trinity and St Mary's Church Guildford. He even mentioned that the University is very welcome to use the church for its Thanksgiving Ceremony after another 50 years celebration, which I personally really look forward to see the university celebrating its 100th anniversary (if I'm still here :P). The ceremony then proceed with a warm welcome and opening address by our beloved Vice Chancellor, Professor Max Lu, followed by responses from the Surrey County by the Lord-Liutenant of Surrey, Guildford Borough by Mayor of Guildford and a short reading from the Pro Chancellor.
The ceremony then proceed to one of the highlights whereby HRH The Duke of Kent addresses the congregation and then initiate the ceremonial presentation of the new Student's Union (SU) President's chain to the current SU president- Alex Mackenzie Smith by the first SU president of Surrey Uni- Sir David Varney. It was really touching to see how each generation work together to see the current success of the University. 🙂
The ceremony then continued with a dance performance by current undergraduate students of BA Dance and song performance from Guildford School of Acting (GSA) singers with some reading in between. The performances were really amazing and I really think that they did a really good job and the performances are really performed in a very high standard. 🙂 Once again a round of applause for the amazing BA Dance and GSA singers!
Then, it came to the part of the Thanksgiving Act which I am involved in and I made my way to the stage together with other participants when my name was called. I was really excited yet anxious at the same time. When it was my turn to speak, I walked up to the lectern confidently and read my part. I was almost trembling when I started speaking but managed to end well I guess as the Vice Chancellor, Professor Max Lu actually shaked my hands and told me well done after that, which I'm really glad and honored. 😛
The Thanksgiving ceremony then concludes after the act. It was really a wonderful experience for me and I'm really glad to be able to still be part of the university's 50th anniversary celebration even though I'm done with my studies. I really appreciate what the university has given me and every moment will be cherished deeply in my heart. 🙂
Once again thank you Katie from the International Recruitment team for the recommendation and also Emily from the Events Team for giving me the chance and I believe I'll definitely remember this moment forever!
Happy 50th birthday Surrey!
Hope everyone that is reading this will be able to share my joy and was as proud as me for being a Surrey student. 🙂 See you all next week and take care!
Love xx
Adeline