Happy Deepavali/Diwali!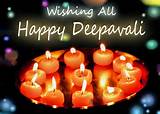 I've been having a super good week, mainly because I was able to get my hands on super yummy Indian food! Everyone knows that I'm extremely particular when it comes to Asian food so I was thrilled to have Indian food that had the 'Abhi Approval' as my friends call it. This was mainly due to the fact that the Saturday just gone was Deepavali, The Festival of Lights 😀
To celebrate this wonderful festival, I travelled to London on Sunday with a friend to visit a beautiful temple that was holding festivities in conjunction with the occasion. We decided to make a day out of it by visiting the Natural History Museum beforehand before ending the day with a ride on the Emirates Air Line Cable Car.
Surrey University is located just South of London and hence takes just under 40 minutes by train to London Waterloo. With a 16-25 railcard (which costs £30 for a year), a return ticket comes up to just £10.25! Usually, I tend to use my Oyster card when travelling on the tubes in London but this time, I opted to go with a TravelCard which I've now realised is a better, cheaper option. A travelcard can be purchased with the return train ticket, resulting in a final cost of £13.40. This compared to an Oyster card which is capped at £7 per day, it's a no-brainer to go with the Travelcard.
We arrived at Waterloo around 12 and made our way to South Kensington, home to the Natural History Museum, the Science Museum as well as the Victoria and Albert Musem. I love that museums entrances are free unless visiting a specific exhibition. The Natural History Museum is home to a range of natural history that exhibits a vast range of specimens. As we entered, the cast of a Diplodocus skeleton can be seen which has been modelled to scale! Memories of the cartoon, Land Before Time came flooding back as I remember calling it a long neck Dinosaur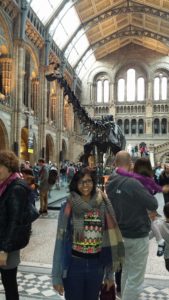 The museum is divided into different colour-coordinated zones. We visited the entire Blue Zone as well as parts of the Green Zone which wasn't even half of what the museum had to offer! That alone took us 2.5 hours by which point we were knackered and still had lots of other fun things planned in London for the day. I will definitely be back to visit other sections of the museum sometime in the future
To save time and being students, we packed ourselves a picnic before setting off for the day. We enjoyed our sandwiches, apples and chocolate bars outside the museum whilst enjoying the Christmas atmosphere. There was an ice rink, Christmas-themed carrousel as well as stalls selling mulled wine. We then set off to the temple in Brentfield Road. This was definitely a bit of a journey as it was located by Wembley Park, located in North London. We then needed to get a bus from the tube station which stopped just opposite the temple
The temple is called the Shri Swaminarayan Mandir and is absolutely stunning. I managed to get a picture outside the entrance but unfortunately pictures are not allowed inside. The building has such intricate work even on each pillar which supports the structure. It was wonderful to see so many people dressed in traditional outfits celebrating this joyous festival J No temple visit would be complete without Indian food and they did not disappoint! There were stalls set up selling delicious Indian food and snacks. I opted to go for Pav Bhaji, a fast food dish consisting of a thick vegetable curry usually prepared in butter and served with soft bread rolls. After, I had Jelebi , a sweet that is made by deep-frying maide flour batter in a pretzel shape beforing being soaked in sugar syrup. By this point, I was super full but in food heaven :p
We spent about 2 hours at the temple before leaving for our next destination; the Emirates Air Line Cable Car! This was on the other side of London, requiring us to take the Jubilee Tube line from one end to North Greenwich station. The cable car ride lasts approximately 5 minutes each way but is extended to roughly 8 minutes each way after 7pm every night. Tickets costs £3.50 each way if bought online or £4.50 at the entrance itself. It was lovely being able to enjoy the London skyline at night but especially special as we got to see lots of fireworks along the 10 minute journey since it was Deepavali ♥ That definitely did make my already amazing day even better!
It was finally time to head back to Guildford after lovely day out in London. I have definitely missed London as I haven't been there as often compared to previous years; what with it being final year and all. The Deepavali celebrations continue on this week though with the Surrey University's Indian Society holding a Diwali event tomorrow! I'll be having that saree practice run with my mum right after finishing this post actually so wish me luck 😀
Side-note! For students who interested/applying/coming to Surrey University for Postgraduate studies, please check out the link below for more information and registration! The Marketing team is hosting a series of webinars starting in November; some subject specific, others more general information for Postgraduate applicants
http://www.surrey.ac.uk/postgraduate-webinars
Till next time; Selamat tinggal!