Looking back, we've had a busy year of it, this last year! Here are some of our highlights.
We're well underway with our first project to catalogue the University photograph collection (yes, I said first – this collection is rather large!). Already we are feeling the benefits of understanding this collection more fully and we will start releasing the catalogue records in the New Year. Watch this space for more information!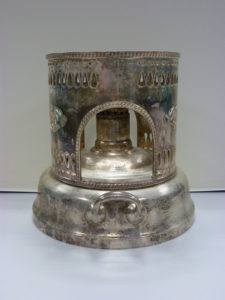 We've also been lucky that one of volunteers is an alumna of the Battersea Polytechnic hotel and catering course and has been identifying the various types of silverware which were in use in our training restaurant. So now we know that this is a Guerdion lamp which was used for cooking Steak Diane and Crêpes Suzettes at the table.
Nor have we been neglecting our dance archives. This year we have had a cataloguing archivist working on the Warren Lamb Archive.  Starting with the Industrial Rhythm work carried out by Rudolf Laban which looked at factory workers' movements, Warren Lamb took this approach into the corporate world where it was used to support recruitment and management consulting. With more work on this collection scheduled for the New Year, we hope to have the material ready for researchers by the summer.
Our collections have also been out and about. Over the course of the year, the E H Shepard archive has been much in demand, going…
… up the hill to Guildford Cathedral for their children's literature day
… over the A3 to the Vet School for the Too Cute to Kill research seminar
…and up to London for the Shepard's War exhibition at the House of Illustration
Closer to home in our Research Room, our programme of displays has had us seeking out animals in the archives in celebration of International Animal Rights Day and World Conservation Day; thinking about our sporting heritage; and commemorating the anniversary of Shakespeare's death. And Ivy Arts Centre has been home to exhibitions about Geraldine Stephenson and Yolande Snaith to complement dance workshops, performances and research events.  
And the highlight of our year was the Museum Exhibition we created at the Battersea Showcase to celebrate our history as Battersea Polytechnic alongside our alumni.
And our collections are ever increasing and diversifying. This year we were proud to establish the Nursing Ethics Heritage Collection in conjunction with our colleagues at the International Care Ethics Observatory and founding donor Professor Marsha Fowler. Currently amounting to just under 3 linear metres of books from the 19th century through to today, we expect this collection to expand rapidly with donations arriving regularly.
And with the new team on board, we are looking forward to the next twelve months being even busier!